American History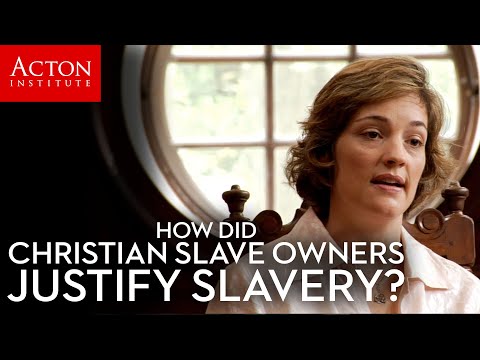 My second post using clips from the Birth of Freedom video produced by the Acton Institute.  As historian Susan Wise Bauer, justly popular in home schooling circles for her superb The History of the Ancient World  and The History of the Medieval World, indicates in the video above, defenses of slavery based upon the Bible often confused descriptive passages of the Bible, written in ages where slavery was as common as complex machines are in ours, with prescriptive commands that slavery was right and just.   Additionally, defenders of slavery using the Bible did not work out fully the logical implications of their position.  For example, if Saint Paul's comments regarding slavery meant that slavery was just, would absolute monarchies also be just based upon Paul's statements to obey the authority of the Roman Empire?   If slavery was good based upon Saint Paul's statements, did that mean that enslavement of whites was good since the vast majority of slaves Saint Paul would have had contact with would have been white?  Using the Bible to defend slavery leads to endless questions of this type as the abolitionists at the time pointed out.
Perhaps one of the more elaborate defenses of slavery using religion was that of Richard Furman in a letter to the Governor of South Carolina, John Lyde Wilson, in 1822.  A Baptist pastor, Furman was born in Esopus, New York in 1755.  A preacher of unusual power, he was appointed as the Baptist pastor of the High Hills of Santee Baptist Church in South Carolina at the age of 19.  An ardent patriot during the Revolution, he became pastor of the First Baptist Church in Charleston in 1787.
A strong believer in education, he founded literary societies, academies, literacy campaigns and local Bible and tract societies.  With his leadership, Baptists in South Carolina founded Columbian College in 1821, now known as George Washington University.
Furman began his career viewing slavery as an undoubted evil.  By the end of his career he owned slaves and had enlisted the Bible in defense of the "peculiar institution". 
It would be easy to simply view Furman as a hypocrite and a monster.  However, such is not the case.  He was a highly educated man and a convinced Christian, and his life contained many charitable works, some of which were for blacks, slave and free alike.  The truly depressing fact while reading the very well written defense of slavery below, is the recognition that Furman in many ways was a very good man working very hard to defend the indefensible.  The attempted slave insurrection of Denmark Versey prompted Furman to write the letter.  Furman's letter to the Governor of South Carolina:
  Continue reading →
My recent essay on the Papacy's historical attitude towards the Catholic Church in the United States prompted more than a few queries and arguments, most them of friendly I am happy to say, with some traditional Catholic friends and acquaintances of mine. They were determined to get me to understand, however, that whatever kind things the Papacy may have had to say about America were really overshadowed by its war against the heresy of Americanism.
A cursory glance at encyclopedic overviews of the controversy, including that of New Advent, which was written not long after the controversy actually occurred, did not convince me that it had any bearing on the arguments I had set forth in my own essay. Upon further examination, I realized that my initial impression was absolutely correct, and that my traditionalist friends have misunderstood the Americanism controversy.
Bear in mind that these traditionalists, one and all, believe that the critique of Americanism was tantamount to a rejection of the American political principle of religious liberty, which I demonstrated was originally imported to North America by Catholic refugees from Britain in 1649, and established as US law upon the ratification of the Bill of Rights over a century later.
There are also leftish Catholics who, along with traditionalists and when it suits them, will invoke and condemn "Americanism" as a set of values or ideas that is somehow inherent, or at least specially pronounced, in American culture: individualism, resistance to Church authority and ecclesiology, acquisitiveness, etc.
Before delving into Americanism, I wish to state once again that I do consider myself a liturgical traditionalist. I attend Latin Mass and I am disgusted and appalled by the "cultural revolution" initiated by subversive elements in the Church in the late 60s and early 70s. But I follow in the steps of Dietrich von Hildebrand, whom Pius XII dubbed a "20th century Doctor of the Church", and not the schismatic Marcel Lefebvre, in my critical approach to these matters.
If were to ask you what some Catholic traditionalists and some radical leftists had in common, you might be left scratching your head for a few moments. On most matters you wouldn't expect them to agree on much of anything. But there's one issue they do tend to converge upon, and that is their take on American history.
When I read some Catholic trad descriptions of American history and Catholicism's place in it, I find myself wondering if I'd accidentally picked up and began reading something by Charles Beard or Howard Zinn. I'm not associating these tendencies in order to delegitimize the Catholic trad critique – which contains, as do most critiques which catch on with at least some people, elements of truth. But the trad critique, in its shrillness and its refusal to engage historical facts that may falsify or at least cast reasonable doubt upon its substantive claims, deserves to be set alongside the vulgar leftist critique of American history. And bear in mind, I say this as a Catholic trad myself, albeit one who is more of a romanticist than a true reactionary.
I also say it as someone who once bought into this whole idea. As a young man emerging from a long and involved commitment to Marxism, both academic and political, into Catholicism, a religion I had little to do with since the age of 13, I had sort of stumbled upon this narrative on my own. There was still something romantic and alluring about rejecting "Americanism", now from a Catholic perspective.
After all, the two critiques often make use of a lot of the same themes – a rejection of individualism, of bourgeois Protestant values, a savage critique of the Enlightenment, invocations of slavery and other manifestations of racism and inequality, and perhaps more specific to the Catholic angle, reminders of Freemasonry and the Illuminati (though to be fair, Mozart was a Freemason too, back in the days when it wasn't yet forbidden by the Church. I don't think that's ever stopped a trad from enjoying his Requiem, but I digress).
Now, given the popularity of this critique, not only among trads, but also among the Catholic left, the "peace and justice" crowd – of course, for much different reasons and to much different ends – one would surely expect to find a solid foundation or at least an implied resonance within Church history, tradition, and teaching.
If you hold that expectation, prepare to be utterly disappointed. Or delighted, as the case may be.
The recent controversy at our blog over the appropriate relationship between Catholics and the nation-state gives us an opportunity to clear the air, and, hopefully, rebuke the provocative and absurd charges of "Christo-fascism" leveled against some of the contributors to this blog. Such a phrase could have any number of meanings, or be applied (or misapplied) in an arbitrary way.
I do wonder, for instance, whether or not our friend the Catholic Anarchist approves of the Church's support of Franco during the Spanish Civil War, and the role it played in the Spanish state thereafter. One sometimes gets the impression that, in the view of some people, it would have been better if the Church offered herself up, and all of her flock, to martyrdom at the hands of the communist and anarchist marauders instead of acting in accordance with the most basic instincts of self-preservation. The Franco dictatorship was, of course, practically a democratic utopia compared to the horrors of Bolshevik Russia or Maoist China, especially for Christians.
What about the United States, or shall we say, "the American nation-state"? As in all matters, there are two extremes to avoid.
At my blog, I take on the argument that America is not a propositional nation. While I essentially agree with the argument that America's propositional nature is a "half-truth", the critique I engage ends up presenting it as something considerably less.
Find out what I think America's central proposition is, and let me know if you agree or disagree
There is an old tradition that Washington prayed in the snow at Valley Forge on Christmas Day 1777.  Certainly the wretched condition of the Continental Army in December of 1777, with a hungry winter beginning, would have driven commanders less pious than Washington to their knees.  However, Washington was pious and prayed every day.
The tradition rests on this account of the Reverend Nathaniel Randolph Snowden, a Presbyterian Minister in Philadelphia who lived from 1770-1851 and who wrote the following: Continue reading →
After the American Revolution, former American officers in that struggle created a fraternal organization called the Society of Cinncinatus, named after the Roman consul and dictator, a constitutional office of the Roman Republic in emergencies, who saved Rome through his efforts in the fifth century BC and then retired to his humble farm.  The Society selected as its symbol a bald eagle.  In a letter to his daughter Sally Bache on January 26, 1784, no doubt with his tongue placed firmly in his cheek, Dr. Franklin indicated that he thought another bird would have been a better choice. Continue reading →
A roundup from around the web …
1.  Jay Anderson gives us a history lesson on "The First Thanksgiving":
Every gradeschool boy and girl in the U.S. will confidently tell you that their history books say that the very first Thanksgiving on American soil took place in Plymouth, Massachusetts in 1621 when the English Pilgrims who had arrived the year before and the Patuxet Indians shared the food from their respective harvests in one great big happy feast.

As is often the case, however, the history books are wrong on this account…
2.  The Maverick Philosopher engages in a thanksgiving reflection:
We need spiritual exercises just as we need physical, mental, and moral exercises. A good spiritual exercise, and easy to boot, is daily recollection of just how good one has it, just how rich and full one's life is, just how much is going right despite annoyances and setbacks which for the most part are so petty as not to merit consideration…
3.  How Private Property Saved the Pilgrims — When the Pilgrims landed in 1620, they established a system of communal property. Within three years they had scrapped it, instituting private property instead. Hoover media fellow Tom Bethell shares some economic history.
4.  News has it that President Obama's decision whether to pardon a turkey could come at any day now!
5.  And it wouldn't be the celebration of another American holiday without a screed from the Catholic Anarchist (reaching the height of self-parody).
By the President of the United States of America.
A Proclamation.
The year that is drawing towards its close, has been filled with the blessings of fruitful fields and healthful skies. To these bounties, which are so constantly enjoyed that we are prone to forget the source from which they come, others have been added, which are of so extraordinary a nature, that they cannot fail to penetrate and soften even the heart which is habitually insensible to the ever watchful providence of Almighty God. In the midst of a civil war of unequaled magnitude and severity, which has sometimes seemed to foreign States to invite and to provoke their aggression, peace has been preserved with all nations, order has been maintained, the laws have been respected and obeyed, and harmony has prevailed everywhere except in the theatre of military conflict; while that theatre has been greatly contracted by the advancing armies and navies of the Union. Needful diversions of wealth and of strength from the fields of peaceful industry to the national defence, have not arrested the plough, the shuttle or the ship; the axe has enlarged the borders of our settlements, and the mines, as well of iron and coal as of the precious metals, have yielded even more abundantly than heretofore. Population has steadily increased, notwithstanding the waste that has been made in the camp, the siege and the battle-field; and the country, rejoicing in the consiousness of augmented strength and vigor, is permitted to expect continuance of years with large increase of freedom.
No human counsel hath devised nor hath any mortal hand worked out these great things. They are the gracious gifts of the Most High God, who, while dealing with us in anger for our sins, hath nevertheless remembered mercy.
It has seemed to me fit and proper that they should be solemnly, reverently and gratefully acknowledged as with one heart and one voice by the whole American People. I do therefore invite my fellow citizens in every part of the United States, and also those who are at sea and those who are sojourning in foreign lands, to set apart and observe the last Thursday of November next, as a day of Thanksgiving and Praise to our beneficent Father who dwelleth in the Heavens. And I recommend to them that while offering up the ascriptions justly due to Him for such singular deliverances and blessings, they do also, with humble penitence for our national perverseness and disobedience, commend to His tender care all those who have become widows, orphans, mourners or sufferers in the lamentable civil strife in which we are unavoidably engaged, and fervently implore the interposition of the Almighty Hand to heal the wounds of the nation and to restore it as soon as may be consistent with the Divine purposes to the full enjoyment of peace, harmony, tranquillity and Union.
Mr. President and Gentlemen of the Senate of the State of New-Jersey: I am very grateful to you for the honorable reception of which I have been the object. I cannot but remember the place that New-Jersey holds in our early history. In the early Revolutionary struggle, few of the States among the old Thirteen had more of the battle-fields of the country within their limits than old New-Jersey. May I be pardoned if, upon this occasion, I mention that away back in my childhood, the earliest days of my being able to read, I got hold of a small book, such a one as few of the younger members have ever seen, "Weem's Life of Washington." I remember all the accounts there given of the battle fields and struggles for the liberties of the country, and none fixed themselves upon my imagination so deeply as the struggle here at Trenton, New-Jersey. The crossing of the river; the contest with the Hessians; the great hardships endured at that time, all fixed themselves on my memory more than any single revolutionary event; and you all know, for you have all been boys, how these early impressions last longer than any others. I recollect thinking then, boy even though I was, that there must have been something more than common that those men struggled for; that something even more than National Independence; that something that held out a great promise to all the people of the world to all time to come; I am exceedingly anxious that this Union, the Constitution, and the liberties of the people shall be perpetuated in accordance with the original idea for which that struggle was made, and I shall be most happy indeed if I shall be an humble instrument in the hands of the Almighty, and of this, his almost chosen people, for perpetuating the object of that great struggle. You give me this reception, as I understand, without distinction of party. I learn that this body is composed of a majority of gentlemen who, in the exercise of their best judgment in the choice of a Chief Magistrate, did not think I was the man. I understand, nevertheless, that they came forward here to greet me as the constitutional President of the United States — as citizens of the United States, to meet the man who, for the time being, is the representative man of the nation, united by a purpose to perpetuate the Union and liberties of the people. As such, I accept this reception more gratefully than I could do did I believe it was tendered to me as an individual.
Abraham Lincoln, February 21, 1861
Announcing a new blog, Almost Chosen People.  It is a blog dedicated to American history up through Reconstruction.  I am one of the contributors.  A fair amount of my initial posts at this blog will be reposts of material first posted at The American Catholic, but they will be interspersed with new material.  My fellow contributors, including Paul Zummo of the Cranky Conservative, and Dale Price of Dyspeptic Mutterings,  will be providing posts that will be well worth reading, so please stop by.  Needless to say, although I'll say it anyway, this new blog will not lessen my posting frequency here at The American Catholic.
The New York Times rejected an op-ed article submitted by Archbishop Timothy Dolan of the Archdiocese of New York.  Why may I ask would the New York Times reject an article from His Excellency?  Probably because Archbishop Dolan called out the New York Times for their yellow journalism.
Of course those not familiar will Colonial American history will "poo poo" this particular article.  But as early as A.D. 1642 there were laws in the books that required test oaths administered to keep Catholics out of office, legislation that barred Catholics from entering certain professions (such as Law), and measures enacted to make Catholics incapable of inheriting or purchasing land.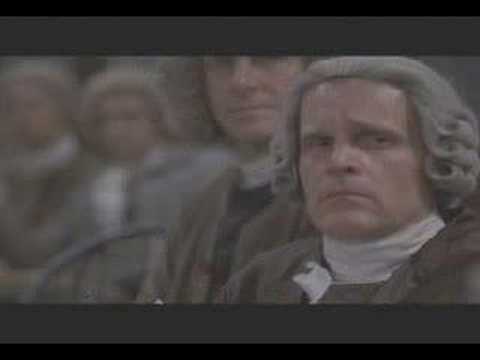 John Adams, second President of these United States, was a man of very firm convictions.   Once he decided to support a cause, most notably American independence, nothing on this Earth could convince him to change his mind.  In regard to religion he was raised a Congregationalist.  Although described as a Unitarian, I find the evidence ambiguous in his writings and I suspect he remained at heart a fairly conventional Protestant.  As such he was unsympathetic to the Catholic faith by heredity, creed and conviction.  However, he did attend Mass on occasion, and his writings about these visits show attraction mixed with repulsion.
On October 9, 1774 Adams and George Washington attended a Catholic chapel in Philadelphia during the First Continental Congress.  He reported his thoughts about the visit to his wife and constant correspondent Abigail:
"This afternoon, led by Curiosity and good Company I strolled away to Mother Church, or rather Grandmother Church, I mean the Romish Chapel. Heard a good, short, moral Essay upon the Duty of Parents to their Children, founded in justice and Charity, to take care of their Interests temporal and spiritual.
This afternoon's entertainment was to me most awful (Adams here means awe-inspiring and not the more colloquial use of the term common in our time.) and affecting. The poor wretches fingering their beads, chanting Latin, not a word of which they understood, their Pater Nosters and Ave Marias. Their holy water– their crossing themselves perpetually– their bowing to the name of Jesus wherever they hear it– their bowings, and kneelings, and genuflections before the altar. The dress of the priest was rich with lace– his pulpit was velvet and gold. The altar piece was very rich– little images and crucifixes about– wax candles lighted up. But how shall I describe the picture of our Saviour in a frame of marble over the altar, at full length, upon the cross in the agonies, and the blood dropping and streaming from his wounds.
The music consisting of an organ, and a Choir of singers, went all the afternoon, excepting sermon Time, and the Assembly chanted– most sweetly and exquisitely.
Here is everything which can lay hold of the eye, ear, and imagination. Everything which can charm and bewitch the simple and the ignorant. I wonder how Luther ever broke the spell."