America
Click on the above map to be able to read it.  The original of the map is here.  Tito had a post yesterday here with a map depicting how America views Europe.  Ambrose "Bitter" Bierce in the 19th Century said that war was God's way of teaching Americans geography.  Unfortunately, the lessons do not appear to stick.  However, the Europeans are often not that better informed about us.
For example, I have always enjoyed reading the English historian Paul Johnson, and have read almost every book he has written.  Therefore, I was dismayed when reading his history of the US to encounter quite a few factual errors, including his inability to distinguish between Albert Sydney Johnston and Joseph Johnston in the Civil War, and his apparent belief that it was the Texas Rangers and not Army Rangers who landed at Utah Beach on Normandy.
This is a somewhat humorous map of how Americans view Europe.
A Geography of Prejudice is one way of calling what Yanko Tsvetkov created.
The debate over the so-called Ground Zero mosque near the former site of the World Trade Center in New York has raised public interest in, and opposition to, other proposed or recently built mosques and Islamic centers throughout the country.
In areas where Muslim migration or immigration has been significant, some citizens have attempted to discourage construction of new mosques. Few come right out and cite the threat of terrorism; more often they seem to resort to time-honored NIMBY (Not In My Back Yard) tactics such as creative interpretation of zoning ordinances, claims of decreased property values, or claims of real or potential problems with traffic, noise, etc.
Before I go any further, I want to make it clear that I understand the need to be vigilant regarding the potential for violent subversion, as well as the dangers of taking such a politically correct approach to militant Islam that people hesitate to report obvious suspicious activity for fear of being labeled bigots (as seems to have happened in the Fort Hood massacre case).
[Update I:  I have streamlined the following post to be easily readable to the average layman, but informative enough for a lawyer or law professor to learn a bit more on the similarities and differences between Sharia and U.S. Law]
Is Sharia compatible with the U.S. Constitution?
The simple answer is of course "no".
But lets take a look at some aspects of Sharia Law and where it may or may not conflict with the U.S. Constitution.  (For disclosure I am not a lawyer nor a legal expert in Sharia or U.S. Law.)
First, what is Sharia?
Wikipedia states Sharia refers to the sacred law of Islam.  All Muslims believe Sharia is God's law, but they have differences between themselves as to exactly what it entails.  Which will be difficult to discern what to apply when, but we'll labor along for the sake of discussion.
In Western countries, where Muslim immigration is more recent, Muslim minorities have introduced Sharia family law, for use in their own disputes. Attempts to impose Sharia have been accompanied by controversy, violence, and even warfare (Second Sudanese Civil War).
The recent incidents at the Arab International Festival have reinforced the poor image of Sharia inside the United States and its incompatibility with American culture and law.
The following is a truncated version with a couple of modifications (eliminating repetitious ibids and links) of multiple Wikipedia entries [with my comments]:
Legal and Court Proceedings:
Wikipedia states that Sharia judicial proceedings have significant differences with other legal traditions, including those in both common law and civil law.
1. Sharia courts do not generally employ lawyers; plaintiffs and defendants represent themselves.
If you read the comments here at TAC, no doubt you've seen the accusation that America suffers from a Calvinist dualism that sinisterly causes all of American conservativism's woes like it was the Catholic Church in a Dan Brown novel. While these claims are exaggerated, there's a bit of truth in the idea that when compared to Europe, we're a little more dualistic.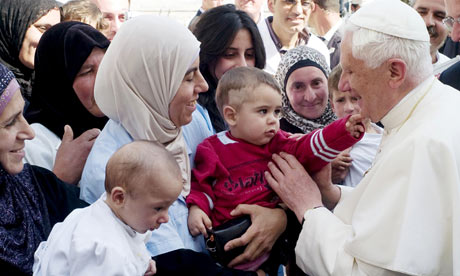 The Vatican  released a working paper during Pope Benedict XVI's pilgrimage to Cyprus to prepare the way for a crisis summit of Middle East bishops in Rome. What I take away from this- along with the Holy See's call for lifting the blockade of Gaza- is something of a vindication for my more raw views urging for a sea change in American Catholic opinion and action regarding the overall situation in the Middle East, and in Israel-Palestine in particular.
I found this article by Andrew Hough of London's Daily Telegraph quite interesting since it touches on the Lost Colony which is sometimes called the Roanoke Colony in present day North Carolina.
The Lost Colony is the first English attempt of setting up a settlement in the new world, ie, present day America.
The following is the article on the residents of Devon, England, laying claim that they were the original colonists of this Lost Colony:
Andy Powell, mayor of Bideford, north Devon, wants to use DNA testing to prove residents from the port town settled in the US three decades before the Pilgrim Fathers sailed there.
Mr Powell is trying to raise money for the research, which he hopes will prove his town's "pivotal" role in the history of modern America.
He hopes advances in the science will enable scientists to link people from Bideford with descendants of a lost colonist.
His attempts centre on the story of the "lost colony", where in 1587 Sir Walter Raleigh organised a colonial expedition of settlers including John White, a governor.
I am a pretty big fan of the Catholic Worker movement and Dorothy Day. I see strengths in both liberal and conservative tendencies, and find both indications in my reading of the official documents and speeches/letters of our Catholic Hierarchy on political matters.
The following article is one that was published in the Houston Catholic Worker Newspaper back in 2008.  The author, Dawn McCarty is a frequent writer and volunteer at the Worker House in Houston. She seems to combine the head and heart in her approach to the issue of illegal Mexican immigration into the U.S. I offer her analysis for your commentary:
Alexis de Tocqueville, Democracy in America, Volume Two, Part Four, Chapter Six: What Kind of Despotism Democratic Nations Have to Fear:
I see an innumerable crowd of like and equal men who revolve on themselves without repose, procuring the small and vulgar pleasures with which they fill their souls. Each of them, withdrawn and apart, is like a stranger to the destiny of all the others: his children and his particular friends form the whole human species for him; as for dwelling with his fellow citizens, he is beside them, but he does not see them; he touches them and does not feel them; he exists only in himself and for himself alone, and if a family still remains for him, one can at least say that he no longer has a native country.