Stacy Trasancos
The results of a new study have just been released, and the researchers conclude that when women are allowed to chose any version of contraception they want for free, the abortion rate decreases. Spirals even.
Specifically, more than 9,000 women in St. Louis area, ages 14 to 45, were given free contraception for three years, and the abortion rate dropped lower than the national rate to 4.4 – 7.5 abortions per 1,000 women compared to 19.6 abortions per 1,000 women nationwide.
The implications? According to The New York Times, the study is evidence that the HHS Mandate should be enforced, although CNN understands that is controversial for religious groups. NBC says these findings will have many implications for society although "the Catholic Church is unlikely to be moved."
Damn right.
The comment of a 26 year old graduate student named Ashley at Washington University is revealing. She participated in the project and opted to forego her $90 a month birth control pills for the free intrauterine implant. She said the implant gives her better peace of mind.
"No one had ever presented all the options equally," she said. "It's not telling you what to do. It's giving you a choice unhindered by money."
Liberal progressives argue for this kind of care because they want women to believe the government cares for them. Government caring for you is a tenet of liberalism. The problem is, governments cannot care for people. People care for people. Governments are big, nameless, faceless institutions that, if allowed, seek to sustain themselves by growing in power. But how do you communicate this to someone? You bring it down to the personal level they think it is.
Suppose you are the government and Ashley is your daughter. Is her statement really the kind of statement that makes you proud of your parenting skills? Do you want her to go to college making choices about anything — especially her choices about who she lets have sex with her — unhindered by money? That just teaches her poor discipline and puts her in danger.
The study also found a drastic reduction in teen births. Among teen girls ages 15 to 19 the annual birth rate was 6.3 per 1,000 girls compared to the national rate of 34.3 per 1,000 for teen girls. Is this the solution for teens? Have sex unhindered by money? Say that out loud a few times.
Hello TAC Readers,
The ladies of TAC decided to weigh in briefly with our thoughts about the first presidential debate, so if you're interested in the practical thoughts of some Catholic female American patriots who are otherwise busy running their lively households, read on. And please add your thoughts as well.
Thank You,
The Ladies of TAC
From Elaine:
I listened to the debate while doing other stuff — didn't watch it — so I had to concentrate solely on what was said.
No doubt about it  — Romney did great. He stayed on point, never seemed flustered, unlike Obama at times. Obama seemed to be stumbling even through his closing statement, which is supposed to be the "clincher" that sums up his entire message.
Romney kept coming back to the trillions of dollars of national debt and how unfair it is to burden future generations with that. Obama never really came up with a satisfactory rebuttal to that issue — the best he could do was lamely declare that he inherited a big chunk of that debt from Bush.
Obama didn't even land a glove on him when it came to Romneycare and its similarity to Obamacare (which was one of Romney's biggest vulnerabilities). Romney pointed out that his Massachusetts plan was a truly bipartisan effort while Obama rammed his through without a single GOP vote.
Also, loved Romney's subtle but clear (to those who care about the issue) acknowledgment of the importance of religious freedom.
Hard to pick a best line of the night, but I'll go with Romney's yardstick for determining the worth of federal programs: Is it worth borrowing money from China to pay for?
Trivia note: After the 1960 JFK-Nixon debate, people who watched the debate on TV said Kennedy won while those who listened on radio said Nixon won. Doesn't look like there's any split decision this time.
From Rebecca:
I tuned into the debate last night expecting a night of mini-speeches. I thought it was going to be five minute segments of "let me tell you what I think" and then "the other guy gets to tell you what he thinks" and then we move on. It wasn't! The new format of "we each state our position and then duke it out" was a pleasant surprise. It worked well for Romney, not so much for Mr. Obama.
For the first time since he declared for the Presidency in 2007, someone actually questioned the President on what he was saying. For a man used to the easy softball questions usually lobbed at him by the esteemed journalists on The View, last night was a very rude awakening. While Romney came across as a candidate securely in command of both the facts and his own position, Mr. Obama looked like a little boy getting scolded by his dad.
He furrowed his brown, pursed his lips, and feebly fought back. I kept waiting for him to whine at Jim Lehrer "No fair…" It was not a masterful persona. He didn't look like the leader of anything, and may explain why our enemies aren't afraid to attack our embassies or walk all over us in trade deals. No one is afraid of the "No Fair" kid. He's annoying and weak from having been coddled all of his political life.
From Stacy:
I'm not a undecided voter. Long ago I had already decided that if a ham sandwich ran against President Obama, I'd vote for him. What I've hoped for is that someone would run against him and demand that he answer for the decisions he's made over the last four years.
Romney did that. He was articulate, clear, detailed, passionate, and grand. He was trustworthy. Beyond the words that either man spoke, the thing that was most deeply revealing was the eye contact.
Mitt Romney looked directly at Barack Obama, spoke directly to him, smiling confidently but not arrogantly. When Obama spoke to him, Romney continued to make eye contact, and to listen. He was engaged. The ability to look directly at your opponent is a sign of courage.
On the contrary, Obama spent way too much time looking down and avoiding eye contact, even when Romney was staring right at him. His facial expressions were full of smirks, defensiveness, irritation, and confusion. The way he kept shooting pleading eyes at the moderator to beg for his turn to speak was childlike. This is the behavior of a weak opponent. Whether people realize it or admit it, it's certain no one missed this quality in the debate.
At the end of his closing comments when Obama said, "I promise to fight every single day for you," I got the distinct feeling that I was listening to a speech given by someone running for senior class president, not President of the United States. It's time for a grown-up in the White House.
From Foxfier:
I kind of killed our TV reception while winterizing the house… all we have are three strange self-help channels, the Spanish religious channel, a Korean shopping network and a couple of flavors of PBS, so I'll have to pass. [She may chime in later...]
Yesterday The Motley Monk wrote and excellent article informing us about the National Catholic Bioethics Center's (NCBC) advice, "Dropping All Insurance Coverage…" Speaking as a concerned Catholic, mother and citizen, I would love to see a lot more discussions like this about our options. Catholics have an opportunity, possibly, to lead the way in our nation.
Some commenters suggested an "offer and ignore" approach, and I've noticed some other Catholics talking about that approach as well, though only in early stages. More on that toward the end. It's something dear hubby and I have discussed extensively in the kitchen. Our motivation? We have a large, young family, and since he's made his career in the insurance business, he's aware of better possible options. Admittedly, it's the auto insurance business, but the fundamental purpose of insurance is still the same. A conscientious insurance businessman seeks to:
1) Offer a product that truly adds value to the customer's life.
2) Build a business that employs people oriented around that principle too.
As a quick aside, the people who see insurance as some big, greedy, capitalist monster have to base that premise (in this country anyway) on the assumption that customers are unable to chose wisely when it comes to the planning of their family's future. The Trasancos family, obviously, rejects that premise. We don't need the government to tell us what is good for us. Thank you, but no thanks, Obama et al.
As another quicker aside, it is common knowledge in the insurance industry that the more government regulation there is in any state, the more costs increase in a general linear fashion. Some regulation is necessary. Too much regulation only employs government workers and adds cost to customers. If oppressive regulation is enforced at the federal level, the government is basically ruling us and treating us like idiots.
Consider this question. Feedback or input, including correction, is welcome. It's a good conversation to have.
How much do you already pay for health insurance? If you get health insurance through your employer (the situation for many Americans), you most likely pay more than you realize for it. Why? Most employee benefit plans pay 75-80% of the cost of coverage, and the employee pays the rest.
Also published at Catholic Lane.
"What's going on?" asked the therapist.
"I told my doctor that I am having issues with anxiety. I've had three babies in the last four years and just found I'm pregnant again, and no matter how hard I try, I keep having panic attacks. I feel out of control. I'm ready to admit I need help. I have some past issues I need to face, but I don't know what to do. My doctor said I could talk to you because you have experience helping pregnant women." It all finally came out, stuttered, yet punctuated, a first plea for professional help.
"Why do you feel anxious?"
"I want to do everything perfectly, I want to do it right, I've made some bad decisions in my past, but I want to do better. Now I get so confused and overwhelmed. When I give up, I feel ashamed, sometimes I harm myself because the emotional pain is so great. I know I need help. I'm pregnant!"
The therapist replied with a knowing grin, "You don't have to be perfect, you know. Don't you see? You are beating yourself up trying to be perfect. Slow down. Right now you need to take care of yourself. You have living children and they need their mother. They need their mother to be healthy. Have you thought about abortion? You know, it's alright to abort this pregnancy so you can take care of yourself right now."
"What? I'm Catholic, that's why I came to a Catholic hospital, well, I mean, I'm a recent convert and I'm learning about the teaching of the Church, and this…"
The confused mother stared past the licensed mental health professional out the window of her obstetrician's office, where she was meeting with this therapist. In this hospital that bears the name of a saint and a crucifix in every room, the mother was more confused than ever. She tried not to let the vortex starting to swirl in her mind show. Abortion? She trusted these people under this roof, but abortion? Catholics are not supposed to have abortions. She could barely speak.
"…this isn't right."
"Well," chuckled the mental health therapist sitting under a Catholic roof, "Catholics don't really believe that today, that's an old idea. Women are not expected to tear up their bodies giving birth to baby after baby, and besides, most Catholics have small families. If that's what Catholics really believed there'd be many, many more large Catholic families, wouldn't there? Look, I've travelled in Europe where there is a large Catholic population, and they all have one or two children. You don't have to have lots of kids to be a good Catholic. Perhaps you're just trying to have a lot of children to be a perfect Catholic."
Later, they got around to the big question.
"Do you ever have thoughts of suicide?" Continue reading →
A reader sent me this shot of a test run of the Tribute in Lights. As he and a friend finished dinner and walked out of the Fraunces Tavern at the corner of Broad Street and Pearl Street last night, they noticed the lights were on for a moment, jumped into the car, and drove over to West Street to get this shot. It is taken from the sun roof of the car, paused at a lightd right next to the Battery Garage where the lights are set up.
Courtesy of Mr. Steve Tirone, Senior Business Analyst at TIAA-CREF. Thank you Steve! Continue reading →
The story goes like this (emphasis not mine):
In Florida for his bus tour on Sunday, President Barack Obama made an unannounced stop at Big Apple Pizza and Pasta in Ft. Pierce. There, the shop's owner, Scott Van Duzer, lifted the president off the ground"

Obama entered the shop saying, "Scott, let me tell you, you are like the biggest pizza shop owner I've ever seen," according to a White House pool report.

Van Duzer, 46, is a big guy: He is 6′ 3″ tall and weighs 260 pounds.

After Obama was lifted up, he said "Look at that!" Man are you a powerlifter or what?"

He continued, according to the pool, talking about Van Duzer's big muscles.

"Everybody look at these guns," he said. "If I eat your pizza will I look like that?"

Van Duzer, by the way, is a registered Republican who voted for Obama in 2008 and says he will do so again in November.

"I don't vote party line, I vote who I feel comfortable with, and I do feel extremely comfortable with him," he told the press pool.
Usually I don't write about just politics, but as a matter of principle, I found this incident deeply disturbing. It's dishonest; it's propaganda, and propaganda can be dangerous. I may not be a specialist in matters of security, but any average citizen can see that this is totally staged.
When the President is in public, the Secret Service agents wear him like cologne (sorry, my husband's descriptor). This is standard procedure, not just for Obama, but for any president, especially since the assassination of President Kennedy. Do you see a Secret Service agent anywhere in the shot? Nope.
After a good long tirade around the kitchen last night during Caroline Kennedy's "as a Catholic woman" speech, I tried to think of what will come next in the following weeks and months. There's a report I've been promoting this week, and the timing is undoubtedly providential.
One thing I've noticed about controversy: It's a process by which things can change. People are listening now, it's our turn to take the stage.
Mary Rice Hasson, J.D., a woman I am proud to call a friend, is a Fellow in the Catholic Studies Program at the Ethics and Public Policy Center, Washington D.C. She is also the director of the Women, Faith, and Culture project together with Michele M. Hill who has been active in apostolates within the Archdiocese of Baltimore. These ladies have issued a preliminary report, What Catholic Women Think About Faith, Conscience, and Contraception, in which 824 Church-going Catholic women ages 18-54 were surveyed. (*Be sure to note how that is defined in the report.)
While the data indicates that most Catholic women do not fully support the Church's teachings on contraception, the results also do not show the sweeping rejection of Church teaching the media portrays either. The picture is more nuanced. From the website, Women, Faith and Culture: Exploring What Catholic Women Think:
Catholic Women and Faith
90% say faith is important to daily life
72% rely on homilies to learn the faith
28% have gone to Confession within the year
Catholic Women and Contraception
33% think the Church says "yes" to contraception
13% say "yes" to Church teaching
37% say "no" to Church teaching
44% say "no, but maybe …" to Church teaching
The report shows that about one-third of Church-going Catholic women incorrectly believe that couples have the right to decide for themselves the moral acceptability of contraception – regardless of Church teaching. When Church teaching was explained, 44% were receptive to learning more. These results suggest the problem is in part catechetical, and that women want more instruction.
Church-going Catholic women fall into three groups, the researchers found: 1) "the faithful" who say "yes" to Church teaching, 2) "the dissenters" who say "no" to it, and 3) the "soft middle" who are reluctant, but receptive to more information.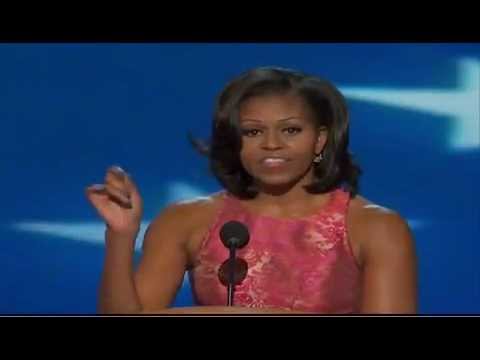 I stayed up last night to watch the First Lady's speech. It intrigues me to study how people think, especially people I disagree with. Sometimes it is possible to follow a logical path and clarify where disagreement begins and ends, sometimes I just want to know how bad it is, which is usually when I need my husband to put his hand over my mouth before I…never mind.
So, I sat there propped up in the bed with a glass of Rex-Goliath Giant 47 Pound Rooster Free Range Red and a sleeping toddler next to me to see what the First Lady of the Free World had to say as I waited for my husband to finish up his end-of-the day rituals. Here's one particular smashery of logic and language that just gets my goat every single time.
She used that lovely phrase unconditional love. I — a Catholic mother who scrubs, chases, sweats, lectures, and pleads for mercy when the truckload of kids and piles of laundry finally break me each day — take that term seriously. In the abortion debate no one who thinks abortion is acceptable is allowed to use that term. In this day and age of political correctness, is it too much to insist on verbal correctness too? Words mean things.
But when Barack started telling me about his family – that's when I knew I had found a kindred spirit, someone whose values and upbringing were so much like mine.

You see, Barack and I were both raised by families who didn't have much in the way of money or material possessions but who had given us something far more valuable – their unconditional love, their unflinching sacrifice and the chance to go places they had never imagined for themselves.
Her family gave her unconditional love? Really? It's true, children are incapable of earning the love of their parents, and love should be given to them without limit, without being subject to any conditions or stipulations. It should be absolute and complete. That term demands no compromise. To place a condition on being loved, is to destroy the notion of unconditional love altogether. It is impossible for a parent to say, "I love my children unconditionally, but only if I want them." Being wanted is a condition.
If she's so grateful for the unflinching sacrifice and the chance to go places she never imagined that her family gave her, why then, does she think that mothers in America today shouldn't do the same for their children? That is exactly what abortion advocate after dissonant abortion advocate stands for – the denial of unflinching sacrifice and unconditional love. Dismembering the tiniest and most defenseless of the children you deem unworthy of life is not an act of love.
Dear Pro-Choice NYer,
You wanted to do whatever you wanted to do with your body, and then claim you had a right to kill your own children when you conceived them because it was just so unfair for anyone to expect you to let a child ever use you against your will. You said you needed your choices, and you needed them without judgement or criticism. You tossed God's law aside and said that your rights come from man's law, and that worked for you as long as you thought you were getting your way. Motherhood be damned.
When the New York City abortion rate was reported (God only knows what it really is) to be 41%, meaning that nearly 2 in 5 pregnancies end in abortion, you didn't even wince. You were proud those women were exercising their so-called right to choose even when the city health officials made condescending excuses that the high rate was due to the "ignorance" and "ambivalence" of women who hadn't been indoctrinated in the methods of birth control, or who were too stupid and poor to chose stable relationships.
Even decades ago when your feminist and pro-choice philosophies collided over sex-selective abortion right in your own city, you quieted the voice in your head that was screaming, "No. STOP! You should not," because you feared that making moral judgments would take away the high and mighty right for you to profit from the ambivalent under the guise of caring about women. In a mind-seering display of mental gymnastics you sought to rephrase the question by separating the chooser from the choice, so that you could justify killing girls in the womb even as you condemned misogyny.
Let me tell you something: Truth does not condescend the human person, male or female of any age, nor does it contradict itself. That should have been warning enough, but you were too blinded by the tenets of the reproductive rights movement and the power you thought it gave you.
And now, the man you trusted to guard your pseudo-freedom in New York City has decided to dictate to new mothers how they will feed their own babies. Starting September 3, Mayor Bloomberg will enforce what is being called "the most restrictive pro-breast-milk program in the nation" which requires formula to be locked up and rationed out only if medical professionals can submit a medical reason for needing it. If the mother gets the formula from the state, she also gets a lecture. Why? It seems the people in power don't really think women can make good choices for themselves or their children, especially the women who give birth.
Sure some of you will support this anti-choice program and justify it based on some feigned concern for the health of newborn babies. Some of you will speak out against it because you see it for the over-imposition of government into private lives that it is. However, I predict that not a single one of you will see the monumental contradiction before you once again.
Like happy and willing slaves, you conceded all your rights to the decisions of the people in power, and now they are dictating that those in charge do what you've been fighting against your whole lives – force a woman to let her child use her body. You may justify it as some caring act on the part of the government, but that's nonsense. Governments don't care for people; people care for people, and you've been advocating for generations that the most extreme bond between the have's and the have not's – the bond between mothers and their children – is meaningless unless the individual mother chooses to care for the greedy little thing.
Some people are calling your Mayor Bloomberg a nanny for turning NYC into a nanny-state, but at least nannies care for individual children. I hate to break it to you, Pro-Choice NYer, but you aren't a child and Mayor Bloomberg and his officials don't care for you (or the children you decide are worthy of life) individually. This isn't about caring; it's about control. It's Marxism.
This is social materialism, utilitarian ideology about the worth of a human person in the big chemical equation of society. Feeding people taxes the system, just as pregnancy taxes a woman's body. If it were about caring for the babies, there wouldn't also exist a law that allowed late-term abortion past the point of viability. There wouldn't be a law allowing any unborn child to be killed. The same child the state says must be breastfed for it's health could have been killed the trimester, the month, the week, the day, and the minute before birth with impunity. Wake up! The same people are also busy telling you what you can and cannot eat or drink. They don't really think you can be trusted to chose wisely for yourself; they see you as objects to be managed.
As pro-life people have said for as long as they've needed to use that title, if you promote that one group of humans can treat another dependent group like individual blobs of mindless tissue, don't be surprised if the day comes when it's your turn to be grouped as such too. You got what you asked for. Welcome to the world of your choices.
If you want to fix it, start by reaffirming unconditional love between mother and child, and by defending the primary and natural rights of the family.