Paul Zummo
A friend forwarded me this excellent article written by Archbishop Charles Caput. It's a detailed post outlining our responsibilities as Catholic citizens.
The Archbishop begins with an anecdote that hits a little close to home.
A priest I know does a lot of spiritual direction.  Two of the men he was helping died suddenly this past year, one of a heart attack and one of a stroke.  In both cases they were relatively young men and quite successful.  In both cases they watched Fox News.  And in both cases they had gotten into the nightly habit of shouting at President Obama whenever he came on the TV.  In both cases, the wives believed – and they still believe – that politics killed their husbands.

Now that's a true story.  And it's a good place to begin our time together today.  Henri de Lubac, the great Jesuit theologian, once said that if heretics no longer horrify us, it's not because we have more charity in our hearts. (i) We just find it a lot more satisfying to despise our political opponents.  We've transferred our passion to politics.
I don't yell at the television – well, not every night. I do spend more time than I should on the internet. Now there are some excellent sites – like this one, of course – but the cumulative effect of reading so much about politics can be bad for both the soul and the heart. And there are times when my obsession with politics truly dispirits me.
At the same time, there is the opposite temptation to completely shut oneself off from politics. There have been times over the past few months where I have felt like completely tuning out. Despair is a terrible sin, and when it comes to politics it is easy to despair when it seems like so many things are going wrong that you can't even keep track anymore. Yet this would be just as irresponsible as shutting out all things  except politics. Archbishop Chaput explains why we can't exactly separate the political and religious aspects of our lives.
What all this means for our public life is this:  Catholics can live quite peacefully with the separation of Church and state, so long as the arrangement translates into real religious freedom.  But we can never accept a separation of our religious faith and moral convictions from our public ministries or our political engagement.  It's impossible.  And even trying is evil because it forces us to live two different lives, worshiping God at home and in our churches; and worshiping the latest version of Caesar everywhere else.  That turns our private convictions into lies we tell ourselves and each other.
Later on he adds:
Third, despite these concerns, Christians still have a duty to take part in public life according to their God-given abilities, even when their faith brings them into conflict with public authority.  We can't simply ignore or withdraw from civic affairs.  The reason is simple.  The classic civic virtues named by Cicero – prudence, justice, fortitude and temperance – can be renewed and elevated, to the benefit of all citizens, by the Christian virtues of faith, hope and charity.  Therefore, political engagement is a worthy Christian task, and public office is an honorable Christian vocation.
Read the rest of the Archbishop's excellent article. It's refreshing to read a cleric who can discuss these issues so unambiguously and without concern that he might be offending someone somewhere.
At his best, there's simply no one who writes like Mark Steyn.
So this is America's best and brightest – or, at any rate, most expensively credentialed. Sandra Fluke has been blessed with a quarter-million dollars of elite education, and, on the evidence of Wednesday night, is entirely incapable of making a coherent argument. She has enjoyed the leisurely decade-long varsity once reserved for the minor sons of Mitteleuropean grand dukes, and she has concluded that the most urgent need facing the Brokest Nation in History is for someone else to pay for the contraception of 30-year-old children. She says the choice facing America is whether to be "a country where we mean it when we talk about personal freedom, or one where that freedom doesn't apply to our bodies and our voices" – and, even as the words fall leaden from her lips, she doesn't seem to comprehend that Catholic institutions think their "voices" ought to have freedom, too, or that Obamacare seizes jurisdiction over "our bodies" and has 16,000 new IRS agents ready to fine us for not making arrangements for "our" pancreases and "our" bladders that meet the approval of the commissars. Sexual liberty, even as every other liberty withers, is all that matters: A middle-school girl is free to get an abortion without parental consent, but if she puts a lemonade stand on her lawn she'll be fined. What a bleak and reductive concept of "personal freedom."

America is so broketastically brokey-broke that one day, in the grim future that could be, society may even be forced to consider whether there is any meaningful return on investment for paying a quarter-million bucks to send the scions of wealth and privilege to school till early middle-age to study Reproductive Justice. But, as it stands right now, a Cornell and Georgetown graduate doesn't understand the central reality of the future her elders have bequeathed her. There's no "choice" in the matter. It's showing up whatever happens in November. All the election will decide is whether America wants to address that reality, or continue to live in delusion – like a nation staggering around with a giant condom rolled over its collective head.
As funny as it is, it almost makes one want to weep.
Read the rest.
We all need prayers. Every soul praying for our soul is a net positive. As Catholics, it's one of the main reasons we ask the Saints for their prayers. Yet there are times when the phrase "I will be praying for you" sounds more like spite than a genuine offering up to God.
I've noticed this more and more in Catholic blog comment boxes, and it has happened here on more than one occasion. A person of a more leftist orientation disagrees with a post written by one of our regulars, and after a semi-heated exchange, goes off in a huff, but not before saying that they will be praying for the person they've been debating. Instead of coming off as a "I'll be praying for you so that God may provide his abundant mercy," it sounds more like the person is saying, "I will be praying for your poor soul to recognize the merits of a higher tax rate for the wealthy." The underlying tone is, I am a better person than you, so God better hear from me to save you from the hellfire.
I suppose we all do this from time to time. It was common while Christopher Hitchens was alive to hear Catholics declaring that they were praying for his conversion, or simply for his soul. Now there's not necessarily anything wrong with that, and all people truly need our prayers. Yet there is a very fine line, and we can all run into the danger of using prayer almost as a rhetorical bludgeon. It might be a good idea to stop and ask yourself, am I offering to pray for this person because I am truly moved by the Holy Spirit to do so, or am I doing this to subtly indicate my own self-righteousness? Then again – and this is for the theological philosophers to muddle over – is prayer offered up even with bad motivation better than no prayer at all?
Hey, remember when those evil Dutch overlords refused to free all their slaves in Brooklyn? No? Because Representative Yvette Clarke (D-NY) sure does.
Rep. Yvette Clarke (D-N.Y.) appeared to botch American and Brooklyn political history during an appearance on "The Colbert Report" that aired Tuesday night, saying that slavery in the United States persisted under the Dutch as late as 1898.

Colbert was quizzing Clarke on the history of her borough.

"Some have called Brooklyn's decision to become part of New York City 'The Great Mistake of 1898,' " Colbert said. "If you could get in a time machine and go back to 1898, what would you say to those Brooklynites?"

"I would say to them, 'Set me free,' " Clarke said.

Pressed by Colbert what she would be free from, the black congresswoman responded, "Slavery."

"Slavery. Really? I didn't realize there was slavery in Brooklyn in 1898," Colbert responded, seemingly looking to give the lawmaker a chance to catch her error.

"I'm pretty sure there was," Clarke responded.

"It sounds like a horrible part of the United States that kept slavery going until 1898," the late-night comedian then quipped.

Colbert pressed on, asking, "Who would be enslaving you in 1898 in New York?"

At that point, Clarke responded, "The Dutch."
Yes, that was surely a dark period of American history. Fortunately, a contingent of troops who had been training in Central Park under Joe Pepitone finally managed to free the poor, oppressed Brooklynites from the clutches of the Dutch, who were rounded up and sent back to their home country of Dutchland on a series of trans-Atlantic flights, all piloted by Howard Hughes.
Some people think that Democrats have become too statist. How could they possibly have come to that conclusion?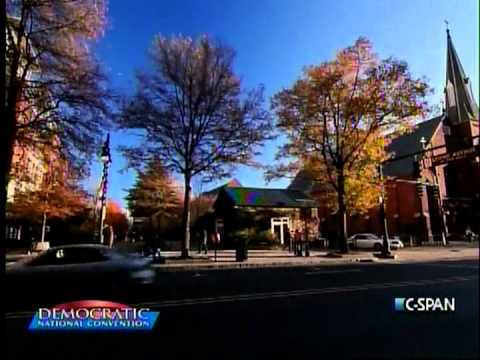 I guess Democrats were worried that Republicans had already gotten too much mileage out of "you didn't build that," so they helpfully offered up another tasty soundbite that Republicans will be able to use in ads for the next nine weeks.
It's shaping up to be a fine convention as Democrats let go of any pretension of not being governed by the far left of the party. Don's already highlighted one odious aspect of their platform, and Ace details some more juicy nuggets.
 Small businesses employ half of all working Americans, and, over the last two decades, have created two out of three net new jobs. Democrats believe that small businesses are the engine of job growth in America. President Obama signed 18 small-business tax cuts to encourage with a tax credit to help pay for the cost of coverage. In 2014, the tax credit will grow and small businesses will be able to pool their purchasing power together to get affordable coverage.

We recognize the importance of small business to women, people of color, tribes, and rural America and will work to help nurture entrepreneurship.
It's very helpful that the Democrats emphasized the importance of small business to people of color and tribes, though they left out several other key interest groups. I really wish someone had filmed the meeting or meetings where the platform was put together. They could have captured a great debate over which special interest groups to cover in that sentence.
"It should say we recognize the importance of small business to women, people of color, recovering meth addicts, and violinists."

"That's absurd. We need to mention gays, lesbians, bisexuals, transgendered, transmutated, and former NFL players diagnosed with post-concussion syndrome."

"I agree that we should include the transmutated, but what about urban hipsters and people who still use Myspace?"

"I think it goes without saying that Democrats recognize the importance of small businesses for people who still use Myspace, but we risk alienating space aliens."

"That's offensive! You know that we are not permitted to use that word."

"Oh. Right. Sorry. Undocumented interstellar travelers."
Break out the beer and popcorn, because this is going to be an entertaining couple of days.
In the crazy world of politics, and in the crazier world of presidential primary politics, there were few things more quixotic than Jon Huntsman's futile bid for the presidency. Huntsman behaved as though he stopped observing American politics the morning after Barack Obama was elected president, and didn't bother catching up even when he announced his candidacy. In many ways he was the anti-Romney, running to the left of his actual record as governor. His debate performances were uniformly terrible, as his attempts at humor fell flat, and he otherwise offered up little more than empty bromides and bland slogans that were meant to appeal to . . . well, I'm not really sure who they appealed to other than the 12 people who voted for him.
Now, in a general election where even Ron Paul has sorta kinda made peace with the Republican party, Huntsman is on a media speaking tour. Huntsman went on CNN today and blathered about the GOP's lack of inclusiveness and the party's inability to offer real solutions. Video is available at the Right Scoop. The other night, Hunstman appeared on the Colbert Report. I don't normally watch mini-Stewart, but I was in a semi-feverish state and lacked the ability to change the channel. Immediately Huntsman complained about the general state of American politics. He asked when was the last time we got together as a country and tried to work our problems out and achieve solutions to our problems. The utter vacuousness of this comment acted like a magical healing balm, filling me with the strength to pick up my remote and flip off the television, but not before hurling an agitated and incomprehensible epithet for which I must now go to Confession.
What was so outrageous about the comment? It means literally nothing. First of all, what is this great national debate that we're supposed to be having? Is there going to be a scheduled moment when all Americans gather and hash out their feelings? More importantly, people have offered solutions – they are just solutions that Jon Huntsman doesn't like. And that, right there, crystallizes the problem I have with so many political moderates. Continue reading →
A couple of days ago I was listening to a radio show on Sirius. The hosts were playing audio of a woman who had spent six hours waiting in line at the welfare office. The woman did not sound particularly old, and she had six kids.
There were several disconcerting elements to the story. The fact that this woman waited so long highlights the inefficiencies of government bureaucracies. More importantly, it was clear that this woman not only depended on the welfare checks to get by, the attitude expressed in the soundbite revealed how deeply she felt entitled to the government benefits.
No one should begrudge those who truly need government assistance. I know nothing of this woman's history, so I won't comment on her situation specifically. But I was saddened as I listened to this woman speak, and I thought of how welfare has turned many people into truly helpless individuals – not because they are so by nature, but because that is what the welfare state does to people.
The radio hosts who played this story have what can be described as a libertarian bent, and they decried the welfare state's tendency to breed dependency. Yet I couldn't help but laugh at their willful blindness, for they are certainly the types who would mock social conservatives. So many libertarians, or socially liberal and economically conservative individuals, fail to appreciate the nexus between social and economic issues. The breakdown of the family contributes to the rise of the welfare state. More and more children are born out of wedlock, and single mothers must turn to the state to provide financial support to their families. Yet these social libertarians (indeed some of them are libertines) see no contradiction in promoting lax cultural mores while decrying ever-increasing government dependency.
Yet libertarians are not the only ones who fail to connect economic and social issues. Looking at it from a different perspective, those who consider themselves socially conservative but who advocate enhanced government intervention in economic affairs do not see how the welfare state itself leads to the breakdown of the family. The welfare state has practically displaced the family in many situations, fostering the sense of independence from family life. The family hasn't been wholly displaced as the primary means of financial support, but many people have been brought up to expect that the government will be there to bail them out of poor life choices. Therefore, just as the breakdown of the family contributes to the rise of the welfare state, the welfare state itself contributes to the breakdown of the family. It is a vicious cycle, and those who insist that we can separate economic and social issues perpetuate that cycle.
Attention sports fans: there is a brand spanking new sports blog titled Miles from Bristol. We're just getting started, but head on over for some scintillating discussion about all things sports (and even sports entertainment). As you can tell from the glitzy design we're more about content than style.
If you would like to be a contributor to the blog, leave a comment here.
Devastating to Barack Obama, that is.
Former Florida Gov. Charlie Crist says he's backing Barack Obama in the 2012 presidential race.

The former Republican made the announcement in an op-ed piece published in Sunday's Tampa Bay Times. The endorsement came as Republicans are gathering in the Tampa Bay area for the GOP convention. It also came amid preparations statewide for Tropical Storm Isaac.

Crist left the Republican Party during his unsuccessful bid for a U.S. Senate seat in 2010 and is currently registered as having no party affiliation. He was elected governor of Florida as a Republican in 2006.
Yes, that "unsuccesful" bid, where as a sitting governor he netted a whopping 30% of the vote and lost by 18% to Marco Rubio.
So after being humiliated in the general election by Rubio, Crist has decided to take his marbles and endorse President Obama. Hmm, where have we seen this act before? A person's ambitions for greater glory are thwarted, and he decides to simply switch allegiances in an effort to suck up to Barack Obama. I really feel like I've seen this play out before. Hmmm.
Crist will be speaking at the Democratic convention in Charlotte. I'm sure the Democrats are excited that a former Republican governor will be addressing their convention. Actually, they're probably excited that anyone is speaking at their convention at this point.
As for Crist's endorsement, it is interesting that the man who once claimed that Sarah Palin was more qualified to be president than Barack Obama is now endorsing the latter. What changed Crist's mind? Well, let's look at his op-ed.  Continue reading →
Sometimes I can get heated in my writing. I recognize that I am not always the most temperate of bloggers. But if I ever write anything as hysterically removed from reality as this Corner posting by Deroy Murdock, please have me forcibly removed from the internet.
Murdock starts out semi-sensibly, expressing his disgust over Akin's comments and stating that he should have dropped out of his Senate race. Fair enough, that's how I felt about the matter. Then he delves into apocalyptic nonsense.
This will be an utter catastrophe for the GOP — from St. Louis to San Diego to Seattle to Sarasota to Seabrook.

Any American who does not know Akin's name already is about to hear it non-stop, thanks to Democrats who cannot believe the beautifully wrapped gift that Akin just handed them. Rather than engage the buoyant Paul Ryan and the re-energized Mitt Romney or explain to seniors why President Obama swiped $716 billion from Medicare to finance Obamacare, Democrats will have a much more startling theme to pound home until November: Republicans are soft on rape.
Yeah. It is true that Akin has likely prevented the Republicans from picking up a Senate seat, but Murdock is just as likely highly exaggerating the ramifications of his comments for the rest of the party. Yes, Akin provides some fresh meat for a Democrat party, but really, they aren't really saying anything new about the woman-hating GOP. Meanwhile, the economy remains a shambles, and the American public is only so willing to permit distractions to make them forget that fact. So I think that Akin's comments, while insanely idiotic, will not have a far-reaching impact beyond his own race.
Around the clock, Democratic candidates, spokesmen, commercials, and the party's foot soldiers in the news media will labor sedulously to transform the party of Lincoln and Reagan into the party of Akin. By Election Day, Akin will be more famous, ubiquitous, and inescapable than Kim Kardashian. His twisted comments on rape will be played again and again, with spooky music, scary edits, and every instrument in the campaign consultant's tool box applied to amplify this message.

By November 6, the only woman who will vote for Mitt Romney will be Ann Romney — maybe.
Uh huh. The GOP will be able to replay Obama's "you didn't build that" comment on the same repeated loop (and actually slightly more often considering the GOP money advantage). Which of these two ploys will resonate more deeply with voters this election cycle?
With women (and many men) terrified by the Party of Rape, Republican candidates and causes will fall like autumn leaves, after which some will blow away, and others will gather in piles and fester.
Sure. Moreover, failed Republican candidates will grieve for months over the shocking loss. Bereft of comfort, they will spiral out of control, dying desolate and alone, clutching nothing but an empty bottle that was their only means of warmth on the cold streets in which they dwelled. Their widows and orphans will wallow in misery. Even with Obamacare fully implemented and strengthened by the McCaskill amendment barring all private insurance, making the federal government the sole provide of healthcare, the GOP widows will be abandoned by a vengeful government. Eventually they will be killed – as will we all – by the machines that rise to power after President Biden accidentally flips the wrong switch on the day they are to be activated in our war with Canada.
Does Akin want to be the man whom history will recall as guaranteeing McCaskill's reelection, possibly keeping the U.S. Senate in the hands of hardened liberal Democrat, Harry Reid?

Does Akin hope to be known in perpetuity as the cause of Barack Obama's reelection, notwithstanding the multifarious merits of the Romney-Ryan ticket?

Does Akin want to lie on his deathbed and exhale his last breath while trying vainly to forget that he made it impossible to repeal Obamacare, reverse the rampant damage of the Obama years, and turn America from the path to decline?
Does Akin want to wake up in the fiery depths of hell, Satan welcoming him to an eternal torment?
Does Akin want to spend his hellish eternity watching re-runs of What's Happening while listening to the soulful tunes of Kenny G?
Does Akin want to open the portal that allows all of the demons of hell to march triumphantly upon heaven, thus causing all of eternity to be erased in an instant?
Well if Akin doesn't want to end all of existence, then there's no choice but to unleash the hounds of parliamentary procedure.
On its opening evening in Tampa, the Republican National Convention should vote on prime-time television to denounce Akin, reject his wretched comments, disassociate the party from him, and pledge that no GOP resources will be deployed to support his campaign. Each delegation should express itself on this matter through a roll call of the states. The decision should be overwhelming, if not unanimous, against Akin.
His name will be stricken from the records, his mere existence denied Republicans for all eternity. Any who dare even mention the name Akin – who hereafter shall be referred to as He Who Must Not Be Named – will be arrested and jailed.
Of course this still might not be enough. Todd Akin should be dragged onto the stage and sacrificed. Sandra Fluke should be invited to be the one to plunge the knife into Akin's still-beating heart. And she should be given a lifetime supply of contraception as a final means of atonement.
Then, and only then, will this long national nightmare finally be behind us.
Until somebody else says something stupid. In other words, when Joe Biden speaks in public again.
Chris Johnson, whom Donald has labeled as Defender of the Faith, sums up my feelings on the Todd Akin affair both here and here. Darwin also has an eminently sensible take. Meanwhile, Akin continues to labor under the delusion that he can still defeat Senator McCaskill this November, bolstered by this preposterously over-Republican sampled poll showing that he maintains a one point lead. Evidently his idiocy extends to issues beyond rape.
What's remarkable is that a hefty proportion of conservatives are calling for Akin to withdraw. When Sean Hannity, Mark Levin, Ann Coulter and (kinda sorta) Rush Limbaugh are all urging you to get out of the race, it's a sign that it's not just establishment "RINOs" that have turned against you.
Now I do also think that Levin and our own Bonchamps make good points about Democrat hypocrisy on this issue. That said, those few who continue to defend Akin are relying on the most obnoxious tu quoque strategy in order to justify Akin's continued presence in the Missouri Senate race. Chris and Dana Loesch have been Akin's most ardent supporters on twitter. They haven't necessarily defended his statement, but they have insisted that because Democrats say and do much viler things, and because leftists tend to rally around those Democrats who say and defend stupid things, it's wrong for conservatives and Republicans to insist that Akin get out. They argue that conservatives opposed to Akin are being cowards who are chickening out in the face of Democrat aggression.
First of all, I would argue that the more cowardly and politically weak-minded thing to do is to essentially cede what should be a fairly easy pick-up for Republicans. More importantly,  blind partisan loyalty is not a virtue to be emulated, and the proper response to gutter politics is not to get in the gutter with your opponents.
Let's take a look at two comments left on Bonchamps' post.
Yes women get pregnant from rapes. No your body doesn't shut that down. If a man ejaculates semen into a woman, she can get pregnant whether it's consensual or it's rape. I knew a woman who did indeed get pregnant after being gang raped. It happens. Apparently you folks think rape is a joke. Hardy har.
This was downright erudite in comparison to this one:
i hope all of you get raped and then you can feel what it is like, bunch of hypocrites
If you read the comments on Congressman Akin's facebook page announcing that he is staying in, you'll see comments from conservatives supporting him, comments from conservatives politely asking him to step down, and comments from unhinged leftists who think that Akin's comments are a sign that he and all Republicans want women shackled and subservient. Twitter is alive with comments from the likes of Michael Moore:
Don't let the Repubs paint Akin as a lone nut. HE is THEM. They all believe this: Gov't MUST have control over what women do w/ their bodies
This is a sentiment that has been echoed in various corridors.
There's really no charitable way to put it: these people are obviously out of their gourd. These are people not interested in dialogue, nor or they people who can be reasoned with. Yet these are types of people that Akin supporters, in a sense, want to emulate. Instead of being reviled by the viciousness or ruthlessness of the hyper-partisans on the left, some on the right are consumed with the idea of "fighting fire with fire."
Don't get me wrong. The Akin supporters (by and large) have not said anything nearly as dumb or vile as these people. Yet instead of recognizing the behavior of the other side as something anti-social and to be avoided, it's as though certain conservatives see this, dig in their heels, and insist on playing a somewhat milder version of the same game.
A lot of the people on the right behaving like that think that they are simply following in the path of the late Andrew Breitbart. Breitbart, of course, was largely beloved on the right because of his take no prisoners attitude, and because he had an amazing ability to beat the left at their own game. But there's a difference between sticking to your guns and blind partisan loyalty. I can sympathize with individuals who believe that Republicans are too soft at times and easily back down from political fights. Yet, I don't think it's a bad thing that Republicans actually are willing to hold other Republicans' feet to the fire. In other words, there is nothing dishonorable about being honorable. I don't think blind partisanship is something we need more of.
It has always been incomprehensible to me that we don't require photo identification for voting. The idea that you can just go up to an election official, simply state your name, and then receive your ballot is mind boggling. We require identification for so many other important functions, yet we're basically leaving it up to the honor system when it comes to voting. It's simply a matter of fairness. It's bad enough that my vote gets cancelled out by idiots – you know, people like Joe Biden – but it is even more unfair to have it cancelled out by someone who does not have a legal right to vote in that particular election. Requiring identification certainly wouldn't eliminate all incidents of voter fraud, but they would go a long way in ensuring that everyone who votes has a legal right to do so.
Well, the major argument against these laws is that we are somehow disenfranchising people. This is utter nonsense. No one who has a legal right to vote would be barred from voting because of a photo i.d. law. Sure, there are people who do not possess photo identification, particularly the elderly. How they function without identification is a mystery to me, but most of the proposed laws have provisions to help these people get identification.
Yet that is not how some people on the left claim to see it. To them, evil Republicans just want to make sure the poor and the elderly are forced to stay home on election day. Today I had a twitter exchange that typified the attitude of many anti-i.d. folks. It hammered home a few things about their attitude that is frankly quite scary.