Paul Zummo
Last night I posted a link to this brilliant bit of satire about internet snark. Here's a taste:
Hey, 2005? Your meme is calling. Get into the weeds. Shorter generic liberal blogger: I'm angry and don't understand syntax. Teh gay, it burns!… The stupid, it burns. There, fixed. Awesome sauce, the Villagers have held their grand powwow and declared that all the Very Serious People must use Abundant Capital Letters to convey irony. Line of dialogue from The Simpsons during the Clinton era.

That gerund-employing, chain-of-modifiers-involving, consumer-items-invoking, would-be rant directed at middle-class liberals? Meh. Just breathtakingly meh. Worst. Recycled. Gimmick. Ever.

Further useful phrases. Stay classy, concern troll! A smart take on entitlements "reform." That whole coherence thing? Whatever. Smackdown. Beatdown. At a time when [minor incident involving identity politics] and [another minor incident involving identity politics] and [another minor incident involving identity politics], why behave "reasonably " regarding [another minor incident involving identity politics that is in no way the responsibility of the person being addressed]?
It is easy to rely on snark as a means of dismissing other viewpoints, I might be guilt of occasionally employing snark as a rhetorical weapon. Yet it can be overused, and writers who use snark as a rhetorical crutch can choke on their own nastiness to the point that it becomes a bore to read them.
As if to demonstrate this point comes this piece from Think Progress titled "We Could End Homelessness With The Money Americans Spend On Christmas Decorations." The post itself is not intensively snarkish, although substantively its premise is absurd, as aptly demonstrated by Stacy McCain. The comments to the Think Progress piece, on the other hand, are a virtual wasteland of snark. A sampling:
how dare TP open a front in the war on christmas by using christmas as a way to do christian things instead of engaging in celebration!

Hahaha… how dare they indeed. Who do they think they are Fox News!

I wonder which one Jesus would really like for his birthday?

the real Jesus or supply side Jesus?

If those of us who love and admired Jesus just lived and loved Jesus this would be a moot discussion.
To be fair, there are people who left meaningful and more insightful comments. Also, snarkiness is certainly not endemic solely to the left.  But look at how those responses basically dehumanize and debase people who might have different viewpoints. They display obvious disdain towards Christians and our supposed hypocrisy for hanging Christmas lights as though we are not also devoting time, talent and treasure to help the homeless. It's an easy way to demonstrate one's moral and intellectual superiority without actually addressing the issue.
On the other hand, while snark can be overused, there is a role for humor and light-heartedness in our communications. The flipside of the snarksters are those dour individuals who are under the impression that laughter is a mortal sin. Seriously – there are people who point out the lack of bible passages referring to Jesus laughing as positive proof that he never laughed, and as such neither should we. One wonders what other human activities not attributed to Jesus in the Scriptures these literalists also forgo, but we'll leave that one to the imagination.
Sure, some topics merit nothing but serious discussion, but the perpetually straight-laced and humorless are frankly tedious. I know Rush Limbaugh is not everyone's cup of tea, even for those on the right, but one of the primary reasons – if not the primary reason he has been as successful as he has is that he is able to treat political topics with humor. Contrary to popular belief he doesn't just go on the air and scream into a microphone. And as his show has aged his satire has grown sharper. If Limbaugh just went on the air and day after day just ranted and raved unhumorously, he would not have 20 million listeners. Okay, he might have ten million listeners, but he still wouldn't be as popular. Similarly, Mark Steyn is able to get away with publishing columns full of doom and gloom because he does so with a sharp wit that prompts the reader to laugh and cry at the same time. Glenn Beck is at his most enjoyable when he's not going off about Agenda 21 but instead when he's simply satirizing some bit of liberal sillyness. I think one of the reasons MSNBC is so unwatchable – other than its decided left-wing slant – is that most of the on-air talent lacks that element of light-heartedness and humor.
It's hard to distinguish between snark and humor, and at times they are in fact indistinguishable concepts. In the end, one can be satirical without necessarily being nasty, a concept obviously foreign to some of the followers of "Think" Progress.
It's a sign of how much time I've had to blog that I'm just now getting to this post from Ace of Spades regarding comments made by Rush Limbaugh. The content that Ace quotes is crucial to understanding the problems that we truly face. Here's Rush:
As you know, I'm a big technophile, and I read every tech blog there is, particularly those related to Apple. And all of these people contributing and writing and posting these blogs are under 30. And they live in a different world than I do and they live in a different world than I grew up in. The things that they just assume are true, like there is no doubt whatsoever that we are destroying the planet with global warming, no doubt. They can't even conceive of what you and I both know to be the truth, and that is, the whole global warming thing is a hoax. They do not even think it's a political issue. They do not realize that everything they believe in has been totally corrupted by politics. What they think is science is nothing more than corruption by the left, but they don't know any better. It's what they've been exposed to from as early on in their lives as their brains were capable of learning anything. And that happens to be the kind of thinking that populates the entertainment culture and so forth. I really think that the solution to our problems are not really political. I think conservatives are seen by young people and the left and the pop culture the way they are not because of what these people have been taught about conservatism. It's purely cultural. They don't know ideology. They don't know liberal versus conservative. They've not been told, for example, that Romney is a skunk or whatever because he is a conservative. It goes far deeper than that.

So the battle that we face is not really an ideological one. I must confess, I think the solution will be found in ideology, but I must confess, I think I've been a little wrong. I have waxed eloquent here on this program. I have longed for the day where people understand what liberalism is ideologically. I have begged the Republican Party to campaign on ideology and to explain to people what liberalism is by pointing liberals out. You want to see liberalism, look at Detroit. You want to see liberalism, look at California. You want to see liberalism, look at Cuba. You want to see liberalism, look at Venezuela. The Republicans haven't done it. I don't know why, don't care right now. But the young people do look at Cuba, and they lionize Che Guevara. They wear his T-shirts. They look at Cuba, they don't see any big problem there. They don't know. My only point here is I'm just scratching the surface on this, by the way, so I'm speaking off the top my head here, but I really think that the way this is going to have to be attacked and dealt with is not to set politics aside. I'm not saying that none of this is political, but it's a cultural problem we face. The reason conservatives have been so maligned and are so maligned, the reason people who don't know us think of us the way they do is not because they understand politics. It's a cultural thing.
A lot of the post-election analysis missed this point. Well, maybe it would be more accurate that most of the people offering post-election analysis simply didn't care about this point. In the narrow world of electoral politics, shifts in party popularity occur with great frequency. Those predicting doomsday for the Republican party are completely wide of the mark. And yet the chicken littles miss the much more troublesome gap – the cultural gap that slowly destroying this country. We've seen the stories about apartment complexes telling their residents to take down Christmas trees in common areas, and schools being prohibited from doing productions of Merry Christmas Charlie Brown. But of course there's so much more than that. Young people are indoctrinated in schools and from television and movies. Conservatives have abdicated – both by our own choice and through design from the secularist left – any role in these cultural institutions. As Rush describes, these young skulls full of mush start out with a set of assumptions about traditional morality and other cultural issues that are foreign to most of us running around Catholic and conservative blog circles. This is not something that is magically going to be fixed by legislation or more tax credits for middle class families.
Unwittingly, I think Josh Trevino gets to the heart of this in a single tweet: Continue reading →
Via the Right Scoop comes this video from Steven Crowder, exposing some of the more ridiculous argument from those who support the decriminalization (or legalization) or marijuana: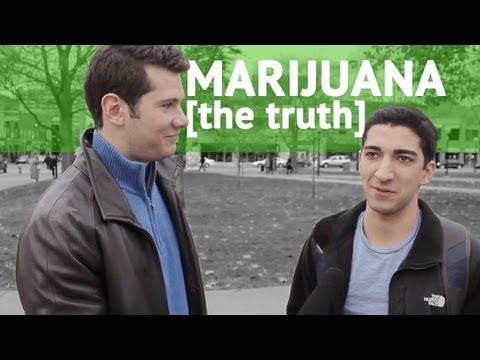 Please note that Crowder does not address the constitutional issue surrounding federal marijuana prohibition. In fact he goes out of his way to emphasize that there are legitimate arguments to be made that this is not an issue that justifies federal intervention. But as the video highlights, none of the people he interviewed brought up the constitutional argument. Instead, his interviewees relied on tropes that are untrue. He also makes a point about prohibition that I have often made: namely, that the 18th Amendment prohibited the use of a substance that was already legal and widely used by most Americans. Marijuana legalization would make available a previously criminalized substance used by a minority of Americans.
Like Crowder, I believe that the constitutional arguments against federal marijuana prohibition are, at a minimum, compelling. But if you are going to take up the cause of decriminalization, at least make better arguments than these people.
One of the reasons my more pessimistic (and, as it turns out, realistic) friends cited for believing that Mitt Romney would lose is media bias. I dismissed this not so much because I don't believe that media bias isn't an issue, but because I thought that there were enough countervailing forces to push Romney over the hump. Whoops.
I'm still leery of citing media bias as a principle cause of Barack Obama's victory because doing so would diminish the more serious issues, and there are no shortage of reasons explaining why Barack Obama defeated Mitt Romney. That said, it's clear that a compliant media helped. From Candy Crowley giving a big assist at the second debate, to media silence over Benghazi (which followed years of silence on Fast and Furious), to harping on every minor (and not so minor) GOP flub, it's clear that conservatives have been swimming upstream against a media tide.
But Ronald Reagan dealt with a biased media, and he managed to defeat Jimmy Carter, and then went on to win an even bigger landslide against Walter Mondale. Moreover, Reagan accomplished that in an ere where the only major national news sources were left wing networks and a handful of national daily newspapers. Now there are institutions like Fox News, talk radio, and blogs and other alternative media outlets. Haven't these leveled the playing field?
Well, the problem is there are left-wing new media outlets, and they are just as well-read and well-watched as the right-wing outlets. Sure Fox is the king of cable news, but the sum total of the other television and cable networks outdraws the Fox viewership. And while talk radio may be dominated by the right, the left has outpaced the right when it comes to electronic media.
More importantly, while right-wing alternative media outlets may draw some non-partisans, we have become a polarized country even when it comes to our sources of news information. David French linked to a very informative graph that shows how conservatives and liberals are simply digesting news in very different ways, and left-leaning sources are ones which are very influential in the broader culture. We may shake our heads in disgust over the fact that many young people actually rely on the Daily Show with Jon Stewart as a credible news source, but that doesn't make it any less true. As French notes, so-called moderates tend to read or watch left-leaning sites and programs, thus the new right-wing media isn't penetrating the core demographic of younger voters. As someone perhaps more tuned into pop culture sites than most in these parts, I can testify that there is a definite leftist tilt that certainly influences those who are otherwise not especially tuned into current events.
I would also argue that the 24/7 news cycle hasn't redounded to the right's advantage. Sure Rather, Cronkite, Jennings, Brokaw and others were heavily influential, but they were on for 30 minutes a day – 22 if you factor in commercials. If a conservative politician made a blunder, they could plaster it on the nightly news, but then it was largely forgotten for another 23 hours. Now that blunder will be tweeted and re-tweeted, blogged about, joked about by Colbert and Stewart, mentioned on "apolitical" humor and culture sites, and broadcast on CNN, MSNBC, CNBC, and even Fox. There's no place to hide. So while news outlets ignore the  president's dithering while his ambassador was killed, everyone is sure to hear about "legitimate rapes" over and over again.
I maintain that there are bigger problems than media bias to overcome, but it is a larger problem than I had thought previously.
There will be plenty of election day coverage here at TAC. Tito has helpfully put up a little widget that will show my election day tweets over on the sidebar. My tweets are sure to get more entertaining (although perhaps less coherent) as election day progresses.
Mark Gordon at Vox Nova explains why he is voting for neither Barack Obama nor Mitt Romney.
For my part, I won't be voting for either Obama or Romney because both promise to pursue policies that violate my understanding of fundamental Catholic teaching. To invest my democratic franchise in either would, in my opinion, be an abrogation of my first responsibility, which is to to witness to the Gospel in all its dimensions. For me, there can be no disjunction between the two. To permit any other allegiance, identity, issue or ideology to trump the Gospel – even temporarily or provisionally – is, again in my opinion – a form of idolatry. Christian discipleship must be marked first of all by an unyielding evangelical integrity: "But seek first the kingdom of God and His righteousness …" (Matthew 6:6). And just as I would hope not to choose a "lesser" evil in my personal or business life, neither can I do so as a citizen. As I've often written here, when you choose the lesser of two evils, you still get evil. Christians shouldn't be in the business of choosing evil.
Such is his right, and if he genuinely believes that voting for either candidate would involve cooperation with evil, then the choice is understandable and perhaps commendable. The problem with Mark's analysis is that only one candidate affirms positions that are clearly in opposition to dogmatic Church teaching. Continue reading →
This is a Catholic blog, so I am not capable of fully sharing my feelings regarding Mayor Michael Bloomberg right now. The man who has spent a good chunk of his mayoralty sticking his nose in the lifestyle choices of his citizenry, supposedly out of concern for their health, doesn't seem very interested that some of them are lying dead or are missing. No, it's not as important as making sure this crucial marathon is run.
As Drew M says, the "getting back to normal" thing doesn't start until relief efforts are fully exhausted and there's a full accounting of the damage, and all the missing have been accounted for. The idea that they're going to divert resources away from Staten Island and other parts of the city in order to accommodate a bunch of people who want to run a long distance is sickening. Staten Island is fairly large, but there are few means of getting in and out of the island. Closing down the primary means of getting to the island and delivering relief items for any amount of time is criminally insane.
What a disgrace.
Edited to add: If anyone wonders why this is madness, read this:
 As hundreds of thousands of Big Apple residents suffer in homes left without power by Hurricane Sandy, two massive generators are being run 24/7 in Central Park — to juice a media tent for Sunday's New York City Marathon.

And a third "backup" unit sits idle, in case one of the generators fails.

The three diesel-powered generators crank out 800 kilowatts — enough to power 400 homes in ravaged areas like Staten Island, the Rockaways and downtown Manhattan.

As of Friday morning, 11 generators sat outside of the park and a food services truck dropped off hundreds of cases of water, sparking angered responses from hurricane victims.
Update: They finally came to their senses and cancelled.
Superstorm Sandy has largely passed my area by, and Pepco has been spared another round of calamitous outages. Luckily for you that means I get to write a post digging deep into presidential election statistics.
Though the election polls have produced differing results, a general consensus has seemingly emerged. Mitt Romney is, at worst, tied with President Obama, and has upwards of a five-point lead. The Real Clear average of polls puts Romney up by less than a point. On the other hand, RCP has Obama up 201-191 in the electoral college, with a 290-248 edge in the "no toss-up" scenario. Obama has held a consistent edge in the battleground state of Ohio, though Rasmussen's most recent poll now has Romney up by two.
In general, I agree with Jim Geraghty that it appears almost certain that Mitt Romney will win the popular vote. It takes polls with rather generous Democrat advantages (in the range of D+7 and up) to even get Obama tied. I trust Gallup's likely voter screen more than other polls, and Gallup has had Romney with a steady advantage of three-to-five points.
It's certainly possible that Mitt Romney could win the popular vote and lose the electoral college. It has happened to several presidential candidates in our history, and we are all familiar with what took place in 2000. What is fairly unlikely, however, is for Mitt Romney to win the popular vote by a substantial margin and still lose the electoral college. If Mitt Romney wins the popular vote by more than even just a percentage point, than he will be the next President of the United States. Of course we can never be certain in politics, but it seems like a safe bet that the electoral and popular vote winner will the the same person.
One of the reasons that an Obama electoral college victory in the face of a popular vote defeat is unlikely is that massive swings in national vote totals are reflected in all states. President Obama won the popular vote by seven percent over John McCain in 2008. Assume for the moment that Mitt Romney wins by just one percent – that would signify an eight point swing in favor of the Republicans. Such a huge shift in the electorate is not going to be limited to a small number of states. And as history has shown, when the incumbent party loses support, it loses support everywhere.
I have taken a look at each presidential election since 1976. Since that election, the incumbent has lost twice, the incumbent party has lost two additional times, the incumbent has won three times, and one time the incumbent party has won once. In all but two of the elections since 1980 there has been a net shift of at least eight percent. Let's take a closer look: Continue reading →
Indiana Senate candidate Richard Mourdock is in trouble. When talking about his opposition to abortion and whether he believes that there should be an exception in the case of rape, he had this to say:
"I know there are some who disagree, and I respect their point of view, but I believe that life begins at conception," the tea party-backed Mourdock said. "The only exception I have, to have an abortion, is in that case of the life of the mother.

"I've struggled with it myself for a long time, but I came to realize that life is that gift from God," Mourdock said, appearing to choke back tears. "And even when life begins in that horrible situation of rape, that it is something that God intended to happen."
There have been hysterics from the usual quarters, and Mitt Romney has even had to distance himself from the remarks. Pro-life candidate for governor, Mike Pence, even called on Mourdock to apologize.
Apologize for what?
Mourdock's phrasing was awkward in that it he could be interpreted as saying that the rape itself was God's will. Clearly Mourdock is referring to the pregnancy. Therefore what Mourdock is relating here is the true pro-life position. It's nowhere near as bad as Todd Akin's legitimate rape comments, and therefore those trying to make hay out of these comments are simply being disingenuous.
I was irked by something that Drew M at Ace of Spades said on this topic. Even though Drew thinks the backlash is unwarranted, he had this to say about Mourdock's position:
I think Mourdock's position is appalling (not his thoughts on God's unknowable plans but the idea a rape victim should be forced to carry the pregnancy to term)
Normally I agree with Drew, but how can one find Mourdock's position appalling, especially if one is otherwise generally pro-life? I can understand why people take the pro-life with exceptions position, and I would definitely accept a political compromise that prohibited abortion in all cases except rape, incest and where the life of the mother is at risk (though I think the practical application of such a law would be fraught with difficulties, but that's for another discussion). And while I certainly don't want to distance myself from people who are with me 99% of the way on an issue that is of the utmost importance, the pro-life with exceptions stance is logically untenable.
If you are pro-life it is because you presumably believe that life begins at conception. So if you advocate for the prohibition of abortion while simultaneously allowing exceptions, are you saying that the lives of those conceived via rape are somehow not fully human? Does the means of conception somehow instill greater value in certain forms of human life than others? If you are pro-life "except for rape," what you're basically saying is that abortion is murder and unacceptable, but murdering a child conceived in rape is somehow permissible. Well why should the method of conception matter?
In truth I understand why people are reluctant to commit to a 100 percent pro-life position. It is uncomfortable arguing that a woman who has experienced a brutal crime should then be forced to keep her child – a child that is a result of no choice of her own, and which could compound the trauma of what she has gone through. But by doing so, you are allowing sentiment to override reason.
The "with exceptions" pro lifers concern me because I wonder if they have fully thought through their positions. It is why polls that show a majority of Americans now turning towards a pro-life position are not necessarily cause for rejoicing quite yet. Again, I do not want to look a gift horse in the mouth, so to speak, and in no way would I want to turn these people away from the pro-life movement completely. Yet I think the instant revulsion to the sentiments expressed by Mourdock on the part of even some pro-lifers is worrisome.
Jeff Goldstein left this comment on his own blog.
The wife and I reversed course and did in fact pull the trigger for Romney. But only as a stop gap to get Obama out.

Having voted for him, I now own part of him, should he win. And I'm going to be a very very very strict owner.

Beyond that, though, I think whatever the outcome of this election, the GOP establishment and the conservative / classical liberal / TEA Party base are going to engage in a huge existential battle. And I think the GOP is either going to have to get in line with us or head over to the Democrat side. Which won't be terrible, because it'll dilute the hard left with a lot of moderate mushiness and move it more toward the Democratic party of, say, JFK.

I agree with those of you who say enough is enough, and no more lesser of two evils. And I don't begrudge you voting libertarian or writing someone else in. I really don't. I just feel like we can not afford 4 more years of this guy without bringing the whole thing crashing down. And with two small kids, that literally terrifies me. In my state, every vote counts.

But it will be moot if we don't also take the Senate and the House, and not with establicans, either. Any GOP office holder who has pimped for a Democrat instead of a TEA Party challenger should be primaried and cast out, whatever his or her voting record. There cannot be a permanent ruling class. And it's time these entitled suited monkeys learned that.

We also need to change leadership — at least in the House. I think McConnell will, confronted with the reality of a bunch of new conservative / TEA Party Senators (should we get them; the GOP isn't too terribly concerned with helping most of the serious ones, many of whom are in tight races), act in the interests of that particular trend. Boehner, on the other hand, needs to go. As does Cantor. Period. Full stop.

To me, it's completely unacceptable that the GOP is allowing the Dems to beat up on Bachmann, King, and West — along with a number of very good constitutional conservative Senate candidates.

And that needs to be made clear as well, forcefully, once this election is over.
Ditto.
As I type this I am watching the third party debate on CSPAN. Yes, I am watching more of this than I did the debate that took place between Obama and Romney last night. Here's the thing. While it's nice to say that you are going to vote third party in protest, the people who are actually running for president on third party tickets are, shall we say, less than serious. Jay Anderson's friend Virgil Goode seems like a decent man and the one third party candidate who is tethered to reality. On the other hand, the rest of the people on the stage seem more interested in vital issues like ending drug prohibition and combating climate change. Gary Johnson is under the impression that when he's inaugurated he will wipe out the income tax and balance the budget, evidently as unicorns and mermaids dance around the maypole. The candidate of the Justice Party, Rocky Anderson, seems like he has gotten a head start on the end of prohibition. And then there's Jill Stein of the Green Party, who makes one long for the seriousness of the Nader campaign.
All of the candidates for president – those polling in the 40s and those polling in the .40s alike – are simply not attractive. As is almost always the case we have to choose the least bad candidate. The least bad candidate of this election cycle happens to be Mitt Romney. It is unfortunate that it has come to this, but when the available protest candidates are even more revolting than the primary candidates (and my only options in this state are Johnson and Stein), then there is little choice.
That being said, I think that Goldstein's points are going to be worth keeping in mind. Assuming that Mitt Romney is elected as the next president of the United States – and I believe he will be – that is but the first stage in what is going to be a long battle not just between Republicans and Democrats, but between Republicans and Republicans as well. (And presumably there will be the same serious soul searching internally for the Democrats.)  But that's a post for another time.
As for now, I'm going to watch Larry King do a better job moderating the clown debate than anyone who moderated the "real" debates.
We're in the home stretch now as we look at the final set of Senate races. Each of these contests are either complete tossups or utter blowouts.
Pennsylvania - Republican: Tom Smith. Democrat: Bob Casey (Incumbent).
This race had flown under the radar as it appeared that Casey was cruising to re-election. Smith started gaining momentum at a time when nearly every other Republican was losing it, and he has now narrowed the gap. Even when Casey was well ahead he was failing to poll at the magical 50% number. Casey's problem is representative of the shift in the Pennsylvania Democratic party. While his father was a true social conservative, and therefore a good fit for the state, the younger Casey pays only lip service to abortion and other issues. I think that Casey will survive, but only barely, and for just one more term. Prediction: Democrat hold.
Rhode Island - Republican: Barry Hinckley. Democrat: Sheldon Whitehouse (Incumbent).
A Republican polling firm has this race in single digits. Until I see other polls showing it that close, it still looks to be a pretty safe seat for Whitehouse. Prediction: Democrat hold.
Tennessee - Republican: Bob Corker (Incumbent). Democrat: Mark Clayton.
Corker was just about the only Republican to win a close election in 2006. He won't have to sweat this time. Prediction: Republican hold.
Texas (open R) - Republican: Ted Cruz. Democrat: Paul Sadler.
Democrats in Texas must feel like Republicans in New York and California. One would think in a state as big as Texas, as Republican-dominated as it is, Democrats would be able to field a semi-competitive candidate. As it is, the real election occurred over the summer when Cruz upset the state's Lieutenant Governor in a primary runoff. The only question about this contest is how big Cruz's margin of victory will be. Prediction: Republican hold.
Utah - Republican: Orrin Hatch (Incumbent). Democrat: Scott Howell.
For once Orrin Hatch had to battle for re-election, but it wasn't the general election that he had to worry about. Hatch was able to avoid the fate of his former colleague, Bob Bennett, and successfully fended off a tea party challenge for the nomination. Hatch had a little more conservative credibility than Bennett, obtaining the support of figures like Mark Levin. Having won re-nomination, Hatch will cruise in the general. Prediction: Republican hold.
Vermont - Republican: John MacGover. Independent: Bernie Sanders (Incumbent).
If there is a silver lining for Republicans, it is that this will continue to be technically a non-Democrat seat. Yeah, I'm stretching. Prediction: Independent hold.
Virginia (open D) - Republican: George Allen. Democrat: Tim Kaine.
In a year of tossups, this might be the tossiest-up of them all. Allen is running to regain the seat that he macaca'd himself out of six years ago. Allen has done better than he did during the last campaign, when he spent the better part of the Fall running negative ads against Jim Webb in a desperate effort to deflect attention away from his macaca moment. The 2006 election was one where partisans on both sides wished both candidates would just go away. Now, in an election pitting two former, relatively popular governors, once again it seems there is surprisingly little enthusiasm. At times it appears that both candidates are kind of going through the motions to win a seat neither really desperately wants, but feel compelled to run for out of some sense of party loyalty. It is truly a strange dynamic, and the voters have expressed their own confusion by failing to break for either candidate. It's almost impossible to pick a winner, but I'll go with Allen to win back the seat. No matter who wins, I sense that this will be an open-seat contest again in 2018. Prediction: Republican pickup.
Washington - Republican: Michael Baumgartner. Democrat: Maria Cantwell (Incumbent).
Another seat that the Republicans had some hopes for at the beginning of the year, but this was never a race. Prediction: Democrat hold.
West Virginia - Republican: John Raese. Democrat: Joe Manchin (Democrat).
Manchin has done a masterful job of persuading Mountaineers that he's a rogue independent while siding with his party when it really matters. Prediction: Democrat hold.
Wisconsin (open D) - Republican: Tommy Thompson. Democrat: Tammy Baldwin.
This race has followed a path unlike most of the others. When former governor Tommy Thompson won the nomination this seemed like a prime Republican pickup opportunity, and Thompson did hold a double digit lead over the summer. Baldwin received a nice post-convention bounce, and she and Thompson have swapped leads it seems with every other poll. Thompson may have seemed like the safe choice for many Republicans in the state, but this is a case where the other candidate's relative youth may be too much to overcome. Prediction: Democrat hold.
Wyoming - Republican: John Barrasso (Incumbent). Democrat: Tim Chestnut.
I don't anticipate we'll be up late waiting to hear a winner announced here. Prediction: Republican hold.
FINAL ANALYSIS: I have the Republicans picking up Florida, Missouri, Montana, North Dakota, Nebraska, and Virginia, while losing Maine. That would be a net gain of five seats for the GOP, giving them a 52-48 majority (assuming the independents caucus with Democrats). I'm starting to rethink my Florida and Missouri calls, though I can see Ohio, Pennsylvania, and especially Wisconsin breaking in their favor (though Massachusetts can also swing the other way). Whatever the case may be, my most fearless prediction is this: we will know the identity of the next president much earlier in the evening on election night than we will which party will control the Senate.
Minnesota - Republican: Kurt Bills. Democrat: Amy Klobuchar (Incumbent).
Minnesota feels like the mirror image of Arizona. It's a state that a lot of people keep expecting to turn more purple, but it just never does. While Romney could eek out a victory here if the presidential election turns into a blowout, Klobuchar is quite safe. Prediction: Democrat hold.
Mississippi - Republican: Roger Wicker (Incumbent). Democrat: Albert N. Gore.
Yes, Gore is indeed a distant relative of the former Vice President. And he has about as much of a chance of winning here as the other Gore would. Prediction: Republican hold.
Missouri - Republican: Todd Akin. Democrat: Claire McCaskill (Incumbent).
Originally thought to be one of the Republican's surest pickup opportunities, Akin had to go and open his mouth. Despite pleas to drop out of the race, Akin stubbornly stayed in and seemingly doomed the GOP here. Of course he had a secret weapon ready to deploy: his opponent. The fact is, McCaskill is a deeply unpopular Senator who is far too left-wing for her state. Throw in some corruption, and suddenly Mr. Legitimate Rape has a shot. With the polls narrowing, Republicans will have no choice but to throw some money Akin's way. Looks like he'll have the last laugh. Prediction: Republican pickup.
Montana - Republican: Danny Rehberg. Democrat: John Tester (Incumbent).
Tester defeated incumbent Conrad Burns by less than 3,000 votes in 2006, and it looks like this is turning out to be another nail-biter. With Montana and North Dakota having close Senate elections, we might be up late on election night wondering who has control of the Senate long after the presidential race has been decided.  Rehberg is the at-large Representative for Montana, so he is as familiar face with the electorate as Tester. Considering that this is a more favorable year for Republicans than 2006, I think Rehberg will win a squeaker. Prediction: Republican pickup.
Nebraska (open D) - Republican: Deb Fischer. Democrat: Bob Kerrey.
This race was decided the day Ben Nelson decided to accept the "Cornhusker Kickback" in exchange for voting for Obamacare. The Democrats had to pluck Bob Kerrey out of retirement in New York in order to even pretend that they had a chance, but this is the one GOP layup for the evening. Prediction: Republican pickup.
Nevada - Republican: Dean Heller (Incumbent). Democrat: Shelley Berkley.
The polls have been narrow throughout, but Heller has maintained a consistent edge in the range of 2-5 percent. Most worrisome for Heller is that he has only cracked 50% in one poll, which is always a danger sign for incumbents. Once again the momentum of the presidential race might determine the ultimate outcome, but it looks like Heller should be able to hang on. Prediction: Republican hold.
New Jersey - Republican: Joe Kyrillos. Democrat: Bob Menendez (Incumbent).
Every now and then New Jersey tantalizes Republicans. Once a fairly strong suburban stronghold for the GOP, it has become a solid blue state since the Clinton years. Though Republicans have done well on the gubernatorial level, and though they do actually have an even split with Democrats in the House caucus, the GOP just has never been able to breakthrough in the Senate. That will not be changing this year. Prediction: Democrat hold.
New Mexico (open D) - Republican: Heather Wilson. Democrat: Martin Heinrich.
New Mexico has been the one semi-swing state that hasn't turned towards the Republicans this cycle. President Obama seems safe here, and Heinrich has opened up a comfortable double-digit lead. Prediction: Democrat hold.
New York - Republican: Wendy Long. Democrat: Kirsten Gillenbrand (Incumbent).
Believe it or not, but when I was a kid growing up in New York the Republican party in the state wasn't a joke. Prediction: Democrat hold.
North Dakota (open D) - Republican: Rick Berg. Democrat: Heidi Heitkamp.
For the second cycle in a row, a Democrat retirement has opened up an opportunity for the Republicans to pickup a Senate seat in North Dakota. Unlike last time, this will not be a cakewalk for the Republican candidate. Congressman Rick Berg is running against Attorney General Heitkamp. The polling here has been sparse, so it's difficult to know how the race stacks up. Even though Romney will win here fairly comfortably, and even though the state trends pretty heavily towards the GOP, this is far from a lock for Berg. I predict he will pull it out, but this is going to be very close. Prediction: Republican pickup.
Ohio - Republican: Josh Mandel. Democrat: Sherrod Brown (Incumbent).
Mandel had this race close, but then Brown started to pull ahead after the Democratic convention. The race has tightened up again, but Brown has a decent-sized lead. Once again, though, Brown fails to poll above 50%. Since Ohio could be viewed as the Democrats' firewall for both the presidency and the Senate, I do not envy anyone living in the state. My advice – turn off the television. At any rate, though Brown is far to the left of the majority of the state, he is a tough guy to beat. I think Brown will hold on, but this race could easily shift towards Mandel in the closing moments. Prediction: Democrat hold.