Paul Zummo
When I was a kid I looked forward to Christmas with much eagerness. Certainly I was excited about the gifts, but there was something else that was even better about the holiday: the food.
As a family of Italian heritage, Christmas Eve was really the main event. It featured an endless array of fish, pasta dishes, and Italian pastries. We also exchanged gifts on Christmas Eve. Sure Christmas day itself was important – Santa brought the gifts, we went to Church, and then another hearty meal. But the Eve was what I anticipated the most.
What I never knew was that there was a name for all this seafood consumption: the Feast of the Seven Fishes. Wikipedia has a barebones explanation for it. Being that Christmas Eve was traditionally a time of abstinence from meat, unsurprisingly Italians do what we always do best an just made a bunch of seafood dishes instead. Technically the feast did not have to have seven fish courses – it could have less, but it could have more.
Now that I am older and have my own family we'll be spending Christmas at home. Which means it is up to me to provide the seafood fest. Here is what the Zummo menu looks like for tomorrow:
Fish curry (supplied by friends)
Crabmeat and artichoke dip (they don't all have to be hearty courses)
Baked clams
Mussels with spaghetti
Shrimp scampi
Smoked salmon
And of course the most important element of the whole thing: octupus, or polpo as we called it.
Oh I guess I'll make a vegetable as well, but this is about the seafood.
Anyway, that is my family tradition. Consider this a semi-open thread to discuss what your Christmas traditions are.
By the way, I'll be blogging more about the feast on my personal wesbite – paulzummo.com. Look for the "Food and Booze" section where I also have written about the best cocktail in the world.
One takeaway from the tragedy in Newtown is that if there's an element in the Bill of Rights that needs revisiting, it's the first and not the second amendment. The absolute gleeful joy that members of the media have taken in using the tragedy to advance an agenda is exemplified by the likes of Piers Morgan, who at least has the decency to admit as much:
Of course I am, you moron > RT @coelkhntr I think you are somewhat gleeful that a tragedy happened to help you push your cause

— Piers Morgan (@piersmorgan) December 19, 2012
Okay, Piers was being sarcastic, but this is a case where sarcasm revealed some truth. Morgan has been a leading crusader for gun reform in light of the shootings, and he has used his platform to bully gun rights proponents. Here is Morgan embarrassing himself on national television with Larry Pratt a few nights ago. And here he is with John Lott.
When a media personality causes you to yearn for the insight and wisdom of Larry King, you know you have reached the absolute bottom of the barrel.
Now Morgan's rank opportunism in the wake a tragedy is not even the most disgusting aspect of media behavior in the past week.  Matt Lewis details some of the more egregious behavior.
The media originally reported the wrong name of the alleged shooter. (The suspected killer was Ryan Lanza, they breathlessly reported. Turns out it was actually Ryan's brother, Adam.) Then, some in the media advertised Ryan's Facebook and Twitter pages. (This, of course, brings to mind Brian Ross' irresponsible and premature on-air suggestion over the summer that the Aurora shooter was a Tea Party member.)

As if those cases of egregiously mistaken identity weren't enough, producers and reporters began trolling Twitter, seeking to proposition friends and relatives of the victims for an interview.

Meanwhile, others staked out the young survivors, and then proceeded to conduct on-air interviews with these young children. This was unseemly and superfluous. As TIME's James Poniewozik wrote, "There is no good journalistic reason to put a child at a mass-murder scene on live TV, permission of the parents or not."
While the media preens about gun control, the fourth estate ignores its own role in potentially prompting these horrific events. A forensic psychologist named Park Dietz thinks the media has blood on their hands.
"Here's my hypothesis," he said. "Saturation-level news coverage of mass murder causes, on average, one more mass murder in the next two weeks." The reason, he says, has something to do with the USA's size. In a country so large the likelihood of one or two people snapping becomes quite high.

"It's not that the news coverage made the person paranoid, or armed, or suicidally depressed," Dietz said. "But you've got to imagine this small number of people sitting at home, with guns on their lap and a hit list in their mind. They feel willing to die. When they watch the coverage of a school shooting or a workplace mass murder, it only takes one or two of them to say – 'that guy is just like me, that's the solution to my problem, that's what I'll do tomorrow'. The point is that the media coverage moves them a little closer to the action.
The 24/7 news cycle may not be the cause of these massacres, but the intense coverage . . . doesn't help.
What the past few days have shown is that the media's leftist tilt is not the primary problem. While there are some noble and decent reporters – Jake Tapper comes to mind – overall they are a wretched hive of scum and villainy. All right, maybe they're not that bad, but one wonders what motivates certain members of the press. One relatively minor incident from the world of sports demonstrates what I mean. Continue reading →
In light of the horrific massacre at an elementary school in Newtown, Connecticut, it is disappointing but not altogether surprising that the calls to just do something to stop the violence rang out before the middle of the day. I'll address the disgusting behavior of the mass media in a later post, but wanted to focus this post on the reactions and what they might say about our overall attitudes about life and society.
Gun control activists, grieving with obvious sympathy and empathy for the victims, and of course concerned primarily about the human toil of this tragedy, took to twitter and other outlets to immediately call for stricter gun laws. Ignoring that Connecticut is hardly a modern incarnation of the wild west, they seemed to imply that if we only tightened regulations and banned guns with menacing-sounding names, then we could ensure that no more mass murders of this kind would ever occur again, so long as we all shall live.
There are many legal, constitutional, and logical arguments to be made against further restrictions on gun ownership, and Jeff Goldstein makes just about all of them here. To me the strongest arguments against the gun control crowd are the practical ones. An obviously troubled young man murders his mother, then walks to her school and guns down children  and the thing we're discussing afterwards are guns? Aside from the fact that even worse crimes have been perpetrated without a single firearm being deployed, we're missing the big picture when we're debating the mechanism for carrying out a massacre and not the underlying cause or causes.
Another recurring theme is that this incident is further proof that there is no God. Deroy Murdock expressed this sentiment in the conservative on-line journal of opinion, National Review online.
 Just in time for Christmas, a reputedly almighty God must have been on break Friday morning when Adam Lanza massacred 20 Connecticut school kids. These six- and seven-year-olds were far too young to choose wrongly between good and evil — that choice being the way that believers typically explain how a supposedly omnipotent, omniscient, omnibeneficent God allows such atrocities. Atop the ongoing mayhem of Hurricane Sandy, the carnage in Syria, and the burgeoning power of Egypt's Muslim Brotherhood, it should be clearer than ever that no one up there watches over us Earthlings. We are on our own.
Of course we've all heard this before and have addressed this in myriad ways.
What hadn't occurred to me is there is a certain commonality between those who use tragedies like this to further the fight for control and others who use it to push an atheistic agenda. Granted there is overlap between the categories, but for now we'll treat these as separate attitudes. Continue reading →
People shouldn't go broke at Christmas, so I am doing my part to help you all out by providing the perfect gift. For a mere $2.99 you can download the surefire hit novel of the season: Dirty Laundry. Dirty Laundry is a bit of media satire written by yours truly. From the not wholly adequate product description:
CF Stone is a columnist for a well-regarded but not well-read Washington DC newspaper. After having written a column that has all but guaranteed him a Pulitzer he runs into blogger and all-around gadfly Darius Gilbert, who lets him onto a story that will guarantee them a place in history next to Woodward and Bernstein. Stone goes undercover in order to expose a right-wing plot to bring down the American government. Stone dreams of the accolades that he will receive after publishing his expose of the ultimate manifestation of political extremism in the United States – that is if they don't find out who he is first.
You'll especially love the antics of Gilbert, the gay, Irish blogger who has an unhealthy obsession with a former candidate for high office.
Even if you don't own a Kindle, the Kindle app is available on just about any device that you use to read this very blog.
A slight content warning: the book isn't quite G-rated, but it's a solid PG. Some salty language is employed, but it's not Pulp Fiction.
I'm doing this all on my own, so please spread the word around if you can. I'll also be launching a webpage – paulzummo.com – to help promote the book and also to serve as a platform on other random musings.
Thanks.
Last night I posted a link to this brilliant bit of satire about internet snark. Here's a taste:
Hey, 2005? Your meme is calling. Get into the weeds. Shorter generic liberal blogger: I'm angry and don't understand syntax. Teh gay, it burns!… The stupid, it burns. There, fixed. Awesome sauce, the Villagers have held their grand powwow and declared that all the Very Serious People must use Abundant Capital Letters to convey irony. Line of dialogue from The Simpsons during the Clinton era.

That gerund-employing, chain-of-modifiers-involving, consumer-items-invoking, would-be rant directed at middle-class liberals? Meh. Just breathtakingly meh. Worst. Recycled. Gimmick. Ever.

Further useful phrases. Stay classy, concern troll! A smart take on entitlements "reform." That whole coherence thing? Whatever. Smackdown. Beatdown. At a time when [minor incident involving identity politics] and [another minor incident involving identity politics] and [another minor incident involving identity politics], why behave "reasonably " regarding [another minor incident involving identity politics that is in no way the responsibility of the person being addressed]?
It is easy to rely on snark as a means of dismissing other viewpoints, I might be guilt of occasionally employing snark as a rhetorical weapon. Yet it can be overused, and writers who use snark as a rhetorical crutch can choke on their own nastiness to the point that it becomes a bore to read them.
As if to demonstrate this point comes this piece from Think Progress titled "We Could End Homelessness With The Money Americans Spend On Christmas Decorations." The post itself is not intensively snarkish, although substantively its premise is absurd, as aptly demonstrated by Stacy McCain. The comments to the Think Progress piece, on the other hand, are a virtual wasteland of snark. A sampling:
how dare TP open a front in the war on christmas by using christmas as a way to do christian things instead of engaging in celebration!

Hahaha… how dare they indeed. Who do they think they are Fox News!

I wonder which one Jesus would really like for his birthday?

the real Jesus or supply side Jesus?

If those of us who love and admired Jesus just lived and loved Jesus this would be a moot discussion.
To be fair, there are people who left meaningful and more insightful comments. Also, snarkiness is certainly not endemic solely to the left.  But look at how those responses basically dehumanize and debase people who might have different viewpoints. They display obvious disdain towards Christians and our supposed hypocrisy for hanging Christmas lights as though we are not also devoting time, talent and treasure to help the homeless. It's an easy way to demonstrate one's moral and intellectual superiority without actually addressing the issue.
On the other hand, while snark can be overused, there is a role for humor and light-heartedness in our communications. The flipside of the snarksters are those dour individuals who are under the impression that laughter is a mortal sin. Seriously – there are people who point out the lack of bible passages referring to Jesus laughing as positive proof that he never laughed, and as such neither should we. One wonders what other human activities not attributed to Jesus in the Scriptures these literalists also forgo, but we'll leave that one to the imagination.
Sure, some topics merit nothing but serious discussion, but the perpetually straight-laced and humorless are frankly tedious. I know Rush Limbaugh is not everyone's cup of tea, even for those on the right, but one of the primary reasons – if not the primary reason he has been as successful as he has is that he is able to treat political topics with humor. Contrary to popular belief he doesn't just go on the air and scream into a microphone. And as his show has aged his satire has grown sharper. If Limbaugh just went on the air and day after day just ranted and raved unhumorously, he would not have 20 million listeners. Okay, he might have ten million listeners, but he still wouldn't be as popular. Similarly, Mark Steyn is able to get away with publishing columns full of doom and gloom because he does so with a sharp wit that prompts the reader to laugh and cry at the same time. Glenn Beck is at his most enjoyable when he's not going off about Agenda 21 but instead when he's simply satirizing some bit of liberal sillyness. I think one of the reasons MSNBC is so unwatchable – other than its decided left-wing slant – is that most of the on-air talent lacks that element of light-heartedness and humor.
It's hard to distinguish between snark and humor, and at times they are in fact indistinguishable concepts. In the end, one can be satirical without necessarily being nasty, a concept obviously foreign to some of the followers of "Think" Progress.
It's a sign of how much time I've had to blog that I'm just now getting to this post from Ace of Spades regarding comments made by Rush Limbaugh. The content that Ace quotes is crucial to understanding the problems that we truly face. Here's Rush:
As you know, I'm a big technophile, and I read every tech blog there is, particularly those related to Apple. And all of these people contributing and writing and posting these blogs are under 30. And they live in a different world than I do and they live in a different world than I grew up in. The things that they just assume are true, like there is no doubt whatsoever that we are destroying the planet with global warming, no doubt. They can't even conceive of what you and I both know to be the truth, and that is, the whole global warming thing is a hoax. They do not even think it's a political issue. They do not realize that everything they believe in has been totally corrupted by politics. What they think is science is nothing more than corruption by the left, but they don't know any better. It's what they've been exposed to from as early on in their lives as their brains were capable of learning anything. And that happens to be the kind of thinking that populates the entertainment culture and so forth. I really think that the solution to our problems are not really political. I think conservatives are seen by young people and the left and the pop culture the way they are not because of what these people have been taught about conservatism. It's purely cultural. They don't know ideology. They don't know liberal versus conservative. They've not been told, for example, that Romney is a skunk or whatever because he is a conservative. It goes far deeper than that.

So the battle that we face is not really an ideological one. I must confess, I think the solution will be found in ideology, but I must confess, I think I've been a little wrong. I have waxed eloquent here on this program. I have longed for the day where people understand what liberalism is ideologically. I have begged the Republican Party to campaign on ideology and to explain to people what liberalism is by pointing liberals out. You want to see liberalism, look at Detroit. You want to see liberalism, look at California. You want to see liberalism, look at Cuba. You want to see liberalism, look at Venezuela. The Republicans haven't done it. I don't know why, don't care right now. But the young people do look at Cuba, and they lionize Che Guevara. They wear his T-shirts. They look at Cuba, they don't see any big problem there. They don't know. My only point here is I'm just scratching the surface on this, by the way, so I'm speaking off the top my head here, but I really think that the way this is going to have to be attacked and dealt with is not to set politics aside. I'm not saying that none of this is political, but it's a cultural problem we face. The reason conservatives have been so maligned and are so maligned, the reason people who don't know us think of us the way they do is not because they understand politics. It's a cultural thing.
A lot of the post-election analysis missed this point. Well, maybe it would be more accurate that most of the people offering post-election analysis simply didn't care about this point. In the narrow world of electoral politics, shifts in party popularity occur with great frequency. Those predicting doomsday for the Republican party are completely wide of the mark. And yet the chicken littles miss the much more troublesome gap – the cultural gap that slowly destroying this country. We've seen the stories about apartment complexes telling their residents to take down Christmas trees in common areas, and schools being prohibited from doing productions of Merry Christmas Charlie Brown. But of course there's so much more than that. Young people are indoctrinated in schools and from television and movies. Conservatives have abdicated – both by our own choice and through design from the secularist left – any role in these cultural institutions. As Rush describes, these young skulls full of mush start out with a set of assumptions about traditional morality and other cultural issues that are foreign to most of us running around Catholic and conservative blog circles. This is not something that is magically going to be fixed by legislation or more tax credits for middle class families.
Unwittingly, I think Josh Trevino gets to the heart of this in a single tweet: Continue reading →
Via the Right Scoop comes this video from Steven Crowder, exposing some of the more ridiculous argument from those who support the decriminalization (or legalization) or marijuana: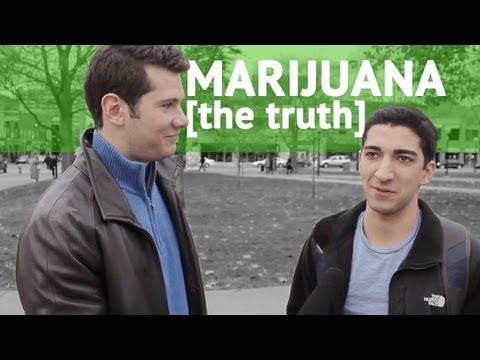 Please note that Crowder does not address the constitutional issue surrounding federal marijuana prohibition. In fact he goes out of his way to emphasize that there are legitimate arguments to be made that this is not an issue that justifies federal intervention. But as the video highlights, none of the people he interviewed brought up the constitutional argument. Instead, his interviewees relied on tropes that are untrue. He also makes a point about prohibition that I have often made: namely, that the 18th Amendment prohibited the use of a substance that was already legal and widely used by most Americans. Marijuana legalization would make available a previously criminalized substance used by a minority of Americans.
Like Crowder, I believe that the constitutional arguments against federal marijuana prohibition are, at a minimum, compelling. But if you are going to take up the cause of decriminalization, at least make better arguments than these people.
One of the reasons my more pessimistic (and, as it turns out, realistic) friends cited for believing that Mitt Romney would lose is media bias. I dismissed this not so much because I don't believe that media bias isn't an issue, but because I thought that there were enough countervailing forces to push Romney over the hump. Whoops.
I'm still leery of citing media bias as a principle cause of Barack Obama's victory because doing so would diminish the more serious issues, and there are no shortage of reasons explaining why Barack Obama defeated Mitt Romney. That said, it's clear that a compliant media helped. From Candy Crowley giving a big assist at the second debate, to media silence over Benghazi (which followed years of silence on Fast and Furious), to harping on every minor (and not so minor) GOP flub, it's clear that conservatives have been swimming upstream against a media tide.
But Ronald Reagan dealt with a biased media, and he managed to defeat Jimmy Carter, and then went on to win an even bigger landslide against Walter Mondale. Moreover, Reagan accomplished that in an ere where the only major national news sources were left wing networks and a handful of national daily newspapers. Now there are institutions like Fox News, talk radio, and blogs and other alternative media outlets. Haven't these leveled the playing field?
Well, the problem is there are left-wing new media outlets, and they are just as well-read and well-watched as the right-wing outlets. Sure Fox is the king of cable news, but the sum total of the other television and cable networks outdraws the Fox viewership. And while talk radio may be dominated by the right, the left has outpaced the right when it comes to electronic media.
More importantly, while right-wing alternative media outlets may draw some non-partisans, we have become a polarized country even when it comes to our sources of news information. David French linked to a very informative graph that shows how conservatives and liberals are simply digesting news in very different ways, and left-leaning sources are ones which are very influential in the broader culture. We may shake our heads in disgust over the fact that many young people actually rely on the Daily Show with Jon Stewart as a credible news source, but that doesn't make it any less true. As French notes, so-called moderates tend to read or watch left-leaning sites and programs, thus the new right-wing media isn't penetrating the core demographic of younger voters. As someone perhaps more tuned into pop culture sites than most in these parts, I can testify that there is a definite leftist tilt that certainly influences those who are otherwise not especially tuned into current events.
I would also argue that the 24/7 news cycle hasn't redounded to the right's advantage. Sure Rather, Cronkite, Jennings, Brokaw and others were heavily influential, but they were on for 30 minutes a day – 22 if you factor in commercials. If a conservative politician made a blunder, they could plaster it on the nightly news, but then it was largely forgotten for another 23 hours. Now that blunder will be tweeted and re-tweeted, blogged about, joked about by Colbert and Stewart, mentioned on "apolitical" humor and culture sites, and broadcast on CNN, MSNBC, CNBC, and even Fox. There's no place to hide. So while news outlets ignore the  president's dithering while his ambassador was killed, everyone is sure to hear about "legitimate rapes" over and over again.
I maintain that there are bigger problems than media bias to overcome, but it is a larger problem than I had thought previously.
There will be plenty of election day coverage here at TAC. Tito has helpfully put up a little widget that will show my election day tweets over on the sidebar. My tweets are sure to get more entertaining (although perhaps less coherent) as election day progresses.
Mark Gordon at Vox Nova explains why he is voting for neither Barack Obama nor Mitt Romney.
For my part, I won't be voting for either Obama or Romney because both promise to pursue policies that violate my understanding of fundamental Catholic teaching. To invest my democratic franchise in either would, in my opinion, be an abrogation of my first responsibility, which is to to witness to the Gospel in all its dimensions. For me, there can be no disjunction between the two. To permit any other allegiance, identity, issue or ideology to trump the Gospel – even temporarily or provisionally – is, again in my opinion – a form of idolatry. Christian discipleship must be marked first of all by an unyielding evangelical integrity: "But seek first the kingdom of God and His righteousness …" (Matthew 6:6). And just as I would hope not to choose a "lesser" evil in my personal or business life, neither can I do so as a citizen. As I've often written here, when you choose the lesser of two evils, you still get evil. Christians shouldn't be in the business of choosing evil.
Such is his right, and if he genuinely believes that voting for either candidate would involve cooperation with evil, then the choice is understandable and perhaps commendable. The problem with Mark's analysis is that only one candidate affirms positions that are clearly in opposition to dogmatic Church teaching. Continue reading →
This is a Catholic blog, so I am not capable of fully sharing my feelings regarding Mayor Michael Bloomberg right now. The man who has spent a good chunk of his mayoralty sticking his nose in the lifestyle choices of his citizenry, supposedly out of concern for their health, doesn't seem very interested that some of them are lying dead or are missing. No, it's not as important as making sure this crucial marathon is run.
As Drew M says, the "getting back to normal" thing doesn't start until relief efforts are fully exhausted and there's a full accounting of the damage, and all the missing have been accounted for. The idea that they're going to divert resources away from Staten Island and other parts of the city in order to accommodate a bunch of people who want to run a long distance is sickening. Staten Island is fairly large, but there are few means of getting in and out of the island. Closing down the primary means of getting to the island and delivering relief items for any amount of time is criminally insane.
What a disgrace.
Edited to add: If anyone wonders why this is madness, read this:
 As hundreds of thousands of Big Apple residents suffer in homes left without power by Hurricane Sandy, two massive generators are being run 24/7 in Central Park — to juice a media tent for Sunday's New York City Marathon.

And a third "backup" unit sits idle, in case one of the generators fails.

The three diesel-powered generators crank out 800 kilowatts — enough to power 400 homes in ravaged areas like Staten Island, the Rockaways and downtown Manhattan.

As of Friday morning, 11 generators sat outside of the park and a food services truck dropped off hundreds of cases of water, sparking angered responses from hurricane victims.
Update: They finally came to their senses and cancelled.
Superstorm Sandy has largely passed my area by, and Pepco has been spared another round of calamitous outages. Luckily for you that means I get to write a post digging deep into presidential election statistics.
Though the election polls have produced differing results, a general consensus has seemingly emerged. Mitt Romney is, at worst, tied with President Obama, and has upwards of a five-point lead. The Real Clear average of polls puts Romney up by less than a point. On the other hand, RCP has Obama up 201-191 in the electoral college, with a 290-248 edge in the "no toss-up" scenario. Obama has held a consistent edge in the battleground state of Ohio, though Rasmussen's most recent poll now has Romney up by two.
In general, I agree with Jim Geraghty that it appears almost certain that Mitt Romney will win the popular vote. It takes polls with rather generous Democrat advantages (in the range of D+7 and up) to even get Obama tied. I trust Gallup's likely voter screen more than other polls, and Gallup has had Romney with a steady advantage of three-to-five points.
It's certainly possible that Mitt Romney could win the popular vote and lose the electoral college. It has happened to several presidential candidates in our history, and we are all familiar with what took place in 2000. What is fairly unlikely, however, is for Mitt Romney to win the popular vote by a substantial margin and still lose the electoral college. If Mitt Romney wins the popular vote by more than even just a percentage point, than he will be the next President of the United States. Of course we can never be certain in politics, but it seems like a safe bet that the electoral and popular vote winner will the the same person.
One of the reasons that an Obama electoral college victory in the face of a popular vote defeat is unlikely is that massive swings in national vote totals are reflected in all states. President Obama won the popular vote by seven percent over John McCain in 2008. Assume for the moment that Mitt Romney wins by just one percent – that would signify an eight point swing in favor of the Republicans. Such a huge shift in the electorate is not going to be limited to a small number of states. And as history has shown, when the incumbent party loses support, it loses support everywhere.
I have taken a look at each presidential election since 1976. Since that election, the incumbent has lost twice, the incumbent party has lost two additional times, the incumbent has won three times, and one time the incumbent party has won once. In all but two of the elections since 1980 there has been a net shift of at least eight percent. Let's take a closer look: Continue reading →