John Henry
Perusing the local used bookstore last weekend, I came across a copy of the Third Volume of the Collected Letters of C.S. Lewis. On the whole (or, rather, through the first hundred pages or so), they make an enjoyable light read, at least for Lewis fans. He is always readable and often insightful. Moreover, the letters offer an interesting window into life in mid-twentieth century England. It's rather striking that six years after the end of the Second World War, common items like envelopes and certain foods were still either rationed or unavailable (many of the letters are expressions of thanks to sympathetic American friends who have sent Lewis one package or another). Here, in no particular order, are a few passages I found either amusing or interesting:
Writing to a U.S. Friend About the Korean War
"Seriously, though, we all sympathize with you in the position into which you have been forced; it's all very well to call it a UNO war, but so far as I can gather, it is a USA war. Have you noticed the French contribution? One gunboat!"
Plus ça change, plus c'est la même chose….
This study suggests an interesting reason why that may be the case:
The investigators used functional neuroimaging (fMRI) to study a sample of committed Democrats and Republicans during the three months prior to the U.S. Presidential election of 2004. The Democrats and Republicans were given a reasoning task in which they had to evaluate threatening information about their own candidate. During the task, the subjects underwent fMRI to see what parts of their brain were active. What the researchers found was striking.

"We did not see any increased activation of the parts of the brain normally engaged during reasoning," says Drew Westen, director of clinical psychology at Emory who led the study. "What we saw instead was a network of emotion circuits lighting up, including circuits hypothesized to be involved in regulating emotion, and circuits known to be involved in resolving conflicts." Westen and his colleagues will present their findings at the Annual Conference of the Society for Personality and Social Psychology Jan. 28.

Once partisans had come to completely biased conclusions — essentially finding ways to ignore information that could not be rationally discounted — not only did circuits that mediate negative emotions like sadness and disgust turn off, but subjects got a blast of activation in circuits involved in reward — similar to what addicts receive when they get their fix, Westen explains.
I usually don't go in for thought experiments, but for once I'll make an exception. Let's pretend for a moment that I need $50,000 to maintain a struggling business, and you, being the wealthy and charitable individual you are, provide me with $50,000 in the following manner:
1) $30,000 in ownership (a share in future profits, if any)
2) $13,000 for emergency cash (to be repaid at no interest)
3) $7,000 in debt (at an interest rate 7% lower than I could get elsewhere for accepting a similar risk)
Not too many angel investors, venture capital funds, or private equity funds would sign up for such an arrangement, and that, dear reader, is why I am relying on your generosity. After one year, the business still has not made a profit. However, I have managed to "pay back" the initial $7,000 in debt in the following manner:
1) I borrowed an additional $10,000 from you for environmentally friendly investments.
2) I used some of the $13,000 in emergency spending cash to pay back the $7,000.
In other words, at the beginning of the year, you provided me with $50,000. I now owe you $53,000 (plus the emergency spending cash I used and the interest you've lost), with no real prospects for paying the money back. However, I am confidently assuring my customers and you(!), of all people, that I have "repaid my loan in full," by which I mean the $7,000 in debt, not, of course, the $53,000 you provided that has not yet been returned. Change the thousands in the thought experiment to billions and the debtor to Continue reading →
Jim Manzi, a conservative expert on climate change, recently reviewed Mark Levin's coverage of the subject in his book Liberty and Tyranny. Mr. Manzi was unimpressed:
I'm not expert on many topics the book addresses, so I flipped to its treatment of a subject that I've spent some time studying – global warming – in order to see how it treated a controversy for which I'm at least familiar with the various viewpoints and some of the technical detail.

It was awful. It was so bad that it was like the proverbial clock that chimes 13 times – not only is it obviously wrong, but it is so wrong that it leads you to question every other piece of information it has ever provided.

Levin argues that human-caused global warming is nothing to worry about, and merely an excuse for the Enviro-Statist (capitalization in the original) to seize more power. It reads like a bunch of pasted-together quotes and stories based on some quick Google searches by somebody who knows very little about the topic, and can't be bothered to learn. After pages devoted to talking about prior global cooling fears, and some ridiculous or cynical comments by advocates for emissions restrictions (and one quote from Richard Lindzen, a very serious climate scientist who disputes the estimated magnitude of the greenhouse effect, but not its existence), he gets to the key question on page 184 (eBook edition):

[D]oes carbon dioxide actually affect temperature levels?

Levin does not attempt to answer this question by making a fundamental argument that proceeds from evidence available for common inspection through a defined line of logic to a scientific view. Instead, he argues from authority by citing experts who believe that the answer to this question is pretty much 'no'. Who are they? – An associate professor of astrophysics, a geologist and an astronaut.
One of the more oft-heard responses to the recent outbreak of coverage on the abuse scandals in the Church is the following: 'when is the Church going to respond to this and protect children?' This question is entirely sensible. We have heard about these scandals in the past, and yet fresh stories of abuse are appearing on a weekly basis. Moreover, the responses of many in the Vatican, as in several other incidents in the pontificate of Benedict XVI, has been disheartening. At the same time, I think it is important to point out for those concerned about the abuse of children (as opposed to the competency of the Vatican press office), that the crisis phase of the abuse scandal has been over for the better part of twenty years in the U.S. (and notice the recent reporting has focused on incidents at least that old). The following graph summarizes the annual reports of abuse by priests in the United States over the last fifty-five years (for those who are curious about post-2004, there were six reported incidents in 2009):
Source: the John Jay Report, h/t Ross Douthat.
Here is the text:
I received some inquiries recently regarding John Carr, who serves as the Executive Director of the Department of Justice, Peace and Human Development at the United States Catholic Bishops' Conference. The inquiries, stemming from controversies over the Catholic Campaign for Human Development and the Center for Community Change, essentially asked if John is pro-life and committed to the goal of securing protection for the lives of unborn children.

Because I am in a position to answer that question, and because of the fact that hurting people's reputations never serves our cause, let me state for the record that the answer to that question is "Yes."

I have had many opportunities to talk to and listen to John over the years, in public and in private, to read his articles, and to discuss our common goal of seeing social justice and peace applied to our neighbors in the womb. His record is clear, and unlike some others, when he talks about justice and peace and human development, he does not fail to include the unborn.

I share with you below his own comments, as well as those of Richard Doerflinger, the Associate Director of the Secretariat for Pro-life Activities of the US Bishops' Conference. As we work together to resolve the problems that do exist in our Church and in our culture, let's do so with great caution to preserve the good reputation to which all of our colleagues have a right.

Fr. Frank Pavone
The statements referenced in the letter can be found here.
Update: Additionally, Catholic News Service reports that many bishops have come forward to defend Mr. Carr.
Update 2: Tom Peters has a level-headed take on the matter here. In particular, I think his observations regarding "RealCatholicTV" are worthy of consideration:
The situation has not been helped, either, by the sensationalist reporting at RealCatholicTV.com, which in a recent report claimed that the allegations of misconduct at the CCHD was what Pope Paul VI was referring to when he warned that the "smoke of Satan has found its way into the Church" … seriously? I don't follow RCTV directly but the American Catholic does.
As I've said before, I agree with Mr. Peters (and many of our commenters) regarding RCTV. I do not doubt that the folks at RCTV are well-intentioned. Similarly, I do not doubt that there are some problems with CCHD and the USCCB. I simply think the RCTV coverage of this scandal has been too sensationalistic, and that their reporting should not be relied upon without independent verification.
Here is Louisiana Congressman Joseph Cao, the only Republican to vote for the recent health care reform bill, speaking on the floor of the House of Representatives: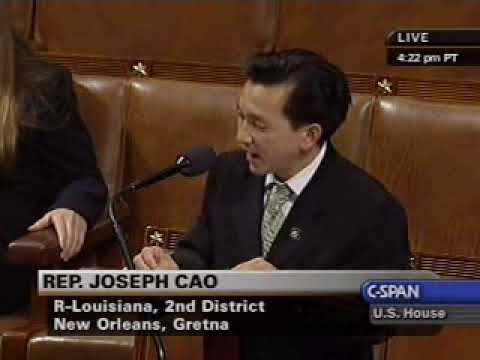 h/t: Mirror of Justice.
At first glance, it would appear that Scott Brown's unlikely victory is bad news for President Obama's long-term political future. Senator-elect Brown explicitly ran against the current health care reform bill, favoring federalist experimentation rather than a one-size-fits-all national approach. As health care reform was the central focus of President Obama's first year in office, and Massachusettes is one of the most liberal states in the country, Brown's victory there is a clear repudiation of the leadership of President Obama and Congressional Democrats during the past year. Nevertheless, I think a case could be made that Scott Brown's victory will help the President in the long run. There are three main reasons:
1) Brown's victory was too stunning to ignore. No one would have predicted it even a month ago, and I was still skeptical yesterday that Massachusetts was going to elect a Republican senator for the first time since 1972 – and to replace Ted Kennedy, of all people. Congressional Democratic leadership and the Administration will no longer be able to convince Blue Dog Democrats they know best and that Obama will be able to leverage his popularity to preserve their seats. That card has been played – not only in Massachusetts, but also in Virginia and New Jersey – and it wasn't  a winner. This means that the Administration and the Congressional leadership will have to adjust their strategy, and pay more attention to voter sentiment. It's probably too late at this point for this to help the Democrats much in November; they will take a well-deserved beating in this election. Nevertheless, it's a lesson the Obama Administration will keep in mind going forward, just as the Clinton Administration pivoted after the Hillarycare debacle. President Obama will be forced to govern more like the moderate, fiscally responsible Democrat he campaigned as. And that is likely to increase his odds of re-election.
I've written about this before, but it's nice to see Daniel Larison making the point with characteristic clarity in an interview with The Economist:
Iraq was also the policy that turned the public so sharply against President Bush prior to the 2006 mid-term elections, and those elections were and were correctly seen as a rejection of the war and Mr Bush's handling of it. The war was the main issue of those elections, and the GOP lost control of Congress because it had identified itself completely with the war and its members in Congress continued to be its most vocal defenders. By national-security conservatives, I mean those members of the conservative movement who have a primary and overriding focus on foreign policy and national-security questions, and who typically take extremely hawkish positions. They were the leading advocates and cheerleaders for the invasion. Most movement conservatives supported the policy, but it was the national-security conservatives who drove the party into the ditch while the others went along for the ride.
Occasionally one runs across a post that's particularly nicely done. I think Matthew Boudway's recent reflections on a column by Clifford Longley on the new atheists comes dangerously close to perfect. It's brief, highlights an interesting article, and adds a thoughtful perspective that provides more depth to the article it cites. Here's a snippet:
[In response to Richard Dawkins's claim that it is wrong to "indoctrinate tiny children in the religion of their parents, and to slap religious labels on them,"]

"There is no such thing as value-free parenting," Longley writes…Longley proposes this as an argument about parenting, but it is hard to see why it wouldn't also apply to education. If the argument doesn't apply to education, why doesn't it? If it does — and if it is a good argument — then people of faith have a compelling reason not to send their children to schools where the subject of religion qua religion is carefully avoided. One could, I suppose, argue that the tacit message of such schools is that religion is too important to get mixed up with the tedious but necessary stuff of primary education, but of course public schools approach important matters all the time, and cannot avoid doing so.
I have to say, I've been a little surprised by the reaction of many left-leaning Catholics to the Apostolic Visitation of women's religious congregations. If history is any guide, whether inside the Church or outside, a resistance to third party scrutiny is not a sign of organizational vitality. This resistance is particularly odd in an ecclesiastical context, where one would have thought the bonds of communion between the Holy See and religious orders are fairly strong. Moreover, the reasons proffered for refusing to answer the questions range from unconvincing ('they don't understand us') to the self-indulgently bizarre ('Women religious…are asking if there is a "Ghandian or Martin Luther King way" to deal with violence they felt is being done to them'). In any case, I think it would be good to offer prayers on their behalf. There are clearly difficult issues here that need to be resolved; and it seems to me that the reaction to the Apostolic Visitation has gone a long way towards demonstrating the need for it in the first place.