Donald R. McClarey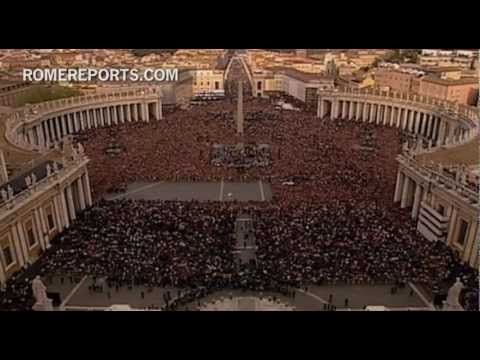 This is a joint post with commenter Dr. Peter Dans.  Pete has written a fine book which I will be reviewing, Christians in the Movies, A Century of Saints and Sinners, and he has given suggestions about films to watch while we are waiting to shout Habemus Papam.  Here are the films in Chronological order of the Pope depicted:
1.  Quo Vadis (1951)-The historical spectacle film to end historical spectacle films, it brings to the screen the novel by Henryk Sienkiewicz of the persecution of Christians under Nero.  The film is a great work of Art with inspired performances by Peter Ustinov as Nero, Robert Taylor as the tough Roman legate Marcus Vinicius who finds himself, very much against his will, becoming a Christian from his love of the Christian Lygia, portrayed by Deborah Kerr, and Leo Genn, as Petronius, the uncle of Vinicius and Nero's "arbiter of taste", who wounds Nero to the core with the following suicide note:
To Nero, Emperor of Rome, Master of the World, Divine Pontiff. I know that my death will be a disappointment to you, since you wished to render me this service yourself. To be born in your reign is a miscalculation; but to die in it is a joy. I can forgive you for murdering your wife and your mother, for burning our beloved Rome, for befouling our fair country with the stench of your crimes. But one thing I cannot forgive – the boredom of having to listen to your verses, your second-rate songs, your mediocre performances. Adhere to your special gifts, Nero – murder and arson, betrayal and terror. Mutilate your subjects if you must; but with my last breath I beg you – do not mutilate the arts. Fare well, but compose no more music. Brutalize the people, but do not bore them, as you have bored to death your friend, the late Gaius Petronius.
Peter in the movie is portrayed by Finlay Currie.  Here is the classic scene from the film that depicts Peter informed by Christ that He is going to Rome to be crucified a second time: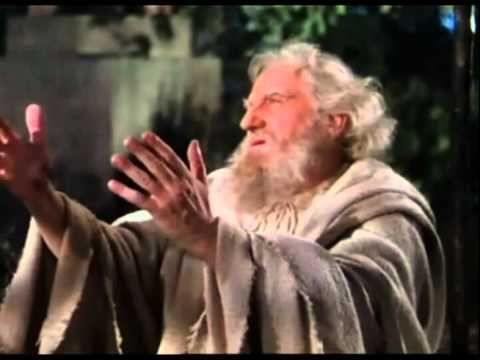 In the film he goes to the arena where the Christians are being murdered for the amusement of the crowds and cries out, "Here where Nero rules today, Christ shall rule forever!"  The film movingly depicts Peter's martyrdom, crucified upside down since he had stated that he was not worthy to have the same death as Christ.
2.  Sign of the Pagan (1954) -Jack Palance, a great actor who was consistently underrated throughout his career, portrays Attila the Hun. Here we have depicted the meeting between Attila and Pope Leo the Great, portrayed by Leo Moroni, which convinces Attila to spare Rome.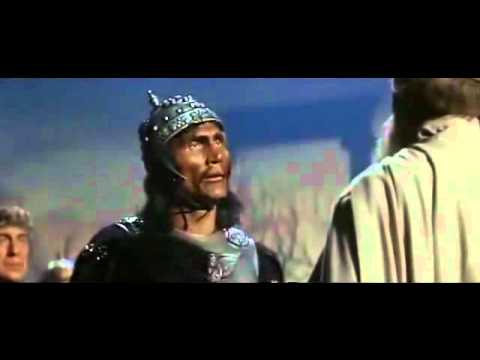 3.  Becket (1964)-A masterful, albeit heavily fictionalized retelling of the life of the "holy, blessed, martyr".  Here we have Archbishop Becket, Richard Burton,  in exile having an interview with Pope Alexander III, Paolo Stoppa:
4.  Francis of Assisi (1961)-A film biography of Saint Francis, ably acted by Bradford Dillman.  Go here to see the depiction of the interview between Saint Francis and Pope Innocent III,  the role assayed by Finlay Currie who was Peter in Quo Vadis.   Dolores Hart had the role of Saint Clare in the film.  She went on to become a nun.  Pete has some information in regard to that:
It has the extra added attraction of an interesting  backstory involving Dolores Hart, the actress who played Clare and  later became a nun.  She is now the Prioress of Regina Laudis Abbey  which itself has an interesting backstory connecting back to the 1949  film Come to the Stable.
By the way, I sent her a copy of the book and she sent me a  delightful note in 2009 saying that the documentation of the abbey's  founding and her journey was "absolutely on target" and that it made her  want to read the whole book. Then she added "Said like a real actress."  I  was especially touched when she said that she would keep me in her "heart and  prayers."  I'm sure that has been a big help to me along the  way. Continue reading →
Something for the weekend.  As we approach a conclave and the choosing of a new pope I think a fitting musical interlude is the Prelude from the Agony and the Ecstacy (1965).  Charlton Heston is magnificent as Michelangelo, but Rex Harrison steals the movie as Pope Julius II.  Harrison plays the soldier Pope with a force and a wry sense of humor that dominates every scene in which he appears.  Julius is shown, with all his flaws, as a man completely dedicated to God and His Church.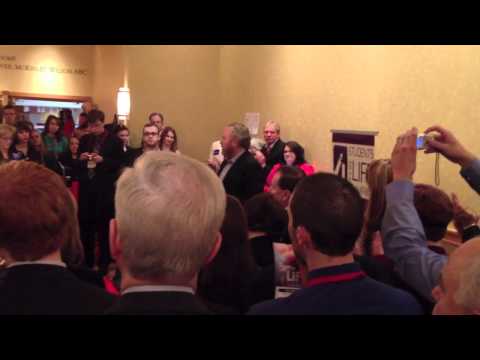 Andrew Breitbart addressing  pro-life students in February 2012 and explaining to them why he is pro-life.  He died one year ago today, much too young.  His keen insight for conservatives is that there can be no long lasting success politically if the culture is ceded to the other side.  I think we at The American Catholic understand that and we do our small part in the struggle over the culture.  May the ranks of conservatives who understand this basic fact swell and may we recall Andrew Breitbart as we engage the culture.
Atheist blowhard Richard Dawkins never has the least hesitation in bashing Christians and Jews, but when the subject of Islam comes up, at least when he is being interviewed by Al-Jazeerah that will blast his comments throughout the Islamic world, well that is another matter:
While you may not agree with the views of the new breed of aggressive atheists who have emerged in recent years you have to admire their courage for bravely standing up and speaking truth to power against the various religious institutions whose integrity they seek to undermine. No matter what consequences they might face, they aren't afraid to lay out their case against religion in terms that are often harsh and sure to offend.
Here is an example from an article called Facing uncomfortable truths:
In a recent Al-Jazeerah interview, Richard Dawkins was asked his views on God. He argued that the god of "the Old Testament" is "hideous" and "a monster", and reiterated his claim from The God Delusion that the God of the Torah is the most unpleasant character "in fiction".
As you can see, Dawkins has no trouble attacking the Hebrew God in a most direct and uncompromising manner. No atheist wallflower he.
Asked if he thought the same of the God of the Koran, Dawkins ducked the question, saying: "Well, um, the God of the Koran I don't know so much about."
How can it be that the world's most fearless atheist, celebrated for his strident opinions on the Christian and Jewish Gods, could profess to know so little about the God of the Koran? Has he not had the time? Or is Professor Dawkins simply demonstrating that most crucial trait of his species: survival instinct.
Whoops. It's funny how these confident, cocksure prophets of atheism-who barely have time to take a breath between slamming the tenets of Christianity and Judaism-often get curiously tongue-tied and shy when the subject of Islam comes up. The idea that Dawkins doesn't "know so much about" the God of the Koran is absurd. Of course he knows about Islam. And the same disdain and disregard that he has for Judaism and Christianity should surely apply to Islam as well.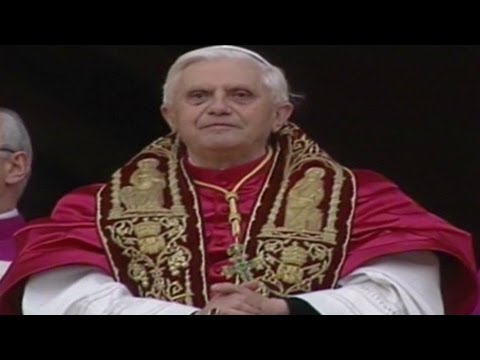 Pope Benedict will  resign his office today.  I wish him all the best.  I can only imagine the burden he lays down now.  Actually I can't.  Being the Vicar of Christ and having the responsibility of shepherding His Church?  Only the men who have have filled the shoes of the Fisherman can have any comprehension of what must be the crushing weight of that office.  I hope he enjoys his well earned rest.  What are the practical long term consequences of his decision?
1.  What does the old Pope think? The new Pope will have to deal with something none of his predecessors had to deal with:  an aggressive world wide media incessantly trying to ask Benedict how his successor is doing.  I am confident that Benedict will remain mum, but that will not stop rumors from constantly arising as to whether he is pleased or displeased with the actions of his successor.  If this resignation starts a trend in popes resigning, then this may be something new for future popes to have to wrestle with.
2.  Will Benedict write his memoirs?  I doubt it, but it is a possibility.  Popes commenting on their own papacy in retrospect is something new under the sun.
3.  New ammo for the sedevacantists?  Opposition to the new Pope, and opposition there will doubtless be, on the fringes may argue that he is not really Pope because the resignation was invalid.  Since popes have resigned before I do not find this argument logical, but I am certain this will be made.
4.  Push for a papal mandatory retirement age?  There is already a mandatory retirement age of 70 for priests and 75 for bishops and archbishops.  I always have thought this was an unwise act on the part of Paul VI and I fear that there may be a push for such a mandatory retirement age for popes.
5.  Psst, did you hear the Pope is going to resign?  The Vatican has always been a rumor mill and now we will have a new one.  Whenever a Pope sneezes the rumors are going to fly. Continue reading →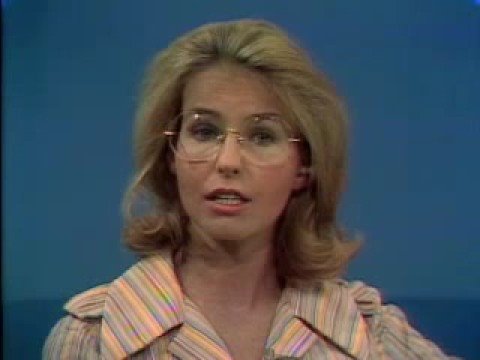 Sally Quinn at the Washington Post has a column in which she calls for those darn Catholics to cease to be Catholic basically, and begins it all when she recalls the humiliation she felt during her salad days, presumably sometime after dinosaurs ruled the earth, when she was turned away from the Vatican because her skirt was too short.  Unfortunately for her, her column attracted the attention of Christopher Johnson at Midwest Conservative Journal, a non-Catholic who has taken up the cudgels so frequently in defense of the Church that I have designated him Defender of the Faith:
Yeah, here's the thing.  We Protestants obviously don't have a dog in this hunt, as they say, but lots of us would really appreciate it if you mackeral snappers would pick the damned pace up and elect a new pope yesterday.  Then we wouldn't have to have read about how Sally Quinn visited the Vatican right around the time that William Howard Taft, AKA "Fatso," was US President:
The first time I visited the Vatican as an adult I was in my 20s.  I was so excited. My boyfriend and I dressed up as if it were Easter Sunday. He wore a coat and tie. I wore a long sleeved black dress with pearls and little ballet flats. We were turned away. It seems my skirt was a half inch too short. I was crushed. I felt ashamed and humiliated. I certainly had not set out to offend anyone, much less God.
Two things, Sal.  They're called "travel guides" and just about everybody publishes them.  So ignorance of the law and all that.  And if I'm wearing a Motörhead T-shirt and I haven't shaved or bathed in three days, give or take, I don't have anything to complain about if Vatican border guards tell me, "Not so much, no."  Quinnsie, on the other hand, went back to the Vatican some time during the Coolidge Administration.
The last time I visited was five years ago, after the child sexual abuse scandal. Not long before, I had spent a weekend at Williamsburg, and I remember thinking that perhaps one day the Vatican would be like that same historic village. There would be actors dressed as priests and nuns and one actor playing the pope in flowing robes waving from the balcony, remembering an institution as it once existed.
And anybody with a brain would be Episcopalian by now.  A few days later, Sally's little "On Faith" thing ran some advice to the Roman Catholic Church from a Jewish atheist.
[A whole lot of stupid-ass liberal bumper stickers omitted.]
So, Rome?  We're going to need you to hurry things along, all right?  Really. Continue reading →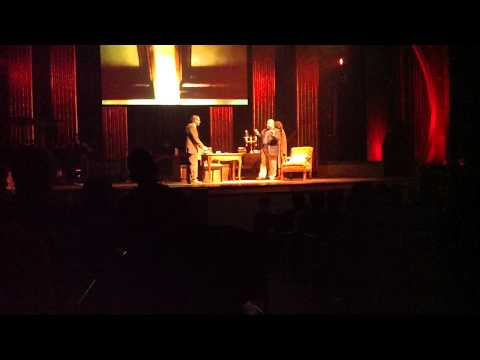 I look forward to seeing this play Freud's Last Session when I have an opportunity:
Toward the end of the play Freud's Last Session, a fictional conversation about the meaning of human life between Sigmund Freud and C.S. Lewis concludes,"How mad, to think we could untangle the world's greatest mystery in one hour."Freud responds, "The only thing more mad is to not think of it at all." The combined sense of the limits to human knowledge and the unavoidability of the big questions is one of the many impressive features of this dramatic production, the remote origins of which are in a popular class of Dr. Armand Nicholi, professor of psychiatry in the Harvard Medical School. Nicholi penned a book, The Question of God: C.S. Lewis and Sigmund Freud Debate God, Love, Sex, and the Meaning of Life, which the playwright Mark St. Germain turned into an off-Broadway play, now in its second year in New York and just beginning a run in Chicago. 
I had a chance recently to see the successful New York production, directed by Tyler Marchant and starring George Morfogen as Freud and Jim Stanek as Lewis. The play is not perfect; some of the dialogue is wooden, the result of the attempt to squeeze elements from the major works of the two authors into their conversation. Nicholi does a better job of this in his book, largely because he is free from the dialogue form. But the theatrical revival of the dialogue is what stands out in this production. In this case, the theater is an arena for the contest of ideas. There is a healthy reminder that philosophy itself has taken on various dramatic and literary forms; indeed, philosophy as a theater of debate hearkens back to the very founding of philosophy in the Platonic dialogue. Something of that original sense of philosophy as a live debate between interlocutors whose views and lives are at stake is operative in Freud's Last Session. Continue reading →
Hattip to Matt Archbold at Creative Minority Report.  The Reverend Audette Fulbright, newly appointed Unitarian-Universalist ministress in Cheyenne Wyoming decided to write a letter to Hans Hunt, State Representative:
Dear Representative,
I hope you are taking care of yourself during this busy session. I know it is a challenging, compressed time.
I am writing to express my grave concern about House Bill 105. Ample evidence has shown that schools and guns do not mix, and in particular, guns in the hands of amateurs/non-professionals is extremely dangerous, especially in any highly-charged situation. to expose our children to greater risk in their schools by encouraging more guns on campuses is something that we cannot allow.
My husband and I moved to Wyoming not too long ago. We believed it was a good place to raise children. With the recent and reactive expansion of gun laws and the profoundly serious dangers of fracking, we find we are seriously reconsidering our decision, which is wrenching to all of us. However, the safety of our family must come first. We are waiting to see what the legislature does this session. I know of other new-to-Wyoming families in similar contemplation. Your choices matter. It would be sad to see an exodus of educated, childrearing age adults from Wyoming as a result of poor lawmaking.
sincerely,
Rev. Audette Fulbright
Hunt's response minced no words:
Rev. Fulbright,
I'll be blunt. If you don't like the political atmosphere of Wyoming, then by all means, leave. We, who have been here a very long time (I am proudly 4th generation) are quite proud of our independent heritage. I don't expect a "mass exodus" from our state just because we're standing up for our rights. As to your comments on fracking, I would point out that you're basing your statement on "dangers" that have not been scientifically founded or proved as of yet.
It offends me to no end when liberal out-of-staters such as yourself move into Wyoming, trying to get away from where they came from, and then pompously demand that Wyoming conform to their way of thinking. We are, and will continue to be, a state which stands a head above the rest in terms of economic security. Our ability to do that is, in large part, to our "live and let live" mentality when it comes to allowing economic development, and limiting government oversight. So, to conclude, if you're so worried about what our legislature is working on, then go back home.
Sincerely,
Hans Hunt
Representative Hans Hunt
House District 02 Continue reading →
There are much musings in Catholic circles currently about the existence of a "Lavender Mafia" and that perhaps the resignation of the Pope is tied in with a report to the Pope by three cardinals of blackmail and corruption of homosexual clergy high in Vatican circles.  Who can tell if this is true, since the Vatican has issued non-denial denials denouncing the story while carefully not dealing with the substance of it.
However, that there is a Lavender Mafia within the Church, homosexual clerics who promote and protect each other, none should question.  Exhibit A for the Lavender Mafia is Rembert Weakland.
Former Archbishop of Milwaukee, he was heterodox and orthodox Catholics often wondered how he had risen so far in the hierarchy.  It came out after he had resigned that he used 450,000 of Church money to pay off his male lover who revealed the story to the press anyway years later.
http://www.seattlecatholic.com/article_20020607_Archbishop_Weaklands_Legacy.html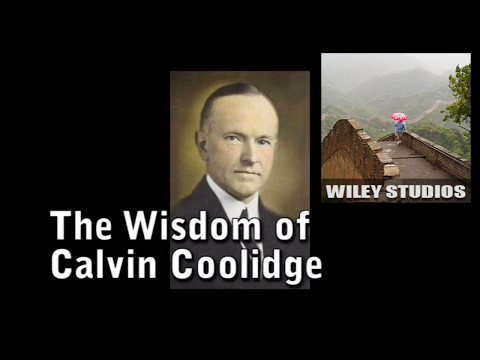 We live in an age of science and of abounding accumulation of material things. These did not create our Declaration. Our Declaration created them. The things of the spirit come first. Unless we cling to that, all our material prosperity, overwhelming though it may appear, will turn to a barren sceptre in our grasp. If we are to maintain the great heritage which has been bequeathed to us, we must be like-minded as the fathers who created it. We must not sink into a pagan materialism. We must cultivate the reverence which they had for the things that are holy. We must follow the spiritual and moral leadership which they showed. We must keep replenished, that they may glow with a more compelling flame, the altar fires before which they worshiped.
Calvin Coolidge
Calvin Coolidge was born on July 4, 1872, the only President to be born on the Fourth of July.  It is therefore fitting that he gave one of the more eloquent speeches ever given on the Declaration.  This was on the 150th anniverary of the Declaration on July 5, 1926.  Coolidge was one of the last presidents to write his own speeches, so this is pure Coolidge.  In reviewing this very thoughtful speech I can see why this nation became great and why we are going through a spirtual depression now to match our economic depression.  Time, past time, to end both.  Here is the text of Coolidge's speech:
We meet to celebrate the birthday of America. The coming of a new life always excites our interest. Although we know in the case of the individual that it has been an infinite repetition reaching back beyond our vision, that only makes it the more wonderful. But how our interest and wonder increase when we behold the miracle of the birth of a new nation. It is to pay our tribute of reverence and respect to those who participated in such a mighty event that we annually observe the fourth day of July. Whatever may have been the impression created by the news which went out from this city on that summer day in 1776, there can be no doubt as to the estimate which is now placed upon it. At the end of 150 years the four corners of the earth unite in coming to Philadelphia as to a holy shrine in grateful acknowledgement of a service so great, which a few inspired men here rendered to humanity, that it is still the preeminent support of free government throughout the world. Continue reading →