Bugles Across America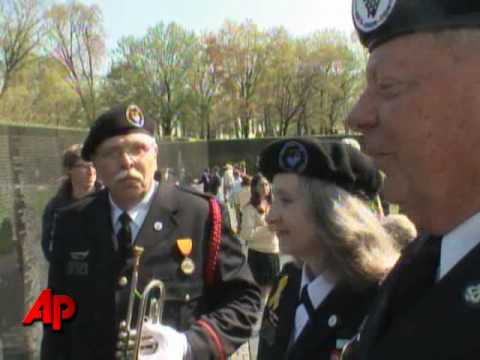 Yes, makin' mock o' uniforms that guard you while you sleep
Is cheaper than them uniforms, an' they're starvation cheap;
Rudyard Kipling, Tommy
It never surprises me that when it comes time for a government agency to economize, somehow the fifth assistant briefcase holders never lose their jobs, while this type of idiocy is implemented:
It was then that federal legislation passed stipulating that every honorably discharged veteran had the right to at least two uniformed military personnel to fold and present the flag, and to sound "Taps" at their funeral. Day thought this was good. The bad news, the fine print added, was that if a bugler could not be found, a recording should be used.
Finding a live bugler proved a mathematical impossibility. With 1,800 vets dying every day (at one point, World War II veterans were dying at the rate of one every two minutes), the military had only 500 buglers to share the load. Day estimates there's considerably fewer now, with general cutbacks and sequestration. Honor guards were thus initially directed to bring boom boxes to funerals, looking to stealthily place CD players behind tombstones, as they prayed the disc didn't skip or scratch, that the batteries didn't fail, or worst of all, that instead of "Taps," they hit the wrong track and accidentally played "Reveille." "Sounds funny, but it's happened," Day growls. 
To add greater insult, the Defense Department then introduced what it calls "ceremonial bugles." In the venerable Pentagon procurement tradition of the $435 hammer or the $600 toilet seat, the digital bugles cost $530 a throw, and many purists/people-with-taste consider them abominations. Day's volunteers, when they call them anything printable, tend to refer to these as "fake bugles," while Day himself just calls it "The Device." As one Navy musician tells me, "This is it, it's the last song. Your veteran is dead. And it looks like you're playing him off with something from Toys'R'Us."
Just dead servicemen after all.  Unless they reside in Chicago they won't be eligible to vote in future elections.  So far, so disgraceful.  But then 73 year old Marine Tom Day came to the rescue:
"God, that's kind of stupid," Day said to himself of the new policy. "So I called up the Pentagon and said, look, I'll find some horn players for you." The Pentagon's attitude, he says, was initially a humoring, "Okay, you go ahead and do that, bugle boy." To which Day said, "Yeah, that's what I am." And so, Day knew what he had to do. 
Nearly 8,000 volunteer "Taps" players later, Day has done just that. To be sure, it's a drop in the bucket. At last count, there were 16,000 digital bugles in use throughout the military, and in 2010, they were responsible for "Taps" sounding at 185,000 of 236,000 requested military funerals. But to many vets' families, hearing human players on real horns is still important. And Day's friends at the Pentagon now tell him that his Bugles Across America (BAA) is covering around 35 percent of all live "Taps" playing throughout the nation, making BAA perhaps the most desirable subcontractor ever, as its service doesn't cost the military a penny. 
Go here to The Weekly Standard to read the rest.  There is a lot of foolishness in the military, red tape, careerism, etc., but coming across men like Tom Day while in service makes it all worthwhile.
2 Responses to Bugles Across America