Ides of March: Antony Explains it All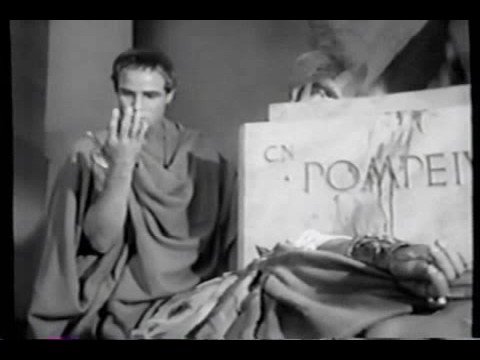 I think it would have amused the Romans of Caesar's generation if they could have learned that the assassination of Julius Caesar would eventually receive immortality through a play written more than 16 centuries after the event by a barbarian playwright in the Tin Islands that Caesar had briefly invaded.  It would have tickled their well developed concept of the ludicrous, judging from Roman comedy.
Here we see from the classic 1953 film of the play Mark Antony, dazzlingly portrayed by Marlon Brando, explaining to Caesar's corpse, fallen at the foot of the statue of his great rival Pompey, how he would excite a war of revenge against the assassins of Caesar.  Antony is an interesting figure in the tragic ending of the Roman Republic.  He had a well deserved reputation as a wastrel, who loved wine, women and song, and who always allowed money to run quickly through his fingers.  Yet he was often a shrewd general, and had a talent for gaining firm loyalty from men better than himself.  His father had been corrupt and incompetent, while Antony, on his good days, was corrupt and competent.  His liaison with Cleopatra was fatal for him.  She had a stronger, driven character than him, but was much less shrewd either as a strategist or a tactician.  Following her consistently bad advice, he lost out to Octavian the sad distinction of putting the Republic out of its misery and becoming the first de facto Roman emperor.  Ironically, through his younger daughters, he did end up being the ancestor of the Emperors Caligula, Claudius and Nero.
4 Responses to Ides of March: Antony Explains it All