Monthly Archives:
January 2013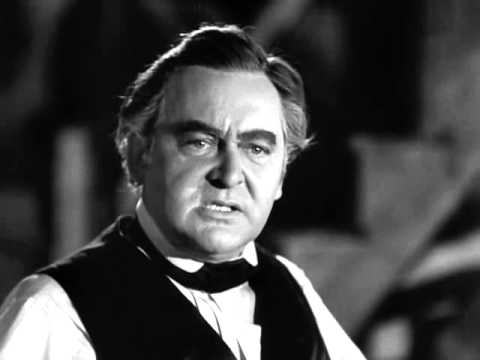 For there was Walter Butler, the loyalist, who spread fire and horror through the Mohawk Valley in the times of the Revolution.
Stpehen Vincent Benet, The Devil and Daniel Webster
In his short story The Devil and Daniel Webster, Benet has Satan conjure up the damned souls of 12 villains from American history to serve as a jury in the case of Satan v. Jabez Stone. Only seven of these entities are named. This is the third in a series giving brief biographies of these men. Go here to read the biography of Simon Girty and here to read the "biography" of the Reverend John Smeet.  In this post we will examine the life of Major Walter Butler.
Walter Butler was a young man of 23 at the start of the Revolution, the son of John Butler, a wealthy Indian agent and a judge in frontier Tryon Country, soon to be the scene of many desperate frontier battles between Patriots and Loyalists, and their Indian auxiliaries.  John Butler was a firm loyalist as was his son.    Walter Butler served as an Ensign at the battle of Oriskany in 1777 during the Saratoga campaign.  Shortly after Oriskany he was captured behind enemy lines.  Sentenced to death he succeeded in escaping.  When his father formed the Loyalist Butler's Rangers, Walter served in it as a Captain.
On November 11, 1778 at Cherry Valley, New York, Butler, leading a mixed force of Loyalists and Mohawks and Seneca under Joseph Brant, easily overcame the heavily outnumbered 7th Massachusetts Continentals.  In the aftermath of the battle, 30 settlers were murdered, including women and children.  In his report Butler blamed Brant and his Indians and steadfastly insisted that he spared no effort to rescue settlers from them.  However, Patriots claimed that Brant attempted to save settlers and that it was Butler who instigated the massacre.  My estimate is that neither Brant nor Butler were directly responsible and that it was independent action by the Seneca and the Mowhawk, who had many scores to repay, that resulted in the murders.  Like many historical questions the evidence now is too fragmentary and conflicting  for complete certainty.
Butler was killed in a skirmish on October 30, 1781 and scalped by Oneidas fighting for the Patriots.  Here is a contemporary account of his death by Philip Graff, a member of the Patriot militia in Mowhawk Valley New York: Continue reading →
I have been writing about politics, morality and religion for years now, and I often do so with a certain amount of passion and sometimes anger. I really thought I had seen it all in terms of hypocrisy and sheer moral blindness. I really didn't think it could get much worse. But here we are.
In case you haven't yet heard, NY Governor Andrew Cuomo is aggressively pushing for a bill that would legalize late-term abortions in his state. It would allow non-doctors to perform them. It would eliminate parental notification laws – all of this, according to the Democrats for Life, who are as disgusted as I am with this man and his agenda.
And there is is plenty to be disgusted with here. Partial-birth abortions themselves are disgusting, the violent dismemberment of a tiny human being usually for the convenience of someone else. Abortion clinics are often disgusting, staffed by incompetents and criminals, the refuse of the legitimate and respectable medical profession. The rest of Cuomo's legislation is pretty bad as well, including coercive wealth redistribution and other infringements upon liberty and property in the name of "gender equality", something the coercive arm of the state has no business getting involved in at all.
But nothing, and I mean nothing, is more disgusting than the sight of this man himself, who just recently pushed through some of the most aggressive anti-gun rights legislation in the entire country, supposedly for the children. Here is what the unconscionable scumbag declared while promoting his gun policies:
"This is a scourge on society," Cuomo said Monday night, one month after the Newtown, Conn., shooting that took the lives of 20 first graders and six educators. "At what point do you say, 'No more innocent loss of life."'
What I want to know is, at what point does someone slap Andrew Cuomo so hard, so many times, that he never again has the gall to speak of "innocent loss of life" while promoting the mass-murder of infants with dirty metal tools in dirty little rooms? At what point do we, perhaps, strap him to a chair and force him to watch the scissors being jammed into the back of the child's neck before its brains are vacuumed out? At what point do we go absolutely crazy, unable to bear for another day, another moment, a moral blindness and/or hypocrisy so heavy and so dark that you just want to to completely give up?
I don't really have much more to say about it. Not much more should be said about it. At this point you either see how completely messed up this is, or you're hopeless and we can't communicate. Finally, check out my new personal blog, where I will try to contain all of the foreign policy and civil liberty stuff that TAC readers can't stand. You know, the Ron Paul echo chamber stuff.
"That on you is fallen the shadow,
And not upon the Name;
That though we
scatter and though we fly,
And you hang over us like the sky,
You are more
tired of victory,
Than we are tired of shame.
"That though you hunt
the Christian man
Like a hare on the hill-side,
The hare has still more
heart to run
Than you have heart to ride.
"That though all lances
split on you,
All swords be heaved in vain,
We have more lust again to
lose
Than you to win again.
G.K. Chesterton, Ballad of the White Horse Continue reading →
Hmm, I have several complicated legal documents to draft today.  Surely I could have someone overseas do it for me?
Valentine was hired to investigate when the company, a Verizon client, saw that someone from Shenyang, China, was logging in to its computer network during every workday. The breach was traced to Bob's VPN network, but he had to be innocent, the victim of some kind of breach, the company figured. He was a quiet family man, "someone you wouldn't look at twice in an elevator," Valentine writes. And Bob was sitting there, working at his desk, every day. But when Valentine's staff looked more closely at Bob's computer, they ultimately found the smoking gun.
Bob had PDFs of hundreds of invoices from a third-party contractor in Shenyang for developer services. Bob had been paying the contractor $50,000 a year, while he himself made hundreds of thousands of dollars.
While the developer was working 9-to-5, Bob surfed the Web. At 9, he'd roll in and surf Reddit, watching cat videos. At 11:30 he'd grab some lunch. After lunch it was time for EBay for about an hour, when Bob migrated to Facebook. At 4:30, he'd email management, telling them what he had "done" during the day, and at 5, he'd go home. Continue reading →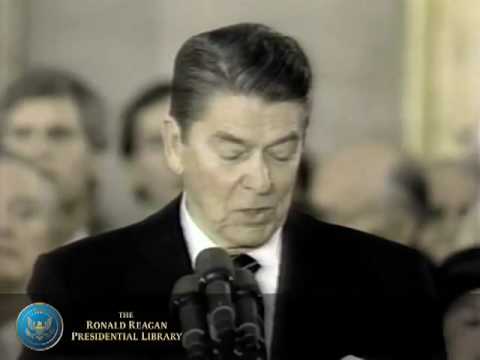 For some reason on this day I am thinking of a Presidential second inaugural, that of Ronald Reagan!  He summed up the theme of his Presidency well with this observation in his speech that day:
Four years ago, I spoke to you of a new beginning and we have accomplished that. But in another sense, our new beginning is a continuation of that beginning created two centuries ago when, for the first time in history, government, the people said, was not our master, it is our servant; its only power that which we the people allow it to have.
That system has never failed us, but, for a time, we failed the system. We asked things of government that government was not equipped to give. We yielded authority to the National Government that properly belonged to States or to local governments or to the people themselves. 
Here is the text of the speech of President Reagan 28 years ago:
Continue reading →
You may never have considered yourself a terrorist, but if you are a conservative a new government study indicates that you might well be:
The report's author is Arie Perliger, who directs the Center's terrorism studies and teaches social sciences at West Point. I can only imagine what his classes are like as his report manages to lump together every known liberal stereotype about conservatives between its covers.
As Rowan Scarborough of the Washington Times, who broke news of the report on Thursday, recounts:
[The Center's report] says anti-federalists "espouse strong convictions regarding the federal government, believing it to be corrupt and tyrannical, with a natural tendency to intrude on individuals' civil and constitutional rights. Finally, they support civil activism, individual freedoms, and self government. Extremists in the anti-federalist movement direct most their violence against the federal government and its proxies in law enforcement."

The report also draws a link between the mainstream conservative movement and the violent "far right," and describes liberals as "future oriented" and conservatives as living in the past.

"While liberal worldviews are future- or progressive -oriented, conservative perspectives are more past-oriented, and in general, are interested in preserving the status quo," the report says. "The far right represents a more extreme version of conservatism, as its political vision is usually justified by the aspiration to restore or preserve values and practices that are part of the idealized historical heritage of the nation or ethnic community."

The report adds: "While far-right groups' ideology is designed to exclude minorities and foreigners, the liberal-democratic system is designed to emphasize civil rights, minority rights and the balance of power."
The Times quotes a congressional staffer who has served in the military calling the report a "junk study." The staffer then asked: "The $64,000 dollar question is when will the Combating Terrorism Center publish their study on real left-wing terrorists like the Animal Liberation Front, Earth Liberation Front, and the Weather Underground?"
This is not the first time elements of the federal government have tried to smear conservatives with sloppy work and a broadbrush analysis. Continue reading →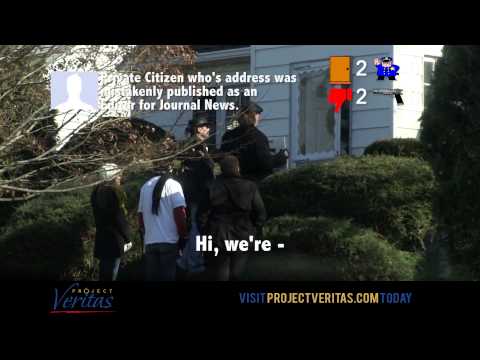 Few issues demonstrate better that liberal elites and the rest of us might as well live on different planets than the Second Amendment.  Frequently living in gated communities, usually working in institutions that have armed guards, and sending their kids to elite schools that have elaborate security, liberal elites are quite good at proclaiming that other people should disarm and rely on the police for protection who, as most cops will readily admit, are minutes away when seconds count.  James O'Keefe, the master of conservative undercover journalism, and his Project Veritas, expose liberal hypocrisy in the above video.  Contemporary liberalism is all about implementing rules for the majority to live by, rules which liberal elites themselves, and their friends and colleagues, can freely ignore.  Such a system, with one set of rules for the masses who live under the laws, and another set of rules for those who effectively live above the laws, is an essential component of a tyranny in the making.  It makes a mockery of the words of Jefferson in the Declaration of Independence:  "all men are created equal."   Let us recall these words of Abraham Lincoln: Continue reading →
Something for the weekend.  Hands down the favorite song of the troops during the Spanish-American War was the ragtime hit, written in 1896 by Theodore August Metz, There'll Be a Hot Time in the Old Time Tonight.  This presented something of a generational music gap as most of the older officers were used to the more sedate melodies of the earlier Nineteenth Century, but most of the men in the ranks and the younger officers were more attuned to ragtime and its syncopated style. 
Continue reading →
Socially Liberal Fiscal Conservatives – like albino monk assassins sent out by Opus Dei, orthodox Catholics on the staff of the National Catholic Reporter, people who like the movie Gigli, and Lennay Kekua - have contributed much to society. But it looks like Jonah Goldberg has grown a bit tired of their act. So he has written an open letter to them, addressed to "Bob." Continue reading →
I have long admired Stephen Vincent Benet's The Devil and Daniel Webster in which Daniel Webster defeats Satan in a jury trial for the soul of Jabez Stone.  Far lesser known is an amusing story written by Benet in which Daniel Webster encounters Leviathan from the Bible:
"Well, Mr. Webster," said Seth, and stared at his boots, "she says you're quite a handsome man. She says she never did see anybody quite like you," he went on. "I hate to tell you this, Mr. Webster, and I feel kind of responsible, but I think you ought to know. And I told you that you oughtn't to have shot at her—she's pretty proud of that. She says she knows just how you meant it. Well, I'm no great hand at being embarrassed, Mr. Webster, but, I tell you, she embarrassed me. You see, she's been an old maid for about a hundred and fifty years, I guess, and that's the worst of it. And being the last of her folks in those particular waters, there's just no way to restrain her—her father and mother was as sensible, hard-working serpents as ever gave a feller a tow through a fog, but you know how it is with those old families. Well, she says wherever you go, she'll follow you, and she claims she wants to hear you speak before the Supreme Court——"
"Did you tell her I'm a married man?" said Dan'l. "Did you tell her that?"
"Yes, I told her," said Seth, and you could see the perspiration on his forehead. "But she says that doesn't signify—her being a serpent and different—and she's fixing to move right in. She says Washington's got a lovely climate and she's heard all about the balls and the diplomatic receptions. I don't know how she's heard about them, but she has." He swallowed. "I got her to promise she'd kind of lie low for two weeks and not come up the Potomac by daylight—she was fixing to do that because she wants to meet the President. Well, I got her to promise that much. But she says, even so, if you don't come to see her once an evening, she'll hoot till you do, and she told me to tell you that you haven't heard hooting yet. And as soon as the fish market's open, I better run down and buy a barrel of flaked cod, Mr. Webster—she's partial to flaked cod and she usually takes it in the barrel. Well, I don't want to worry you, Mr. Webster, but I'm afraid that we're in a fix." Continue reading →
A huge hat tip to Creative Minority Report, who apparently got it from Badger Catholic.  This is just far too cool not to pass on.  J.R.R. Tolkien reads aloud from Lord of the Rings the passage where Gandalf translates for young Frodo the language of Mordor found on the one ring.