Monthly Archives:
October 2012
Most losing political campaigns tend to give off a reek of desperation as election day approaches.  We see this in a Rolling Stones interview given by Obama on October 11, and published today where he refers to Romney as a bullsh—-r.    One of the advantages of being an incumbent President in a race for the Presidency is the dignity that high office tends to bestow upon even the most unworthy of occupants.  Obama has decided to eschew this advantage in a desperate, pathetic (?), attempt to drive up the youth vote.
Rick Wilson at Richochet has some thoughts on the Obma campaign as a losing and increasingly desperate campaign:
The aura of a losing campaign is unique, and Ross Douthat pegged it today:
Losing campaigns have a certain feel to them: They go negative hard, try out new messaging very late in the game, hype issues that only their core supporters are focused on, and try to turn non-gaffes and minor slip-ups by their opponents into massive, election-turning scandals.
Sound familiar?
Obama senses it, but can't quite believe it. He seems confused by how easily Romney started punching over his weight class on October 3rd. He seems surprised that the last two debates didn't drop Governor Romney's numbers like a rock. He's frustrated that Romney is a happy warrior now, and it shows. He's visibly irritable because all the press hits and ads and field work … and so, so much money … haven't reduced Mitt Romney to dust.
After spending nearly a billion dollars last cycle, and what will be more than a billion this time, Obama must sense the palpably declining political utility of his most familiar tools.
For months, according to Team Obama, there was no path for a Romney victory. The Blue Wall states were immutable, the swing states were susceptible to his women-and-seniors-and-immigrants-and-students mojo. Everything that worked in 2008 would work now. Everything in the hard-hitting Chicago political tool box would be deployed, and by the end Mitt Romney would want to be in the Witness Protection Program.
But now, as the President's options have narrowed and as the weight of Obama's failures from the economy to the Libya fiasco come crashing down on his campaign, I'm feeling increasingly optimistic that we've passed an inflection point in the campaign where Obama's familiar tools can't help him pull off a miracle.
Obama was the candidate of the inevitable, unbeatable wave, not of the grind-it-out, cut-and-thrust of a motivated, funded, and determined GOP and conservative base. Unlike McCain, Mitt Romney's team won't get hit and stand there with their jaws hanging down at the ungentlemanly conduct of the other side.
The daily polling — beyond just the head-to-head numbers — shows GOP intensity solidifying, Romney's favorables growing, and the battleground states becoming smaller in number. There aren't any swing states showing significant movement away from Romney, but a number are moving to him. Yes, we still need to pick the electoral lock by driving wins in some combination of Ohio, Colorado, Wisconsin, New Hampshire, Nevada, and Virginia, but I'd rather be in our shoes than Obama's. Continue reading →
While on this side of the pond the nation's bishops are waging battle against the government's incursions upon religious freedom, an interesting battle is unfolding on the other side of the pond in Great Britain.
It seems that Susanne and Mike Wilkinson who own Uf Dorf Wilkinson—a Swiss country B&B located in Cookham, Berkshire, which also serves as the couple's home—believe the precepts of their Christian faith trump the law of the land.  In this instance, that precept concerns the sanctity of marriage and the law is the Britain's Equality Act Regulations of 2007, which outlaw discrimination on the grounds of sexual orientation when providing goods, facilities, services, education, and other public functions.
According to the UK Daily Mail, Mrs. Wilkinson told Michael Black and his partner John Morgan in March 2010 that they couldn't sleep in a double bed at Uf Dorf.  That allegedly "discriminatory" judgment led to a lawsuit that Black and Morgan have won, with the judge requiring Mrs. Wilkinson to pay Black and Morgan £3,600 in compensatory damages on the grounds of "hurt feelings."
Responding to the judgment, Mrs. Wilkinson to the Daily Mail:
Naturally, my husband and I are disappointed to have lost the case and to have been ordered to pay £3,600 in damages for injury to feelings. We have the option to appeal, and we will give that serious consideration.

We believe a person should be free to act upon their sincere beliefs about marriage under their own roof without living in fear of the law. Equality laws have gone too far when they start to intrude into a family home.

People's beliefs about marriage are coming under increasing attack, and I am concerned about people's freedom to speak and act upon these beliefs. I am a Christian, not just on a Sunday in church, but in every area of my life – as Jesus expects from his followers.

That's all I was trying to do and I think it's quite wrong to punish me for that, especially after enduring over two years of vile abuse and threats.
In court, Mrs. Wilkinson explained to the judge that she was serious about her Christian beliefs regarding the sanctity of marriage and wasn't discriminating because Black and Morgan are homosexual.  Mrs. Wilkinson explained that she also doesn't allow unmarried heterosexual couples to share a double bed at Uf Dorf.
That would make Mrs. Wilkinson consistent in her intolerance or, put in another way, consistent in bringing her faith into her workplace.
Mrs. Wilkinson put her finger squarely on the truth when she observed: "We find this a strange justice in a society that aspires to be increasingly tolerant."
In the UK, it may very well be the case that the principle of "tolerance" doesn't extent to being tolerant of traditional Christian teaching about the sanctity of marriage.
Is this a "coming attraction" of what's soon to transpire in the United States?
To read the UK Daily Mail article, click on the following link:
http://www.dailymail.co.uk/news/article-2219594/Christian-B-amp-B-owners-refused-bed-gay-couple-ordered-pay-3-000-compensation.html#ixzz2ALQ71FAj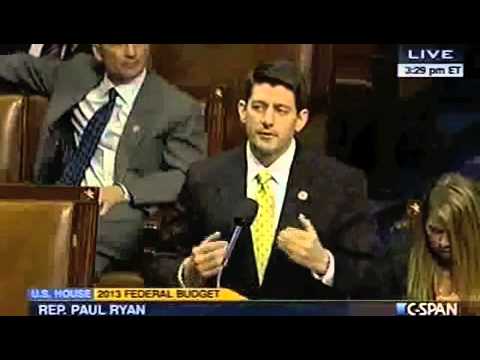 Paul Ryan gave a major address yesterday in Cleveland.  Go here to watch it on C-Span.  In this speech he argues that the Government efforts to alleviate poverty have been a flat failure, destructive to the family and increasing government dependcy.  He points to welfare reform of the 1990s as a model of how Government can truly help to alleviate poverty by encouraging work and independence.
He notes that Government often abuses power as it expands its scope:
Nothing undermines the essential and honorable work these groups do quite like the abuse of government power.  Take what happened this past January, when the Department of Health and Human Services issued new rules requiring Catholic hospitals, charities and universities to violate their deepest principles. Never mind your own conscience, they were basically told – from now on you're going to do things the government's way.
This mandate isn't just a threat to religious charities. It's a threat to all those who turn to them in times of need. In the name of strengthening our safety net, this mandate and others will weaken it.
The good news? When Mitt Romney is president, this mandate will be gone, and these groups will be able to continue the good work they do.
It is a fascinating speech and indicates that Ryan has thought deeply about the role of Government in helping people escape poverty and  is willing to lead the fight to implement the reforms necessary to alter the path we are on to national bankruptcy and ever increasing poverty.  Here is the text of the speech: Continue reading →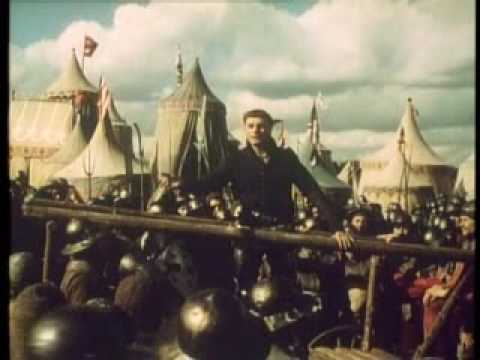 We are in God's hand, brother, not in theirs.
King Henry V
The anniversary of the long ago battle of Saint Crispin's Day gives us yet another opportunity to recall the immortal "Band of Borthers Speech" that Shakespeare put into the mouth of Henry V, a speech that could put fight into a dog dead three days, or, mirabile dictu, even a live Congress Critter:
WESTMORELAND. O that we now had here
    But one ten thousand of those men in England      
That do no work to-day!
  KING. What's he that wishes so?
    My cousin Westmoreland? No, my fair cousin;      
If we are mark'd to die, we are enow
    To do our country loss; and if to live,
    The fewer men, the greater share of honour.
    God's will! I pray thee, wish not one man more.
    By Jove, I am not covetous for gold,      
 Nor care I who doth feed upon my cost;
    It yearns me not if men my garments wear;
    Such outward things dwell not in my desires.      
 But if it be a sin to covet honour,      
I am the most offending soul alive.
    No, faith, my coz, wish not a man from England.      
God's peace! I would not lose so great an honour
    As one man more methinks would share from me
    For the best hope I have. O, do not wish one more!     
  Rather proclaim it, Westmoreland, through my host,     
  That he which hath no stomach to this fight,      
Let him depart; his passport shall be made,
    And crowns for convoy put into his purse;
    We would not die in that man's company
    That fears his fellowship to die with us.      
This day is call'd the feast of Crispian.
    He that outlives this day, and comes safe home,
    Will stand a tip-toe when this day is nam'd,
    And rouse him at the name of Crispian.
    He that shall live this day, and see old age,
    Will yearly on the vigil feast his neighbours,
    And say 'To-morrow is Saint Crispian.'
    Then will he strip his sleeve and show his scars,      
And say 'These wounds I had on Crispian's day.'
    Old men forget; yet all shall be forgot,
    But he'll remember, with advantages,
    What feats he did that day. Then shall our names,
    Familiar in his mouth as household words-      
 Harry the King, Bedford and Exeter,
    Warwick and Talbot, Salisbury and Gloucester-
    Be in their flowing cups freshly rememb'red.
    This story shall the good man teach his son;      
And Crispin Crispian shall ne'er go by,
    From this day to the ending of the world,      
 But we in it shall be remembered-      
We few, we happy few, we band of brothers;
    For he to-day that sheds his blood with me
    Shall be my brother; be he ne'er so vile,      
This day shall gentle his condition;     
  And gentlemen in England now-a-bed
    Shall think themselves accurs'd they were not here,
    And hold their manhoods cheap whiles any speaks
    That fought with us upon Saint Crispin's day. Continue reading →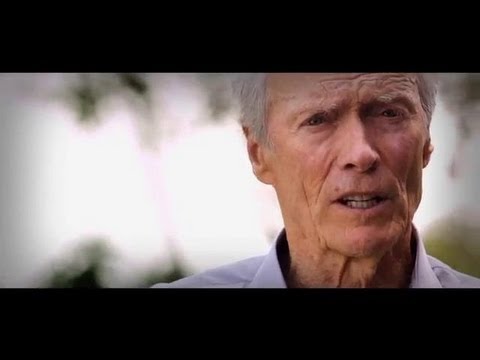 Clint Eastwood reminds us that a second Obama administration would be a rerun of the first, and I suspect that would be a best case analysis.  Here is the immortal video of Clint "Eastwooding" an empty chair at the Republican Convention, and I think an empty chair is a perfect symbol for Obama: Continue reading →
Indiana Senate candidate Richard Mourdock is in trouble. When talking about his opposition to abortion and whether he believes that there should be an exception in the case of rape, he had this to say:
"I know there are some who disagree, and I respect their point of view, but I believe that life begins at conception," the tea party-backed Mourdock said. "The only exception I have, to have an abortion, is in that case of the life of the mother.

"I've struggled with it myself for a long time, but I came to realize that life is that gift from God," Mourdock said, appearing to choke back tears. "And even when life begins in that horrible situation of rape, that it is something that God intended to happen."
There have been hysterics from the usual quarters, and Mitt Romney has even had to distance himself from the remarks. Pro-life candidate for governor, Mike Pence, even called on Mourdock to apologize.
Apologize for what?
Mourdock's phrasing was awkward in that it he could be interpreted as saying that the rape itself was God's will. Clearly Mourdock is referring to the pregnancy. Therefore what Mourdock is relating here is the true pro-life position. It's nowhere near as bad as Todd Akin's legitimate rape comments, and therefore those trying to make hay out of these comments are simply being disingenuous.
I was irked by something that Drew M at Ace of Spades said on this topic. Even though Drew thinks the backlash is unwarranted, he had this to say about Mourdock's position:
I think Mourdock's position is appalling (not his thoughts on God's unknowable plans but the idea a rape victim should be forced to carry the pregnancy to term)
Normally I agree with Drew, but how can one find Mourdock's position appalling, especially if one is otherwise generally pro-life? I can understand why people take the pro-life with exceptions position, and I would definitely accept a political compromise that prohibited abortion in all cases except rape, incest and where the life of the mother is at risk (though I think the practical application of such a law would be fraught with difficulties, but that's for another discussion). And while I certainly don't want to distance myself from people who are with me 99% of the way on an issue that is of the utmost importance, the pro-life with exceptions stance is logically untenable.
If you are pro-life it is because you presumably believe that life begins at conception. So if you advocate for the prohibition of abortion while simultaneously allowing exceptions, are you saying that the lives of those conceived via rape are somehow not fully human? Does the means of conception somehow instill greater value in certain forms of human life than others? If you are pro-life "except for rape," what you're basically saying is that abortion is murder and unacceptable, but murdering a child conceived in rape is somehow permissible. Well why should the method of conception matter?
In truth I understand why people are reluctant to commit to a 100 percent pro-life position. It is uncomfortable arguing that a woman who has experienced a brutal crime should then be forced to keep her child – a child that is a result of no choice of her own, and which could compound the trauma of what she has gone through. But by doing so, you are allowing sentiment to override reason.
The "with exceptions" pro lifers concern me because I wonder if they have fully thought through their positions. It is why polls that show a majority of Americans now turning towards a pro-life position are not necessarily cause for rejoicing quite yet. Again, I do not want to look a gift horse in the mouth, so to speak, and in no way would I want to turn these people away from the pro-life movement completely. Yet I think the instant revulsion to the sentiments expressed by Mourdock on the part of even some pro-lifers is worrisome.
One of the things which the candidates sparred over repeatedly in the debates was Romney's tax plan, on which Obama has repeatedly charged "the math doesn't work".
Romney's plan, as it has been presented, is to reduce tax rates by 20%. Thus, for example, the top rate would go down from the current 35% to 28%. Deductions and credits would then be reduced such that while the middle class would experience a net tax decrease, those at the top would continue to pay the same amount in taxes as they do now. Romney suggested how this might be done in the first debate:
[W]hat are the various ways we could bring down deductions, for instance? One way, for instance, would be to have a single number. Make up a number, $25,000, $50,000. Anybody can have deductions up to that amount. And then that number disappears for high-income people. That's one way one could do it.
The idea here would be that for a family making, say 60k/yr that currently takes a total of $15k in deductions, the deductions would remain untouched while their rate would go down, resulting in lower net taxes. For a family making $400k/yr that currently takes $70k in deductions, their deductions would be capped at $25k but their tax rate would be lower, so they would pay about the same as they do now.
Continue reading →
One of the tools that some Obama supporters have been utilizing in their quest to give Obama another four years to transform the country in his image is the raw sewage of religious bigotry.  Christopher Johnson, a non-Catholic who has taken up the cudgels so frequently in defense of Mother Church that I have designated him Defender of the Faith, has their number:
If the desperation of the left is any indication, the 2012 election of Mitt Romney to the US presidency has the same air of inevitability that Barack Obama's election had four years ago:
I was on a conference call yesterday regarding intelligence gathered from a highly placed source that liberal Obama surrogates are planning to target Evangelical mega-church parking lots with bigoted anti-Mormon flyers the final weekend before the election in key battleground states like Ohio, Iowa, and Wisconsin.
Mega-church pastors are being notified to have parking lot attendants be on the lookout for such a lit drop. But please forward this post to all pastors of both Protestant and Catholic churches, particularly in battleground states.
The GOP's all-important social conservatives may be getting more comfortable with Mitt Romney's Mormon faith – but liberals are increasingly wary about the candidate's religion in the run-up to November, according to a new study.
The study found anti-Mormon attitudes have increased since Romney's 2008 presidential bid and are highest among liberal and non-religious voters….
The study found attitudes about Mormonism among Evangelicals has largely remained unchanged since 2007 – when 37% said they were "less likely to vote for a Mormon candidate for president," compared with 33% this year.
However, that sentiment among non-religious voters increased from 21% to 41% over roughly the same period.
Among liberal voters, 43% said they were less likely to vote for a Mormon presidential candidate in 2012, compared with 28% in 2007.
Then there's Andrew Sullivan who takes shrieking hysteria to a whole new level. Continue reading →
In the political season we are engaging in currently, with its frequently petty back and forth, it is easy, all too easy, to lose sight of the great principles on which this country was founded.  As a reminder we turn to a speech by Patrick Henry.
A fine video is at the beginning of this post on the great "Give Me Liberty, or Give Me Death Speech" of Patrick Henry delivered in the Virginia House of Burgesses on March 23, 1775.  It is a remarkable speech, made even more remarkable when we consider that Patrick Henry was in deep mourning for his beloved wife Sarah who, after years of fighting a losing battle with mental illness, had died in February of 1775. ( Henry refused to have her committed, against the advice of his physician, to the appalling insane asylums of his day, one he inspected would have had his wife chained to a wall, and cared for her at home, bathing her, dressing her and keeping her from harming herself.)
Henry was perhaps the greatest American orator in a time of great American oratory.  It was said of him that cold print did not do justice to the passions he roused in his listeners with his speeches.  American school children used to memorize passages from this speech, a custom I hope is revived, because his speech goes to the core of what it means to be an American.  Here is the text of his speech, as it has been reconstructed, as no manuscript of it survives and our text is based on the recollections of men who heard it: Continue reading →
Jeff Goldstein left this comment on his own blog.
The wife and I reversed course and did in fact pull the trigger for Romney. But only as a stop gap to get Obama out.

Having voted for him, I now own part of him, should he win. And I'm going to be a very very very strict owner.

Beyond that, though, I think whatever the outcome of this election, the GOP establishment and the conservative / classical liberal / TEA Party base are going to engage in a huge existential battle. And I think the GOP is either going to have to get in line with us or head over to the Democrat side. Which won't be terrible, because it'll dilute the hard left with a lot of moderate mushiness and move it more toward the Democratic party of, say, JFK.

I agree with those of you who say enough is enough, and no more lesser of two evils. And I don't begrudge you voting libertarian or writing someone else in. I really don't. I just feel like we can not afford 4 more years of this guy without bringing the whole thing crashing down. And with two small kids, that literally terrifies me. In my state, every vote counts.

But it will be moot if we don't also take the Senate and the House, and not with establicans, either. Any GOP office holder who has pimped for a Democrat instead of a TEA Party challenger should be primaried and cast out, whatever his or her voting record. There cannot be a permanent ruling class. And it's time these entitled suited monkeys learned that.

We also need to change leadership — at least in the House. I think McConnell will, confronted with the reality of a bunch of new conservative / TEA Party Senators (should we get them; the GOP isn't too terribly concerned with helping most of the serious ones, many of whom are in tight races), act in the interests of that particular trend. Boehner, on the other hand, needs to go. As does Cantor. Period. Full stop.

To me, it's completely unacceptable that the GOP is allowing the Dems to beat up on Bachmann, King, and West — along with a number of very good constitutional conservative Senate candidates.

And that needs to be made clear as well, forcefully, once this election is over.
Ditto.
As I type this I am watching the third party debate on CSPAN. Yes, I am watching more of this than I did the debate that took place between Obama and Romney last night. Here's the thing. While it's nice to say that you are going to vote third party in protest, the people who are actually running for president on third party tickets are, shall we say, less than serious. Jay Anderson's friend Virgil Goode seems like a decent man and the one third party candidate who is tethered to reality. On the other hand, the rest of the people on the stage seem more interested in vital issues like ending drug prohibition and combating climate change. Gary Johnson is under the impression that when he's inaugurated he will wipe out the income tax and balance the budget, evidently as unicorns and mermaids dance around the maypole. The candidate of the Justice Party, Rocky Anderson, seems like he has gotten a head start on the end of prohibition. And then there's Jill Stein of the Green Party, who makes one long for the seriousness of the Nader campaign.
All of the candidates for president – those polling in the 40s and those polling in the .40s alike – are simply not attractive. As is almost always the case we have to choose the least bad candidate. The least bad candidate of this election cycle happens to be Mitt Romney. It is unfortunate that it has come to this, but when the available protest candidates are even more revolting than the primary candidates (and my only options in this state are Johnson and Stein), then there is little choice.
That being said, I think that Goldstein's points are going to be worth keeping in mind. Assuming that Mitt Romney is elected as the next president of the United States – and I believe he will be – that is but the first stage in what is going to be a long battle not just between Republicans and Democrats, but between Republicans and Republicans as well. (And presumably there will be the same serious soul searching internally for the Democrats.)  But that's a post for another time.
As for now, I'm going to watch Larry King do a better job moderating the clown debate than anyone who moderated the "real" debates.
Some 20 years ago as I was finishing graduate school, I worked for a polling company. It was longer than I wanted to but it gave me some valuable insights on that business before I moved into the line of work that I wanted. I got to know the man who ran the company; he ran polls for national and international companies and occasionally dabbled into political polling. He was meticulous and it became very clear that this job was his life. Now I don't know his politics but I would guess that he was left of center, at least on social issues. However, he was nearly fanatical about being impartial and getting the true response. Some twenty years later, all of this helps me to understand how political polling works, and believe me it is very difficult. In other words, if political polling isn't done exactly right it becomes a terrible slanted mess.
Here's how live polling works. Automated computer dialers call randomly generated phone numbers, which are often are disconnected, faxes and or not in service. In a four hour shift you would be lucky to get 8-10 complete surveys per poll taker in a hotly contested political race. Now mind you that was 20 years before cell phones, my understanding is that now because of cell phones and caller id many polling agencies are using brief computer automated voices to ask questions. Most polling agencies have given up on live survey results on such things as your favorite bar of soup, breakfast cereal, shoe company etc. Believe me there were nights that we would put in a four hour shift and call over 150 people and get one or two complete surveys concerning your favorite shampoo.
When it comes to political polling my old boss (who is a Ph.D and widely respected across the country) would fret about the way we ask each question, our tone and our attitude. He would drill into us that he needed unbiased surveys for his clients. He would remind us, and this is very important in today's world, that conservative oriented people don't like polling as much as liberals because liberals believe in proselytizing their views while conservatives feel their views are a reflection of their values, as well as their cultural and religious upbringing. This is why liberals tend to be oversampled in polling. By and large they don't hang up on pollsters and surveys because they view it as their duty and mission to get the word out. Again, my boss was not a conservative and he could see this 20 years ago. Continue reading →