Monthly Archives:
August 2012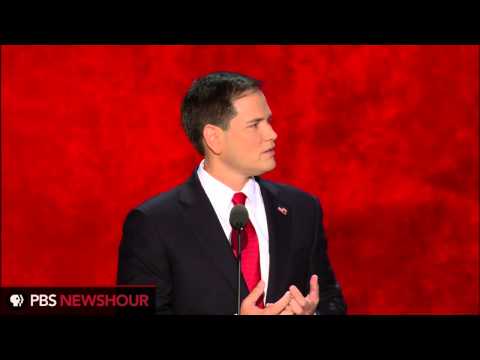 Our national motto, "in God we  trust", reminding us that faith in our creator is the most important  American value of them all.
Marco Rubio
Three predictions from this convention.  Mitt Romney will be President of the United States, Paul Ryan will be President of the United States and Marco Rubio will be President of the United States.  Here is the transcript of Senator Rubio's introduction of Mitt Romney last evening: Continue reading →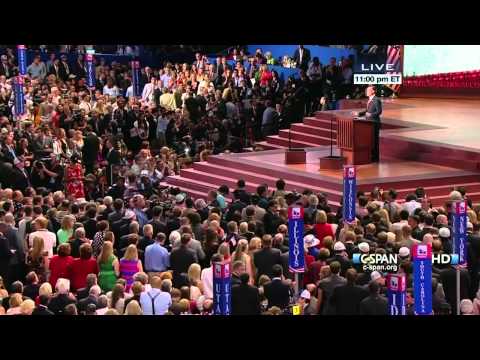 But this president cannot tell us that YOU are better off today than when he took office.
Mitt Romney
Yesterday, in response to an inquiry, I offered these observations about how Romney needed to come across in his speech:
Romney needs to come across ultra competent and optimistic.  I think most of the nation understands that Obama cannot fix the economy, but they are skeptical that Romney can do better.  He needs to convince them that he can. 
Romney will have the usual advantage of most Republican candidates in that much of the mainstream press has given a fairly distorted view of him.  Just showing up without horns and a tail will give him a boost, as it does most Republican presidential candidates. 
Romney should echo what Ryan said:  does anyone, outside of rabid Democrat partisans, really believe that if Obama remains in office that his economic policies will do any better in the next four years than they have in the last four?  Time for something new.
I don't view Romney's task as very difficult.  He has never been much of an orator, but he has improved over the campaign.  This speech doesn't require the touch of genius that Ryan's speech had.  A solid, workmanlike effort, obviously heartfelt, should be sufficient.
I believe that Romney's speech last night met these goals.  The speech was a "more in sorrow than in anger" look at the abysmal stewardship of the Obama administration as to the economy, and Romney brought up what is the overriding issue in this campaign:
What is needed in our country today is not complicated or profound. It doesn't take a special government commission to tell us what America needs.
What America needs is jobs.
Lots of jobs.
Since the 1820′s in this nation the economy, unless overshadowed briefly by a war or some great issue like slavery, has determined the outcome of almost all presidential elections.  If the economy is good the party in power is rewarded on election day.  If the economy is bad the party in power is thrown out.  The economy today is quite bad and Romney understands that this is the determining factor in this election.  Last night I think he succeeded in his task of convincing enough people that Obama had failed and that he might do a better job at getting the economy up and running.
Here is the text of the speech: Continue reading →
The details are here.
The reason for the blatant harassment?
TSA agents did not cite any specific threat, but insinuated the Paul family was a threat to Mitt Romney, claiming the nominee "might be nearby."
If I ever needed concrete proof that what the TSA does is not only a violation of human dignity and absolutely intolerable in a country that claims to be free, but also completely unnecessary and politically-motivated (after all Paul publicly criticizes the TSA), this is it.
Love or hate his politics, the idea that Ron Paul, his wife, or anyone else in his family poses a threat to Mitt Romney or anyone else is an absolute joke. Incidents like these make me ashamed of my country, and I am more than disappointed that this is one problem that the GOP in neither able or willing to address.
There is no level of security that is worth this level of invasive and perverted government intrusion into our lives. If the price of "security" is seeing children traumatized, old and disabled people humiliated, women sexually violated, and citizens in general being treated as potential enemies and threats by a fraternity of uniformed government thugs, I will gladly do without it.
Live free or die, America.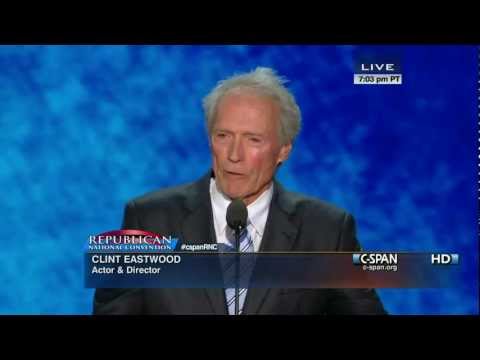 I would just like to say something, ladies and gentlemen. Something that I think is very important. It is that, you, we — we own this country.
Clint Eastwood
Truly one of the most bizarre, and entertaining, moments I have witnessed in almost fifty years of observing national political conventions.  People may forget almost all of this convention as the years roll by, but they will always remember Clint and the empty chair!  Here is the text of his unforgettable act: Continue reading →
Likes: Romney did a fine job undermining the hysterical "war on women" propaganda being shoved down our throats 24/7 by the DNC. Undecided voters in the battleground states will be less likely to accept the notion that Romney is a "dangerous extremist" who wants to send women "back to the dark ages." He stated his willingness to defend innocent life and the institution of marriage but did not press the point.
I appreciated his emphasis on family, community, and religious faith comprising the foundation of social and economic life in the United States – this, in contrast to inefficient welfare bureaucracies and self-appointed nannies deciding what is best for us. The best social safety net is a spouse, a job, and a church.
I also appreciated his insistence that success in business is not something to be ashamed of, but something to celebrate, and that private-sector experience is an asset to the Presidency.
Dislikes: Of course my co-bloggers and half of my readers will disagree (and that's ok), but the reassertion of America's old foreign policy really strikes a sour note with me. I wasn't particularly thrilled when Chris Christie called for a "second American century" either. A country with financial problems and cultural divisions as deep as ours, and with a serious and unattended crisis on its southern border, cannot afford to be the policeman of the world.
Granted I didn't expect Romney to say anything about the broken border tonight, but in my view this is the most serious national security threat and the one that ought to be the top priority. One of the reasons I supported Ron Paul in the primaries is because I agree with his foreign policy views – and reject those of the rest of the GOP.
But since I don't really believe that Obama's foreign policy is significantly different, at least for my tastes, this is really a non-issue for me as far as the election itself goes.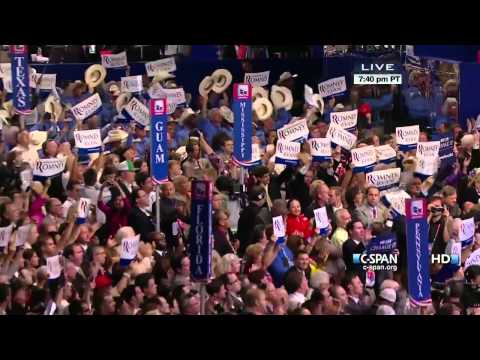 College graduates should not have to live out their 20s in their childhood bedrooms, staring up at fading Obama posters and wondering when they can move out and get going with life.
Paul Ryan
I have been a connoisseur of oratory, especially political oratory, since I became old enough to understand that a speech was being given.  Last night's speech by Paul Ryan was truly remarkable.   How was it remarkable?  Let me count the ways.
1.  It is difficult to deliver an attack speech with pleasant good humor, and Ryan did just that, and the good nature in which the indictment of the Obama administration was delivered made it all the more effective.
2.  The speech was delivered in a low-key style with Ryan hardly raising his voice.  The temptation, when you get in front of a vast live audience, like a convention, full of partisans, is to go "hot" and deliver a full-throated roaring speech.  Ryan did not make that mistake.  He understood who his real audience was:  uncommitted voters watching on television or the internet, and he presented his arguments coolly and non-confrontationally.
3.  He allowed his personal affability to shine through.  Many politicians find this difficult to do.  Rick Santorum, who I supported in the primaries, is a very likable and witty man off the stump.  He often found this hard to convey in his speeches.  Ryan does this effortlessly.
4.  Ryan dealt deftly with the issue of Romney being a Mormon:
Mitt and I also go to different churches. But in any church, the best kind of preaching is done by example. And I've been watching that example. The man who will accept your nomination tomorrow is prayerful and faithful and honorable. Not only a defender of marriage, he offers an example of marriage at its best. Not only a fine businessman, he's a fine man, worthy of leading this optimistic and good-hearted country.
Our different faiths come together in the same moral creed. We believe that in every life there is goodness; for every person, there is hope. Each one of us was made for a reason, bearing the image and likeness of the Lord of Life.
Note the reference to "Lord of Life".  This is not a man who is a sunshine pro-lifer.
5.  Ryan got nicely to what this election is truly about on a philosophical level:   sometimes, even presidents need reminding, that our rights come from nature and God, not from government.
6.   Ryan hammered away at the poor economy and asked a question that Obama simply can't answer:  Without a change in leadership, why would the next four years be any different from the last four years?
Here is the text of the speech: Continue reading →
One hundred and fifty years ago today General John Pope was busily engaged in having his Union Army of Virginia thrashed by the Confederate Army of Northern Virginia at the Second Battle of Bull Run.  In the 1880′s Pope wrote an article for Century Magazine, one of its many articles by Civil War commanders which would later come out in the four volume set Battles and Leaders of the Civil War, in which Pope did his unconvincing best to defend his conduct in this fiasco.  Go here to read it.  At the end of the article Pope claimed that he never said that his headquarters was in the saddle.
There are other matters which, although not important, seem not out of place in this paper. A good deal of cheap wit has been expended upon a fanciful story that I published an order or wrote a letter or made a remark that my "headquarters would be in the saddle." It is an expression harmless and innocent enough, but it is even stated that it furnished General Lee with the basis for the only joke of his life. I think it due to army tradition, and to the comfort of those who have so often repeated this ancient joke in the days long before the civil war, that these later wits should not be allowed with impunity to poach on this well-tilled manor. This venerable joke I first heard when a cadet at West Point, and it was then told of that gallant soldier and gentleman, General W. J. Worth, and I presume it could be easily traced back to the Crusades and beyond. Certainly I never used this expression or wrote or dictated it, nor does any such expression occur in any order of mine; and as it was perhaps served its time and effected its purpose, it ought to be retired. Continue reading →
A couple of days ago I was listening to a radio show on Sirius. The hosts were playing audio of a woman who had spent six hours waiting in line at the welfare office. The woman did not sound particularly old, and she had six kids.
There were several disconcerting elements to the story. The fact that this woman waited so long highlights the inefficiencies of government bureaucracies. More importantly, it was clear that this woman not only depended on the welfare checks to get by, the attitude expressed in the soundbite revealed how deeply she felt entitled to the government benefits.
No one should begrudge those who truly need government assistance. I know nothing of this woman's history, so I won't comment on her situation specifically. But I was saddened as I listened to this woman speak, and I thought of how welfare has turned many people into truly helpless individuals – not because they are so by nature, but because that is what the welfare state does to people.
The radio hosts who played this story have what can be described as a libertarian bent, and they decried the welfare state's tendency to breed dependency. Yet I couldn't help but laugh at their willful blindness, for they are certainly the types who would mock social conservatives. So many libertarians, or socially liberal and economically conservative individuals, fail to appreciate the nexus between social and economic issues. The breakdown of the family contributes to the rise of the welfare state. More and more children are born out of wedlock, and single mothers must turn to the state to provide financial support to their families. Yet these social libertarians (indeed some of them are libertines) see no contradiction in promoting lax cultural mores while decrying ever-increasing government dependency.
Yet libertarians are not the only ones who fail to connect economic and social issues. Looking at it from a different perspective, those who consider themselves socially conservative but who advocate enhanced government intervention in economic affairs do not see how the welfare state itself leads to the breakdown of the family. The welfare state has practically displaced the family in many situations, fostering the sense of independence from family life. The family hasn't been wholly displaced as the primary means of financial support, but many people have been brought up to expect that the government will be there to bail them out of poor life choices. Therefore, just as the breakdown of the family contributes to the rise of the welfare state, the welfare state itself contributes to the breakdown of the family. It is a vicious cycle, and those who insist that we can separate economic and social issues perpetuate that cycle.