Monthly Archives:
July 2012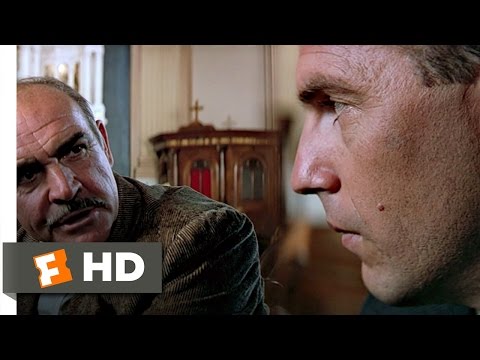 Francis Cardinal George of the Archdiocese of Chicago is alleged to have predicted that for upholding the teachings of Christ he will die in his bed, his successor will die in a prison cell, and his successor will be executed in a public square in Chicago.  Therefore, I am unsurprised that he has written an open letter exploring the "Chicago Values" cited by Mayor Emanuel when he decided to attack the free speech rights of Chick-Fil-A:
Recent comments by those who administer our city seem to assume that the city government can decide for everyone what are the "values" that must be held by citizens of Chicago.  I was born and raised here, and my understanding of being a Chicagoan never included submitting my value system to the government for approval.  Must those whose personal values do not conform to those of the government of the day move from the city?  Is the City Council going to set up a "Council Committee on Un-Chicagoan Activities" and call those of us who are suspect to appear before it?  I would have argued a few days ago that I believe such a move is, if I can borrow a phrase, "un-Chicagoan."
The value in question is espousal of "gender-free marriage."  Approval of state-sponsored homosexual unions has very quickly become a litmus test for bigotry; and espousing the understanding of marriage that has prevailed among all peoples throughout human history is now, supposedly, outside the American consensus.  Are Americans so exceptional that we are free to define "marriage" (or other institutions we did not invent) at will?  What are we re-defining?
It might be good to put aside any religious teaching and any state laws and start from scratch, from nature itself, when talking about marriage.  Marriage existed before Christ called together his first disciples two thousand years ago and well before the United States of America was formed two hundred and thirty six years ago.  Neither Church nor state invented marriage, and neither can change its nature.
Marriage exists because human nature comes in two complementary sexes: male and female.  The sexual union of a man and woman is called the marital act because the two become physically one in a way that is impossible between two men or two women.  Whatever a homosexual union might be or represent, it is not physically marital.  Gender is inextricably bound up with physical sexual identity; and "gender-free marriage" is a contradiction in terms, like a square circle. Continue reading →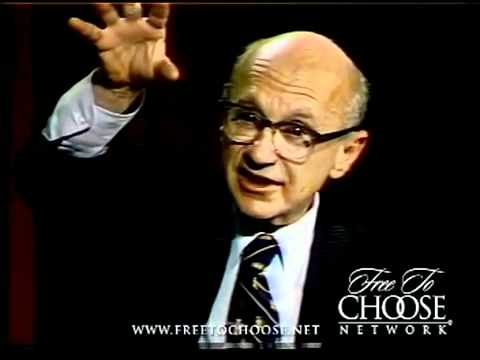 His one hundredth birthday is a good time to view the above video by Milton Friedman on the loss of freedom.  Dead since 2006, Friedman's words ring as true in 2012 as they did in 1980 when the video was taped, as to how our freedom is frittered away in ever greater reliance on an ever more powerful State.
Faithful readers of The American Catholic will recall the incident, recounted here, when President Obama chose to snub Lech Walesa, the near legendary former President of Poland, who, as the leader of Solidarity, along with Pope John Paul II and President Ronald Reagan, sounded the death knell of European Communism, as being "too political".  Yesterday Walesa got "too political" again:
Two months ago, President Obama's team refused to host former Polish President and Nobel Peace Prize Lech Walesa  at the White House, claiming that he was too "political" to participate in the Presidential Medal of Freedom ceremony.
Today, Walesa — an anti-Communist freedom fighter — got political.  "Gov. Romney, get your success, be successful!" Walesa said in Poland during a meeting with the former governor. "Poland and many other countries will certainly do their best for the United States to restore its leadership position. And after our conversation, I'm quite confident that you will be successful in doing that," The Washington Post quoted him as saying.
The endorsement comes two months after Obama refused to host Walesa at the White House. The Polish government had requested that Walesa receive the Presidential Medal of Freedom that was posthumously awarded to Jan Karski, who served in the Polish Underground during World War II. Continue reading →
The Romney campaign is now releasing regional ads attacking President Obama's remarks regarding businesses.  Obama gave Romney a huge gift by letting his mask drop briefly and revealing his true contempt for the private sector, and the Romney campaign is taking full advantage of it.  The unguarded moments of a candidate, when he gives voice to his true feelings, can make or break him.  I'd place these remarks of Obama in the break category.
Dear Pro-Choice NYer,
You wanted to do whatever you wanted to do with your body, and then claim you had a right to kill your own children when you conceived them because it was just so unfair for anyone to expect you to let a child ever use you against your will. You said you needed your choices, and you needed them without judgement or criticism. You tossed God's law aside and said that your rights come from man's law, and that worked for you as long as you thought you were getting your way. Motherhood be damned.
When the New York City abortion rate was reported (God only knows what it really is) to be 41%, meaning that nearly 2 in 5 pregnancies end in abortion, you didn't even wince. You were proud those women were exercising their so-called right to choose even when the city health officials made condescending excuses that the high rate was due to the "ignorance" and "ambivalence" of women who hadn't been indoctrinated in the methods of birth control, or who were too stupid and poor to chose stable relationships.
Even decades ago when your feminist and pro-choice philosophies collided over sex-selective abortion right in your own city, you quieted the voice in your head that was screaming, "No. STOP! You should not," because you feared that making moral judgments would take away the high and mighty right for you to profit from the ambivalent under the guise of caring about women. In a mind-seering display of mental gymnastics you sought to rephrase the question by separating the chooser from the choice, so that you could justify killing girls in the womb even as you condemned misogyny.
Let me tell you something: Truth does not condescend the human person, male or female of any age, nor does it contradict itself. That should have been warning enough, but you were too blinded by the tenets of the reproductive rights movement and the power you thought it gave you.
And now, the man you trusted to guard your pseudo-freedom in New York City has decided to dictate to new mothers how they will feed their own babies. Starting September 3, Mayor Bloomberg will enforce what is being called "the most restrictive pro-breast-milk program in the nation" which requires formula to be locked up and rationed out only if medical professionals can submit a medical reason for needing it. If the mother gets the formula from the state, she also gets a lecture. Why? It seems the people in power don't really think women can make good choices for themselves or their children, especially the women who give birth.
Sure some of you will support this anti-choice program and justify it based on some feigned concern for the health of newborn babies. Some of you will speak out against it because you see it for the over-imposition of government into private lives that it is. However, I predict that not a single one of you will see the monumental contradiction before you once again.
Like happy and willing slaves, you conceded all your rights to the decisions of the people in power, and now they are dictating that those in charge do what you've been fighting against your whole lives – force a woman to let her child use her body. You may justify it as some caring act on the part of the government, but that's nonsense. Governments don't care for people; people care for people, and you've been advocating for generations that the most extreme bond between the have's and the have not's – the bond between mothers and their children – is meaningless unless the individual mother chooses to care for the greedy little thing.
Some people are calling your Mayor Bloomberg a nanny for turning NYC into a nanny-state, but at least nannies care for individual children. I hate to break it to you, Pro-Choice NYer, but you aren't a child and Mayor Bloomberg and his officials don't care for you (or the children you decide are worthy of life) individually. This isn't about caring; it's about control. It's Marxism.
This is social materialism, utilitarian ideology about the worth of a human person in the big chemical equation of society. Feeding people taxes the system, just as pregnancy taxes a woman's body. If it were about caring for the babies, there wouldn't also exist a law that allowed late-term abortion past the point of viability. There wouldn't be a law allowing any unborn child to be killed. The same child the state says must be breastfed for it's health could have been killed the trimester, the month, the week, the day, and the minute before birth with impunity. Wake up! The same people are also busy telling you what you can and cannot eat or drink. They don't really think you can be trusted to chose wisely for yourself; they see you as objects to be managed.
As pro-life people have said for as long as they've needed to use that title, if you promote that one group of humans can treat another dependent group like individual blobs of mindless tissue, don't be surprised if the day comes when it's your turn to be grouped as such too. You got what you asked for. Welcome to the world of your choices.
If you want to fix it, start by reaffirming unconditional love between mother and child, and by defending the primary and natural rights of the family.
Thank goodness the federal government has made it possible for all of those capitalists entrepreneurs to succeed.
For example, consider William E. Newland who founded Hercules Industries (HI) in 1962 as a family owned and operated heating, ventilating, and air-conditioning business in Colorado.
Five decades later, William, Paul, and James Newland, along with their sister, Christine Ketterhagen, own HI which boasts 265 employees.
More important than all of that success—that's due, as President Obama reecently reminded the nation, to the federal government's largess—CNSNews.com reports that the Newlands are Roman Catholic.  Better yet, HI offers its employees a self-insurance plan, providing generous healthcare coverage that's consistent with Church moral teaching.  That is, the plan doesn't cover sterilizations, artificial contraceptives, or abortifacients.
And, because of that, HI now finds itself in the crosshairs of legal jeopardy…all due to the federal government.
HI must comply by August 1, 2012, with the mandate issued by Health and Human Services (HHS) Secretary Kathleen Sebelius in February 2012 which requires businesses having more than 50 employees to provide health insurance to their employees—including free sterilizations, artificial contraceptives, and abortafacients—or pay a penalty.
With 265 employees, HI will have to pay the federal government $26.5k/day if HI doesn't comply with the Sebelius mandate and provided insurance to its employees anyway.  The annual cost to HI will be ~$9.7M.
Much to their credit, the Newlands aren't taking this matter sitting down and have decided not to comply.  Instead, they've filed a lawsuit, Newlands v. Sebelius et al., alleging that they can't comply with the mandate without violating their religious faith.  The lawsuit states:
The Newlands sincerely believe that the Catholic faith does not allow them to violate Catholic religious and moral teachings in their decisions operating Hercules Industries.

The Newlands believe that according to the Catholic faith, their operation of Hercules Industries must be guided by ethical social principles and Catholic religious and moral teachings, that the adherence of their business practice according to such Catholic ethics and religious and moral teachings is a genuine calling from God, that their Catholic faith prohibits them to sever their religious beliefs from their daily business practice, and that their Catholic faith requires them to integrate the gifts of the spiritual life, the virtues, morals, and ethical social principles of Catholic teaching into their life and work.

The Catholic Church teaches that abortafacient drugs, contraception and sterilization are intrinsic evils.  As a matter of religious faith the Newlands believe that those Catholic teachings are among the religious ethical teachings they must follow throughout their lives including in their business practice.
Don't think for one moment that the Obama administration is going to have any of that!
The Justice Department responded by making a formal filing in the U.S. District Court for the District of Colorado.  The filing states:
Here, plaintiffs have not sufficiently alleged that the preventive services coverage regulations substantially burden their religious exercise.  Hercules Industries, Inc., is not a religious employer; it is "an HVAC manufacturer."

The First Amendment Complaint does not allege that the company is affiliated with a formally religious entity such as a church.  Nor does it allege that the company employs persons of a particular faith. In short, Hercules Industries is plainly a for-profit, secular employer.

By definition, a secular employer does not engage in any "exercise of religion."

Hercules Industries has "made no showing of a religious belief which requires that [it] engage in the [HVAC] business."  Any burden is therefore caused by the company's choice to enter into a commercial activity.
Of course, skeptics and cynics will see in the Newlands' fidelity to Church teaching a bunch of greedy capitalists responding to a profit motive.  The Newlands' simply want to keep their healthcare expenses down in order to increase HI's profit.
Others are defending the Newlands and HI on the grounds of freedom of religious expression and speech, arguing that the Obama administration is forcing the Newlands to chose between exercising freedom of religion and speech or shuttering HI.
For example, the Alliance Defending Freedom, which is representing the Newlands, responded to the Justice Department's brief:
[T]o the extent the government is arguing that its mandate does not really burden the Newlands because they are free to abandon their jobs, their livelihoods, and their property so that others can take over Hercules and comply, this expulsion from business would be an extreme form of government burden.
The Motley Monk wants to point instead to the Newlands' fidelity to Church teaching.  These are the Catholics who take seriously the challenge that the Second Vatican Council issued to the laity.  They are to be a "leaven at work in the world."
Today, the forces of this world—embodied in the Sebelieus mandate (the demonic irony being that Ms. Sebelius is Catholic)—are presenting the Newlands a "choice" that's actually "no choice" at all:
They can shut down HI and add 265 new individuals to the unemployment lines.
They can sell HI and let the buyers do what they want.
They can stop providing health insurance through HI, but HI employees will only be able to purchase healthcare insurance that covers artificial contraception, sterilizations, and abortafacients. (The premiums then help pay for those "services" and HI would be required to pay a penalty to the government of ~$2k/year/employee that HI did not insure.)
They can ignore the Sebelius mandate and continue to provide HI employees healthcare insurance that doesn't provide "free" coverage for artificial birth control, sterilizations, and abortafacients.  (That's when the federal government will use those 50k new IRS agents to come in and require HI to pay those confiscatory penalties.)
"Witness"—being a leaven at work in the world or, in a previous era, "martyrdom"—never presents a good option.
In this era, it requires Catholics—following the lead of the Newlands as they operate HI—to stand up for the moral teachings of their faith.  In this way, they demonstrate their love of God and neighbor as a leaven at work in the world.
To read the CNSNews story, click on the following link:
http://cnsnews.com/news/article/doj-colorado-family-give-your-religion-or-your-business
To read The Motley Monk's daily blog, click on the following link:
http://themotleymonk.blogspot.com/
I have long thought it axiomatic that in our contemporary society the most smugly intolerant individuals tend to be on the political left.  Ross Douthat has apparently noticed that also, and in his most recent column lays out what that means for religious freedom:
To the extent that the H.H.S. mandate, the Cologne ruling and the Chick-fil-A controversy reflect a common logic rather than a shared confusion, then, it's a logic that regards Western monotheism's ideas about human sexuality — all that chastity, monogamy, male-female business — as similarly incompatible with basic modern freedoms.       
Like a belief that the gods want human sacrifice, these ideas are permissible if held in private. But they cannot be exercised in ways that might deny, say, employer-provided sterilizations to people who really don't want kids. Nor can they be exercised to deny one's offspring the kind of sexual gratification that anti-circumcision advocates claim the procedure makes impossible. They certainly cannot be exercised in ways that might make anyone uncomfortable with his or her own sexual choices or identity.       
It may seem strange that anyone could look around the pornography-saturated, fertility-challenged, family-breakdown-plagued West and see a society menaced by a repressive puritanism. But it's clear that this perspective is widely and sincerely held.       
It would be refreshing, though, if it were expressed honestly, without the "of course we respect religious freedom" facade.       
If you want to fine Catholic hospitals for following Catholic teaching, or prevent Jewish parents from circumcising their sons, or ban Chick-fil-A in Boston, then don't tell religious people that you respect our freedoms. Say what you really think: that the exercise of our religion threatens all that's good and decent, and that you're going to use the levers of power to bend us to your will.       
There, didn't that feel better? Now we can get on with the fight. Continue reading →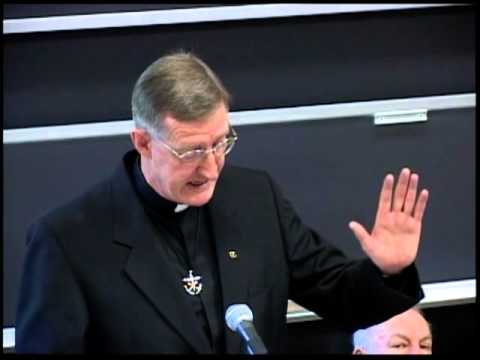 Father Wilson Miscamble, not content to stir the pot by defending Truman in regard to the bombings of Hiroshima and Nagasaki, in the above video attacks the myth that there is a shortage of able Catholic scholars to fill academic positions at Notre Dame and other Catholic colleges and universities.  This speech I assume was given as a response to this resolution of the Notre Dame faculty senate on April 9, 2012:  The University should not compromise its academic aspirations in its efforts to  maintain its Catholic identity. 
The Sycamore Trust, a group seeking to preserve the Catholic identity of Notre Dame, and which sponsored the speech of Father Miscamble, has published this charming rant from an unnamed Notre Dame professor in response to criticisms that a Notre Dame department has listed pro-abort organizations as potential employers of Notre Dame interns: Continue reading →