Monthly Archives:
January 2012
Lest we get bogged down in the dark humor of what lousy candidates we have running for the nomination, here's a little bit of non-election related dark humor for your Friday: The Facebook History of World War II:

View the whole thing here.  [warning: some bad language]
Gingrich turned the tables effectively on John King of CNN last night at the final debate prior to the South Carolina primary on Saturday.  Here is the transcript:
JOHN KING: And just as speaker Gingrich surged into contention here in South Carolina, a direct fresh character attack on the Speaker.
And Mr Speaker, I want to start with that this evening.
As you know, your ex-wife gave an interview to ABC News and another interview with The Washington Post. And this story has now gone viral on the internet.
In it, she says that you came to her in 1999, at a time when you were having an affair. She says you asked her, sir, to enter into an open marriage.
Would you like to take some time to respond to that?
GINGRICH: No, but I will.
(APPLAUSE)
GINGRICH: I think the destructive, vicious, negative nature of much of the news media makes it harder to govern this country, harder to attract decent people to run for public office. And I am appalled that you would begin a presidential debate on a topic like that.
(APPLAUSE)
KING: Is that all you want to say, sir?
GINGRICH: Let me finish.
KING: Please.
GINGRICH: Every person in here knows personal pain. Every person in here has had someone close to them go through painful things. To take an ex-wife and make it two days before the primary a significant question for a presidential campaign is as close to despicable as anything I can imagine.
(APPLAUSE)
My – my two daughters – my two daughters wrote the head of ABC and made the point that it was wrong, that they should pull it, and I am frankly astounded that CNN would take trash like that and use it to open a presidential debate.
(APPLAUSE)
KING: As you noted, Mr Speaker, this story did not come from our network. As you also know, it is a subject of conversation on the campaign. I'm not – I get your point. I take your point.
GINGRICH: John, John, it was repeated by your network. You chose to start the debate with it. Don't try to blame somebody else. You and your staff chose to start this debate with it.
(APPLAUSE)
Let me be quite clear. Let me be quite clear. The story is false. Every personal friend I have who knew us in that period said the story was false. We offered several of them to ABC to prove it was false. They weren't interested because they would like to attack any Republican. They're attacking the governor. They're attacking me. I'm sure they'll presently get around to Senator Santorum and Congressman Paul.
I am tired of the elite media protecting Barack Obama by attacking Republicans.
(APPLAUSE) Continue reading →
I have designated Governor Quinn of my homestate of Illinois the worst governor in the country.  Not content to rest on his laurels, Governor Quinn has continued to misgovern the Land of Lincoln with the skill of a spendthrift who is afraid that he has a cent somewhere that remains unspent.  Such diligence will always reap a reward, and one has now come to Quinn:
Illinois, unable to solve its long-running financial problems, was given the lowest credit rating of any state in the country by Moody's Investors Service on Friday, a move that will increase costs to taxpayers.
A second agency, Standard & Poor's, left its Illinois rating unchanged but warned of a negative outlook that could lead to a downgrade in the future. A day earlier, Fitch Ratings also left the rating unchanged and declared a stable outlook.
Lower credit ratings generally mean the state winds up paying more interest when it borrows money by selling bonds.
Both Moody's and S&P said they are troubled by Illinois' failure to balance its budget and strengthen government pension systems, although a tax increase and other measures have helped.
Moody's cited "weak management practices" and a recent legislative session that "took no steps to implement lasting solutions."
Moody's now rates Illinois "A2," below any other state. Only one state, California, qualifies for the next-highest rating. All the rest are ranked higher. Continue reading →
With the field reduced to four and the possibility that this is the last significant Republican primary debate, the moment appeared ripe for a live blog. Feel free to discuss in the comments.
By way of disclaimers, I'll mention that I dislike all of the candidates to varying degrees and that Macallan's 12 may or may not be influencing some of my remarks:
8:05: CNN says we will have audience questions. Oh, great.
8:07: Romney mentions how long he has been married and his kids. I wonder if that remark was influenced by any recent events…
8:09: And CNN leads off with the ex-wife story. Newt blames CNN and the news media for lowering the level of discourse; says the story is false. Not clear what part is false, though. Update: The 'open marriage' part.
 8:13: What do the other candidates think about the ex-wife story: Santorum says personal life is part of what people examine. Romney says get to the 'real' issues. Ron Paul disses media, says nevertheless he's proud of his long marriage. Not sure what the best tack is there. I like Santorum's.
8:15: Ron Paul, to the shock of all observers, says that we need to get the government out of the way.
 8:17: Bain Capital. Newt says the business model was leverage, cash out, and leave'em. Romney responds with: let's get America working again! Then, as the moderator presses, that 'free enterprise works'! Then describes job creation record at Bain again….mentions Dominoes pizza…"there's nothing wrong with profit". "Freedom makes America strong!" I suppose we are lucky Newt didn't respond to the initial question with "Marriage is great!"; "Marriage works!"; and "Marriage makes America strong!"
Marianne Gingrich's claim that Newt wanted an open marriage is the news story of the day.  In all honesty, this doesn't tell us that much more about Newt than we didn't know already.  Some have already said that this is no worse than simply cheating on your spouse, and, politically speaking, this might not have any impact at all on the race.
That being the case, it does serve as a forceful reminder that Newt Gingrich is kind of a jerk.  In fact, I think that if his ex-wife's claims are true (and admittedly, we don't know for certain), then it is even a bit creepier than just having an affair.  It indicates that Newt is not that concerned about the feelings of other people.  Based on what we know of the man, he gives off a vibe that he views other people as simply pawns.  While he would hardly be the first such personality to become president, it doesn't mean we should be so flippant about allowing such a man to obtain the highest office in the land.
Now, we know that Newt has had a conversion, and that people change over the course of their lives.  Perhaps the Newt from the mid 1990s is not the same man that he is today.  We can't really judge the state of a man's soul, and I don't propose to do that now.  But we have to consider a couple of things.  First of all, as we are all too well aware, simply becoming a Catholic does not make one a saint.  We are abundantly aware that we are all sinners, and though we all hope that a closer relationship to Jesus fostered through the Church makes us better people, it's still a struggle.
More importantly, this didn't happen when Newt was a young man.  Newt was nearly two decades older than I am right now when this all happened.  Yes, men older than Newt have had conversions of the heart.  But a conversion is not necessarily a transformation into a completely new man.
I don't know what kind of person Newt is right now.  But I know what he has been, and I'm not going to turn a blind eye to an individual's character simply because people on the other side of the aisle are all too willing to do so.
(cross-posted at Acts of the Apostasy)
(AoftheAP) Calling it the "most exciting archival discovery in the post-Reformation era", Vatican archivists have announced that in October 2011, they discovered what they believe to be the unfinished 13th Rosary Encyclical penned by Pope Leo XIII.  Pope Leo XIII, who had a strong devotion to our Blessed Mother,  issued 12 encyclicals on the rosary between the years 1883-1898.  It is believed this newly found incomplete one was started several months before he died in July 1903.
"We've translated the text," Fr. Hugo Thistleway said at yesterday's press conference, "and it's entitled Decursu Saeculorum, taken from the first sentence of the encyclical: 'Decursu saeculorum, sanctissimam Matrem pietatis manifestatio per fideles in recitatione a sanctissimo Rosario nuncupatur', which translates to: 'Throughout the ages, devotion to our Blessed Mother has been expressed by the faithful in the recitation of the Holy Rosary'."
In all, the encyclical totals six and a half pages, and is clearly incomplete.  But its content has caused an immediate  controversy at the Holy See, as Pope Leo XIII indicated in very precise language how the rosary is to be prayed.  Namely, that the only means by which to receive grace and indulgences from recitation, is to pray the rosary in a counter-clockwise direction.  According to the encyclical, praying the rosary in a clockwise direction would 'bear no fruit and Heaven would be closed to the petitioner and his pleas' ('…fructum nequaquam facient, quod caelum claudatur, et preces eius et actori.').
"Due to its incompleteness, there is uncertainty as to the encyclical's binding nature upon the faithful," Thistleway said.  "But make no mistake, this is huge."
Fr. Thistleway demonstrated Pope Leo XIII's instructions to those gathered at the press conference.  "If you hold out the rosary at the crucifix, and let the beads hang down, what the encyclical is saying is that the first decade must be the one to the left of the crucifix, the second decade to the left of the first, and so on, all away around until you return to the crucifix.  Starting to the right would be wrong – not necessarily sinful, at least according to several moral theologians I've spoken to, but wrong nonetheless." Continue reading →
Inevitable, but it's still a bummer.
Well this should be a slow news day, what with Santorum being declared the winner in Iowa, Perry resigning, and the Marianne Gingrich interview.
After a recount, the vote tally from the Iowa Caucuses show that Rick Santorum defeated Mitt Romney by a whopping 34 votes.  Previously Romney had been declared the winner by eight votes.
In the grand scheme of thing, this means little.  It doesn't change the delegate vote one iota.  It does mean that the talking point that Romney won both Iowa and New Hampshire needs to come to a halt.  It is funny to read stories about this development suggesting that the Iowa caucuses were a split a decision, yet when Romney was considered to have won there was no such talk.  He might as well have won by 8,000 votes judging by some of what was said in the aftermath.
I do note that there seems to be a lot of confusion about the vote tally.
The deadline for final certification of the results was Wednesday. Party officials said eight precincts failed to follow the rules and fill out the official forms on caucus night, meaning those results can never be certified, while other precincts turned in forms that didn't meet the legal requirements.
And yet we continue to allow this state to have over-sized influence on the nomination process.  Are we prepared to just ignore Iowa yet?
Romney, a/k/a the Weathervane, is a lousy politician.  I do not mean that in a pejorative sense but in a descriptive sense.  Being a politician is a job that requires a certain set of skills and abilities.  The Weathervane is giving every sign of not being very good at being a politician.  Current evidence of this includes the following:
1.  The Bain Mess-The Weathervane had to know that the Obama campaign would use his work at Bain Capital against him, but he seemed completely flat-flooted when Gingrich raised the issue.  The responses from the Romney campaign thus far have been lacklustre.
2.  Tax Returns-Did the Weathervane really think that he could go through this campaign without releasing his tax returns?  Now he says that he will release his current tax return sometime in the Spring.  He has also sheepishly stated that his tax rate is around 15% due to his income largely being from investments.  His tax returns should have been released months ago.  By now they would be an old issue and harmless to him.  Instead, his stubborness about releasing the tax returns has transformed a non or minor issue into one that could hurt him badly.  Idiocy.
3.  Out of Touch-Talking about his speaking engagements in 2010 and early 2011 the Weathervane said that he made very little money on them.  The very little money was 374K.  Romney might as well hang a sign from his neck stating "out of touch rich guy". Continue reading →
If you move about those regions of the internets in which righteous display their moral superiority by posting sixty second video clips showing just how bad their opponents are, you have probably seen headlines lately along the lines of "Christians Boo Jesus" or "Republicans Mock Golden Rule". Of course, one hardly needs to watch the clip, because in the dualism that is politicization, everyone already knows that they're right and their opponents are wrong. But after the fifth or sixth iteration, I had to go ahead watch Ron Paul (who else) present his Golden-Rule based foreign policy to boos. Here's the clip in question:
Or if, like me, you tend not to watch posted videos, here's the money quote:
"My point is, that if another country does to us what we do to others, we aren't going to like it very much. So I would say maybe we ought to consider a golden rule in foreign policy. We endlessly bomb these other countries and then we wonder why they get upset with us?"
Now, this sounds superficially high minded, and some people who really are high minded seem lured by it. Kyle, who has an genuine and expansive desire to understand "the other" has his dander up and says: Continue reading →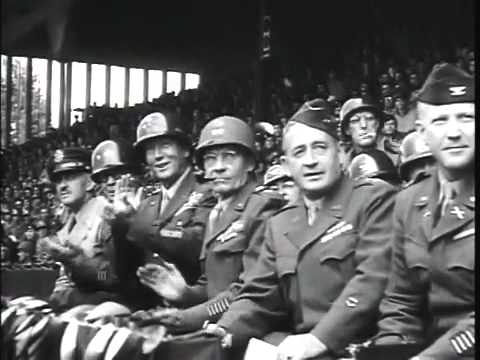 If everyone is thinking alike, then somebody isn't thinking.
George S. Patton
The classic movie biography Patton (1970) has become so closely associated with General George S. Patton, that we are sometimes in danger of forgetting that Patton sounded nothing like George C. Scott.  A more accurate portrayal, considering Patton's high-pitched voice, would have been to have the voice of Patton voice acted by the late Truman Capote!  The video above, a clip from the Ronald Reagan narrated film, The General George S. Patton Story, reminds us both of Patton's voice and his eloquence.  Patton had the gift of demanding instant attention when he spoke, and keeping that attention skillfully by mixing drama, humor, theatrical poses and raw force of personality.  All these elements are skillfully captured in the Patton film.  Here is the unforgettable opening to the film where the Patton personae is firmly fixed in our minds from the outset of the film:
I caught a little of the Mark Levin show tonight, and he had a Ron Paul supporter on his show.  He gave the gentleman a good deal of time – two segments in fact – and was actually gracious to the caller.  The Paul supporter spent most of his time talking about the seminal issue of our day, the one issue that is truly on the mind of every American voter: the drug war.
There are legitimate reasons to oppose the prohibition on drugs.  I don't particularly agree with this philosophy, but it's not outside the bounds of reasonable discourse.  What baffles me is the attention that libertarians pay to what is a fairly minor issue.  We are still suffering economically, with an unemployment rate that is hovering at about 8.5 percent, and a real unemployment rate that is significantly higher.  Our national debt is out of control.  Soon Obamacare will be fully implemented, thus making the debt problem and our health care even worse.  Meanwhile, President Obama shrugs off the Constitution like it is some dusty old piece of parchment in making "recess" appointments, and has an Attorney General who continues to obfuscate about a horribly botched gun operation in Mexico.  And yet this guy wanted to talk about the drug war.
Sometime ago I once watched a Libertarian convention, and watched speaker after speaker rail about the criminalization of marijuana.  I had the same reaction then as I did this evening: this is really the hill you want to die on?  Sure, if you want to make this a part of your platform, knock your socks off.  But to make this one of the focal points of your outrage against the government?  Really?
We all have issues that we care about more deeply than do other people.  It just strikes me that libertarians would be better off focusing their attention on matters that are a tad more relevant to people living in the real world.