Monthly Archives:
January 2012
I haven't written much of anything about the GOP primary contest, despite the fact I have been following it closely, in part because I found myself so incredibly dissatisfied with all the candidates. However, as the field narrows and appears to be actually competitive, and various people I respect line up behind candidates, it seemed like it was time to come out of the closet as something I'm not very enthusiastic about being: a Romney supporter.
This is not because I'm particularly fond of Romney. I don't trust him a great deal, I'm not clear how solid any of his principles are other than his conviction that he should be president, and I don't find him particularly inspiring. As various candidates have had their five minutes of popularity for the achievement of not being Romney, I kept hoping that one of them would manage to pull ahead and show some stature. I was particularly hopeful about Rick Perry, but he just didn't seem able to run a campaign.
So why support Romney?
I'll start with the positive. While I'm not enthusiastic about Romney, I think that most of what the GOP needs in order to oust Obama this year is simply a credible alternative who doesn't scare people too much. Given how bad the economy is and how unpopular some elements of his policy have been, "not Obama" can be a solidly popular candidate by that virtue alone. Continue reading →
Most Catholic pro-lifers know the truth, and lament it, that if all Catholics in this country fought against abortion, the days of legalized abortion in these United States could be measured in months.  Alas, that is not the case.  Half the Catholics in this country routinely give their votes to the political party that is pledged to keep abortion legal, and many of these same Catholics routinely work against the pro-life movement.  Curious how that segment of Catholics was observing the March for Life, I wandered over to the National Catholic Reporter and read a post, read it here, which gave paeans of praise to a post, go here to read it and the comments,  by a Franciscan Brother, Daniel P. Horan, at his website, Dating God, explaining why he does not support the March for Life.  It so perfectly embodies the mindset among Catholics that has enabled abortion to remain legal for the past four decades that I decided it was worthy of a fisk.
There are indeed numerous reasons to withhold support for the so-called "March for Life." I wish here to highlight three of the reasons that I have serious reservations about the annual 'pilgrimage' to Washington, DC, that draws thousands of well-meaning people, the young and the old alike.
Ah, come on Brother Dan, the use of the term "so-called" as an adjective to modify something that one does not approve of is so cliché.  You can certainly do better than that!
 Ah, but before I go further, I feel as though I need to qualify that last sentence. While the generational divide is usually traversed by a diverse representation of different ages and from idealistic youth and young adults to the more narrowly focused and opinion-concretized geriatric crowd, there is very little racial and ethnic diversity represented.
People on the left are as obsessed as any Ku Kluxer with skin color.  Intellectual diversity however, never seems to be of much concern to them.
Anticipating the likely unhappy responses in what will appear in the comment section below, I suppose it is necessary to acknowledge that there are indeed African-American, Latino/a and Asian women and men who arrive for the events of the annual pilgrimage.
Yeah, Brother Dan lots of 'em, a fact that you would know if you bothered attending the March.
However, their numbers reflect that category into which they are so blindly corralled in this country – a minority. The sea of protesters (and that is what they are) is overwhelmingly white and that is not an insignificant dimension of the event.  
Once again the obsession with race.  The marchers Brother Dan want to save all the unborn, no matter what their skin color.
Among the various reasons one might chose to omit him or herself from participation, I wish to highlight three: (a) the event's moniker is incomplete at best and disingenuous at worst, (b) the mode of protest has proven ineffective, and, following the second point, (c) the 'march' and its related events is a self-serving exercise in self-righteousness, self-congratulatory grandstanding and disinterest in the most pressing matters of human rights and dignity in our world today.  
If stopping the slaying of the most innocent and defenseless among is not the most pressing matter of human rights and dignity in the world today, I wonder what is?  I am sure Brother Dan will enlighten us!
 To begin, I have no problem with people of faith taking a public stance against abortion.
Big of you Brother Dan!
You will never find me supporting abortion legislation nor encouraging those with and for whom I minister as a Roman Catholic cleric to support abortion.
Just casting aspersions from the side lines against those fighting against this manifest evil. 
I believe it is a legitimate issue against which, as a Christian and Roman Catholic, I feel should be a thematic feature of social transformation.
"A thematic feature of social transformation", whatever the heck that is supposed to mean.
 However, it is not, at all, the most important issue, nor is it the single issue upon which Catholics – or anyone – should focus in an exclusive manner. 
Why not?  Most great evils in this world have been removed due to a single-minded focus upon a particular evil for a time.  The crusade against slavery in this country comes immediately to mind. Continue reading →
Frederick Douglass, the black abolitionist of 19th century America and Daniel O'Connell, the Liberator, who led the fight to gain the right to vote for Irish Catholics in 19th century Ireland, have always been two of my heroes.  Most Americans tend to be unaware of the connection between them.
Throughout his life Daniel O'Connell had been an opponent of slavery, and made his sentiments known at every opportunity, calling upon Irish-Americans to attack the "Peculiar Institution".  He was frequently quoted by opponents of slavery in the United States.  While a boy and a slave, Douglass had heard one of his masters curse O'Connell for attacking slavery, and Douglass knew that he must love O'Connell if his master hated him so.  In 1846 Douglass went to Ireland for four months and went on a speaking tour.  O' Connell was seventy-one and had just one more year to live.  Douglass was a mere twenty-eight.  However, a firm friendship quickly sprung up between them.  O'Connell, perhaps the finest orator of a nation known for oratory, heard the eloquent Douglass speak in Dublin and proclaimed him the "Black O'Connell".
The wretched condition of most of the Irish moved and shocked Douglass as this passage he wrote in a letter to William Lloyd Garrison on March 27, 1846 reveals:
The spectacle that affected me most, and made the most vivid impression on my mind, of the extreme poverty and wretchedness of the poor of Dublin, was the frequency with which I met little children in the street at a late hour of the night, covered with filthy rags, and seated upon cold stone steps, or in corners, leaning against brick walls, fast asleep, with none to look upon them, none to care for them. If they have parents, they have become vicious, and have abandoned them. Poor creatures! they are left without help, to find their way through a frowning world—a world that seems to regard them as intruders, and to be punished as such. God help the poor! An infidel might ask, in view of these facts, with confusing effect—Where is your religion that takes care for the poor—for the widow and fatherless—where are its votaries—what are they doing? The answer to this would be, if properly given, wasting their energies in useless debate on hollow creeds and points of doctrine, which, when settled, neither make one hair white nor black. In conversation with some who were such rigid adherents to their faith that they would scarce be seen in company with those who differed from them in any point of their creed, I have heard them quote the text in palliation of their neglect, "The poor shall not cease out of the land"! During my stay in Dublin, I took occasion to visit the huts of the poor in its vicinity—and of all places to witness human misery, ignorance, degradation, filth and wretchedness, an Irish hut is pre-eminent. It seems to be constructed to promote the very reverse of every thing like domestic comfort. If I were to describe one, it would appear about as follows: Four mud walls about six feet high, occupying a space of ground about ten feet square, covered or thatched with straw—a mud chimney at one end, reaching about a foot above the roof—without apartments or divisions of any kind—without floor, without windows, and sometimes without a chimney—a piece of pine board laid on the top of a box or an old chest— a pile of straw covered with dirty garments, which it would puzzle any one to determine the original part of any one of them—a picture representing the crucifixion of Christ, pasted on the most conspicuous place on the wall—a few broken dishes stuck up in a corner—an iron pot, or the half of an iron pot, in one corner of the chimney—a little peat in the fireplace, aggravating one occasionally with a glimpse of fire, but sending out very little heat—a man and his wife and five children, and a pig. In front of the door-way, and within a step of it, is a hole three or four feet deep, and ten or twelve feet in circumference; into this hole all the filth and dirt of the hut are put, for careful preservation. This is frequently covered with a green scum, which at times stands in bubbles, as decomposition goes on. Here you have an Irish hut or cabin, such as millions of the people of Ireland live in. And some live in worse than these. Men and women, married and single, old and young, lie down together, in much the same degradation as the American slaves. I see much here to remind me of my former condition, and I confess I should be ashamed to lift up my voice against American slavery, but that I know the cause of humanity is one the world over. He who really and truly feels for the American slave, cannot steel his heart to the woes of others; and he who thinks himself an abolitionist, yet cannot enter into the wrongs of others, has yet to find a true foundation for his anti-slavery faith.
It is a tribute both to Frederick Douglass and Daniel O'Connell that their compassion was not limited to people like them, but extended to victims of injustice far removed from them.
In his memoirs published in 1882, Douglass recalled O'Connell: Continue reading →
A statement yesterday from President Obama:
As we mark the 39th anniversary of Roe v. Wade, we must remember that this Supreme Court decision not only protects a woman's health and reproductive freedom, but also affirms a broader principle: that government should not intrude on private family matters.  I remain committed to protecting a woman's right to choose and this fundamental constitutional right.  While this is a sensitive and often divisive issue- no matter what our views, we must stay united in our determination to prevent unintended pregnancies, support pregnant woman and mothers, reduce the need for abortion, encourage healthy relationships, and promote adoption.  And as we remember this historic anniversary, we must also continue our efforts to ensure that our daughters have the same rights, freedoms, and opportunities as our sons to fulfill their dreams.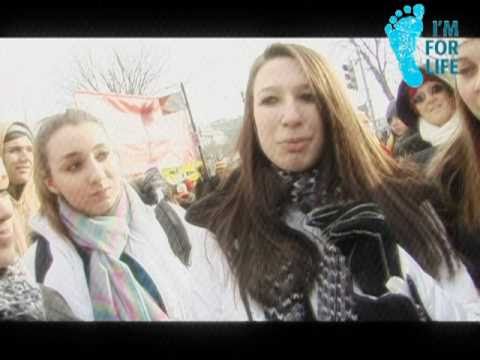 In a sensitive area such as this, involving as it does issues over which reasonable men may easily and heatedly differ, I cannot accept the Court's exercise of its clear power of choice by interposing a constitutional barrier to state efforts to protect human life and by investing mothers and doctors with the constitutionally protected right to extinguish it.
                                  Justice Byron White-Dissent in Roe v. Wade (January 22, 1973)
SAY not the struggle naught availeth,
The labour and the wounds are vain,
 The enemy faints not, nor faileth,
And as things have been they remain.
 If hopes were dupes, fears may be liars;  
  It may be, in yon smoke conceal'd,
Your comrades chase e'en now the fliers,   
And, but for you, possess the field.
 For while the tired waves, vainly breaking,
   Seem here no painful inch to gain,
Far back, through creeks and inlets making,   
 Comes silent, flooding in, the main.
And not by eastern windows only,
When daylight comes, comes in the light;
In front the sun climbs slow, how slowly!  
  But westward, look, the land is bright
Arthur Hugh Clough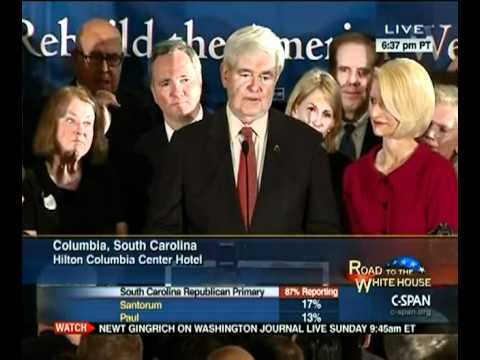 The South Carolina victory speech of Newt Gingrich last night.  Most such primary victory speeches are fairly forgettable efforts and the Gingrich speech was largely no exception except at one point in the speech.  Go to 12: 30 on the video, and watch Gingrich lambaste many elites in our society for their anti-religious bigotry.  Gingrich has raised the issue of anti-Catholic bigotry in particular, and anti-Christian bigotry  in general, before in this campaign, go here to read his earlier comments, and he may have hit on the sleeper issue of the year in this campaign.  With the words of Pope Benedict, go here to read them, warning last week about the lessening of religious freedom in this country, this is a message whose time is now upon us. Continue reading →
It's looking like a fairly sizable victory for the former Speaker of the House.  So much for Romney's inevitability.
Open thread for discussion.  Please keep it civil.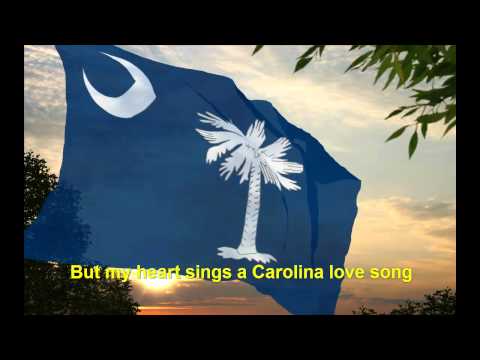 It all seemed so simple for Mitt Romney, a/k/a the Weathervane, just a week ago.  He  had won New Hampshire by a wide margin and he was ahead by more than 10 points according to most polls in South Carolina.  He was poised to win the Palmetto State, and then on to Florida at the end of January.  After three victories in a row, the primaries would be effectively over and he could concentrate on the battle in the Fall.  Tonight Gingrich was declared the winner immediately after the close of the polls, crushing Romney, who had outspent Newt two to one, and who enjoyed the support of the South Carolina GOP establishment.  What happened?
It started to unravel last Monday in the first of the South Carolina debates, where Gingrich performed superbly, and Romney acted like a deer that had wandered into the debate, frozen by the television lights and unable to answer any questions coherently about the release of his taxes.
On Tuesday Sarah Palin announced that if she lived in South Carolina she would be voting for Gingrich, to keep the primary process going.  Her husband had endorsed Gingrich the week before.
All week Romney kept fumbling over the tax return issue, finally announcing that he would release his current tax return sometime in the Spring, and sheepishly mentioning that his effective tax rate was 15% due to most of his income being from investments.  His campaign continued to seem unable to respond to Gingrich attacks on Romney's employment at Bain Capital.  Romney made a major faux pas when he stated that he had earned very little from speaking fees in 2010 and early 2011.  It turned out that the very little money was 374k, fortifying his image as an out of touch rich guy.  A very bad week for the Weathervane.
On Thursday Newt had an electric moment at the beginning of the second of the South Carolina debates.  Go here to read all about it.  This enhanced Gingrich's image as a champion debater, and a fighter, taking no guff from a liberal media bent on destroying him.  This was tailor-made to appeal to Conservatives, and Gingrich should send a public thank you to John  King and CNN for allowing him to use them as a punching bag.  On Friday Perry dropped out and endorsed Gingrich, noting that Gingrich was not perfect, and emphasizing the redemptive power of religion.  If Perry had been as eloquent during his participation in the debates, he would now be the de facto Republican nominee.
So, what does this all mean? Continue reading →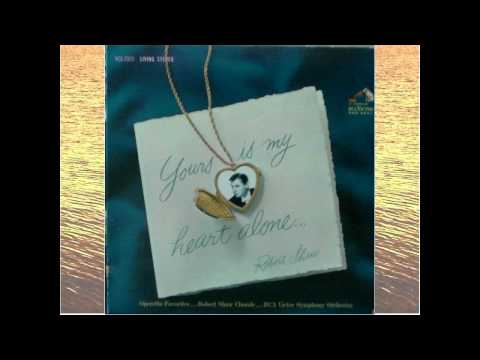 Say to your Son that I am His.
Through Him all my sins are lost:
Forgive me, as Mary Egypt was,
Or, so they say, Theophilus,
Who by your grace was still blameless,
Though he vowed the Devil a guest.
Protect me always from like excess,
Virgin, who bore, without a cry,
Christ whom we celebrate at Mass.
In this faith let me live and die.
Francois Villon
Something for the weekend.  Song of the Vagabonds sung by the Robert Shaw chorale.  Song of the Vagabonds is the showstopper song in the 1925 operetta The Vagabond King by Rudolph Friml.  The operetta is an imaginative fantasy set in 15th Century Paris where Louis XI, the Spider King, makes Francois Villon, brilliant poet and petty thief, Marshal of France for a day after he criticizes Louis.  Villon must defeat the Burgundian Army besieging Paris or be hanged.  Villon rallies the Paris rabble, his people, and defeats the Burgundians.  He wins the woman he loves and goes into exile for her.  Alas, not a syllable is true to history. Continue reading →
Evidently, President Obama has allowed his minion, U.S. Secretary for Health and Human Services (HHS), Kathleen Sebelius, to set forth his administration's argument concerning religious liberty for the 2012 election.  Today, Ms. Sebelius announced that HHS would implement regulations mandating health insurance coverage for sterilizations and  contraception, including some that cause abortion.
Interestingly, there was a "compromise": To allow religious groups one year to comply with the regulation.
The Motley Monk has been chronicling the development of this story, hoping that Ms. Sebelius—who is Catholic—would eventually have an "Emmaus moment" and see the light.   Instead, with this decision, she remains steadfastly aligned with the U.S. pro-abortion lobby.
One can only guess why Ms. Sebelius does so.
Perhaps the exemption is designed to allow the regulation to be litigated, as Belmont Abbey College has already brought suit.  The list of defendants include: the U.S. Department of Health and Human Services: U.S. Department of Labor; U.S. Department of Treasury; and, the departmental secretaries.
In a News 14 Report late last year, the President of Belmont Abbey College, Dr. William Thierfelder, said the healthcare mandate is a violation of the institution's constitutional rights and religious values:
This is a much bigger case and this effects every American.  In other words, if they can do this to us they can do this to everybody.
Thierfelder said Belmont Abbey College will not comply with the mandate and because of noncompliance, the institution will receive recurring fines.  This potentially could cause Belmont Abbey College to close.
Perhaps the reason Ms. Sebelius allowed the one year exemption was that she knows it is illegal, violating the First Amendment, and is likely to be overturned by the Courts sometime in late 2012 or 2013.  That would allow the Obama administration to promote its pro-abortion credentials during the election while at the same time tell pro-life forces that the matter is being litigated and, while it is, the status quo remains in place
Forget the truth.  What matters are the votes, pro-abortion and pro-life.  Maybe the truth is that today Ms. Sebelius "split the difference" to win some votes for her mentor.
To read the HHS Secretary's statement, click on the following link:
http://www.hhs.gov/news/press/2012pres/01/20120120a.html
To read about the Belmont Abbey College suit, click on the following link:
http://www.foxcharlotte.com/news/politics/Belmont-Abbey-College-Sues-Federal-Government–134156948.html
To see the News 14 Report, click on the following link:
http://triad.news14.com/content/local_news/649904/belmont-abbey-college-sues-over-mandate-to-require-contraceptive-coverage
Pope Benedict, judging from this address on January 19 to American bishops in Rome, apparently understands the high stakes in the outcome of this year's election, even if many American Catholics do not:
Dear Brother Bishops,
I greet all of you with fraternal affection and I pray that this pilgrimage of spiritual renewal and deepened communion will confirm you in faith and commitment to your task as Pastors of the Church in the United States of America. As you know, it is my intention in the course of this year to reflect with you on some of the spiritual and cultural challenges of the new evangelization.
One of the most memorable aspects of my Pastoral Visit to the United States was the opportunity it afforded me to reflect on America's historical experience of religious freedom, and specifically the relationship between religion and culture. At the heart of every culture, whether perceived or not, is a consensus about the nature of reality and the moral good, and thus about the conditions for human flourishing. In America, that consensus, as enshrined in your nation's founding documents, was grounded in a worldview shaped not only by faith but a commitment to certain ethical principles deriving from nature and nature's God. Today that consensus has eroded significantly in the face of powerful new cultural currents which are not only directly opposed to core moral teachings of the Judeo-Christian tradition, but increasingly hostile to Christianity as such. Continue reading →