Monthly Archives:
January 2012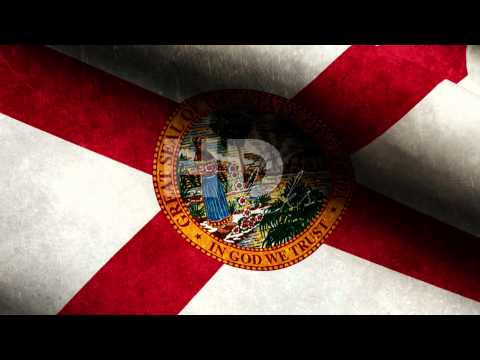 Coming out of his strong victory in South Carolina, Newt Gingrich had a golden opportunity in the Sunshine State to deal a deathblow to the Romney campaign.  Defeat Romney a/k/a the Weathervane in a large state like Florida, and the main rationale of the Romney campaign, electability, would be shattered.  If Gingrich had won the state he would  haven been the clear frontrunner and Romney would have been wondering whether he would be too old to try again in 2016.  Instead, Romney has won, and appears to have won strongly.  What happened? Continue reading →
In a piece of very good news, the Susan G. Komen for the Cure Foundation has announced that they are breaking the partnership they have maintained for some years with Planned Parenthood. Planned Parenthood is miffed, calling the decision "deeply disturbing and disappointing." From The Hill (linked above):
The Susan G. Komen for the Cure Foundation has broken off a partnership through which it provided cancer screenings at Planned Parenthood clinics, the Associated Press reported Tuesday. Planned Parenthood blamed the political controversy over abortion.

"We are alarmed and saddened that the Susan G. Komen for the Cure Foundation appears to have succumbed to political pressure. Our greatest desire is for Komen to reconsider this policy and recommit to the partnership on which so many women count," said Cecile Richards, president of Planned Parenthood Federation of America.

Planned Parenthood said its clinics provided about 4 million screenings for breast cancer over the past five years, roughly 170,000 of which were supported by Komen grants.

Planned Parenthood said it has established an emergency fund to offset the loss of the Komen funds.

Komen told the AP that it ended its partnership with Planned Parenthood because of a congressional investigation into the organization. Republicans on the House Energy and Commerce committee have requested detailed financial records from Planned Parenthood.
This seems like an utterly obvious thing for Komen to do, and frankly it's surprising it's taken so long. Continue reading →
While I disagree with him on a host of political issues, I follow Ta-Nehisi Coates's blog at The Atlantic closely because of his consistently well written and fascinating posts on history and literature. Many of these are on the Civil War, which has in recent years become a topic of great interest to him.
There was a particularly interesting pair of these a couple weeks ago in which Coates and his commenters discussed (in the context of Ron Paul's repeated statements that the Civil War was unnecessary) the fact that left wing icon Howard Zinn actually peddles the several of the neo-confederate tropes: that the Civil War was fought for Northern economic domination and had little to do with slavery, and that a the Civil War clearly wasn't necessary in order to end slavery anyway. [First post on Ron Paul, Howard Zinn and the Civil War. Second, followup post.] The specific Howard Zinn text that they go after (because it's conveniently online) is a lecture he gave called Three Holy Wars, in which he tries to make a case for why people should not see the Revolutionary War, American Civil War or American involvement in World War II as moral or just — something he argues is important because seeing any past wars as just allows people to justify other wars on analogy.
Zinn proceeds to run through most of the standard complaints against the "War of Northern Aggression":
It was really, really bad:
Slavery. Slavery, nothing worse. Slavery. And at the end of the Civil War, there's no slavery. You can't deny that. So, yeah, you have to put that on one side of the ledger, the end of slavery. On the other side, you have to put the human cost of the Civil War in lives: 600,000. I don't know how many people know or learn or remember how many lives were lost in the Civil War, which was the bloodiest, most brutal, ugliest war in our history, from the point of view of dead and wounded and mutilated and blinded and crippled. Six hundred thousand dead in a country of 830 million. Think about that in relation today's population; it's as if we fought a civil war today, and five or six million people died in this civil war. Well, you might say, well, maybe that's worth it, to end slavery. Maybe. Well, OK, I won't argue that. Maybe. But at least you know what the cost is.
The Civil War didn't meaningfully free them anyway: Continue reading →
When the Association of Catholic Colleges and Universities (ACCU) met recently in Washington, DC, one of the "hot topics" addressed was the need for training board members to oversee their institutions' Catholic identity.
According to an article published in Inside Higher Education, the Bishop of Harrisburg (PA) and the Chair of the United States Conference of Catholic Bishops Committee on Catholic Education, the Most Reverend Joseph P. McFadden, told the audience: "It's time for the laity to step up to ensure that the Catholic faith continues into the third millennium."  Bishop McFadden argued that trustees of the nation's Catholic universities and colleges must value the unique mission of Catholic higher education and should, when possible, be Catholics and well-educated about the workings of Catholic higher education.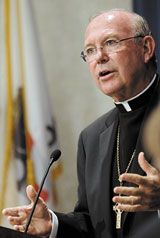 Most Reverend Joseph McFadden
Diocese of Harrisburg (PA)
While The Motley Monk concurs with Bishop McFadden that trustees need to supervise their institutions' Catholic identity more forcibly, the simple truth is that many administrators at the nation's Catholic universities and colleges are failing in their responsibilities in this regard.
For example, the Scranton Time Tribune reported that the same week Bishop McFadden was addressing the ACCU, the Bishop of Scranton (PA), Most Reverend Joseph C. Bambera, was expressing his disapproval with the University of Scranton for inviting former U.S. Congresswoman Marjorie Margolies to be the keynote speaker at the January 28, 2012, "Ready to Run" program for women interested in politics.
Most Reverend Joseph C. Bambera
Diocese of Scranton (PA)

As a congresswoman, Ms. Margolies co-sponsored the Abortion Clinic Access Bill, which sought to make it a federal crime to impede access to abortion clinics.  She also voted in support of an Abortion Counseling Bill, which would have required federal recipients of funds for family planning to provide patients with information about obtaining an abortion.  Margoilies also opposed the "Hyde Amendment," which prohibited federal funding of abortions.
Bishop Bambera asked that the University's administrators withdraw the invitation to Ms. Margolies.
Responding to criticism from the Diocese and questions from other Catholic higher education watchdogs, the President of the University of Scranton, Reverend Kevin P. Quinn, S.J., released a statement on the University's website:
Speakers for this University event are experts chosen to provide women with information about the challenges of politics; they are not chosen to engage in a discussion of abortion.  By inviting these speakers to campus, the University is not endorsing their personal views.
A spokesperson for the Diocese of Scranton called this stance "unsettling":
The University's unwillingness to work with Bishop Bambera in an effort to reach an acceptable resolution to this unfortunate situation is an unsettling turn in the relationship that the Bishop has been pleased to maintain with University officials during his tenure as bishop of Scranton.
The spokesperson added that the institution values its relationship with the Diocese and Bishop and is "saddened that any action on our part might in some way compromise this relationship."
Bishop Bambera remained adamant:
Despite the university's lack of endorsement of the personal views of the keynote speaker, as a Jesuit and Catholic university, the inclusion of Ms. Margolies in a University-sponsored program has created concern and confusion among members of the Christian faithful.  Thereby, in this instance, the university's charge as a Catholic institution of higher learning to permeate "all university activities" with "Catholic teaching and discipline" has been compromised.
Insofar as The Motley Monk is concerned, trustees do need to be trained, as Bishop McFadden pointed out at the ACCU meeting.  But, The Motley Monk would add that training must also include how to hire administrators who will uphold their institutions' Catholic identity, how to assess administrators in this regard, and how to dismiss administrators who trustees discover wrongly believe that secularizing Catholic higher education provides the sure route to solidify an institution's Catholic identity.
To read the Inside Higher Education article, click on the following link:
http://www.insidehighered.com/news/2012/01/30/catholic-colleges-consider-role-trustees#ixzz1kx2COioR
To read the Scranton Times Tribune article, click on the following link:
http://thetimes-tribune.com/news/bishop-expresses-disappointment-in-university-s-invitation-to-speaker-1.1257550#axzz1kx87AcsV
To read The Motley Monk's daily blog, click on the following link:
http://themotleymonk.blogspot.com/
It seems as if segments of the Occupy Wall Street Movement hate both the Catholic Church and the pro-life movement:
Demonstrators from the Occupy Wall Street movement threw condoms on Catholic schoolgirls, refused to allow a Catholic priest to give a closing prayer, and shouted down a pro-life speaker at a Rhode Island right to life rally on Thursday, according to its organizer. The event marked the third time protesters associated with the movement have disrupted a pro-life meeting in a week.
About two-dozen members of Occupy Providence hiked from Burnside Park to the 39th Annual Pro-Life State House Rally organized by the Rhode Island State Right to Life Committee on Thursday.
The pro-life organization's executive director, Barth E. Bracy, told LifeSiteNews.com that, near the end of the rally, the Occupiers "strategically fanned out with military precision."
That's when they "started showering condoms down on some of the girls from a Catholic high school." Continue reading →
My Bishop, Daniel Jenky, in reaction to the Obama administration's attempt to restrict Catholic religious freedom through its contraceptive regulations, has called for the addition of the Saint Michael Prayer in the intercessory petitions at Mass.  The intention of the prayer is for Catholic freedom in America.
January 24, 2012
My dear Brothers and Sisters in Christ,
In this history of the United States, Friday, January 20, 2012 will certainly stand out as a moment of enormous peril for religious liberty. On that day, the Obama administration announced regulations that would require Catholic institutions to offer insurance programs providing abortifacients, sterilization, and contraceptive services. If these regulations are put into effect, the could close down every Catholic school, hospital, and the other public ministries of our Church, which is perhaps their underlying intention. What is perfectly clear is that this is a bigoted and blatant attack on the First Amendment rights of every Catholic believer. Under no circumstances, however, will our Church ever abandon our unshakable commitment to the Gospel of Life.
I therefore call upon all the faithful of the Diocese to vigorously oppose this unprecedented governmental assault upon the moral convictions of our Faith. Under the Constitution, no president has the authority to require our cooperation with what we consider to be intrinsic evil and mortal sin. We must therefore oppose by every means at our disposal this gross infringement on the rights of Catholic citizens to freely practice our religion. This country once fought a revolution to guarantee freedom, but the time has clearly arrived to strongly reassert our fundamental human rights. I am honestly horrified that the nation I have always loved has come to this hateful and radical step in religious intolerance. I hope and pray that all people of good will would support the faith based resistance of us their Catholic neighbors.
While it is primarily the laity who should take the leading role in political and legal action, as your Bishop, it is my clear responsibility to summon our local church into spiritual and temporal combat in defense of Catholic Christianity. Have faith! Have courage! Fight boldly for what you believe! I strongly urge you not to be intimidated by extremist politicians or the malice of the cultural secularists arrayed against us. Always remember that the One who is in you is greater than the one who is in the world (I John 4:4).
Until these grave issues are favorably resolved, I ask that every parish, school, hospital, Newman Center, and religious house in this Diocese insert the Prayer to St. Michael the Archangel into the Sunday General Intercessions just before their concluding prayer. It is God's invincible Archangel who commands the heavenly hosts, and it is the enemies of god who will ultimately be defeated. This prayer should be announced as: A Prayer to Saint Michael the Archangel for the freedom of the Catholic Church in America.
May God guide and protect his Holy Church.
Sincerely yours in Christ,
Most Reverend Daniel R. Jenky, CSC Bishop of Peoria Continue reading →
I know that there are those among you who do not like harsh rhetoric.  Heck, one of my most recent posts was about the militaristic rhetoric of the president.  Yet, sometimes we need to take a look around at what's happening and realize that something like a culture war is truly raging.
There was no clearer demonstration of this fact than the HHS mandate regarding health insurance coverage of abortificants, contraception, sterilization, and other grave evils.  The impact of this ruling has been stunning.  Not only has the decision outraged conservative Catholics, but even erstwhile left-wing Catholic defenders of the president have taken this decision to be the last straw.  Bishops, often reticent to enter the political fray, have issued clear condemnations of this decision, even suggesting that Catholics engage in civil disobedience.  The mild-mannered visiting priest at our parish offered a blistering homily, discussing how this mandate violates the very principles that this country was founded upon. Like the ents awakening from their slumber, Saruman and his orcs – meaning President Obama and his allies – have awakened a sleeping giant.
But our anger is not enough, nor are our prayers.  Patrick Archbold puts it all in perspective today.
As I said, this is just the latest battle, but it's one we must win.  We can't win the war here, but we can lose it.  And to win a war you don't just need chaplains, you need generals.

In the wake of the Obama Administration's decision to force contraceptives on Catholic institutions many Bishops have been calling for prayer and fasting, and that is right and just.  But when faced with an existential threat, you don't just pray the Nazis away, you have to fight on all fronts.

It is fine to pray that the Nazis will stop being Nazis, but it is also right and just to pray for good aim.

Our Bishops need to realize what is at stake here and act accordingly.  Many Bishops have already written letters and made videos condemning the unconstitutional actions of the administration.  That is good, but more is required.  Open and vocal defiance is required. The Most Reverend Joe S. Vásquez, Bishop of Austin issued a letter this Sunday in which he proclaimed "We cannot—we will not—comply with this unjust law. People of faith cannot be made second-class citizens." That is a good start.  Every Bishop needs to do the same. It must be made clear that we WILL NOT COMPLY.

Yet even more will be required. Some have called for very visible civil disobedience by the Bishops to the point of getting arrested.  I think this may be a good idea. Yet even more.  Kathleen Sebelius is at the spear point of this war on our Church promoting and now forcing abortion and contraception at every turn.  If the scandal caused by this "Catholic" woman does not merit excommunication, the remedy is meaningless.  Any Catholic who is complicit in this war must be held to account, publicly.  This is a war.

We will not comply.  We should never have to choose between being a Catholic and being an American.  This is an existential threat for the Church in this country as well as for the life of the country as a whole.  If we are to win the war, we must win this battle and we need generals willing to fight to the last.
If you are not convinced that we are in the midst of an all out assault on religious values, here's another story to consider. Continue reading →
The great conservative hope, at least according to the likes of Ann Coulter, recently appointed a gentleman named Bruce Harris to the New Jersey Supreme Court.  Harris is openly gay –  a point that Christie made sure to highlight when he introduced Harris as his nominee.  Unsurprisingly Harris is a supporter of gay marriage, and has been very vocal on this issue.   Blogger Paul Mulshine reprints an email that Harris sent to Republican legislators in the state:
As a Republican elected official and someone who has worked hard (and successfully) to get Republicans elected in Chatham Borough, it disturbs me that same-sex marriage has become a Republican versus Democrat issue (understanding there are some Democrats who do not support same-sex marriage). I was encouraged to see former Governor Christine Whitman's op-ed piece in the Sunday, November 29, 2009 Star-Ledger supporting same-sex marriage, I hope you read her article and will seriously consider her suggestion.

You have met me and my partner of nearly 30 years, Marc, on more than one occasion at various political gatherings. The New Jersey Supreme court has determined that our relationship is entitled to the equal protection guarantees of the State Constitution. The New jersey Civil Union Review Commission determined that civil unions do not provide the equality the State Constitution mandates.(Please take a few moments and visit www.gardenstateequality.org. which has two short videos that provide sad examples of the failures of the civil union law.)

When I hear someone say that they believe marriage is only between a man and a woman because that's the way it's always been, I think of the many "traditions" that deprived people of their civil rights for centuries: prohibitions on interracial marriage, slavery, (which is even provided for in the Bible), segregation, the subservience of women, to name just a few of these "traditions."

I hope that you consider my request that you re-evaluate your position and, if after viewing the videos, reading Governor Whitman's letter and thinking again about this issue of civil rights you still oppose same-sex marriage on grounds other than religion I would appreciate it if you you'd explain your position to me. And, if the basis of your opposition is religious, then I suggest that you do what the US Constitution mandates – and that is to maintain a separation between the state and religion.
Surely Chris Christie knew of this.
That led me to ask the obvious question at a press conference Wednesday: Did Christie know how Harris stood on Lewis v. Harris?

Christie said of Harris and his other nominee, Phillip Kwon of Bergen County, "I did not ask them about specific cases." He pointed to two other cases of concern to conservatives, the Abbott school-funding decisions and the Mount Laurel decisions on affordable housing, and said "to the extent that they've taken positions on those issues, they're going to have to let us know that."
The governor sure did his due diligence in this important duty, didn't he?
Of course this brings out the band of merry GOP apologists, such as this commenter at NRO.
Good grief, throwing Christie under the bus ALREADY? He's not even to the Greyhound station yet.

Is there anyone who in your view IS pure enough to be a Republican president? Talk about making perfection the enemy of the good ….
So now it a sign that you're some fire-breathing purist to expect a Chief Executive to actually do his research before making critical appointments.  Supreme Court appointments – be they federal or state – have long-lasting impact well beyond the life of a governor.  Judicial appointments are among the three or four most important job functions of any president or governor.  Even if Harris recuses himself from any matters pertaining to gay marriage, it is clear from this email that he is not what you'd call a sparkling originalist.  As such, Chris Christie has failed in this vital aspect.
Unfortunately we have so lowered the bar of expectations that some will just overlook this minor inconvenience.  After all, Governor Soundbite has so many cool Youtube clips of him berating his constituents, and as this entire election season has proven, bluster is a lot more impressive than actual accomplishments.
As one of our commenters found out, it's a commercial for the 'oh so choice' 2012 Honda CR-V.  Here is what Honda has to say:
Celebrate the launch of the all-new 2012 CR-V, Honda brought Ferris Bueller's Day Off back in a big game commercial. We cast Matthew Broderick as himself, skipping out on a day of acting work and living it up in his all-new CR-V. Relive movie history with Honda's fresh twist and wonderful homage to this '80s classic.
Think you're a true fan of Ferris Bueller's Day Off? We hid over two dozen references to the movie throughout the commercial. Some are obvious, some are very subtle. See how many you can find. #dayoff