Monthly Archives:
October 2011
Yesterday's gospel reading struck me in relation to the protests which have been continuing to occupy their at once earnest and farcical place on our front pages.
Someone in the crowd said to Jesus, "Teacher, tell my brother to share the inheritance with me."

He replied to him, "Friend, who appointed me as your judge and arbitrator?"

Then he said to the crowd, "Take care to guard against all greed,
for though one may be rich, one's life does not consist of possessions."
Continue reading →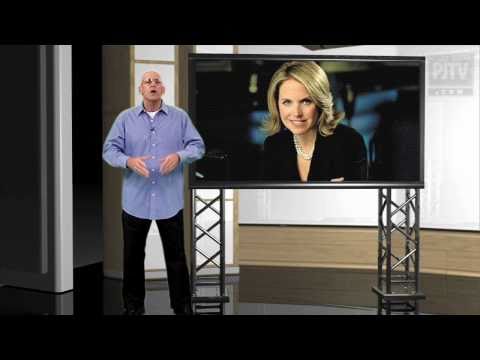 Klavan on the Culture I sometimes wonder what the country would be like if we had a professional mainstream media, instead of the hacks and shills who currently infest it.  Ah, but that is in some alternate universe.  In the one we inhabit the Newspaper Guild, the union of many newspaper reporters, has endorsed the Occupy Wall Street movement, and journalists and pundits are organizing to help the Occupy Wall Street Movement get its  message out:
Big Journalism has learned that the Occupy Washington DC movement is working with well-known media members to craft its demands and messaging while these media members report on the movement. Someone has made the emails from the Occupy Wall Street email distro public and searchable. The names in the list are a veritable who's who in media.
Journolist 2.0 includes well known names such as MSNBC's Dylan Ratigan, Rolling Stone's Matt Taibbi who both are actively participating; involvement from other listers such as Bill Moyers and Glenn Greenwald plus well-known radicals like Noam Chomsky, remains unclear. The list also includes a number of radical organizers, such as Kevin Zeese.
Of course we can all recall the neutral, just the facts, coverage of the Tea Party movement: Continue reading →
Susan Sarandon comes out at a film festival and calls our German Shepherd a Nazi.
Words can't describe what I want so say, so I'll just print the excerpt from The Hollywood Reporter:
Sarandon was interviewed by Bob Balaban at the Bay Street Theatre in Sag Harbor on Saturday. She said she sent the pope a copy of the anti death penalty book, Dead Man Walking, authored by Sister Helen Prejean. Sarandon starred in the 1995 big-screen adaptation.

"The last one," she said, "not this Nazi one we have now."
Tofu anyone, while trying to digest the latest from Hollywood?
Part of my ongoing series on the governors of Illinois down to the end of Reconstruction at the blog Almost Chosen People that I run with Paul Zummo.  William Henry Bissell, the eleventh governor of Illinois, was the first Catholic governor.  Bissell was born on April 25, 1811 near the town of Painted Post in New York.  Studying medicine, he opened a practice in Monroe County in Illinois.  Eventually at the age of 30 he shifted careers from medicine to the law.  In 1840 he was elected to the state legislature as a Democrat.  Passing the bar he was appointed by the legislature as prosecuting attorney for the judicial circuit in which he lived.
During the Mexican War he was elected as Colonel of the Second Illinois infantry regiment and commanded that unit at the battle of Buena Vista.  He earned the praise of General Zachary Taylor that day: "Colonel Bissell, the only surviving colonel of the three (Illinois) regiments, merits notice for his coolness and bravery on this occasion (Buena Vista)."
After the War he was elected as a Democrat to Congress.  He was an ardent foe of the Kansas-Nebraska Act and became identified with the new Republican party.  In 1850 he almost fought a duel with Jefferson Davis.  Bissell had defended the courage of Northern troops who fought at Buena Vista and accused Southerners of attempting to hog the glory of that day.  Davis, who had commanded the Mississippi Rifles at Buena Vista, thereupon challenged him to a duel.  Bissell, who never lacked courage, accepted and designated the weapons for the duel as army muskets loaded with balls and buckshot.  President Taylor, the former father-in-law of Davis threatened Davis with arrest, and a peaceful resolution was reached between Bissell and Davis. Continue reading →
Very, very, very strong viewer advisory in regard to the above video as the F-Bomb is one of Mr. Edward T. Hall III's most cherished words.  However, please understand that Mr. Edward T. Hall III is a serious scholar:
Edward T Hall III is the co-director of AcaWiki.org, collaborator with
WindowFarms.org and dedicated poet of science. He conducts behavioral economic
research at Columbia University's Center for Research on Environmental Decisions
where social scientists of all stripes collaborate to figure out "why our brain
isn't green." He researches human "impatience" and collaborates extensively with
researchers at the London School of Economics and Yale. But Edward is not
limited to behavioral economics. He draws upon the fields of evolutionary
neuroscience, cultural anthropology, emotion research, environmental economics,
industrial ecology and social psychology. Before entering the research realm,
Edward studied photography and the fine arts under the instruction of Stephen
Shore, Tim Davis, Liz Deschenes, Lowry Burgess, and Golan Levin. He believes
artists, citizen researchers, social networks, gamer designers, writers,
theologians and DIYers must become help shape the poetry of science, to make it
human. Continue reading →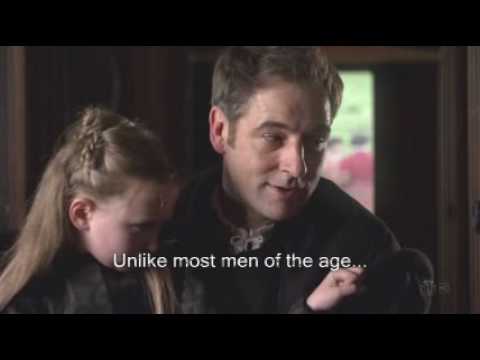 The figure of Saint Thomas More intrigues Catholics and non-Catholics alike, and has ever since his death.  Why is that?
1.  A Man for All Seasons-Saint Thomas More was all of these things:  a saint, a politician, historian, a lawyer, a judge, one of the leading intellectuals of his day, a witty jokester, a good family man, Chancellor of England, one of the most gifted writers of Latin or English, political theorist, inventor of a literary genre (utopias), dissident, martyr.  He crammed many lives into one life, and we continue to marvel at this.
2.  Nice guy-So many great figures in history are completely unapproachable,  evil or downright weird.  More on the other hand is the type of boon companion we would wish for, and a dinner guest to be dreamed of.
3.   Drama-More's life, and his death, are full of endless drama, and would have made a great Shakespeare play.  Shakespeare may actually have had a hand in the play Thomas More, which, mirabile dictu considering it was written under Bad Queen Bess, treats Saint Thomas More with great respect.
4.    Contrast-King Henry VIII has come down in English history as a crowned monster, which is unusual since he initiated the Reformation in England which ultimately triumphed.  As a result of the negative attitude towards Henry, his victims have been generally treated generously by English historians and chief among these is Saint Thomas More.  Here are the words of Sir Winston Churchill on More:
"The resistance of More and Fisher to the royal supremacy in Church government was a heroic stand.  They realised the defects of the existing Catholic system, but they hated and feared the aggressive nationalism which was destroying the unity of Christendom.  They saw that the break with Rome carried with it the risk of a despotism freed from every fetter.  More stood forth as the defender of all that was finest in the medieval outlook.  He represents to history its universality, its belief in spiritual values, and its instinctive sense of otherworldliness.  Henry VIII with cruel axe decapitated not only a wise and gifted counselor, but a system which, though it had failed to live up to its ideals in practice, had for long furnished mankind with its brightest dreams." Continue reading →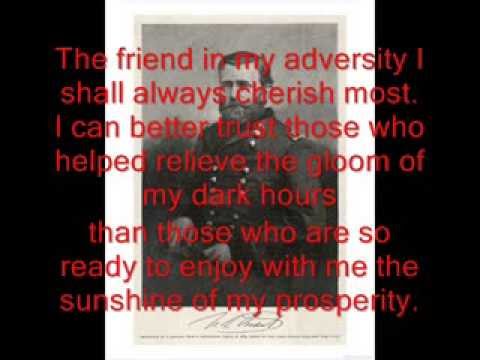 I feel that we are on the eve of a new era, when there is to be great harmony between the Federal and Confederate. I cannot stay to be a living witness to the correctness of this prophecy; but I feel it within me that it is to be so. The universally kind feeling expressed for me at a time when it was supposed that each day would prove my last, seemed to me the beginning of the answer to "Let us have peace."  
Ulysses S. Grant, written just before his death
Something for the weekend.  Quotations from Ulysses S. Grant to the Beatles song  In My Life.  A follow up to my post on Robert E. Lee, the Beatles and the Internet.  Another demonstration of what a wild and wacky place the internet truly is!
Few men in American history have gone from complete obscurity to being a  central figure in the life of the nation faster than Ulysses Simpson Grant.  Known as Sam Grant by his West Point friends, his first two initials making Sam an inevitable nickname, Grant had an unerring ability to fail at everything he put his hand to, except for war, his marriage and his last gallant race against the Grim Reaper, as he was dying of cancer, to finish his memoirs and provide financially for his wife and children.  Most great figures in our history have known success more than failure.  Not so Sam Grant.  He would encounter humiliating defeats throughout his life, from beginning to end.
At the beginning of the Civil War, he was a clerk, barely able to support his family.  Seemingly a dull plodder, but possessed of iron determination and an uncanny ability to never let the trees obscure the forest;  happily married and a firm believer in God, but subject to bouts of depression when he would grasp for the bottle;  the shabby little man who, incredibly, ended up winning the greatest war in American history.
His men didn't hold him in awe as Lee's men did Lee;  Grant was far too common and prosaic a figure for that.  However, they did respect him, as this section of Stephen Vincent Benet's epic poem on the Civil War, John Brown's Body, indicates: Continue reading →
I don't know about anyone else— at least this time of year, come Lent I know it'll be a group obsession — but I'm constantly on the look-out for something to make that doesn't involve carne.
Beyond the staples of fried cheese sandwiches (Thank you, George Foreman), the treat of deep-fried calamari, and various canned soups, my childhood only offers one option:
Clam chowder.
Kansas City Bishop Robert Finn and the Diocese of Kansas City-Saint Joseph have been indicted on failure to report child abuse charges.  The charges are misdemeanors.  Here is the statement of the Kansas City-Saint Joseph Diocese regarding the indictments.  Go here for the details.  A few observations:
1.  The charges stem from child pornography found on a priest's, Shawn Ratigan's, computer in December 2010.  The pictures were turned over to the authorities in May of this year.  This was far too slow.  The diocese was conducting its own internal investigation of Ratigan, but bishops should not attempt to play cop.  Whenever such evidence surfaces it must be turned over to the authorities pronto.
2.  The prosecutor Jean Peters Baker is a fanatic pro-abort.  A former Democrat member of the Missouri House, she resigned when she was appointed as Kansas City prosecutor in May of this year.  I suspect that she intends to use Bishop Finn's scalp to ride to higher political office.  She claims that this was all the grand jury's doing and not hers which is risible.  Grand juries are the tools of the prosecuting attorneys and will, as the saying goes, normally indict a ham sandwich if that is what the prosecutor wants.
3.  Failure to report suspicion of sexual abuse is rarely prosecuted as demonstrated by the fact that Planned Parenthood abortion clinics routinely abort underage girls, and no Planned Parenthood affiliate has ever been successfully prosecuted for failure to report suspected sexual abuse of a minor.
And they were right.
Oh, and what's a little Congressional approval between friends?
President Obama notified Congress today that he is sending about 100 U.S. troops to central Africa to help battle a rebel group known as the Lord's Resistance Army.
Gee, so nice of the president to notify Congress that he's sending American troops to engage in another country's war.  I guess he gets a gold star for doing it in advance.
Conrad Black has written one of the most rambling and fairly incoherent things I've ever seen in quite some time.  I'm not quite sure what his overall point is, but he ends up attacking Antonin Scalia  of all people.
But some are, including Justice Antonin Scalia, who, as Maureen Dowd wrote in the New York Times on October 2, has attacked the complainant in a civil suit to stop the banning of co-ed dormitories at the Catholic University of America in Washington, D.C. As Ms. Dowd pointed out, Justice Scalia has not hesitated prior to this to volunteer publicly either his solidarity with his Church militant, or his dissent from it. But in the case of the Roman Catholic Church's long-held and oft-expressed (by four recent popes) hostility to the death penalty, Justice Scalia recently told Duquesne University in Pittsburgh that if he thought "that Catholic doctrine held the death penalty to be immoral, I would resign." Since he could not possibly be unaware of the views of the Holy See over the past 50 years (John Paul I was the only pope in that time who did not reign long enough to opine on the subject), nor of the authority of the pope to speak on such matters for the whole Church, it is not clear why he is not delivering his letter of resignation to the president instead of sticking his nose into the dormitory rules in one of the national capital's universities.

To move the inquiry that Ms. Dowd usefully started to entirely secular matters, there could be searching questions about why the Supreme Court has sat like a great suet pudding for decades while the Bill of Rights has been raped by the prosecution service with the connivance of the legislators, a tri-branch travesty against the civil rights of the whole population, but I will spare readers another dilation on that subject. However, Justice Scalia's preoccupation with the dormitories of the Catholic University of America (a matter that is now, to the Justice's chagrin, sub judice), is, in the circumstances and to say the least, bizarre.

Leaving that aside, the report card on the co-equal branches is not uplifting: The legislators and the executive wimped out on abortion and immigration. The beehive of conscientious jurists on the Supreme Court applied a completely amoral test to get to a defensible conclusion on abortion when it was dumped by default on them to determine. And its most vocal current Roman Catholic member, swaddling himself in his faith, upholds the death penalty in contradiction to the popes, holds in pectore his views on abortion (which is not now before the high court, though not for absence of petitions), and thunders fire and brimstone about coeducational university dormitories, which is not, I think, a subject that the See of Peter has addressed.
This is just bizarre.  From relying on Maureen Dowd as a source of criticism of Scalia's Catholicism, to his complete non sequiter about Scalia's involvement in the CUA suit, to Black completely misconstruing Church teaching on the death penalty; this turned into an unholy mess of an article that already has no clear thesis.
I was all set to write a response, but Shannen Coffin has already done so masterfully.   I'd be violating fair use to copy and paste the whole thing, but you must read the whole thing.  But here are the key passages: Continue reading →
Today, October 14 Anno Domini 2011, the Battle of Hastings occurred between the Anglo-Saxon King Harold and Duke William of Normandy.
The following is an animated version of the Bayeux Tapestry [1].
King Harold had a depleted force of 5,000 foot soldiers from a decisive victory of the combined Viking forces of Tostig and Harald Hadrada in the north of England the previous month.  Whilst Duke William had a force of 15,000 infantry, cavalry, and archers.  Facing superior numbers King Harold took up a defensive position that nearly won the day if it wasn't for Duke William's resilient command of a deteriorating situation.