Monthly Archives:
October 2011
So often we hear stories about how expectant mothers abort children with diagnosed birth defects.   As awful as abortion is in its own right, it's terrifying to think that it is being used for eugenic purposes, whether people realize it or not.  Yet, we can't fully blame parents who believe they have no other recourse.
There are outlets available for parents in such difficult situations, and I just learned of one yesterday.  Isaiah's Promise, as stated on its webpage, provides "support for parents continuing their pregnancy after a poor or fatal diagnosis." It is a support place to ontact for guidance through the hard decisions about what to do with a poor diagnosis.
They have very limited resources, as their rather bone-thin website indicates.  So please take a look at the site and see if there's any help you can provide, either with manpower or with financial donations. Or, if nothing else, if you know of someone in this situation let them know about this resource.
Well, I have had an opportunity to review the latest musings of the pontifical counsel for justice and peace.  My overall reaction is the same as the famous comment that a Professor once put on a term paper.  "This paper is good and original.  Unfortunately where it is good it is not original, and where it is original it isn't good."  On to the fisk!
"The world situation requires the concerted effort of everyone, a thorough examination of every facet of the problem – social, economic, cultural and spiritual. The Church, which has long experience in human affairs and has no desire to be involved in the political activities of any nation, 'seeks but one goal: to carry forward the work of Christ under the lead of the befriending Spirit. And Christ entered this world to give witness to the truth; to save, not to judge; to serve, not to be served.'"
So far so good.
With these words, in the prophetic and always relevant Encyclical Populorum Progressio of 1967, Paul VI outlined in a clear way "the trajectories" of the Church's close relation with the world. These trajectories intersect in the profound value of human dignity and the quest for the common good, which make people responsible and free to act according to their highest aspirations.
The last sentence reminds me of a phrase that Nelson Rockefeller used to work into many of his speeches:  "The Brotherhood of Man under the Fatherhood of God!"  His aides used to refer to it as BOMFOG.  The more high-falutin the language, the closer you need to read any concrete proposals embedded within.
G.K Chesterton is reputed once to have opined: "It's not the man who stands for something who scares me.  It's the man who stands for everything."
Sadly, it appears the same is true when it comes to peoples' religious affiliations.
Remember when the United States was considered the dominion of the White-Anglo/Saxon-Protestant (WASP) man?
Well, it seems that the once-powerful Episcopalian denomination in the United States which once stood for something and now stands for everything has come upon very tough times.  It now counts less than 2M as members.  In fact, a statistical report produced by the denomination notes that its member rolls have shrunk by 40% between 1965 and 2010 even as the U.S. population has increased by more than 50%.
Consider some of the grim statistics:
In 1965, there were more than 3.5M+ U.S. Episcopalians.  In 2010, there were 1,951,907 members.
The denomination's 10-year change in active  membership (2000-2010) dropped 16% while attendance decreased by 23% to 657,831 in 2010.

Parishes are closing.  In 2010, 100 parishes closed.
These statistics certainly don't bode well for the future of the Episcopalian denomination in the United States.  As the remaining Episcopalian congregations increasingly age, they will become increasingly disconnected from Episcopalian youth.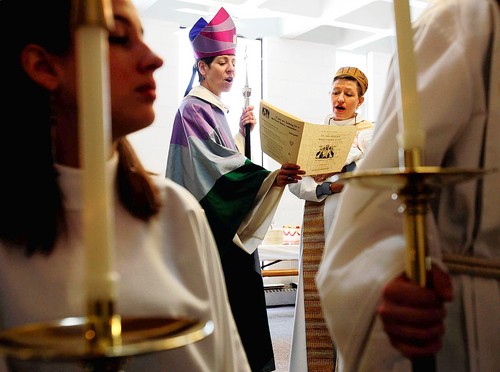 Is there a causal relationship between being "progressive"—all of that diversity and inclusion stuff—and the death of once-powerful Christian denominations?  Perhaps "yes" in the sense that the more traditional wing of the Anglican Church is growing.  Perhaps "no" in the sense that membership in mainline Protestant denominations is declining across the board which could have much to do with a culture whose members are charmed by secularism, materialism, and consumerism.
But, one thing is for sure.  The statistics suggest that short of divine intervention, Protestant denominations which stand for everything are going to have a very difficult time surviving into the next generation.
Crispin and Crispian, gone since Vatican II, but never forgotten so long as Henry V is recited!
UPDATE:
Thinking this post (written last night) over again in the light of morning, it strikes me that while getting a lot of the real text out there is doubtless is a real service, many people simply won't read the whole thing, so I'm adding the following summary bullets at the top. The document:
- Blames easy money and easy credit for the origins of the global financial crisis (classic Austrian business cycle explanation)
- Criticizes a "liberalist approach" to avoiding intervention and the failure to bail out Lehman Brothers (notes later that financial institutions should be bailed out on condition of contributing to the real economy through "virtuous behavior")
- Notes that globalization has been a huge benefit to many, but has left others behind
- Calls for people to remember spiritual and ethical considerations rather than putting their hope in technocracy
- Expresses concern that speculation has hurt global markets and the developing world in particular
- Praises the G7 and G20
- Suggests the need for a global "authority" stronger than the UN or IMF
- Says that such a world authority would have to be voluntary in nature, not use force or compulsion, and would probably start as an association of a smaller number of nations (like the G20 or EU)
- Expresses concern that financial markets have grown faster than "real markets"
- Endorses the idea of a world central bank
- Lists as purposes of a world authority and central bank that it would: 1) encourage free trade and efficient markets, 2) prevent excessive government deficits, 3) pursue sound money, 4) prevent speculation and excessive credit, 5) fund itself via a financial transaction tax
Now on to the detailed post.
---
If my circle of Catholic acquaintance on Facebook is any guide, there's been a fair amount of buzz going around about
the "note" released Monday by the Pontifical Council for Justice and Peace: TOWARDS REFORMING THE INTERNATIONAL FINANCIAL AND MONETARY SYSTEMS IN THE CONTEXT OF GLOBAL PUBLIC AUTHORITY
. Those of a more left-leaning description did some preemptive crowing that this would "put the pope to the left of Nancy Pelosi", but having downloaded a copy of the full document yesterday I figured I'd avoid any commentary, read the document cold, and post thoughts on the text itself.
First, a little context: This document was written by the Vatican's Pontifical Council for Justice and Peace, an office responsible for providing thought on social justice issues. This is, thus, not something written by the pope, but it does come from people that Benedict XVI has put in charge of thinking on political and economic issues. The document itself is fairly short and less densely written than most encyclicals. Given what it covers, it seems to me that there's not really any teaching presented here, per se, but rather an attempt to summarize the understandings of certain experts about the current global economic situation, and then to apply well established Catholic moral teachings to the current world situation.
Without getting further into editorializing, I'm going to work through a number of quotes from the text while providing some notes with my own thoughts on it. I've preserved the numbered headings of the original document. (The document is in the block-quote indents, my notes are in the out-dents.)
1. Economic Development and Inequalities
In material goods markets, natural factors and productive capacity as well as labour in all of its many forms set quantitative limits by determining relationships of costs and prices which, under certain conditions, permit an efficient allocation of available resources.
This is a fairly standard observation, but as a pricing guy I found it interesting that one of the first things in the document was a note to the efficiency of price as a means of achieving efficient markets.
In monetary and financial markets, however, the dynamics are quite different. In recent decades, it was the banks that extended credit, which generated money, which in turn sought a further expansion of credit. In this way, the economic system was driven towards an inflationary spiral that inevitably encountered a limit in the risk that credit institutions could accept. They faced the ultimate danger of bankruptcy, with negative consequences for the entire economic and financial system.
…
The speculative bubble in real estate and the recent financial crisis have the very same origin in the excessive amount of money and the plethora of financial instruments globally.
This is interesting in that it is an essentially Austrian account of the sources of the financial crisis: blaming it on easy money and easy credit. As Blackadder observed a while back, this wouldn't be the first time that a Vatican official has taken an explicitly Austrian (and anti-Keynsian) stance on economic issues.) Continue reading →
My co-blogger Christopher Blosser has done his usual yeoman work in pulling together reactions from around the Catholic blogosphere to "TOWARDS REFORMING THE INTERNATIONAL FINANCIAL AND MONETARY SYSTEMS IN THE CONTEXT OF GLOBAL PUBLIC AUTHORITY" from the pontifical counsel on justice and peace.  One of my favorite blog authors Father Z, who I have designated Master of the Fisk, has some memorable comments on it:
I have a few things to digest yet, and it takes me a while, since this isn't exactly my bailiwick.  However, I can say this: thanks be to God this "white paper" doesn't form part of the Holy Father's Ordinary Magisterium.
Every once in a while the Holy See's smaller offices, Pontifical Councils and so forth, have to put out a paper to justify their budgets and remind everyone that they take up valuable space.  These documents, which do not form part of the Holy Father's Magisterium, can deal with critical issues like how to be a safe driver.  The dicasteries keep busy by hosting seminars on how to play sport and so forth.
Some of my favorite points in the new "white paper" include the suggestion that there should be global monetary management and a "central world bank" to regulate it and that the United Nations should be involved.  National banks have, after all, done such a good job that we should now make the effort transnational!  And is this the same UN that had nations such as Saudi Arabia and, till recently, Libya on the their human rights commission?  Wasn't there a UN financial corruption investigation still going on?  Is this the same UN that is pushing contraception pretty much in every poor country on earth?  Was that a different UN?
Another high point in the new "white paper": "These measures ought to be conceived of as some of the first steps in view of a public Authority with universal jurisdiction; as a first stage in a longer effort by the global community to steer its institutions towards achieving the common good."
Uh huh. Continue reading →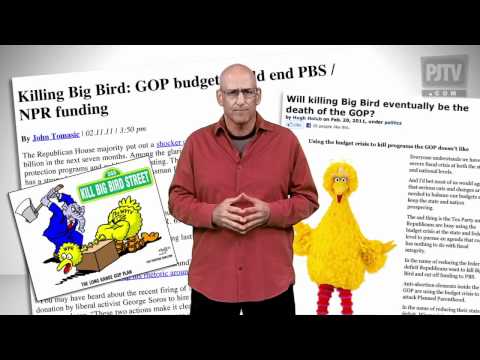 Well done Klavan on the Culture!  Back in the halcyon days of my youth we could get in three television stations, one of them fairly fuzzy, and radio consisted of about 10 stations that we could get clearly.  Why in an age of hundreds of tv channels and thousands of radio stations, internet access to endless sources of educational and entertainment videos, and internet radio does one thin dime go to National Public Radio or the Public Broadcasting system?  Politics.  Democrats know that NPR and PBS lean heavily to the left and find them useful auxiliaries. Continue reading →
On Monday, the Vatican's Pontifical Council for Justice and Peace published a statement on the global economic crisis: "Towards Reforming the International Financial and Monetary Systems in the Context of Global Public Authority" [click link for full text]
Suffice to say, reactions were spirited (and in many cases, predictable), reflecting "a tired pattern", to quote Zach (Civics Geeks)

Everyone once and a while there is a news story about "the Vatican". "The Vatican" issues a document of some sort. The document says something about current affairs. Immediately there are two very predictable reactions, depending on whether the person is inclined to agree with the Church or not.

"Look! The Church teaches that Catholics have to think like I think! My opinions have acquired divine authority. The world would be a better place, and the Church would be a better Church, if every Catholic just obeyed Church teaching like I do."
"I don't have to obey the Church – I can think for myself. It's fine if some old white men in Rome think that, but I don't have to and I am still a good Catholic."

These are, of course, caricatures, but I think they express two attitudes that are quite common. They are alike in that they are both dogmatic and reactionary.
What follows then are some mostly thoughtful responses — fodder for a discussion here at American Catholic).
See additional responses from Rick Garnett @ Mirror of Justice ("many are (perhaps strategically and tactically) mis- and over-reading the Note in order to overstate the consonance between its vision and the current policies of the Democratic Party in the United States and its special-interest constituencies"); Michael Brendan Dougherty @ Business Insider ("WHOOPS! Vatican Lets Slip Plans For One World Government"); Fr. John Zuhlsdorf; Sean P. Daily of Gilbert magazine ("if there is one institution that could unite us, even if it unites [distributists and followers of the 'Austrian' school] only in opposition, it is the Pontifical Council on Justice and Peace") — and, now blogging for The American Conservative, Rod Dreher hosts a vigorous discussion on his blog here; here; here and here.
In so many ways we moderns are pygmies who stand on the shoulders of giants.  One group of giants for all English-speaking Catholics is the 40 martyrs of England and Wales who were canonized by Pope Paul VI on October 25, 1970.   They deserve to be remembered for their heroic deaths for Christ, and here are their names:
3 Carthusians:
Augustine Webster  d.1535
John Houghton  1486-1535
Robert Lawrence   d.1535
1 Augustinian friar:
1 Brigittine:
Richard Reynolds  d. 1535
2 Franciscans:
John Jones   d. 1598 (Friar Observant – also known as John Buckley, John Griffith, or Godfrey Maurice)
John Wall   d. 1679 (Franciscan  – known at Douai and Rome as John Marsh, and by other aliases while on the mission in England)
3 Benedictines:
John Roberts   d. 1610
Ambrose Barlow  d. 1641
Alban Roe   d. 1642
10 Jesuits:
Alexander Briant   1556-81
Edmund Campion   1540-81
Robert Southwell   1561-95
Henry Walpole    1558-95
Nicholas Owen   1540-1606
Thomas Garnet    1575-1608
Edmund Arrowsmith  1585–1628
Henry Morse   1595-1644
Philip Evans   1645-79
David Lewis   1616-79
13 Priests of the Secular Clergy:
Cuthbert Mayne   1543–77
Ralph Sherwin    1558-81
Luke Kirby    1549-82
John Paine    d. 1582
John Almond    d. 1585
Polydore Plasden    d. 1591
Eustace White   1560-91
Edmund G(J)ennings   1567-91
John Boste    1544-94
John Southworth   1592-1654
John Kemble    1599-1679
John Lloyd     d. 1679
John Plessington   d. 1679
7 members of the laity
4 lay men:
Richard Gwyn  1537-84
Swithun Wells  1536-91
Philip Howard  1557-95
John Rigby  1570-1600   and
3 lay women, all of them mothers:
Margaret Clitherow  1586
Margaret Ward  1588
Anne Line  1601
They were torches that God sent to us to light our way in a frequently dark world.  They were representatives of hundreds of martyrs who died for the Faith in England and Wales in the Sixteenth and Seventeenth Centuries.  With the Anglican Ordinariate established by Pope Benedict perhaps what Blessed John Henry Cardinal Newman said in the Nineteenth Century will come true in the Twenty-First: Continue reading →