Monthly Archives:
September 2011
When they got up that morning ten years ago the very last thing that the 33 passengers and the seven crew of United Flight 93 expected was to be engaged in a life and death struggle to retake an airliner that was headed to Washington DC as a terrorist missile.    All they expected the day to bring was a hum drum flight from Newark to San Francisco.  Just ordinary people living their lives.  Their occupations included pilot, first officer, flight attendant, an environmental lawyer, the owner of a public relations firm,  university students, a senior vice president of a medical development company, a sales representative for Good Housekeeping magazine, a manager of a US Wildlife animal refuge, an arborist, an account manager for a corporation, an ironworker, retirees, a computer programmer, a computer engineer, a lobbyist for the disabled, a real estate agent,  an executive vice president of a corporation and a free lance medical writer.  They were wives, husbands, brothers, sisters, sons and daughters, all with unique histories and lives, with little in common except that they happened to be on board Flight 93 when the world changed.
The plane took off at 8:42 AM Eastern Time.  Four terrorists had boarded amidst the other 33 passengers.  The terrorists began to hijack the plane at 9:28 AM, soon after both the hijacked airliners had struck the Twin Towers in New York City, and just brief minutes before a fourth airliner was hijacked in Washington and slammed into the Pentagon.  At 9:28:17 AM a member of the cockpit crew shouted "Mayday! Mayday!" over the radio, with sounds of violence in the background.  35 seconds later someone in the cockpit shouted over the radio, "Mayday!  Get out of here!  Get out of here!"
By 9:31 AM the terrorists were in control of the cockpit.  They informed the passengers that they were in control of the plane and falsely told them they had a bomb.  Now began the final 30 minutes of Flight 93.
Passengers and crew during these final 30 minutes made 35 airphone calls and two cell phone calls.  They quickly learned of the other hijacked planes that had been flown into the Twin Towers.
Day of wrath, day that
will dissolve the world into burning coals,
as David bore witness with the Sibyl.
How great a tremor is to be,
when the judge is to come
briskly shattering every (grave).
A trumpet sounding an astonishing sound
through the tombs of the region
drives all (men) before the throne.
Death will be stunned and (so) will Nature,
when arises (man) the creature
responding to the One judging. Continue reading →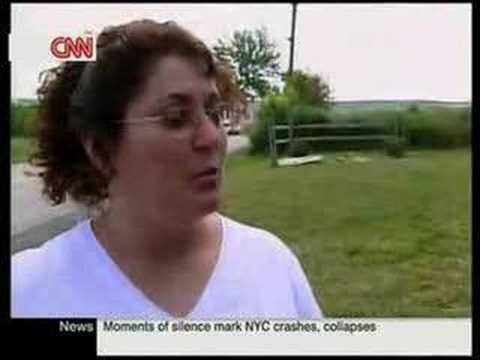 Tomorrow is the tenth anniversary of 9/11.   To head off any "Truthers", a truly despicable and delusional movement that contends that 9/11 was an "inside job" perpetrated by nefarious, and apparently omnipotent forces in our government, who could arrange for terrorists to hijack four airliners and launch their attacks at the same time that the real dirty work was carried out by government agents, and keep this conspiracy hidden from view for a decade, except from the paladins of the "Truther" Movement who are able see beyond mere facts and evidence to the evil conspiracies within, I would suggest viewing of a series of videos on You Tube that patiently debunk 9/11 conspiracy theories one at a time.  The above video is one of them.  Go here to watch others in the series. Continue reading →

Something for the weekend.  The overture from Handel's Judas Maccabeus.  Judas Maccabeus is a musical tribute to the revolt of the Maccabees, 167-160, against the attempts by Seleucid King Antiochus Epiphanes  to forcibly convert the Jews to paganism.  The revolt was not simply against the Selucids, but also against a sizable chunk of the population of Judea who were only too happy to embrace the ways of the Greeks.  Led by Mattathias, the father of Judas and his brothers, collectively known as the Maccabees, the revolt started in 167 BC when Mattathias, in the village of Modein outside of Jerusalem, cut down an official of the Selucid empire who was attempting to cajole Mattathias, a priest of Yahweh, to offer sacrifice to Zeus.  Mattathias and his sons then literally took to the hills, with Mattathias uttering a cry that has rung down the centuries:  "Let him who is zealous for the Law, follow me!"
Mattathias, an old man at the start of the revolt, soon died, and leadership descended to his son Judas.  Fighting a crafty guerilla campaign, Judas and his brothers, against all the odds, established an independent Jewish state.  After the heroic days of the Maccabees, the new Jewish state eventually descended into a fairly squalid series of civil wars, which ultimately led to the Romans under Pompey the Great seizing Jerusalem in 63 BC.  The Romans thereafter ruled Judea through puppet rulers.  Our Catholic Bibles have First and Second Maccabees which retell the heroic saga of the Maccabean Revolt.  This of course brings us to Mel Gibson, who has brought two heroic revolts to the screen and is apparently working on a third. Continue reading →
(Originally posted at Acts of the Apostasy)
There is way, way too much serious football, societal and political punditry being posted here as of late.   Time for a more light-hearted variety of punditry, me thinks.
Introducing "Theology +",  featuring…
Organic Chemistry
"Amine, amine, I say unto you…"
Since Christ's Ascension into Heaven, we have been living in the enzymes.
The Book of Ester comes after the Book of Judith.
"And they cast out many devils, and anointed with oil many that were sick, and Helium." (Mk 6:13)
We must love our enamines and pray for our persecutors.
"Two frequent temptations threaten prayer: lack of faith and acidity…" [CCC 275]
The three theological virtues are faith, hope and chirality.*
King David committed adultery with Bathsheba, the wife of Urea the Hittite.
"Then they Cesium and led him away, bringing him into the high priest's house." (Lk 22:54)
OK, you punsters – put on your thinking caps and add your own in the combox.
*Yes, it's pronounced 'kahy-RAL-i-ty', so it's a stretch. But I like the way it looks.
Those who worry about the state of marriage in the United States might want to read a recent Brookings Institute study.  "The Marginalization of Marriage in Middle America" examines the  marital status of the 51% of young adults between 25 and 34 years of age who have completed  high school but haven't earned a college degree.
According to study, college-educated Americans generally marry before the birth of their first child and divorce levels among this demographic have fallen to levels comparable  with the early 1970s.  For college educated American women, the likelihood of having a child outside of marriage is 6%.  For moderately educated American women (finished high school and may or may not have attended some college or professional school), the likelihood of having a child outside of marriage is 44% of births.  But, among  women who did not finish high school, it's 54%.
The findings indicate that this increase in births outside marriage correlates with higher levels of  cohabitation, not the cultural and economic factors that are most oftentimes cited as making it necessary for couples to cohabit today.  The report cites 3 cultural shifts that have changed the decision-making process:
Attitudes towards sexual activity and childbearing outside marriage  have changed. Combined with the introduction of contraception, cohabitation and childbearing outside of marriage are more accepted than in the early 1970s.
There has been a significant decline in religious participation  among people in Middle America.  Compared to the 1970s,  church attendance among this group has dropped from 40% to 28%.
Since the early 1970s and the introduction of "no-fault divorce," the jurisprudence affecting family life has been re-oriented, from being  supportive of marriage to emphasizing individual rights.
The problem is that the relationship among cohabiting couples is inherently unstable.  65%  of children living in a household where the adults are cohabiting will see that relationship break up before they are 12 years old.  This compares to 24% for children born to intact marriages.  These children are also 3 times more likely to be abused.  Drug use,  problems at school, and miscreant behavior are also more common among these children.
These findings shouldn't surprise anyone.  In fact, they parallel those of the folks at Smart Marriages and what they have been arguing for almost two decades.
Perhaps the best explanation for all of this is the change in jurisprudence.  Marriage is now a "choice" rooted in individual rights rather than selfless love, fidelity, and trust.  Where those are absent, how likely is it that a marriage or a family will be healthy?
To read the Brookings Institution report, click on the following link:
http://www.brookings.edu/papers/2011/0810_strengthen_marriage_wilcox_cherlin.aspx
To learn about the research conducted by the folks at Smart Marriages, click on the following link:
http://smartmarriages.com/index.html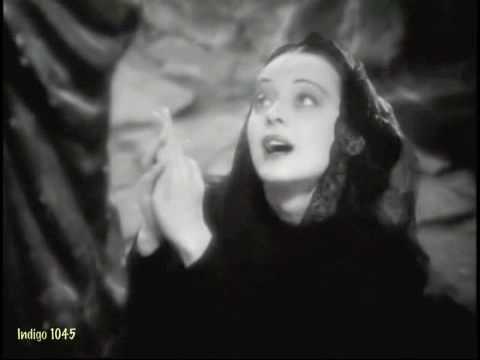 Recently on the American history blog Almost Chosen People that Paul Zummo and I run, I wrote a post, which may be read here, saluting the actress Bette Davis for the ardent patriotism she displayed during World War II.  In the course of my research however, I came across information which paints a very bleak picture of the famed actress indeed.
In the video at the beginning of the post we see a clip from the movie Juarez (1939) where the Empress of Mexico, Carlota, superbly portrayed by Bette Davis, is begging the Blessed Virgin for a child.  This scene is extremely ironic, since throughout the thirties and into the forties, Davis, for the good of her career apparently, and with the consent of her husband, had a series of abortions.  She opined in an interview in the eighties that she did not believe that abortion during the first month of pregnancy was the taking of human life, which leads me to wonder if she did not routinely go through pregnancy tests and abortions as a matter of course.  The cold bloodedness of this needs no amplification by me. Continue reading →
Marc Barnes on VirtuousPla.net has a few posts  discussing the problem with Christian music on the radio. In the end, his biggest problem is that it lacks authenticity as many bands produce music in imitation of a pop form that is more designed for mass consumption (and thus profits) than it is for serious reflection on the awe of God, which would produce beauty.
Selling out is a problem for every art form, but I'm not sure it alone explains the current dreadful state of Christian music. While reading these posts, it occurred to me that there was a problem with Marc's analysis. When we discuss Christian music on the radio, perhaps we need to start out by a critique not of the music aspect of it (which Marc does exceptionally well and far better than I could) but with a critique of the "Christian" part. It seems to me that when I listen to powerful. encouraging. KLOVE! I'm not getting a Catholic perspective. I'm not sure a Catholic perspective is even allowed. What I'm getting is at best "mere Christianity" but at times general evangelical Protestantism.
This seems to present a few problems for an achievement of real beauty. In regards to the absence of Catholicism, Catholics who wish to make it on radio suddenly find themselves stripped of a lot of their material. Mary, the Eucharist, the Saints, the Mass, the Sacraments etc. are all topics that can't be used. While that still leaves plenty of material, there's stilla problem: it's natural for a Catholic to talk of Mary are the Eucharist when talking of the love of Jesus; by getting rid of that stuff it becomes more difficult for Catholics to talk about Christ's love. The act of making something "merely Christian" always avoids the truth by avoiding those areas of the truth where there is disagreement among Christians. To diminish the truth is to diminish beauty and this is all the more true from the Catholic perspective.
But more troubling is that mere Christianity or evangelicalism has a tendency towards a trite emotionalism anyway. The focus of the evangelical is the act of salvation in which theologically a heap of dung is covered by the snow of grace. After this covering, the person is forever saved. While Protestants obvious think that grace is awesome (or amazing), that's kind of underwhelming compared to the Catholic teaching whereby through the sacraments a heap of dung is converted not covered into real pure snow. That is, the transformation is considered greater in Catholicism, the power of God all the more awesome.
Think of Catholic literature here. The Mestizo & priest of Graham Green's Power and the Glory, Gollum & Frodo of Lord of the Rings, the various characters of Flannery O'Conner and Walker Percy. There's a lot of struggle there yet even despite that tremendous struggle we get heroes: the bad priest dies a matryr, Frodo destroys Sauron, etc. (though I would probably have a harder time finding heroes in O'Conner's and Percy's work). That transformation & victory over struggle is possible (or perhaps natural) only from a Catholic point of view.
Also worth noting is the Protestant tendency towards fideism. If you don't see the world with both faith & reason you tend not to look in the universe with the same awe. Think of the difference between "wow, there's a theology of the body such that my body works best when I act in accordance with the natural law and God's teaching" and "I shouldn't have sex outside of marriage b/c the Bible says so." The first one can produce a good song; the second one not so much.
In short, the limitations of Protestantism (and "mere christianity") are going to affect the ability of its musicians to express beauty in an authentic way. To be sure, there is beautiful Protestant art & music but it's a lot harder to get there.
And this is BEFORE we decided that all Christian music has to be powerful and encouraging, defined as "the messaege is Jesus loves you." This is probably more a critique of KLOVE than anything, but it seems like the songs I hear on the radio have two purposes: (1) to be played to hurt teenagers at retreats to try to inspire them to convert and/or (2) to be played as feel-good Jesus-loves-you booty-free music for moms and parents in the car. These are not bad objectives; helping kids know Jesus loves them or allowing people radio music that isn't antithetical towards truth are good things. But this is hardly the full scope of Christian music.
I noticed in Marc's piece there was discussion about how there is a tension between rock with started out as rebellion and Christian which emphasizes obedience. While that tension is there, how on earth is Christianity not rebellious, especially in this day and age? Almost every politician, every program, every piece of art, seems to be enticing us away from holiness and into prideful individualism and materialism. To be Christian today entails rebellion and non-conformity with the status quo. While I like Flyleaf and Firelight's  work as Christian rockers (generally not played on KLOVE), I'm also thinking of Danielle Rose's "Crucify Him" where she identifies many of the areas of society where we continue to sin and crucify our Lord.
A lot of people need to know that Jesus loves them. But a lot of people also need to know that Jesus because he loves us is calling us to conversion, which is a nice way of saying you are a sinner, and you need to repent. As I mentioned earlier, this is something Catholic literature does especially well (namely, critiquing the absurdities of our secular society and the areas of needed conversion) but maybe for one or two songs it's not a topic worthy of Christian radio.
I could probably go on, but the point is that the failure of Christian music is often tied with failures in Christianity. Pursuit of mainstream success is a part of that, but it's our modern fear of saying anything really Christian lest we offend as well as the theological presumptions behind a merely Christian radio station that have prevented Christian musicians from producing the kind of beauty that their subject deserves.
P.S. I should state that simply because one is Catholic that does not mean that their music is better than a Protestant's. Catholics have shown themselves quite capable of producing material that is trite and flat.
P.P.S. I leave unanswered the question of "If Protestantism is such a hinderance towards real beauty, then how can a Catholic musician find the success necessary to maintain a livelihood?" I've noted that a lot of bigger Catholic artists try not to advertise their Catholicism too much, presumably for fear of alienating the folks who buy Christian music and organize music festivals. I'm not quite sure Catholics are ready to have their own radio station but perhaps separation from KLOVE would not be an inadvisable goal.
We've heard about super conferences. A lot of people hate the idea, and their concerns are worth noting. They fear the destruction of traditional rivalries and geographic continuity that has made college football great. Most of my catholic college football fan friends note that subsidiarity ought to be considered in light of this.
I don't see anything wrong with the current alignment, but since the Big 12 is imploding due to Texas's greed, I wondered whether super-conferences would destroy what I loved about college football. When I started looking through the scenarios, the answer I got was "well, not necessarily."
To start, let's see what these 4 16-team conferences would/could look like. To make this, I based it off of what appear to be the likely realignment scenarios from the rumors. I also decided that Texas & Notre Dame would not be independents. I also presumed that conferences would not vote schools off the island to make room for better candidates. New additions are in italics.
Now this is based off the idea that the ACC consumes the Big East, which becomes a basketball-only conference. Under that thinking, Kansas St. and Cincinnati would join/continue with the Big East in basketball and play somewhere else like C-USA for football (there's been rumors that Iowa St. may get invited to the Big East too, but I consider that unlikely).
Now, let's look at the conferences one at a time. Continue reading →
College Football has returned! There's a lot going on off the field, before we get to the happenings on.
First, the alternate uniforms trend is getting despicable. I don't mind a slight change every now and then that has a purpose or harkens back to tradition. LSU's been lucky in this regard, but most have not. Oregon, Boise St., and Maryland had uniforms that looked like they were designed by an eight year old in that they have a creative idea but lack restraint or tact. Boise St. Broncos? Let's have a HUGE BRONCO covering THE ENTIRE HELMET! Georgia? POWER RANGER! Maryland's flag. Let's have the FLAG EVERYWHERE! HELMET GETS A FLAG! SLEEVES GET A FLAG! SHOULDERS GET A FLAG! SHOES GET A FLAG! To me, the best uniforms are not these loud monstrosities but the ones that are classic and understated. I'm not saying you can never have alternate uniforms, but there's a way to play with tradition (think Georgia's black unis) rather than blow it up entirely.
Speaking of blowing up entirely, how about the Big 12? Because Texas wanted to be independent with a scheduling arrangement, we seem destined towards the super-conferences of 16. I don't like the trend, although I will enjoy playing the Aggies in the SEC. Still, one of college football's greatest strength was its regional locality, and the bigger the conferences get the less strong it becomes. I do wonder whether if we get the 4 16-team conferences people are discussing whether that will pave the way for a playoff. It'd be feasible, as you'd only need an extra game somewhere.
Now to football. We had a surprising number of upsets and losses in the top 25 for week one, as #3 Oregon, #16 Notre Dame, #19 Georgia, and #14 TCU lost and Auburn and USC barely escaping. Part of that was a few teams being willing to schedule opponents with a pulse in Week 1, with the drawback being a loss. However, everyone on that list lost to a BCS opponent or a ranked team. A few more teams play real teams next week with the marquee matchup being South Carolina v. Georgia for the lead in the SEC East race. To the rankings!