Monthly Archives:
September 2011
This video has been making the rounds, and I've got to say the trader being interviewed does seem to be trying hard for a "first against the wall when the revolution comes" award.
I think one of the natural reactions many people have when seeing something like this is: How can you be pro-market when you see this is what markets are all about? This guy is gleeful at the idea of making money off a market crash that wipes out millions of people's retirement savings!
The answer, I think, is in keeping in mind the difference between being pro-business and pro-market. Businesses are not necessarily pro-market, since markets only reward businesses so long as they are doing a better job at meeting customers' needs than other businesses. Markets can, thus, both reward businesses and also chew them up and spit them out.
Watching some cocky trader bragging about how he'll make money while everyone else is going broke tends to make people feel like what they need is a champion sitting behind a regulatory agency desk to rein his excesses. The problem is that we don't really have any guarantee that the people in our legislative and regulatory bodies will be any nicer than this guy, or any less prone to think that they know more than they really do.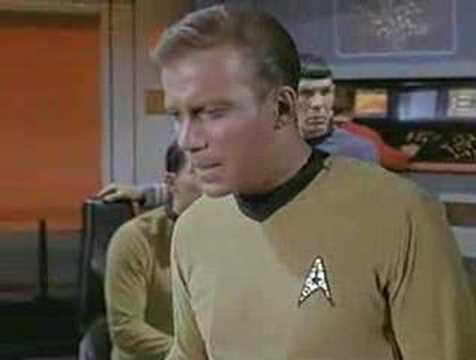 Time to refresh my credentials as Chief Geek of TAC!
A condensed version of my favorite Star Trek episode Balance of Terror.  Originally broadcast on December 13, 1966, I have always found it riveting.  It introduced us to the Romulan Star Empire, an offshoot of the Vulcans.  Mark Lenard, one of the most underestimated actors of his generation, gives one of the best performances of the Star Trek franchise as the commander of a Romulan Bird of Prey vessel, equipped with a new cloaking device, making a foray into Federation territory.  Destroying Federation outposts along the Neutral Zone, his mission is to test Federation defenses.  If his mission is successful it will be the signal for an all-out Romulan invasion of the Federation.  Lenard portrays the commander as world-weary and tired.  An extremely able commander, he has seen too much of war, and dreads the massive interstellar conflict his political masters will unleash after he successfully completes his mission.  A Romulan of honor, he will do his duty even though he hates it. Continue reading →
Proposed HHS regulations for "Required Health Plan Coverage" to be implemented next year will compel every employer to provide insurance coverage for sterilization and abortifacients, which Catholics (and perhaps other religious organizations) will judge as morally-reprehensible.
The Obama administration in their graciousness has provided some form of "conscience-exemption":

Group health plans sponsored by certain religious employers, and group health insurance coverage in connection with such plans, are exempt from the requirement to cover contraceptive services. A religious employer is one that: (1) has the inculcation of religious values as its purpose; (2) primarily employs persons who share its religious tenets; (3) primarily serves persons who share its religious tenets; and (4) is a non-profit organization under Internal Revenue Code section 6033(a)(1) and section 6033(a)(3)(A)(i) or (iii). 45 C.F.R. §147.130(a)(1)(iv)(B).
but the guidelines here are drawn so narrowly that few, if any, religious organizations will actually qualify for exemption.
As Sister Mary Ann Walsh of the USCCB notes, in framing the definition of "religious employer" thus "the HHS has plunked itself right in the middle of the sanctuary. It is trying to define what a religion does and does not do.":

Catholic hospitals, charities and educational institutions provide about $30 billion worth of service annually in this country. No one presents a baptismal certificate at the emergency room. The hungry do not recite the Creed to get groceries at the food pantry. Students can pursue learning at The Catholic University of America, Villanova or any other Catholic college without passing a catechism admissions test. The commitment to serve those in need, the sick, the hungry, the uneducated, is intrinsic to Catholicism. No federal rule (except now HHS's) says the church must limit its service to Catholics if it is to be true to its teaching. HHS doesn't get the parable of the Good Samaritan, who helped the stranger simply because he was in need.

Look at the numbers. Catholic hospitals admit about 5.6 million people annually. That's one out of every six persons seeking hospital care in the United States. Catholic Charities serves more than 9 million people annually. Catholic colleges and universities teach 850,000 students annually. Among those served are Catholics, Protestants, Jews, Muslims, atheists, agnostics and members of any other religious or irreligious group you can name.
Indeed, it seems as though Jesus himself wouldn't pass muster at the U.S. Department for Health and Human Services.
(HT: Wheat & Weeds).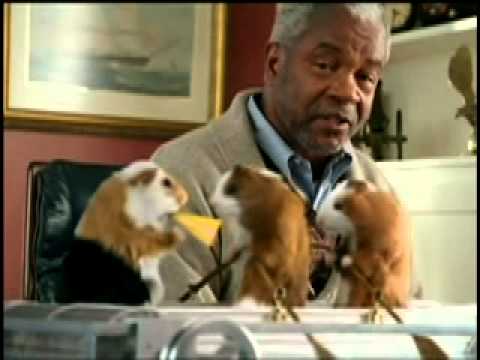 No reason for posting this other than that I found it to be hilarious. Continue reading →
"A positivist conception of nature as purely functional, in the way that the natural sciences explain it, is incapable of producing any bridge to ethics and law, but once again yields only functional answers."
- Pope Benedict XVI
"This Court has never held that the Constitution forbids the execution of a convicted defendant who has had a full and fair trial but is later able to convince a habeas court that he is "actually" innocent.  Quite to the contrary, we have repeatedly left that question unresolved, while expressing considerable doubt that any claim based on alleged "actual innocence" is constitutionally cognizable."
- Associate Justice Antonin Scalia, writing on the Troy Davis case
I am curious about reader's thoughts on the connection (if any) between the type of legal positivism endorsed by Justice Scalia and the gulf between ethics and law  described by Pope Benedict in his recent address to the German Bundestag. One possible view is that vigorously upholding the rule of law (even when it appears that the legally correct result may result in injustice) can be part of a larger moral project aimed at establishing a just society. When laws and legal precedent are infinitely malleable at the discretion (or, more pejoratively, whims) of individual judges, the law can quickly become an arbitrary and capricious exercise.
On the other hand, there is something surreal about making slippery slope arguments when the issue is whether or not a (very probably) innocent person should be executed (typically executing the innocent is at the bottom rather than the top of the slippery slope). At any rate, I would have struggled to explain to Troy Davis that his execution was a regrettable but necessary consequence of my larger theoretical legal project and the creation of a just society.
Now that I've phrased the question in a one-sided fashion, I'll leave it open to the readers. Is there a tension between the positivism espoused by Justice Scalia and Pope Benedict's insistence that law and ethics must always be linked? Does the belief that upholding the rule of law produces, in the aggregate, a more just society, resolve the tension in individual cases between legally correct but substantially unjust outcomes?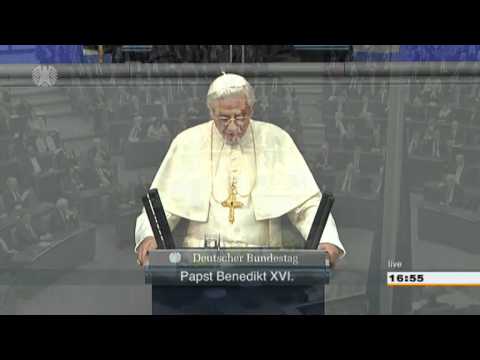 In the history of the Church we have had brilliant Popes, and not so brilliant Popes, an agile mind not necessarily being first on the list of priorities of the Holy Spirit when it comes to choosing Pontiffs.  Without a doubt, our current Pope is brilliant, his acute intelligence shining through his writings and his speeches.  This attribute of Pope Benedict was on full display when the Pope addressed the German Bundestag (national parliament) this week.  He gave a truly fascinating lecture on how what we mean by law has changed in modern times.  I suspect it went over the heads of most of his immediate audience, but it deserves study by all Catholics, and particularly those Catholics who, as I am, are connected with the law professionally.  Here is the speech of the Pope, interspersed with color commentary by me: Continue reading →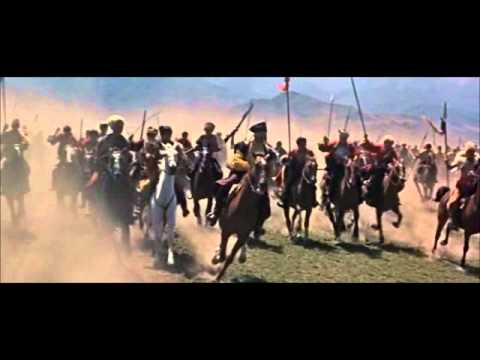 Something for the weekend.  It rather astonishes me how time has flown, but in October The American Catholic will be celebrating its third anniversary which puts me in a nostalgic mood.  This is one of the first of the music videos that I run on Saturdays, from October 18, 2008.  Two versions of Franz Waxman's immortal Ride to Dubno, aka Ride of the Cossacks:   dueling pianists and the full Hollywood treatment in the 1962 movie Taras Bulba for which the song was composed.  Great to listen to if you need an energy boost.
The image that war oftentimes conjures up is a bloody one.  It also is an image that is said to permanently change a person who has witnessed its horrors.
But, the age of digital warfare has arrived and the image of war increasingly is becoming a much more impersonal image as "drones" and "lethal autonomy" become normative.
Drones are undoubtedly changing the face of war.  They lessen the need for "boots on the ground."  They take war directly to the enemy.  They reduce collateral damage.  And, they also may be legal under international law because they arguably are a form of self-defense.
It sounds good…almost too good.
Almost silent and invisible, predators in the sky offer the promise of ridding the world of the lawless who would like to inject chaos into it.  Intelligence officials in Langely, VA, can pinpoint an enemy and armed services personnel located thousands of miles away from the battlefield can then direct joy sticks and press buttons that obliterate the "target," filming the sortie for later analysis.
The Washington Post has also reported new robotic technologies that may very well transform the image of war.  For example, "autonomous robotics" may one day allow drones to search for human targets and then make identifications based upon facial-recognition  or other software.  Once a match is confirmed, a drone could launch a missile to kill the target.  It's called "lethal autonomy."
Even if international law sanctions lethal autonomy, is its use moral and ethical?
Yes, lethal autonomy takes war directly to the enemy.  Yes, it lessens the need for standing armies and assists in keeping troops out of harm's way.  Yes, it can be effective in ridding the world of heinous criminals.
According to the Washington Post article:
In the future, micro-drones will reconnoiter tunnels and buildings, robotic mules will haul equipment and mobile systems will retrieve the wounded while under fire. Technology will save lives.
However, the most troubling aspect of lethal autonomy is that it also has the potential to remove human beings and personal responsibility from the decision-making calculus.  Even if the tools of lethal autonomy were directly linked to their human operators, these machines process so much more data than human beings can process at any given moment in time that it may be near to impossible for armed forces personnel to manage more than one drone and autonomous robot at one time.  Then, too, as an enemy become increasingly sophisticated about how to do battle with drones and autonomous robots, there is no doubt that the amount of time available to make decisions will be reduced and the new technologies will have to be allowed to operate on their own.
The author of Governing Lethal Behavior in Autonomous Robots, Ronald C. Arkin, told the Washington Post that ethical military drones and robots—capable of using deadly force while programmed to adhere to international humanitarian law and the rules of engagement—can be built.   Software would instruct them machines to return fire with proportionality, to minimize collateral damage, to recognize surrender, and, in the case of uncertainty, to maneuver to reassess or wait for humans to assess the situation.  In other words, Arkin believes that the rules of warfare that humans understand can be converted into mathematical algorithms for machines to follow on the battlefield.
Who's to know with certitude?
What is for sure is that making determinations about the legal, moral, and ethical, and legal implications of digital warfare, in general, and this technology, in particular, require a careful and sober assessment.
To read the Washington Post article, click on the following link:
http://www.washingtonpost.com/national/national-security/a-future-for-drones-automated-killing/2011/09/15/gIQAVy9mgK_story.html?wpisrc=nl_headlines