Monthly Archives:
August 2011
The Cross & Eagle Awards (C&EA) will venture again into the unique today.
In the Catholic Blogosphere there are many authors that can make their point in a paragraph or two.  There are others that can write a 2,000 word essay in driving their point.  Still there are others that, like today's cinema movie trailers, like to make their point not in their post, but in the title of their post!
This particular blogger makes a habit of writing his essay in the post title.  He, yes there's no way around that, demonstrates that you can pack a powerful SEO punch by loading up on the post title.
He's on the other side of the pond, but remember we are Catholics first before we are Americans or British or other.
Lately though he has been blogging on the Rupert Murdoch scandal in Britain.  He normally reports on all things Catholic and Anglican.
I am happy to present the 2011 Cross & Eagle Award for the Longest Post Title in the Catholic Blogosphere to . . .
(First time posting, so hopefully I don't mess up the formatting too much; that would be a bit much after folks were kind enough to invite me to post!)
Time for a bit of Catholic applied to geekery! (Not to be confused with straight up Catholic Geekery, which is more the Holy Father's area– does anyone doubt that he dearly loves thinking about, playing with and elaborating on Catholic theology? You just don't end up writing THREE books on the life of Jesus without the love, intellectual interest and deep enjoyment of a geek for his geekdom.)
There's something about Catholics and blogs that always ends up going into the old question of what makes a man– or, more correctly, a person. "Man" in this context would be a human, and there are several examples of people that aren't humans– like most of the Trinity. Sadly, the topic usually comes up in terms of abortion; even the utterly simple-science-based reasoning that all humans are human and should be treated thus will bring out the attacks. (Amusingly, the line of attack is usually that someone is trying to force their religious beliefs on others, rather than an attempt to explain why a demonstrably human life is objectively different from, say, an adult human. The "bioethicist" Singer is famous for being open about valuing life in a utilitarian manner, but there aren't many who will support that angle.[thank God]) Continue reading →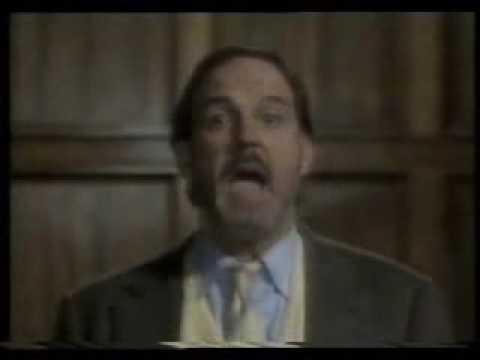 Hattip to co-blogger Darwin Catholic.  John Cleese, one of the brighter lights of Monty Python, warns us of the dangers of extremism.  Well, thank God for moderates!  Not so fast.  Benjamin Franklin reminds us that there are extreme moderates:
Continue reading →
The Cross & Eagle Awards (C&EA) aren't your run-of-the-mill awards with standard categories and predictable results.  
Not that all C&EA's will be off-beat, but that some names, or pseudonym in this instance, in the Catholic Blogosphere are just so unforgettable, they need a category to themselves.
This next winner is just that, pretty unforgettable, genuine, and unique.
This 15th Century Hussite romantic is the Master of Ceremonies for his parish as well as the liturgy editor of a crusading blog, that frankly has stopped blogging (but only recently).  Nonetheless, his name deserves recognition because I can't imagine anyone else ever making up this pseudonym.
His attention to detail may well explain his love of protocol in all things liturgical.
So without further delay:
I am happy to present the 2011 Cross & Eagle Award for the Best Pseudonym in the Catholic Blogosphere to. . .
Well, when Michelle Bachmann promises something she really shoots for the moon.
At a town hall meeting in Greenville, S.C., today, Michele Bachmann said if she became president gas prices would fall dramatically.

"Under President Bachmann you will see gasoline come down below $2 per gallon again. That will happen," Bachmann said, according to The Hill.
There's no word on whether she added that that the rise of the oceans would begin to slow as well.
Certainly there are things that the federal government could do to help cut gas prices.  Lowering gasoline taxes, opening up more areas for drilling and cutting back on regulations might put a dent on gas prices, but these measures would only go so far.  Oil is a global commodity.  Or, to quote from one of the snarky commenters at NRO, what is she going to, make the Chinese stop consuming oil?
Daniel Foster also helps put her comments into perspective.
The only policies I can think of that would surely accomplish the $2.00 a gallon target are:
1) The seizure by force and nationalized exploitation of a large proportion of the world's oil supply.

2) The massive federal subsidization of fuel costs.

3) The fomenting of a second global recession as bad as or worse than the last one, complete with negative global GDP growth.
Gas prices could fall below $2 per gallon were Bachmann to get elected, but it would not principally be due to policy measures of the government.
This sort of political messiahnism is an annoying trend in our politics, but it's doubly depressing coming from a conservative.  It's one thing for a leftist like Barack Obama to promise the sun, the moon, and the stars, but one would not expect such unrealistic promises from someone touting themselves to be a limited government conservative.
Unfortunately this lack of perspective on the office of the presidency and the powers within that office runs both ways.   Continue reading →
Every so often, another Catholic encourages me to "dare to hope that all are saved". After all, it is not a matter of doctrine that any specific person is damned. We know that God's mercy is great, and given God's mercy and our beliefs about the bliss of heaven and the torment which is hell, it seems reasonable that any soul would choose to embrace God over separating himself permanently from Him.
For me, this idea seems to fall down, however, when applied to the whole of humanity. In a sense, it's a lot like the issue of the probability of sinlessness which I wrote about briefly a while ago: Given that we have free will, it would seem that in any given situation we could choose to do the right thing — though obviously we in many cases feel a strong urge not to or don't even have a clear understanding of what the right thing is. However paradoxically, while in every individual choice it would seem that we could choose not to sin, it seems like an impossibility that any one person would in fact make the right choice in every single circumstance, thus living a life entirely without sin (except for original sin.)
Similarly, it seems to me that while there's clearly a chance that any given person, no matter how sinful, will repent before death, embrace God's forgiveness, and be saved, I simply can't imagine it as possible that every single person in the history of humanity would do so. We see people so very frequently, in ordinary life, actively choose to do thing which they know will make them unhappy out of anger, pride or even just habit — I just don't find it persuasive that no one would ever have chosen to utterly refuse union with God and insist that he would "rather rule in hell and serve in heaven."
So I do not hope that all will be saved — I stick to hoping that each person will be saved.
The American Catholic (TAC) GOP Poll is still accepting votes until this Friday evening.
Thus far former Pennsylvania U.S. Senator Rick Santorum is leading with 22% of the vote followed by Texas Governor Rick Perry with 19% of the vote.
Texas U.S. Representative Ron Paul follows with 13% of the vote with undecideds rounding the top four at 11%.
Top tier candidates Michele Bachmann is way back with 2% of the vote with Mitt Romney at 5% of the total vote.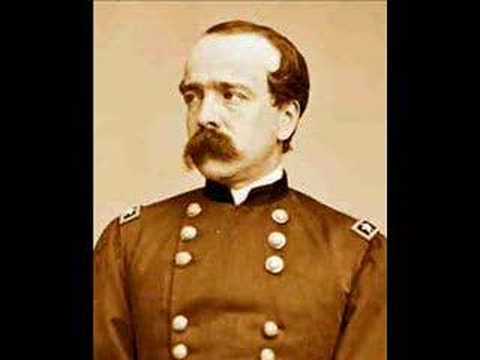 On August 17, 1861 the Union military departments of the Shenandoah, Washington, and Northeastern Virginia were merged, and  the Army of the Potomac formed, the hard luck Army that experienced defeat after defeat until its great victory at Gettysburg, endured the meat grinder Overland Campaign of 1864 , carried out the siege of Petersburg of 1864-65 and ultimately triumphed with the surrender of the Army of Northern Virginia at Appomatox.  Stephen Vincent Benet  in his epic poem John Brown's Body  pays tribute to the Army:
Continue reading →
When it comes to blogging, fortunately or unfortunately, how a blog looks plays an important role in attracting readers.  Yes, substantively written blogs do retain readers, but if you want to shoot fish in a barrel, you need a spiffy looking blog to fill up that barrel full of fish.
There are many well made and creative blogs out there, but striking the balance between color, pics, font, and layout is very tricky.  There are a few out there that do well in this department, though there is one that stands head and shoulders above the rest.
The 2011 Cross & Eagle Award for Most Beautiful Blog is none other than . . .
Evidently Deepak Chopra has gone from writing insipid self-help schlock to becoming a political pundit.  He isn't much better in his second career, but he is good for a laugh.
Chopra's argument is that the President is doing the right thing by being a mature adult, rising above the partisan fray, refusing to engage in verbal warfare with the right.  No, seriously, he really believes this. Continue reading →
As faithful readers of this blog know, for my sins no doubt, I am an attorney.  Not having quite enough of the Law during my working hours, I am always on the lookout for good entertainment about lawyers and the law.  One of the best I have encountered in many a moon is a BBC series called Garrow's Law.  This is a heavily fictionalized account of the trials, I know I should have resisted that, and tribulations of William Garrow, an Old Bailey, the chief criminal court of London, barrister, who on raw legal talent rose from nothing to become Solicitor General of England and Wales, Attorney General for England and Wales, a Judge, and a Privy Counselor.  He originated the phrase presumption of innocence, and first came to notice as a trail blazing defense counsel in regard to the rules of evidence, such as the rule against hearsay.
Continue reading →
I am starting new tradition here at The American Catholic (TAC) and that is the Cross & Eagle Catholic Blogging Awards.  The Cross & Eagle Awards will showcase what I believe to be the best in the Catholic Blogosphere.  Ranging from serious to funny I'll be posting a different post each day celebrating the best in the Catholic Blogosphere.
To begin tomorrow, Tuesday late-morning, I will announce the first winner in the category of Most Beautiful Blog.  The blog that has a great layout, contrasting colors, cool looking pics, and a lot more.
There are several categories from Best Blogging Name to Most Popular Blog to Biggest Breakout Blog.  The categories are numerous and creative in order to exemplify the rich diversity of the Catholic Blogosphere.