Monthly Archives:
April 2011
 (I post this each year on Good Friday.)
I thank you Marcus for taking on the onerous task of acting as my secretary, in addition to your regular duties as my aide, in regard to this portion of the report.  The Greek, Aristides, is competent, and like most Greek secretaries his Latin is quite graceful, but also like most Greek secretaries he does not know when to keep his mouth shut.  I want him kept away from this work, and I want you to observe the strictest security.  Caiaphas was playing a nefarious game, and I do not think we are out of the woods yet.  I do not want his spies finding out what I am telling the Imperator and Caiaphas altering the tales his agents are now, no doubt, spreading in Rome.  Let us take the Jew by surprise for once!
There is an outstanding article on the blog Public Discourse about how "walkable communities" are more conducive to building virtue.  (Hat tip to A Dei in the Life for this reference.)  Many have argued for some time now about the merits of living in a community that does not require driving on a day-to-day basis, but Raymond Hain (the author) finds the popular arguments inadequate: controversial environmental issues, tacky architecture, and vague descriptions about the value of "community."  Instead, utilizing the work of Philip Bess, Mr. Hain seeks to establish an argument for walkable communities that is grounded in solid Thomistic virtue.  His arguments are three:
1.  We need others to help us to identify what is good for us.
2.  True virtuous action demands that we treat others justly, charitably and with kindness, but such action is always with regards to a particular situation, not abstract generalities.
3.  When our lives are fragmented in the way suburbia makes possible, it is much easier for us to act badly, and it is much harder to learn from the bad actions we do perform (and so to become someone who eventually acts well).
Regarding the first point, Thomas insists that training in virtue must be done in community (he says "in conference among several").  The demands of the moral life are not always simple, and prudence is required to sort through all the various aspects of a dilemma, but these various aspects are often disclosed to us in consultation with those in our lives.
Regarding the second point, virtue is a habit, and as such it needs practiced in order to develop.  Practice means encountering real, concrete situations, not merely working our solutions in abstract.  We need frequent interaction with others in order to prudently judge the merits of various moral solutions.
Finally, with respect to the third point, personal encounters provide the impetus for virtuous behavior.  In the words of the author, "It becomes much easier for us to treat someone poorly, to violate the demands of true virtue, when that person shares only a small fragment of our lives."
Mr. Hain is onto something here.  Our lives are rapidly becoming both private and segmented.  Both of these tendencies tend away from seeing man as made in the image and likeness of a Trinitarian God.  First, God consists of three Persons, which means that God is inherently relationship.  When John claims that God is love, he does not say God loves or God has love, but rather discloses that God, in his essence, is the act of love.  As such, God is immanent (which is not to discount his transcendence), and as beings mades in his image and likeness, we are called to be in relationship with one another.  The increasingly mobile society, together with the Cartesian turn towards the subject, promotes quite the opposite.  However, God is not merely plurality, but is also unity: there is but one God.  In other words, even in his multiplicity God is perfectly integrated.  As an image of God, while we have different aspects to our beings and our lives, we are called to integrate them into our person.  This goes first and foremost for our body and soul – our body needs trained in the ways of the soul, for a strict dualism is impossible.  But it also goes for the various arenas in which we live out our vocation.  Our jobs, our family, our friends, our faith … all must be oriented ad Dominum, and in doing so we come to understand a life whose singular purpose is holiness.
I would add two marginal observations to Mr. Hain's argument.  The first involves the use of communication technology.  As communication became possible without physical proximity, man began to rethink the meaning of knowledge, discourse, and relationship.  In the 1980's, Neil Postman observed that this began with the invention of the telegraph: for the first time in human history, communication was not limited by geography.  (Letter writing was always a possibility, but inherent to letter writing is the lack of instantaneousness, something absent from telegraphic communication.)  Once the telegraph became utilized by the news agencies, it introduced three problems into rational discourse: irrelevance, impotence, and incoherence.  It accomplished this by decontextualizing information and presented it as a series of disconnected (and disappearing) facts.
But the telegraph was only the beginning, for later came the telephone and the television, and the whole thing has seen a great culmination with the advent of the internet.  (Postman sees the culmination, but his work was published before the internet became widespread.  In this sense, he was an man ahead of his time.)  Personal communication is being replaced with rapid transmission of zeros and ones, and relationships are being replaced with Facebook "friendship."  Whether this is a cause or result of the suburban sprawl is a bit of a chicken-egg phenomenon, but the correlation is obvious.
My second marginal observation is the strange juxtaposition of proximity and isolation found in the act of driving on the highway.  When a driver is on the road, he is surrounded by hundreds of other individuals who are in relative close proximity, yet he is isolated in his own world.  This all seems contrary to the way in which human relationships were intended to work.  By this I mean that man is an embodied soul, and as such he can best relate to his fellow man when the person is physically present.  (Such is the very principle of sacramentality.)  True, some methods of communication can provide a substitute for the lack of proximity (such as the telephone), but they will always be substitutes.  (This, indeed, is the very heart of the problem – people are coming the see the substitute as the real thing, as can be seen when today's youth would rather send a text message than actually dial the phone or meet the person face to face.)  Human relationships are intended to involve the body and physical proximity.  This is why Confession must be done in the presence of a priest, and more importantly explains the reason and power of the Incarnation.
The problem with extended time in a car is that is separates relationship from proximity.  It is actually the flip side of the telegraph-telephone-internet problem.  Communication technology attempts to preserve the personal encounter without a corresponding physical encounter.  Driving in a car presents us with a situation where we have a physical encounter but one the is completely void of anything personal.  In falsely separating these two things, it is no surprise that people are less prone to virtue in their communications.  On the internet, when the face-to-face encounter has been eliminated, people are more likely to behave in vicious ways because they perceive those actions as lacking consequence.  Likewise, in a vehicle there is an absence of personal relationship (due to the physical isolation and confinement) and therefore people are more likely to exhibit rage and other vicious emotions.  Again, a perceived lack of consequences plays a role here.  The whole thing seems to separate what God has joined: relationship and physical proximity.
While marginal, these two observations are intimately bound up with the problem of suburban sprawl.  Of course the second example of the car is a direct consequence of suburbia.
I would add as a final observation that both communication and transportation technology provide the one necessary ingredient for destroying virtue and human relationship: anonymity.  When one is able to dissociate his personal identity from his actions, virtue becomes virtually impossible.  It is telling the Scripture presents a life of virtue as tied to personal identity, or rather it presents the lack of identity as a key characteristic of evil, which is why the demons Christ encounters often refer to themselves in the plural ("We" or "legion").
Mr. Hain ends his article with the following:
[S]uburbia represents a turning away from public life towards private life. Front porches have become back decks, and public squares have disappeared. Suppose we were to rebuild those public squares, and all of us spent our evenings on our front porches. We might discover, to our dismay, that we had almost nothing to talk about.
The last bit reminds me of a quotation from Henry David Thorough, written on the eve of  the development of a transcontinental telegraph line:
We are in great haste to construct a magnetic telegraph from Main to Texas; but Maine and Texas, it may be, have nothing important to communicate. … We are eager to tunnel under the Atlantic and bring the old world some weeks nearer to the new; but perchance the first news that will leak through into the broad flapping American ear will be that Princess Adelaide has the whooping cough.
But as usual, Postman synthesizes all of this best:
A man in Main and a man in Texas could converse, but not about anything either of them knew or cared very much about.  The telegraph may have made the country into 'one neighborhood,' but it was a peculiar one, populated by strangers who knew nothing but the most superficial facts about each other.
You see some pretty interesting reactions and responses from our intellectual superiors when asked to redistribute their 4.0′s to less deserving students.
Hat Tip: Matthew Archbold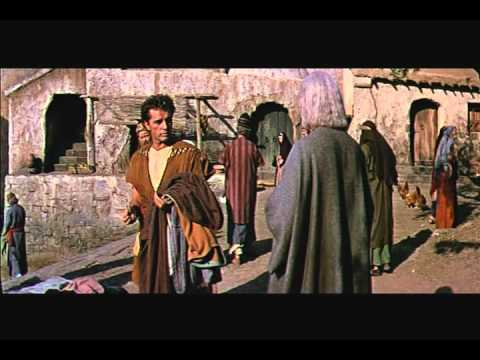 The second of our series on screen portrayals of Pontius Pilate is Richard Boone in the film The Robe (1953).  ( The portrayal of Pilate by Rod Steiger in Jesus of Nazareth (1977), the first in our series, is reviewed here.)  Descended from a younger brother of Daniel Boone, Boone, a Navy veteran of the Pacific during World War ii, studied acting on the GI bill.  Boone assayed the role of Pilate only three years into his career, but he already had the three traits that made him stand out as an actor:  a commanding presence, a deep gravelly voice and an ability to suggest that a character he is portraying is not as simple as we think at first glance.  Boone went on to be a western television star in the hit show Have Gun Will Travel (1957-1963) in which he played Paladin, a West Point graduate who fought for truth and justice in the old West, as long as his $1,000.00 fee was paid.  Boone portrayed Paladin as a well-educated man who would often draw upon his knowledge of history to win the day.  It was the favorite show of a very small Donald McClarey and no doubt helped inspire a love of history in me.  Here is the Paladin theme song which could be sung by almost all schoolboys in the early Sixties: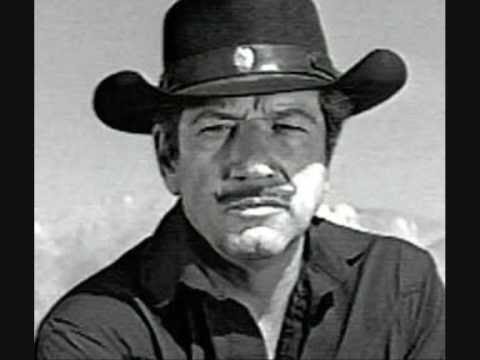 Alright, that is quite enough Memory Lane!  Back to the task at hand.   The Pilate sequence begins at 32:23 in the video beginning the post.  We see Pilate washing his hands.  Tribune Gallio, portrayed by Richard Burton, has been ordered to report to Pilate.  Gallio is being summoned back to Rome.  However, Pilate has one task for him to perform before he leaves.  A routine assignment, the execution of three criminals.  One of them is a fanatic, who has a following and Gallio is told by Pilate to bring enough men to deal with trouble.  Pilate gives these orders in a clipped military style, wasting not a syllable.
Then, the unexpected happens.  Pilate confesses, almost talking to himself, that he had a miserable night, bedeviled by factions and no one agreeing with anyone, with even his wife having an opinion. ("Have nothing to do with that innocent man, because in a dream last night, I suffered much on account of him."). Pilate then shakes off his reverie, and wishes Gallio good luck.  He then asks a slave to bring water to wash his hands, and is reminded that he has just washed his hands. Continue reading →
Quite possibly the most famous and well-liked Dr Who companion.
From The DailyMail Online:

Tributes have been pouring in for Doctor Who actress Elisabeth Sladen who died yesterday following a battle with cancer aged 63.

Leading them was former Doctor Who writer Russell T Davies, who brought her back to Doctor Who, and said it was 'an honour to have worked with her'.

Speaking this morning, he said: 'It's devastating, it's no age at all is it? All of us who worked on Doctor Who and Sarah Jane are just reeling at the moment.

'It's so sad. It was a joy to know the woman and an honour to have worked with her, I loved her.'

Liverpool-born Sladen played the Doctor's assistant Sarah Jane Smith, first alongside Jon Pertwee in 1973, and stayed on with Tom Baker, the fourth Doctor, until 1976.

She returned as the character for a spin-off series K9 and Company in 1981 and Davies, 47, brought Sladen back into the Doctor Who fold in 2006 when she starred in an episode alongside the then Doctor, David Tennant.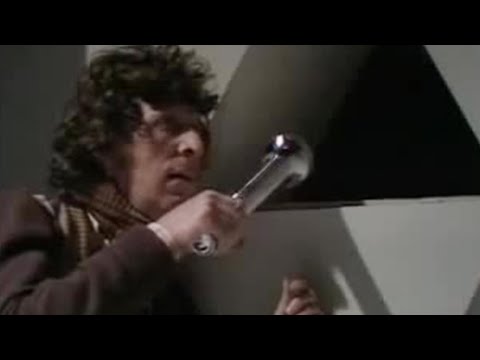 Sladen is the second high-profile actor who starred in Dr Who to have passed away this year – Nicholas Courtney (aka 'The Brigadier') died on February 23rd.
Requiescat in Pace, Sarah Jane Smith
Twenty years ago, when my parents began homeschooling first my younger brother (who had some non-standard learning needs) and later all of us, homeschooling was still very much a fringe phenomenon. It was not unusual for people to predict, on hearing that children were homeschooled, that they would not be able to get into college, or for neighbors to harass homeschoolers by repeatedly calling the truancy officers on them. The extent to which homeschooling has become mainstream since that time has been quite extraordinary, and due in no small part to the academic and personal successes that homeschooled students have shown themselves capable of. Many states' public education systems are now actively friendly towards homeschoolers, and make state curricula available free of charge to homeschoolers who wish to use them at home.
Sadly, one area where this increasing social acceptance of homeschooling has often been lagging is in Catholic circles at the parish and diocesan level. Homeschoolers are sometimes seen as a threat by parochial school systems — this despite the Church's teaching that parents bear the primary responsibility as first educators of their children.
Such a situation has recently reared its head back in our old home diocese of Austin, Texas. A local Catholic homeschooling group, Holy Family Homeschoolers, sent an invitation to their annual Homeschoolers Blessing Mass to newly appointed Bishop Vásquez. In past years, an invitation had always been sent to the bishop. Bishop Aymond had officiated at the Blessing Mass when he first came to the diocese and had allowed a certain degree of openness in dealing with Catholic homeschoolers at the parish and diocesan levels.
Given the many demands on Bishop Vásquez's time, it is hardly surprising that he was unable to attend this year. What is, however, both surprising and distressing is that the response to the invitation sent to Bishop Vásquez's office came not from the Chancery but from the Catholic Schools Office, and in a tone which was decidedly dismissive:
> Bishop Vásquez received your invitation to celebrate a Eucharistic liturgy for the fall homeschooling blessing Mass.
>
> Bishop Vásquez believes Catholic education, and in particular Catholic school education, is an essential part of the life of the Diocese of Austin. As you know, Catholic schools are at the heart of the mission of the church.
>
> Bishop's presence at the homeschooling Mass would convey a contradictory message equating the importance of Catholic school education with Catholic homeschooling; therefore, Bishop Vásquez must respectfully decline the invitation.
>
> Sincerely in Christ,
>
> Ned F. Vanders, Ed.D.
Ned Vanders is the diocesan Superintendent of Catholic Schools, and I think that the above email pretty clearly backs up the complaint I have heard that he is "openly hostile to homeschooling".
Again, let me be clear: I think it is quite reasonable and understandable that Bishop Vásquez is unable to attend. A note from his office to that effect would in no sense be offensive. However, I think that the response that was received by the Holy Family Homeschoolers is worrisome in two senses.
Continue reading →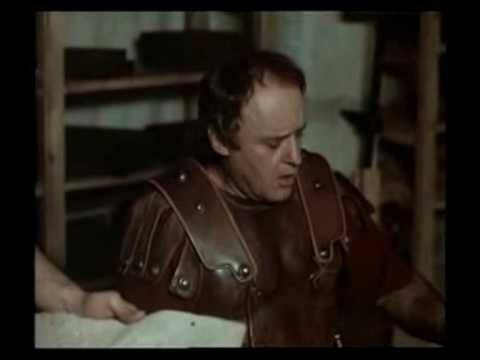 The figure of Pontius Pilate has always intrigued me.  The fifth Prefect of Judaea, Pilate looms large in the Gospels.  His name Pilate  indicates that his family was of Samnite orgin.  Pilate is mentioned by the Roman historian Tacitus as having condemned Jesus.  In 1961 a block of limestone was discoved at the site of Caesarea Maritima, the Roman capitol of Judaea, bearing an inscription of Pilate dedicating a Roman theater there.  That is almost all we know about Pilate outside of the Gospels, Josephus and Philo.  Pilate today would be forgotten, instead of being the best known Roman who ever lived, but for his role in sentencing Jesus.
This is the start of a series examining how Pilate has been presented in films.  First up  is Rod Steiger, the method actor to end all method actors, and a character actor who achieved stardom with intense, some would say frequently over the top, performances.  Steiger gives an interesting portrayal of Pilate in the superb Jesus of Nazareth  (1977).  Overworked and tired, with a bad temper on edge, he is forced to judge Jesus, and clearly finds the dispute between Him and the Sanhedrin to be completely incomprehensible.  His queries to Jesus, "Who are you?  What are you?",  sum up how mysterious this  business is to him, and echoes the query of Jesus to his Apostles:  "Who do you say that I am?"
Ultimately Pilate condemns Jesus and this sequence may be viewed here.  To forestall a riot, Pilate sentences Jesus to be crucified.  Pilate still obviously finds Jesus to be utterly mysterious.  His wondering who is the real threat to Rome, Barabbas or Jesus, before he passes sentence on Jesus as the mob howls for him to free Barabbas, indicates that he understands at some level that this is all very important, but he simply cannot fathom why.  Steiger portrays Pilate as world weary and baffled by his encounter with this strange Galilean. Continue reading →
A couple of good pieces on why watering down the truth is such a bad idea.  First Christopher Blosser, linking to the comments over at Fr. Z's blog, and the woeful instructions imparted to the faithful.  Here are the sampling of comments that Chris highlighted:
"When I was in RCIA, back in the early 1980?s we were told that it is almost impossible to commit a mortal sin so not to worry."

"When I asked one of the RCIA instructors to tell us how to make a proper confession she blew me off."

"I was under the impression that Reconciliation was a one-time thing until the priests starting coming to school to offer it a few times."

"I thought in order to commit a mortal sin you had to do something really bad such as kill someone, have an abortion, or commit adultry."

"I actually heard a priest say in a homily that he never committed a mortal sin and that none of us probably hadn't either."

"I have had people who prepare young people for confirmation say that theydon't remember ever going to confession."
To which Chris asks the question, "In a parish where the idea of sin and absolution are passé, why be Catholic? what does it even matter?"
And  over at POWIP, Enoch Root discusses his time as a Catechism Instructor for 7th and 8th graders:
The first year went well, as I mentioned some paragraphs above. So I was asked to sign up for another year of instructing. Again, no one wanted the 7th and 8th grade class. So, I thought about it. I agreed to teach the class once more. Sadly, my no-holds-barred approach to passing on the faith rubbed some parent(s) the wrong way. I am given to understand that my comment to the class that it would be very unlikely for everyone in the class to ultimately find ourselves among the Elect stunned and, yes, frightened a student. Further, I am given to understand that my suggestion that not every one of our beloved relations was likely to be among the Elect also was cause for concern. The fallout was immediate. And it did bring on a small crisis of faith for me. I was not very interested in defending my approach to teaching what we believe. I was not interested in heaping scandal on top of the deep hurt I felt. I was not interested in chastising the Powers That Be about the very real dangers of withholding the Truth from these kids… some of which were quite worldly to begin with. I was not interested in defending the Faith to ministers of the Faith… or taking them to task… or forcing them into a debate about whether or not I was teaching other-than-Dogma (which I was decidedly not doing). In short, I resigned to save all parties from what would have been a bloody affair… and potentially embarrassing I might add.

I was deeply offended. As I have said. And only now, several years later, am I able to clear my head enough to receive the Eucharist with a mended-heart. I will not lie: the sting of that wound remains. But my animus toward the players involved does not. God works in mysterious ways. And it was a truly humbling experience. Truth be told, I had been praying for God to help me become smaller. And He answered my prayers.
As I related in the comments, I've seen faith watered down.  I've heard instructors tell potential Catechumens that they don't need to go to Confession, among other whoppers. And as someone who attended a Jesuit high school, well, let's say there were things about Catholicism that I didn't learn until later on.
I understand the desire to make faith seem less hard.  You've got some young skulls full of mush, or perhaps adults just dipping their toes in the waters of Catholicism, and you don't want to scare them away.  But all you are doing is depriving them of the truth, and in doing so you are actually putting their souls at risk.  Either tell the truth, and the whole truth, or so help you God.
There's a Vanity Fair piece on income inequality by Nobel Price-winning economist Joseph Stiglitz, "Of the 1%, by the 1%, for the 1%", which has been cited again and again in the commentariat lately, and it's a frustrating piece because of the extent to which is makes logical leaps or simply distorts reality. Scott Winship of The Empiricist Strikes Back does a good job of going through the piece and addressing it point by point, including taking on a few of the talking points which are increasingly becoming things "everybody knows" in the wonk community but which don't actually mean what they seem to.
One of the problems with our modern society's fixation on "data" is that people, even very educated people who should know better, often fixate on a given metric (for example, the claim that "While the top 1 percent have seen their incomes rise 18 percent over the past decade, those in the middle have actually seen their incomes fall. For men with only high-school degrees, the decline has been precipitous—12 percent in the last quarter-century alone.") without taking the time to dig into what we can discover of the realities that underlie that measure. Sometimes those realities do not fit with the ideological picture which makes the original metric so appealing. (Winship's responses to the just quoted claim, both in the main article linked above and in this older one, are fascinating.)
Definitely worth a read.
During the Civil War thousands of American Jews enlisted in the armed forces of both the Union and the Confederacy.  In July of 1861 the United States Congress passed a bill which provided for the appointment of chaplains from any recognized Christian denominations.  In a Pennsylvania regiment called the  Cameron Dragoons, Rabbi Arnold Fischel was appointed chaplain.  Ironically it was Simon Cameron, as Secretary of War, and for whom the regiment was named, who denied the appointment of Fischel as contrary to law.
However, Fischel didn't give up and moved to Washington, ministered to wounded Jewish soldiers and lobbied the Lincoln administration to allow the appointment of Jewish chaplains.  On December 11, 1861, the Rabbi met with the President .  He described the meeting in this letter: Continue reading →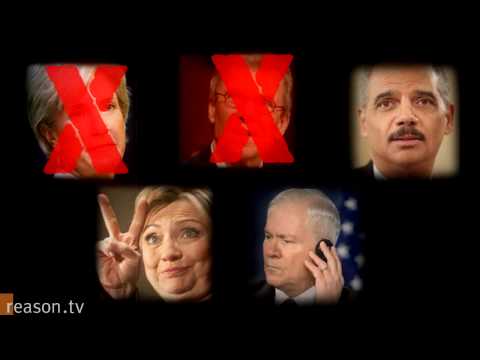 The Tax Man cometh today.  Reason TV explains why we have to pay our taxes in the above video.

The above video was made in 1943 by Disney in order to convince people to save up to pay their taxes.  1943 was also the year when withholding came in as a "temporary wartime measure" because not enough people were saving up to pay their taxes. Continue reading →