Monthly Archives:
March 2011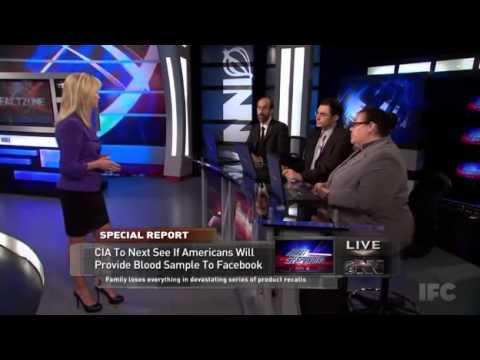 From the only reliable source of news on the net, the Onion.   Hmmm, so I guess that Facebook could potentially do more harm to people than merely being a venue where future employers can see drunken photos of job applicants. I don't know, this seems a bit too clever for the CIA.  On the other hand, if someone wanted to claim that Facebook was started by the Internal Revenue Service, I would readily agree.
In Book 2, we find Augustine (the character) as a teenager, while Augustine (the author) takes the opportunity to think about what makes us sin. The connection will be familiar to us all. Augustine talked about Original Sin in Book 1, that tendency which we can see even in very young children towards selfishness in which we can see the rooted tendency towards self over others which is at the root of sin. But that selfishness of childhood is largely unthinking. It is as we enter late childhood and early adolescence we attain the ability to think about sin in a way much like that of adults, but with the drives almost unique to adolescence. Augustine sees this in his past self and doesn't like what he sees:
For as I grew to manhood I was inflamed with desire for a surfeit of hell's pleasures. Foolhardy as I was, I ran wild with lust that was manifold and rank. In your eyes my beauty vanished and I was foul to the core, yet I was pleased with my own condition and anxious to be pleasing in the eyes of men.
In this book, the story of what's going on in young Augustine's life (versus his examination of the human condition) struck me, with the ways that it seemed both familiar and alien. Continue reading →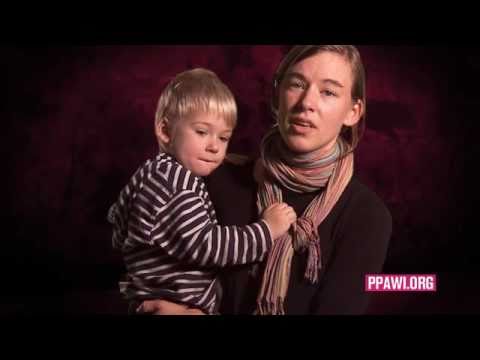 In all of the furor over Wisconsin Governor Scott Walker's bill to curb the power of public employee union to careen the state of Wisconsin into insolvency, other stances of the Governor have been overlooked.  Leftist magazine Mother Jones notes in a current story that Walker is an ardent foe of abortion:
Walker, the son of a minister, attended Marquette University in Milwaukee from 1986 to 1990, where he served as chair of Students for Life. He dropped out of the school without graduating in 1990, and unsuccessfully ran for the Assembly that fall. He ran again in 1993 in a special election and won an Assembly seat representing Wauwatosa, a city just outside of Milwaukee. It didn't take long for him to take up the abortion fight.
In November 1996, Walker and Assemblywoman Bonnie Ladwig R-Caledonia announced plans to introduce a bill banning "partial-birth" abortions, or what's medically known as dilation and extraction. Anti-abortion groups have condemned the practice, but groups that back abortion rights argue the procedure could save a woman's life in the case of severe late-term complications during a pregnancy. Walker said partial-birth abortions are "never needed" to save lives, adding, "This procedure is not a medically recognized procedure." Continue reading →
The American League Central boasts a trio of good, but not great teams that should battle it out down to the wire.  It's difficult to see any of these teams pulling away or fading from contention.  In the end, I'm going with the team that always seems to wind up on top.
In my first post on Blessed Clemens August Graf von Galen, which may be read here, we examined the life of this remarkable German bishop who heroically stood up to the Third Reich.  Today we examine the second of three sermons that he preached in 1941 which made him famous around the globe.  One week after his first breathtaking sermon against the Gestapo, my examination of which may be read here, he preached on July 20, 1941 a blistering sermon against the Nazis and their war on Christianity in general, and Catholicism in particular.
Today the collection which I ordered for the inhabitants of the city of Münster is held in all the parishes in the diocese of Münster which have not themselves suffered war damage. I hope that through the efforts of the state and municipal authorities responsible and the brotherly help of the Catholics of this diocese, whose contributions will be administered and distributed by the offices of the Caritas, much need will be alleviated.
Charity, always a prime duty of Catholics.
Thanks be to God, for several days our city has not suffered any new enemy attacks from without. But I am distressed to have to inform you that the attacks by our opponents within the country, of the beginning of which I spoke last Sunday in St. Lambert's, that these attacks have continued, regardless of our protests, regardless of the anguish this causes to the victims of the attacks and those connected with them. Last Sunday I lamented, and branded as an injustice crying out to heaven, the action of the Gestapo in closing the convent in Wilkinghege and the Jesuit residences in Munster, confiscating their property and possessions, putting the occupants into the street and expelling them from their home area. The convent of Our Lady of Lourdes in Frauen­strasse was also seized by the Gau authorities. I did not then know that on the same day, Sunday 13th July, the Gestapo had occupied the Kamilluskolleg in Sudmühle and the Benedictine abbey of Gerleve near Coesfeld and expelled the fathers and lay brothers. They were forced to leave Westphalia that very day.
The Nazi war on the Church is becoming more brazen in the midst of the War. Continue reading →
I was really struck by the seriousness and beauty of the earlier post that Christopher Blosser wrote regarding Islam. Coincidentally or providentially it directly related to conversations on this topic that I have been having at the college where I teach.
Too often (here at this website and elsewhere too be sure) we reduce our conversations regarding Islam to that of promoting misunderstanding and fear against Muslims. To promote the standard conservative punditry rhetoric against Muslims is doing a great disservice to our fellow Catholics, to our fellow Americans, and to our fellow man. We can do better. We must do better. As well-formed Catholics we can lead this discussion here in America (and abroad) against those who preach hatred, violence, or misunderstandings against Muslims. The questions we need to ask are these two – How is the current Holy Father, Pope Benedict XVI, showing us the way that we should dialog with Muslims and why he is doing this?
The problem(s) of modernity is not a "clash of civilization" against Muslims. It the struggle against what Henri de Lubac referred to as "Atheistic Humanism". It is a clash against though who deny the supernatural… Those who deny the existence of God. Muslims are not our enemy is this battle against relativism, secular materialism, consumerism, hedonism, sexual licentiousness, etc.
We do not live in Middle Ages, as much as I would love to be there with many of you. We live in 2011. We need to recognize reality now for what it is and where we find ourselves.
I would encourage folks to engage the thought of Miroslav Volf, Robert Louis Wilken and Peter Kreeft on our topic. Recently Miroslav Volf has been interviewed about his new book on Islam. These interviews are very much worth checking out. Refer to it below.
A Voice across the Great Chasm: An Interview with Miroslav Volf
Meet Miroslav Volf, whose 'Allah' is a path to peace
Also don't miss out on Robert Louis Wilken's award winning FT article if you haven't read it yet.
FIRST THINGS – Christianity Face to Face with Islam by Robert Louis Wilken
In my previous post below (Alliance of Civilizations or Clash of Civilizations?) I linked to Peter Kreeft's work on this topic.
Related Posts:
Fr. Richard J. Neuhaus on Islam and Reform
Alliance of Civilizations or Clash of Civilizations?
What is the meaning of existence?
The Ground Zero Mosque And Religious Freedom (4 Parts)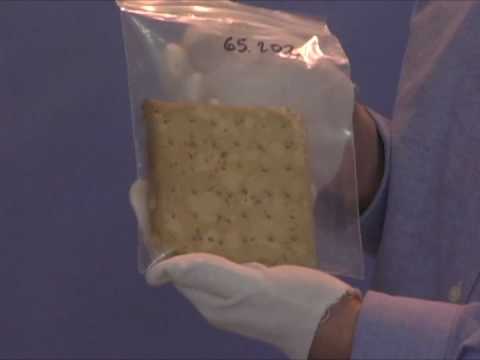 Something for the weekend.  Ah, hardtack!  A food that superb has to have a song about it, as indicated by the first of the above videos.
 Hardtack, a very hard, thick cracker, was the soldier staff of life North and South during the Civil War.  Prior to the War, hardtack had long served as a food staple for explorers, hunters and anyone else who needed a food source that was light and could last forever.  Unfortunately, the hardtack often became infested with weevils.  Soldiers who didn't want the extra protein would often put the hardtack into water and skim the weevils off the top.
The hardness of hardtack was legendary and gave rise to many soldier jokes.  This one was typical. 
Private Jones:  I bit into a piece of hardtack and hit something soft.
Private Green:  A worm?
Private Jones:  No, by glory, a ten-penny nail!
Things like hardtack remind us that it is definitely more amusing to read about the Civil War than it was to actually participate in it! Continue reading →
In an address in Ireland for the 2011 report by Aid to the Church in Need on Christian persecution, Archbishop Bashar Warda of northern Iraq did not mince words about the plight of Christians and other non-Muslims  in his country. Christians in Iraq face "near genocide" due only to their non-Muslim status as the Iraqi government muddies the waters of jurisprudence.
What we Iraqis are suffering is a crisis in cultural change. We are living in a region which cannot decide if it is for democracy or for Islamic law. It cannot decide if it is for the rights of human beings to live in freedom in all its exciting and challenging forms, or if it is for the control of the spirit and the minds of its people.
Since 2003, roughly a million Iraqi Christians have either fled their native homeland or been massacred. The damage wrought by Islamists has also taken its toll on Christian buildings dedicated to serving and uplifting the downtrodden.
Now I would like to talk to you about the systematic bombing campaign of Iraqi churches. The first Iraqi church was bombed in June, 2004 in Mosul. Following that event, successive campaigns have occurred and a total of 66 churches have been attacked or bombed; 41 in Baghdad, 19 in Mosul, 5 in Kirkuk and 1 in Ramadi. In addition, 2 convents, 1 monastery and a church orphanage was bombed.
While Islamists have insisted on blowing up, killing, or otherwise suppressing everything and everyone identified as Christian in Iraq, the Church there has been seeking to build. In January, it was announced that the Church, with the assistance of Aid to the Church in Need, would minister to the Christian community in northern Iraq, the area Christians are fleeing to, by building a university and a hospital.
Archbishop Bashar Warda of Erbil said both schemes would provide jobs, training and other opportunities for thousands of Christians flooding into the relative security of Kurdistan, away from the religious violence, especially in Baghdad and Mosul.

Speaking after a committee of faithful and clergy met to advance the schemes, Archbishop Warda said: "The plans we have been developing over the past few months are symbols of hope for the Christian presence in our country."
Christians defend life, education, employment, and religious freedom while Islamists seek only to destroy them. This is an all too familiar theme that has not been missed by Cardinal O'Brien of Britain.
In the comments to  my post last week, Henry V Times Four, which may be viewed here, and which had four versions of the immortal "band of brothers" speech, commenter Centinel posed a very interesting question to me:
Mr. McClarey,
I've come to respect your knowledge of history and your insights. I just wanted to get your honest opinion on oneissue. As I understand it, Catholic doctrine would say that wars of aggression are not justified (most of the time). Though I enjoy Shakespeare's plays, it bothers me that Henry V was fighting a war of aggression – hence, an unjust war.
From Henry V's point of view, the war was about his (legitimate?) claim to the French throne. But from the point of view of the French peasantry, whichever dynasty sat on the French thronedid not really make any difference in their lives. They were merely caught in the middle; the longer the war lasted, the greater the collateral damage to French civilians. Besides, Henry V already had the Kingdom of England. Hence, it was just pure greed driving Henry V to claim the French throne.
I would appreciate your opinion on this.
My response:
Centinel thank you for very kind words and for inspiring a forthcoming post! The more I thought about your question the more complicated my answer became and only a post length reply, which I will attempt to do in the next week, will do it justice. The short answer is that Henry V, by the just war analysis of his day, had a defensible claim to be fighting a just war, while under the just war analysis of our day his war would be unjust. However, there is much more to say than that, and I will attempt to do this intriguing question justice in my forthcoming post.
In answering the question we must first examine how the formulation of the Just War doctrine has changed from the time of Henry V to our time. Continue reading →
All of the discussion in the Catholic blogosphere, and the wider public square, about unions (and public employee unions in particular) has given me cause to think a bit about my attitude towards organized labor. There are a lot of rational political, economic and moral reasons I can give for why I don't like labor unions as they exist in the US, but as is so often the case with deeply held opinions, my most basic reaction to unions has a lot to do with my personal experiences relation to work and to unions. As such, it seemed like a good way to address the issue is through the lens of the experiences which have helped shape my opinion of unionization.
1. Most of my exposure to unions was through my father, who held a staff position at a community college for twenty-five years, retiring just a month before losing a multi-year battle with cancer. (In a state college, the major divide is between staff — which includes basically everyone who is neither an instructor nor a manager — and faculty, who are the actual instructors. Since he only had a bachelor's degree, Dad's position was classified as staff, and staff positions were represented by a state school employees union which is a member of the AFL-CIO.) The college was not unionized when Dad got his job, but it became a union shop half-way through his time there, via an election which he always wondered about the validity of. (Union members and non-union members were given different colored ballots, so it certainly would have been easy to cheat if someone had wanted to.) Not only were the union's politics diametrically opposed to my father's (he always used their "state issues" political mailing to decide how not to vote) but the union supported people for the college board of directors who hired a college president who eventually drove the college into the financial ditch, resulting in constant fear and occasional layoffs. His more daily frustration, however, was the effect of the union's vigorous protection of people who did not do their jobs well.
Continue reading →
???Deacon Keith Fournier (Catholic Online)
???St. Patrck calls us to live in the Heart of the Church for the Sake of the World …The day when the whole world becomes Irish is a time for reflection on what it means to be a Christian.
Rick Santorum Takes on Jihadism, Showing Moral Coherence and Political Courage – Rick Santorum is a man of courage in an age of cowardice…Santorum does not separate social and economic issues. He is comfortable in his skin and has the communications skills and intelligence required of a leader. Any candidate for the Presidency who hopes to win in 2012 must be an effective communicator. He or she will be contending with President Barack Obama, whose oratory in the last election seemed to mesmerize people. His opponent must be articulate, intelligent and unafraid.
It Takes a Family: Conservatism and the Common Good