Monthly Archives:
March 2011
In my first post on Blessed Clemens August Graf von Galen, which may be read here, we examined the life of this remarkable German bishop who heroically stood up to the Third Reich.  Today we examine the third of three sermons that he preached in 1941 which made him famous around the globe.  One week after his first breathtaking sermon against the Gestapo, my examination of which may be read here, he preached on July 20, 1941 a blistering sermon against the Nazis and their war on Christianity in general, and Catholicism in particular, which may be read here.  On August 3, 1941 at Saint Lambert's in Munster, he preached a third sermon which, along with an overall attack on the Nazi regime, attacked an evil that, alas, unlike the Nazis, remains with us today.
My Beloved Brethren,
In today's Gospel we read of an unusual event: Our Saviour weeps. Yes, the Son of God sheds tears. Whoever weeps must be either in physical or mental anguish. At that time Jesus was not yet in bodily pain and yet here were tears. What depth of torment He must have felt in His heart and Soul, if He, the bravest of men, was reduced to tears. Why is He weeping? He is lamenting over Jerusalem, the holy city He loved so tenderly, the capital of His race. He is weeping over her inhabitants, over His own compatriots because they cannot foresee the judgment that is to overtake them, the punishment which His divine prescience and justice have pronounced. 'Ah, if thou too couldst understand, above all in this day that is granted thee, the ways that can bring thee peace!' Why did the people of Jerusalem not know it? Jesus had given them the reason a short time before. 'Jerusalem, Jerusalem . . . how often have I been ready to gather thy children together, as a hen gathers her chickens under her wings; and thou didst refuse it! I your God and your King wished it, but you would have none of Me. . . .' This is the reason for the tears of Jesus, for the tears of God. . . . Tears for the misrule, the injustice and man's willful refusal of Him and the resulting evils, which, in His divine omniscience, He foresees and which in His justice He must decree. . . . It is a fearful thing when man sets his will against the will of God, and it is because of this that Our Lord is lamenting over Jerusalem.
"the capital of His race."  What courage it took in Nazi Germany to remind people of the fact that Jesus was a Jew!  Von Galen had always been a friend to Jews, and would hide a Jewish boy, with the help of a Protestant pastor, at an institute Von Galen controlled, from the Nazis.  After his death he would be highly praised by the Munster Jewish community for the care and assistance he had shown them.  Would that all Germans had acted the same way.  It is a canard to say that all Germans hated Jews:  even with the Nazis pumping out the vilest anti-semitism imaginable 24-7 since they took power that was not the case.  However, it is fair to say that a majority of Germans were indifferent to the fate of the Jews and were unwilling to raise their voices against the Nazi persecution of the Jews.  This attitude of most of the German people is well described in the film Judgment at Nuremberg where Burt Lancaster, as German judge Ernst Janning, gives riveting testimony: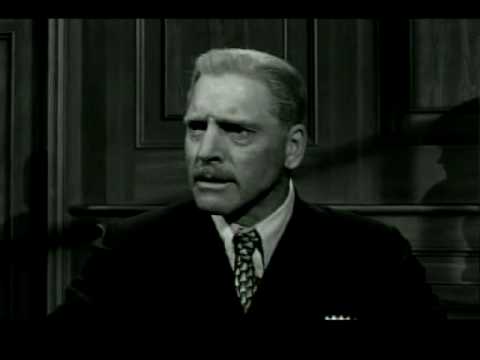 Von Galen I think realized this indifference and his sermons were meant to show Germans that the evil of the Nazis was not restricted only to people they were shamefully indifferent to.
In Florida, a judge has ordered the use of 'Ecclesiastical Islamic Law' to decide a case among litigants in a suit involving an internal dispute at a mosque. Why are some so accepting of the idea that the melding of "Mosque and State" in American jurisprudence is acceptable?  I submit that, at least in some cases, political motivations stand in the way of intelligent, reasoned debate on issues related to Islam. Leftist disdain for the Right and the leftist political doctrine of multiculturalism cripple their ability to reasonably debate these issues.
Those critical of Islam and the terror which is born from it are frequently accused of trying to pigeon-hole all Muslims into one category of believers who are seeking Islam's domination. In this accusation, the reality that some actually do seek to do just that is brushed under the rug. Though I would agree that not all Muslims desire that political Islam should become a part of America's legal system, it is clear that the desire for Islam to dominate in America does exist among some Muslims. There is perhaps no more serious example of this than in attempts to make Islamic Law hold precedence over American Law.
Many on the Left will leap to the defense of Islam at every turn. It is true even in this case, even though the leaders of the mosque themselves argue that Florida law should hold precedence. Why would the Left press for Islam when the mosque itself argues the contrary?
Since the fall of the Soviet Union, the Left has introduced new doctrines that are Marxist in nature, but that have a non-Soviet flavor which may make them more palpable to Americans. One such doctrine — "multiculturalism" — has replaced "melting pot" thinking all too frequently in America. Multiculturalism is one avenue through which Sharia courts in America could gain more acceptance whereas this could not happen wherever the traditional "melting pot" thinking is applied.
In our traditional "melting pot" society, immigrants "blend in". They accept the basic values of the American system into which they have moved while retaining those elements of their culture which do not trample over the most basic American values. For instance, in Chinatown, Americans can experience the flavor of Chinese culture, but still be fully American and retain all the freedoms guaranteed under the Constitution. There is no need to be concerned that on a visit to Chinatown, you might automatically become a citizen of China or be otherwise subject to Chinese law. You'd be  hard pressed to find an American on the Right or the Left who does not accept Chinatown as a highly welcome part of American society. Chinatown is a textbook example of America's "melting pot" values system.
Multiculturalism is the polar opposite of the "melting pot." "Multiculturalism," a "major ideological successor" of Soviet-style Marxism, rejects the idea that immigrants should "blend in" to the American system of values.
Values like universal human rights, individualism and liberalism are regarded merely as ethnocentric products of Western history. The scientific knowledge that the West has produced is simply one of many "ways of knowing." In place of Western universalism, this critique of the West offers the relativism of multiculturalism, a concept that regards the West not as the pinnacle of human achievement to date, but as simply one of many equally valid cultural systems.
I can see the Left's embrace of the ideological doctrine of multiculturalism — as opposed to a "melting pot" — reflected in the exposition of Sharia Law as a system of law that is equally valid to other systems of law. An example of this is a recent report at Salon by Justin Elliott. Though Elliott has taken great pains to claim that Tea Party protests against radical Islamists are "anti-Muslim hate," he admits to having little idea about what Sharia Law is.
Indeed, anti-Muslim political operatives have been warning of "creeping sharia" and "Islamist lawfare" for years, though the anti-sharia efforts have gained new prominence in recent months.

But even basic facts about sharia — what is it? how is it used in American courts? — are hard to come by. So I decided to talk to Abed Awad, a New Jersey-based attorney and an expert on sharia who regularly handles cases that involve Islamic law. He is also a member of the adjunct faculties at Rutgers Law School and Pace Law School. He recently answered my questions via e-mail.
Here we have a writer at Salon who is operating from a presumption that the protests against Sharia are "anti-Muslim" efforts by "political operatives." He claims these protests are based in bigotry, instead of what they really are — legitimate concerns about support for terror and anti-Semitism at the Islamic Circle of NorthAmerica.
Operating from a foundation of disdain for the Right, he hangs on to the presumption that the protests are not legitimate opinions expressed by citizens but, instead, are a campaign run by "political operatives". It is from that foundation of flawed belief that he builds. Further, in realizing that he is completely ignorant of Sharia, he seeks to build his arguments against those who would seek to discredit Islam by doing research made up entirely of an email exchange with one Muslim attorney.
It is in this manner that the Left's knee-jerk disdain for the Right, the doctrine of multiculturalism and downright ignorance about Islam are so often found together in a formula that causes them to jump to the defense of Islam in every issue…even issues wherein they are taking the position opposite of a mosque that is opposed to Islamic supremacism in our courts.
We hear a lot about the "Far Right" in America's political discourse on Islam. Indeed, the Far Left and their ideological doctrines contrary to America's founding values are very much at play in these debates. Let us not forget that important point.
Listen to the new translation for the Prayer After Communion composed for the Third Sunday of Lent:
As we receive the pledge

of things yet hidden in heaven

and are nourished while still on earth

with the Bread that comes from on high,

we humbly entreat you, O Lord,

that what is being brought about in us in mystery

may come to true completion.
This is simply exquisite.  It emphasizes that the Mass is both a foretaste of and, in some mysterious way, a participation in the heavenly banquet.  That pledge which "we receive" is the Eucharist, and it is the Eucharist which unites heaven and earth.  It nourishes us "while still on earth" and gives us a taste of "things yet hidden in heaven."  Cardinal Ratzinger, in The Spirit of the Liturgy describes the present time (that which is after the Resurrection but before the end of the world) as the proper time for liturgy, for it is the great "already, but not yet."  Only in such an era can something like a sacrament make sense.  Only in such an era can "Bread that comes from on high" be an efficacious sign of heavenly realities.
In the same book, Ratzinger speaks of how the liturgy is anthropological.  It took me several readings to fully understand the Cardinal's words.  The explanation goes something like this.  We know that our completion (our "final cause" or telos) is to be found in God's presence, that is, in heaven.  In other words, we will be most fully human when we are standing before God's loving gave in glory with the angels and the saints.  Conversely, the souls of the damned are virtually inhuman, which is why even individual demons in the Gospel (though properly speaking these are fallen angels not fallen men) describe themselves in the plural: "We are Legion."  In hell, all individuality is lost, for the self is given over to sin.  Said differently, sin consumes the person.  Think here of the character of Gollum in Tolkien's The Lord of the Rings.  The ring, symbolic of evil, has all but claimed the identity of the wretched creature, so much so that Gollum refers to himself in the plural, experiencing the utmost of personality crises.  Rather than giving the self over to evil, we are to empty ourselves out for the summum bonum: God himself.  The Gospel paradox is: in giving ourselves away to God, we subsequently find our true selves.  This is because all fulfillment (all telos) is found in God.  From God we have come, and to God we must return.  The soul who gives himself to evil merely empties the self; absent is the promise and possibility of finding the self.
Moreover, the Mass is our participation on earth in the reality that constitutes heaven, for heaven is nothing more than the eternal worship of the Almighty God.  Putting these two things together, (1) if our fulfillment is found in heaven, and (2) if the Mass is a participation in the reality which is heaven, it follows that our fulfillment as human beings begins in the Mass.  It is in the Mass that we find our true selves.  It is in the Mass that we become that for which we are destined; it is here we become holy. This is simply an extended explanation of a sacrament as "an efficacious sign of God's grace," and this is what Cardinal Ratzinger means when he says that the liturgy is "anthropological."
We return now ready to understand the Pray After Communion on the Third Sunday of Lent:  "We humbly entreat you, O Lord, that what is being brought about in us in mystery may come to true completion."  I repeat that with which I started: this is simply exquisite.
It is so exquisite, in fact, that I hesitate to ruin it with the current, deficient translation.  I even thought of letting it go and simply recommending that people listen carefully this coming Sunday.  Alas, I am weak, and I cannot resist the opportunity to demonstrate just how deficient it is.  I won't go through the Latin; rest assured that the new translation is much more faithful.  Without further adieu, here is what we will hear this weekend:
Lord, in sharing this sacrament

may we receive your forgiveness

and be brought together in unity and peace.
And with that, I leave you with that which has become my mantra as of late:
I feel like each Sunday this year presents a funeral of sorts … a passing of Mass texts that will never be heard again.  Rather than mourning this passing, my heart finds solace in the assurance that these texts will rise again in a more perfect form with the 'advent' of the new translation.  While we have a full year to pay our respects to the passing Ordinary, there is a rejoicing of sorts that the current Propers have reached the end of the proverbial line: their days are numbered, their time has passed, and blessed be God for that.

At least in terms of the Holy Mass, the 1973 'Prayer After Communion' for the Third Sunday of Lent has met its maker, kicked the bucket, bit the dust, bought the farm, breathed its last, and indeed … croaked.  This is not a cause for mourning, but rather a looking forward to the day of resurrection; for the Latin soul of this prayer is indeed filled with grace, so when it rises again as the 2010 Prayer, it will be gloriously triumphant."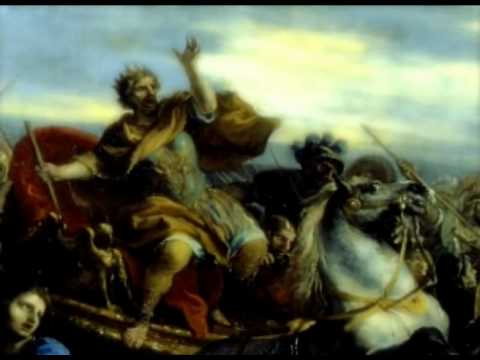 Something for the weekend.  The song Macedonia to the tune of Sharona by the Knack, by the endlessly talented folks of History for Music Lovers.  Alexander the Great, living refutation of the idea that history is all grand vast processes and that individuals matter for little.  In his brief 32 years he had a larger impact perhaps on this world than any other one man in secular history.  The spreading of Greek culture in the East led to the vast cultural synthesis of Hellenism, and had a huge impact upon Judaism and, eventually, Christianity.  It is somewhat frightening to think that so much of our history depended upon the military prowess of one man.
What if Alexander hadn't turned East?  What if he had turned West?  The Roman historian Livy, in one of the first examples of alternate history, mused about what would have happened if Alexander had marched against Rome. Continue reading →
The American League East deservedly has the reputation of being the best division in all of baseball, but the NL East might be a close second.  Other than the Washington Nationals, every team in the NL East should finish at .500 or better, and two teams have legitimate World Series aspirations.  Of course one team received most of the national attention when it signed a prized free agent pitcher and thus assembled one of the best starting rotations that the game has ever seen.  With such a loaded staff, there's really not going to be much of a contest, right?  We might as well crown the division champions before the season even starts.  I mean is there any doubt as to who will come out on top in the National League East?
Hattip to Creative Minority Report.
If Tim Roach questioned his own manhood after six months of unemployment, consider the question asked and answered. Tim Roach is a man, a good man.
In mid February, Tim, got a call from his local union with the news every laid off worker longs to hear — a job offer.

It couldn't have come at a better time. Tim's unemployment benefits were about to run out. He could hardly believe what the voice on the other end was presenting to him — an offer to be a job foreman for at least 11 months, with a salary of $65,000 to $70,000 a year.

Perfect, Tim thought. Then came the bad news — he would be working on construction of a new Planned Parent­hood Clinic in St. Paul on University Avenue. The highest of highs became the lowest of lows as he quickly turned down the offer.
Tim's Union rep tried to get him to reconsider saying he wasn't sure if abortions would be performed there but he simply responded, "It's a Planned Parenthood. No."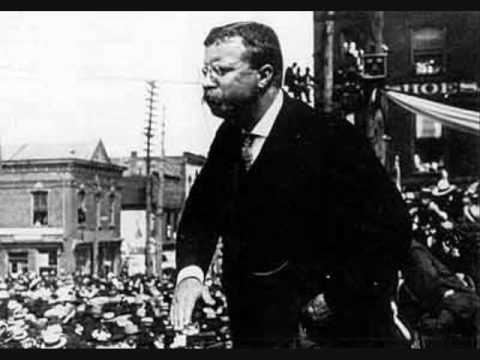 A recording of a speech by that force of nature otherwise known as Theodore, he hated being called Teddy, Roosevelt during his "Bull Moose" campaign for president in 1912.  Note the clear delivery and diction.  Note also his references to French history:   politicians did not assume that they had to talk down to the average voter in those days.  By splitting the Republican vote, Roosevelt getting the larger share, Roosevelt's third party campaign ensured the election of Woodrow Wilson.  Although he failed to win, during the campaign Roosevelt established beyond doubt that he was one of the toughest men ever to be president.
On October 14, 1912, Roosevelt was giving a speech in Milwaukee.  A deranged saloonkeeper, John Schrank, shot him in the chest.  Roosevelt refused to cancel a scheduled speech.  His opening is perhaps one of the most memorable for any speech: 
Friends, I shall ask you to be as quiet as possible. I don't know whether you fully understand that I have just been shot; but it takes more than that to kill a Bull Moose. But fortunately I had my manuscript, so you see I was going to make a long speech, and there is a bullet – there is where the bullet went through – and it probably saved me from it going into my heart. The bullet is in me now, so that I cannot make a very long speech, but I will try my best. Continue reading →
Alrighty then – time for a little diversion.
April 23 2011 – Dr Who Season Six starts. Here's the trailer:
I've been a fan since 1982, when I first discovered the Doctor one Saturday night, channel-changing (no "surfing" then as we didn't have a remote) and landing on the local PBS station. Just fun brain-candy sci-fi that didn't take itself all that seriously.
Nowadays the production values are great, the special effects cooler, the locations and sets go way beyond your run-of-the-mill gravel quarry, and the story lines and season arcs are, for the most part, superb. I have found that plenty of the "reboot" fans were fans of the Original Series – and there are quite a few who discovered the series the same way I did, way back when: channel surfing and discovering this enigmatic time-traveling mysterious Time Lord known only as the Doctor.
Talk to any seasoned fan, such as myself, and they'll tell you right off who their favorite actor was to have played the Doctor, and will volunteer which one ranks last on their list. For most, it's either Jon Pertwee (#3) or Tom Baker (#4) as the favorites (mine is Tom Baker), with Colin Baker (#6) settling at the bottom. And everyone has their most favorite episodes, along with their least liked one.
I know that quite a few Catholic bloggers and readers are Dr Who fans as well. So let's do an impromptu unscientific survey. Of all the Doctor's you're familiar with, which episodes of each were your most favorite, and least favorite? Let's limit the discussion to the first 7 incarnations (forget about that dismal Fox movie from 1996 that featured Paul McGann as #8). You don't have to give a reason if you don't want to.  Perhaps at a later date we'll look at the Reboot Doctors, but for now, let's stick with the Original Series. Continue reading →