Monthly Archives:
January 2011
For decades, progressives tended to accuse conservatives of wanting to bring back the '50s, but in recent years the shoe is on the other foot, with some prominent progressives saying they yearn for the good old days when unions were strong, manufacturing was the core of the economy, and the top marginal tax rate was over 90%. I wanted to see what the real tax situation was for people in a number of different income situations, so I decided to pull the historical tax tables and do the math.
Luckily, the Tax Foundation publishes the income tax tables for every year from 2010 back to 1913. I decided to compare 2010 and 1955. Here are the 2010 tax tables:
I then got the 1955 tax tables and adjusted the income brackets to 2010 dollars using this inflation calculator. (For those interested, the inflation factor from 1955 to 2010 is 713%) The result is as follows:
Continue reading →
[Updates at the bottom]
Egypt has sent out the army to the streets of Cairo with reports of gun-battles and deaths everywhere.  Media sources are reporting 870 wounded, but this can't be confirmed as of now.
How important are the events occurring in Egypt today in reference to the United States?  Very important.
Any person of history understands that in the 20th and 21st century, how Egypt goes, goes the Middle East.  The most distinguished Islamic university is located in Cairo and militant Islamic organizations such as Al-Qaeda are off-shoots from the Muslim Brotherhood, an extremist Muslim organization based in Egypt seeking to return to the days of Muhammad.
Christopher Johnson, a non-Catholic who I have designated Defender of the Faith, has a not to be missed post on the farce that ensued when the Paulists had the presiding bishopess of the Episcopalian church in this country deliver a lecture to some Paulist seminarians:
Each year, St. Paul's College, a Roman Catholic institution for Paulist seminarians in Washington, DC, hosts what it calls the Hecker Lecture.  This year's speaker was the Presiding Bishop of the Episcopal Organization, the Most Rev. Katharine Jefferts Schori.  And I cannot remember the last time I read any sort of message about anything at all that fell completely apart in the very first sentence:
We are the respective heirs of different strands of western Christianity.
No "we're" not.  "We" were all one big happy family until the 1500?s when "we" Anglicans decided to go it alone.
I will not begin with the Reformation, but with a much earlier, indigenous Christianity in the British Isles.
And herrrrrrrrre we go.
Roman soldiers appear to have taken the Christian tradition with them when they were posted to the frontiers of the Roman Empire – at least by the second century.
An alternative theory suggests that British Christianity was kept alive in Middle Earth by hobbits and that Frodo is Elvish for Jesus.  That's my story and I'm sticking to it; if the Presiding Bishop can live in a fantasy world, so can I, consarnit.
That tradition remained when the Roman Empire receded, but the faith continued to grow and develop in its new context.
Sort of makes one wonder why the western Church sent all those missionaries to the British Isles.  Why did Columba leave Ireland and set up Iona?  And just what was he telling the Picts anyway?
If we would look for a modern parallel, we might point to the development of the Three Self Movement in China, with roots in the various colonial plantings of Christianity in the 16th to 19th centuries.
Awkward analogy, that, insofar as, whatever its origins, Three Self was at one time shot through with Communists who didn't believe all this supernatural crap, becoming, in effect, a sort of Episcopal Organization backed by fiercely-atheist state coercion.
Gregory sent Augustine to 6th century Britain, and challenged him at least in part to bless the best of local tradition in recognition that God had already been at work there.
I believe that would be Pope Gregory and does the fact that Pope Gregory sent Augustine to Britain suggest anything to you, Kate? Continue reading →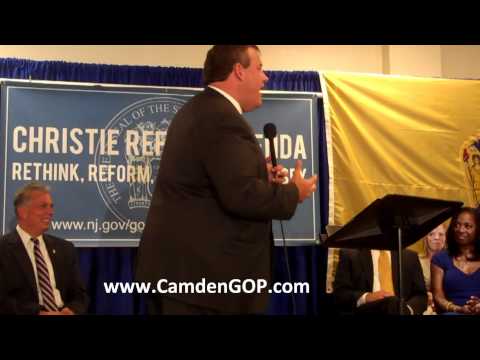 I was on my way to court yesterday morning when I heard this ad on WLS attempting to lure businesses from Illinois:
"Hi, I'm Chris Christie, Governor of the State of New Jersey. I know what you're thinking, 'Move my business to New Jersey? Really?' Really. My administration has worked hard to change the direction of our business climate, plus our state has many advantages. We have an incredible talent pool to drive your business. Innovative financing, incentive and assistance programs. And an exceptional quality of life for the people who live and work here. Oh, and one more thing. As long as I'm Governor, I will not raise your taxes. I am proud of the new direction we've brought to New Jersey: lower taxes, reduced government spending and less regulation: a better home for business — today and in the future. Don't let Illinois balance its budget on the back of your business. Choose New Jersey – we mean business."
Go here to listen to the ad. Continue reading →
Michael Voris in the Vortex addresses the problems and opportunities lost by American bishops following the conclusion of the Second Vatican Council which finished in the cultural upheaval of 60s dissent and disobedience within the Church in America.
Souls are at stake and our bishops seem more concerned about the next fundraiser or not leading with boldness and the Truth.  Instead they grovel to political correctness and stand quite on society's most contentious issues such as abortion and same sex marriage.
Bishop Athanasius Schneider gave an important speech recently where he constructively and critically examined these issues of episcopal disregard.  Especially in the education of the laity with proper catechesis and the lack of defense against modernism and dissent, which have infested chanceries with "yes"-men in which the Pope calls, "professional Catholics".
Watch this segment of the Vortex to get the full story: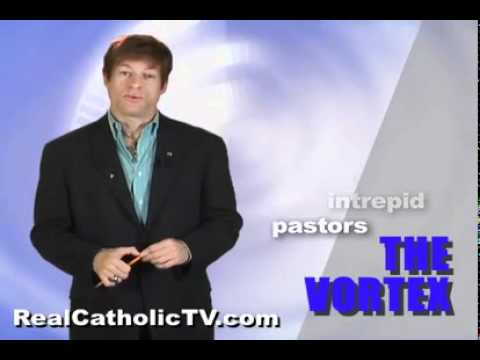 Cross posted at CVSTOS FIDEI.
Adopted by the Tea Party as the symbol of their movement, the Gadsden Flag goes back to the very beginnings of the Republic.  Benjamin Franklin was indirectly responsible for the flag.  In his Pennsylvania Gazette on May 9, 1754 he published a cartoon of the 13 colonies as a rattle snake and how desperately unity between the colonies was needed.
In December 1775 he wrote an essay in the Pennsylvania Journal which set forth why the rattlesnake was a good symbol for the American spirit:
"I recollected that her eye excelled in brightness, that of any other animal, and that she has no eye-lids—She may therefore be esteemed an emblem of vigilance.—She never begins an attack, nor, when once engaged, ever surrenders: She is therefore an emblem of magnanimity and true courage.—As if anxious to prevent all pretensions of quarreling with her, the weapons with which nature has furnished her, she conceals in the roof of her mouth, so that, to those who are unacquainted with her, she appears to be a most defenseless animal; and even when those weapons are shewn and extended for her defense, they appear weak and contemptible; but their wounds however small, are decisive and fatal:—Conscious of this, she never wounds till she has generously given notice, even to her enemy, and cautioned him against the danger of stepping on her.—Was I wrong, Sir, in thinking this a strong picture of the temper and conduct of America?"
The Marines, newly created by the Continental Congress, painted their drums yellow with a rattlesnake with thirteen rattles and the motto "Don't tread on me."  Colonel Christopher Gadsden, delegate from South Carolina, designed the Gadsden Flag and presented it to Commodore Esek Hopkins in December 1775 to be displayed from the mainmast of his flagship.  He presented another copy of his flag to the legislature of South Carolina:
The president has just wrapped up his speech. Some quick thoughts:
I think it was better to not have everyone sit according to party.
I know we had this emphasis on a "new kind" of SOTU. I'm not buying it. To be sure, it had a theme which was good. But in the end, just "we can do it! Remember after Sputnik!" isn't much of a theme, leaving us left with what the SOTU always is: a bunch of presidential policy proposals, or as Chief Justice Roberts put it, a political pep rally.
Very glad he addressed the BP oil spill. Oh wait…
He talked about the old world where hard work kept your job but that that world is gone. Could we at least give a thought to figuring out if we can restore that world before we forsake it? Or are we doomed to Wal-Marts?
I want to know how he's going to simplify the tax code and the federal government. Good ideas, but the devil is in the details.
Not subsidizing oil companies is probably a long over-due reform, but good luck getting it through, especially since Obama has been so unreasonable with the drilling moratorium
Everyone should have the opportunity to go to school, but does giving everyone a degree mean automatic economic success? Shouldn't we be looking instead to figuring out how to make four-year institutions more effective and less costly?
On illegal immigration, I had hoped to hear more than just how illegals who get an education ought to be allowed a path for citizenship. I suppose with the climate no more can be said, which is very sad in itself.
Why didn't we spend all this money on the infrastructure 2 years ago when we needed immediate jobs? Now we have debt and no infrastructure; we've missed our opportunity and with the deficit I'm suspicious of too many infrastructure building programs.
I don't think Obama has a clue how to rein in the deficit. He gave some good ideas, but not nearly enough to convince me he can get it done.
If someone could ban the cheap shots to random Americans stuck in the Chamber for those brief snap-shots, I would vote for them regardless of what they do.
Those are my thoughts at the moment. What do you think?
There's been some buzz lately about states kicking the idea of nullification around.  State legislators in Nebraska have been circulating a little tome by Thomas Woods on the subject, and there's been some news reports of states considering the idea with regards to health care.  Before conservatives go trumpeting this idea as some way of saving the republic, let's keep in mind something: it's a bad idea that happens to be unconstitutional.
Whenever the idea of nullification comes up we inevitably hear about Thomas Jefferson's Kentucky Resolution and James Madison's Virginia Resolution.  They were penned in response to the passage of the Alien and Sedition Acts of 1798.  The key passages from Jefferson's resolution is as follows: Continue reading →