Monthly Archives:
October 2010
With all the talk about the upcoming Congressional midterms, local races are getting overlooked.  This is unfortunate for a couple of reasons.  First of all, despite a century plus of actions and efforts to the contrary, federalism is still alive, and state governments still matter.  Second, these races have an impact upon national elections because states will be redrawing their districts in the wake of the 2010 census.
It would be a massive undertaking beyond my abilities and time to look at each state's legislative elections, though most projections I have heard have the Republicans gaining a massive amount of seats in state legislatures.  Republicans are projected to switch majority control in about five or six states at a minimum.  Here I will be taking a look at each of the gubernatorial elections.
On a side note, it may seem odd to label these elections as pickups and holds.  After all, it's not as though governors gather en masse and vote, so having a "majority" of governorships seems not to be that big of a deal.  But for the aforementioned reasons, it is important to win as many of these races as possible.  Currently there are 26 Democratic governors and 24 Republican.  Republicans will certainly have a majority after Tuesday.  As is the case with the House, the only question is how big of a majority.
And now, to the races we go:
Hattip to Rich Leonardi at his blog Ten Reasons, a blog I read every day.  Pope Benedict in his current visit to Brazil gives all the Faithful in the US food for thought as we go to the polls next Tuesday:
"First, the duty of direct action to ensure a just ordering of society falls to the lay faithful who, as free and responsible citizens, strive to contribute to the just configuration of social life, while respecting legitimate autonomy and natural moral law", the Holy Father explained. "Your duty as bishops, together with your clergy, is indirect because you must contribute to the purification of reason, and to the moral awakening of the forces necessary to build a just and fraternal society. Nonetheless, when required by the fundamental rights of the person or the salvation of souls, pastors have the binding duty to emit moral judgments, even on political themes".
"When forming these judgements, pastors must bear in mind the absolute value of those … precepts which make it morally unacceptable to chose a particular action which is intrinsically evil and incompatible with human dignity. This decision cannot be justified by the merit of some specific goal, intention, consequence or circumstance, Thus it would be completely false and illusory to defend, political, economic or social rights which do not comprehend a vigorous defence of the right to life from conception to natural end. When it comes to defending the weakest, who is more defenceless than an unborn child or a patient in a vegetative or comatose state?" Continue reading →
With five days until election day, I decided to take a close look at each of the Senate races, and to offer some prognostications about how I think each will end up.
First, the lock-solid holds for each party: Continue reading →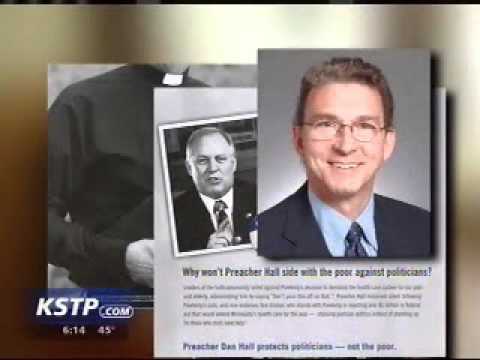 A week before the Presidential election in 1884, the Reverend Samuel D. Burchard, a Presbyterian minister, at a Republican gathering denounced the Democrats as the party of "Rum, Romanism and Rebellion".  James G. Blaine, the Republican candidate, denounced the anti-Catholic remarks three days later, but it was too late and Blaine lost the election.  The memorable phrase helped cement most Catholics as Democrats for a century.
Now the Minnesota Democrat Farmer Labor Party (Minnesota Democrats) are doing their best to help drive Catholics into the arms of the Republican Party with this piece of tripe:
Really? This would be funny if it was on The Colbert Report, but (un)fortunately it occurred in real life. Sometimes reality is better than fiction.
Radical Shriek
Lefty academics convene in Berkeley to try to make sense of the Tea Party movement.
"I wonder if we're likely to see a Timothy McVeigh situation," says Nicholas Robert, an attendee originally from Australia, who basically wonders if any Tea Partiers can be arrested. "It seems to be that we're being very polite. I wonder if there are any legal mechanisms—one that comes to mind are the provisions used to crush the Wobblies."
Last week Donald posted a funny and all-to-true video jab at the the naivete of potential law school applicants.  Well this video hits close to home for those of us in the Humanities:
Hey, there are plenty of great options for PhDs.  I hear that political science factory is going to be opening any day now.
H/t: Scott W.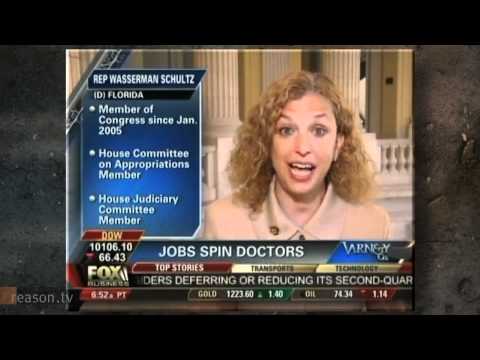 A roundup of recent political news less than a week before the election.
1.  Debbie Does Delusion-  Reason TV Porker of the Month is one of my favorite internet monthly videos.  Debbie Wasserman-Schultz , Congresswoman for Florida 20, is one of the more telegenic of the Democrat members of Congress, and one of the most eager to appear on television.  It is said that one of the most dangerous places to be in DC is between her and a tv camera.  Somehow though, I doubt if she will appreciate her Reason TV feature.  Her pro-life opponent Karen Harrington has been waging an aggressive uphill campaign.  It is an overwhelmingly blue district, but if it is a night for political miracles next Tuesday, I hope that Karen Harrington can free Debbie Wasserman-Schultz for a full time TV career.
2.  To Dream the Impossible Dream-Speaking of uphill fights, John Dennis, a libertarian Republican, has been going full bore against Nancy Pelosi, Speaker of the House, and fondly designated by me as The Lying Worthless Political Hack.  California 8 in San Francisco is the blue heart of liberalism in this country, and therefore it would take a political earthquake of biblical proportions for Dennis to win, but that hasn't stopped him from campaigning with endless energy and humor: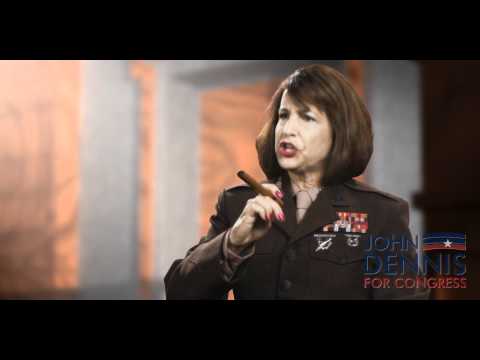 If a candidate deserves to win simply due to energy, style and sheer brio, it is John Dennis.  May Saint Jude be paying attention to this race.
3.  How Low Can He Go?- A Harris interactive poll had the President at 37% approval yesterday, a new low mark for him.  Coincidentally, on Monday our post-partisan President said that Republicans were welcome to work with him as long as they sit in the back of the bus.  "We don't mind the Republicans joining us. They can come for the ride, but they gotta sit in back."  It's a generous offer Mr. President, but after next Tuesday I think the Republicans will be sitting up front with you. Continue reading →
Henry Karlson's father has died, and he has requested prayers. Please take some time to pray for the soul of his father and for the comfort of the family.