Monthly Archives:
September 2010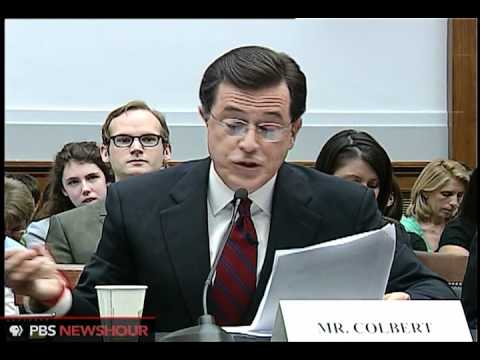 "Every time congress makes a law, it's a joke. Every time congress makes a joke, it's a law".
Will Rogers
A fitting ending to the 111th Congress was having Stephen Colbert testify regarding migrant workers.  The Christian Science Monitor had a story on this bizarre episode entitled Stephen Colbert Congressional Testimony:  Why Was He Invited?
He was invited by the subcommittee Chairwoman Zoe Lofgren, a liberal Democrat from California representing a very liberal congressional district.  She thought that inviting Colbert to testify would get some publicity for her subcommittee.  Well it certainly did that!  Colbert's testimony was so off-color that Steny Hoyer Democrat Majority Leader in the House on Sunday said:  "His testimony was not appropriate. I think it was an embarrassment for Mr. Colbert more than the House." Continue reading →
In a recent column Washington Post columnist, E J Dionne noted that the Tea Party movement is a great scam. Quite an indictment coming from the self described progressive Catholic who still thinks government can never be big enough and the Church should tell the faithful more about the teachings of the agnostic Saul Alinsky than that of 2,000 year old teachings of the Catholic Church. Dionne has made it his business to comment on all matter of politics and religion for quite some time. His partner in left wing chicanery is New York Times columnist Maureen Dowd who never hesitates to go for the jugular.  Though she says he she comes from humble Washington DC roots, you would never know it by how she mocks those who really came from humble surrounding and never forgot it. She probably grew up with many Sarah Palin's and Christine O'Donnell's around her. Yet, I doubt she mocked many to their face as she gleefully does now to the backs of Palin and O'Donnell.
Dionne and Dowd seem to have it backwards, they don't think citizens should voice their views about the fallacies of liberal Big Government, but they do believe everyone knows better than the divine about religion. This is quite common for liberals who often seem to think they are divine. Dionne and Dowd are part of a movement who thinks they should control government and religion, and those who disagree with them are often labeled as unintelligent; the worst sin as far as liberals are concerned. However, who is the unintelligent one? Big Government has never worked. It has only brought huge debt which has to be repaid by future generations. Individuals who go into debt face a series of tough measures. Yet Dionne and Dowd seem oblivious to this and advocate the same disastrous path for the government, the end result being tough measures for everyone.  In other words Big Government is a disaster that doesn't work.
However, Big Government isn't the only disaster Dionne and Dowd advocate. They want the Catholic Church to turn her back on its 2,000 year old teachings and embrace the Dictatorship of Relativism, so named by Pope Benedict XVI. Dionne and Dowd are happy to embrace dissident Catholics who espouse this sort of thinking. It seems Dionne and Dowd are more comfortable with the views of Marx, Alinsky and Freud than they are with Christ, St Paul, St Thomas Aquinas, St Joan of Arc and Pope Benedict XVI. Continue reading →
This weekend was the first opportunity for me to rejoin my brethren in purple & gold, and enjoy the tailgating, so college football has officially begun. Notes from the week:
8:15 games are lame, made more so with long TV timeouts. I didn't get home till 1:45 (granted, I waited out the traffic at a nearby apartment but still).
The Big East in in trouble. No one in the Top 25, with all three marquee teams losing this weekend (WVU, Pitt, & Cincy).
The ACC is a mystery to me. With GT losing and UNC's troubles, hard to pick a favorite. Miami looks good, and NC State is undefeated, but the Hokies don't have a conference loss yet and made a good statement against BC.
As of right now, the SEC West has the teams ranked #1, #10, #12, and #15 in the AP poll. Your chaos of the season will ride on what happens there (as well as what happens when Florida plays some of those teams-starting this week when Bama is rewarded for its efforts v. the Hogs by meeting the stronger-looking Gators at home). You may begin an "S-E-C!" chant now.
Do you think Brian Kelly & Notre Shame expected to be 1-3 right now?
What happened to Georgia? They got creamed by Moo U. and sit firmly behind Vandy in the SEC East. Very sad.
The Heisman race continues to intrigue. Ingram, despite missing a few games, looks solid. Robinson was out for much of the game but looks ok. Pryor handled business, and Peterson added another special teams TD. I will say that I acted very dignified when peterson scored his TD and did the Heisman pose. And by dignified, I mean jump up and down so much that I almost knocked my sister down. However, I did resist putting that picture as the lead this week (saving it for a future week, perhaps?)
Right now, I think conference ranks are 1. SEC, 2. PAC-10, 3. Big-10, 4. Big 12, 5. MWC, 6. ACC, 7. Boise St. 8. Big East.
This week, Idaho receives no votes in the TAC poll. In a unrelated story, the TAC poll gains nation-wide credibility (love ya, tito!)
Ok, rankings after the jump.
In my previous posts on this topic (Part One and Part Two) and the comments contained therein, one of the things which I feel is missing in this discussion is a dialog about the humanity of Muslims. Are Muslims human? Do Muslims have a religious sense? Do Muslims desire for truth, beauty and goodness? In stead of writing about this, I am going to show you. Watch this entire 60 Minutes program and judge it. It is simply amazing. Let us dialog about it in the comments.
It would appear that those in the mainstream media who want to do hit pieces on Pope Benedict XVI need to take a number. The latest to engage in Yellow Journalism is CNN. The "network of record" dispatched Gary Tuchman to do the dirty work. One might recall that it was none other than Tuchman who remarked how distressing it was travelling in the heartland during the 2008 Election campaign. He complained that some who recognized him told him that their Middle American views and ideas were repeatedly mocked by the mainstream media, all the while those of the liberal establishment were hailed. Tuchman's words were quite revealing when it comes to this story.
CNN has been advertising their hit piece on Pope Benedict XVI as if he was already guilty of some sort of cover up, even though during the Abuse Scandal it was none other than the New York Times who praised then Cardinal Ratzinger for tackling the tough problems. What tough problems did he tackle? The most notable example being Father founder of the Legionaries of Christ. Father Marcial Maciel was one of the few prominent conservatives caught up in the Abuse Scandal, most of the abusers were Church liberals who wanted to change the Church. Cardinal Ratzinger took on Father Maciel at the height of his power and popularity. One might recall that Father Maciel was quite close to Pope John Paul II. So from this example we can see that Cardinal Ratzinger (now Pope Benedict XVI) showed no favorites and pulled no punches. The Legionaries of Christ were shaken to the core and as pontiff, Pope Benedict XVI removed their leadership and installed his own, hardly the work of someone who was timid.
The CNN piece was perhaps even more despicable than the New York Times hit piece, because in the interim much of the modus operandi of the Old Gray Lady was exposed. Still CNN used the same material and claimed that they had something new. There is nothing new here. The crux of their argument comes from material provided by Jeffrey Anderson the attorney who has made millions off the scandal. Anderson says he is one a mision to "reform the Church." What kind of reform would that be? Some Catholic dioceses have been forced into bankruptcy, which means the poor whom they dioceses assisted through their social programs are left in the cold. For all his concern of "reform"  Anderson hasn't provided a penny to these particular poor.
I haven't done a post recently to refresh my credentials as the geekiest member of the TAC blog.  Among my hobbies, besides writing blog posts and annoying people for fun and profit, is the playing of rather elaborate strategy games.  I began playing these games circa 1971 when I wheedled a copy of Luftwaffe from my parents for Christmas that year.  The next year for Christmas I received a copy of Panzerblitz, and I have been playing and collecting strategy games since that time.
My wife and I acquired our first computer in 1987, a commodore 64.  Since that time almost all of my playing of strategy games has been on the computer.  Christmas Eve 1991 was a memorable one in the McClarey household.  It was the first Christmas Eve we spent with our newborn twin sons, and our copy of the computer strategy game Civilization arrived in the mail. Continue reading →
Something for the weekend.  The Minstrel Boy.  The patriotic Irish song was written by Thomas Moore in honor of his friends killed in the Irish rising of 1798.  The video above is from the incredibly good movie Rough Riders, with some of the Rough Riders singing the song before charging up Kettle Hill on July 1, 1898.
The song is sung just after the death of Captain Bucky O'Neill who, the son of Irish immigrants, had made The Minstrel Boy the song of his company.
Theodore Roosevelt describes the death of O'Neill:
"The most serious loss that I and the regiment could have suffered befell just before we charged. O'Neill was strolling up and down in front of his men, smoking his cigarette, for he was inveterately addicted to the habit. He had a theory that an officer ought never to take cover – a theory which was, of course, wrong, though in a volunteer organization the officers should certainly expose themselves very fully, simply for the effect on the men; our regimental toast on the transport running, 'The officers; may the war last until each is killed, wounded, or promoted.' As O'Neill moved to and fro, his men begged him to lie down, and one of the sergeants said, 'Captain, a bullet is sure to hit you.' O'Neill took his cigarette out of his mouth, and blowing out a cloud of smoke laughed and said, 'Sergeant, the Spanish bullet isn't made that will kill me.' A little later he discussed for a moment with one of the regular officers the direction from which the Spanish fire was coming. As he turned on his heel a bullet struck him in the mouth and came out at the back of his head; so that even before he fell his wild and gallant soul had gone out into the darkness."
Bucky O'Neill is portrayed in the film by Sam Elliot who gives his usual fine perormance. Continue reading →
I shouldn't have, but I did.
Today I read Fr. Richard McBrien's article on Cardinal Marc Ouellet, the new head of the Vatican's Congregation for Bishops. As the prefect for this congregation Cardinal Ouellet will play a crucial role in the appointment of the Church's bishops in the years to come.
In his article McBrien makes the following observation:
When commenting on the greatest crisis to confront the Catholic Church since the Reformation of the 16th century, Ouellet seemed to blame the scandal of sexual abuse in the priesthood on the weakening of moral standards in society — a common explanation given by those who are reluctant to address the internal problems of the church, including obligatory clerical celibacy, the role of women, and the declining quality of pastoral leadership.
While there might be some who see the clergy sex scandal as the greatest crisis for the Church since the Reformation, I am certainly not one of them. But what I found completely absurd — again, I should've avoided the article to begin with, because it was to be expected — was McBrien's reference to the role of women in this context. How, exactly, would priestesses have prevented the abuse of children by clergy?
Father McBrien: your vision of the Church and of the Second Vatican Council is both erroneous and dying. Only a tiny fraction of young Catholics in general and those seeking degrees in theology in particular accept that erroneous reading.
Might I propose that you get with the times?