Monthly Archives:
June 2010
President Obama has replaced General McChrystal with General Petraeus.
I haven't really thought too much about General McChrystal's comments regarding President Obama, but I am of the mind that American generals should have complete respect for the authority and the office of the presidency while in uniform.  We are the United States of America, not a second rate banana republic.
General McChrystal should have been smarter than to express his negative opinions of President Obama, though harmless, it is a small step towards chipping away of the established civilian controlled military.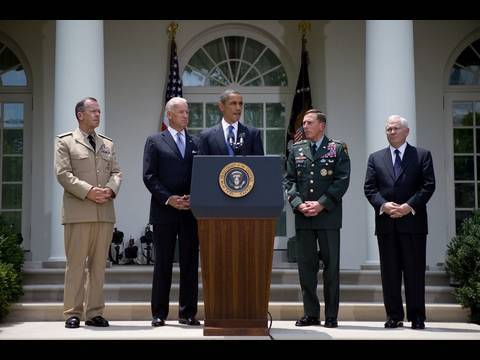 I am almost feeling sorry for my fellow Hawaiian Barry Obama.  His healthcare push has grinded to halt his legislative agenda and the oil spill is ruining his presidency.  He's certain to lose one or both houses of congress this November and then General McChrystal's expresses his private sentiments of an inexperienced presidency which most Americans are coming around to view him as.
The following is from Alex Birko of the A.V. Club reporting on C.S. Lewis's book, The Great Divorce, being produced into a movie:
Last week marked the arrival of the trailer for the third "Chronicles Of Narnia" movie, The Voyage Of The Dawn Treader, and as everybody knows, C.S. Lewis news always comes in twos. It appears that Lewis' religious allegory The Great Divorce is the latest of his work be slated for the big screen, according to Variety's announcement that production studios Beloved Pictures and Mpower Pictures are joining forces to co-produce. Children's author N.D. Wilson, known for the 100 Cupboards fantasy trilogy and his parodies of the Left Behind series, is attached to adapt the screenplay. With luck, the arrival of Mpower (The Stoning Of Soroya M.) will jump-start the project, and let it avoid the seemingly never-ending gestation plaguing the film adaptation of Lewis' The Screwtape Letters, which was announced back in 2006, scheduled for a 2008 release, and delayed until 2010. It's seen little discernable progress since.
It seems to me that the shows on TV have gotten worse, much worse than they have ever been. Shows like "Cougar Town," "Super Nanny," "One Tree Hill" or "The Bachelorette" – basically any show on any of the major networks. These shows are either a shameless "sitcom" with bad and awkward sexual humor, a boring reality show that smug Americans watch so they can make themselves feel like they're better than the narcissistic dweebs who end up on those shows, or an overwrought "drama" that lacks any sense of humanity instead substituting gratuitous sexual content.
I suppose what's most striking is the total absence of anything sacred. If you watch TV, it's clear there's nothing special about human affairs and human relationships. Television teaches us that we're all really only out for ourselves. Other people are a means to increase our "happiness" and to the extent they do that they are valuable. Traditional human virtues like love, gratitude, forbearance, patience, loyalty, faithfulness, and peace are mocked on television. No one on television takes any of these things seriously. In fact nothing on television takes anything seriously (maybe a few rare exceptions e.g. LOST). After all, persons who take things seriously are really just fooling themselves that who they are matters or what they do matters. It's not who you are, it's what you have, or who you have. Television teaches an ethic of exploitation for personal gain and I think it's terrible.
But maybe it's always been this way and I haven't paid close enough attention.
Hattip to my friend Jay Anderson at Pro Ecclesia who has a superb tribute to Saint Thomas More here.
Yesterday, June 22, was the feast day of Saint Thomas More.  Never has saintly sanctity and legal acumen been combined so well in any man as in Saint Thomas More.  The foremost English lawyer and judge of his day, he was one of the most learned men of his time, at the forefront of the Christian humanist revival of letters.  He rose to the highest office of England, save that of the King.  He could have lived a life of ease and comfort, enjoying a peaceful old age, basking in the honors and plaudits his hard literary and legal work had earned him.  Instead he died the death of a martyr, going to the chopping block in defense of his Catholic faith.  Here is a contemporary account, August 4, 1535, written in the Paris Newsletter, of the last days of Saint Thomas More.
On the 1st July 1535, Master Thomas More, Chancellor of England, was brought before the judges and the accusations against him read in his presence. The Chancellor and the Duke of Norfolk turned to him and said, "You, Master More, have gravely erred against the King; nevertheless we hope by his clemency that if you repent and correct your obstinate opinion in which you have so rashly persevered, you will receive pardon." He replied, "My Lords, I thank you very heartily for your good will. I pray God preserve me in my just opinion even to death. As to the accusation against me, I fear words, memory, and judgment would alike fail me to reply to such a length of articles, especially considering my present imprisonment and great infirmity." A chair was then ordered to be placed for him, and he proceeded as follows: Continue reading →
The patron saint of paradox, G. K. Chesterton, had a great gift for taking the familiar, twisting it to a new angle in his mind and producing insights that were often brilliant and always well written.  On 1921 he made a lecture tour of the US.  In 1922 he wrote a book, What I Saw In America, which is filled with interesting observations on the US by one of our more acute observers.  Here are his reflections on Lincoln.  I certainly do not endorse everything he writes, but I find all of it fascinating.
Lincoln and Lost Causes
It has already been remarked here that the English know a great deal about past American literature, but nothing about past American history. They do not know either, of course, as well as they know the present American advertising, which is the least important of the three. But it is worth noting once more how little they know of the history, and how illogically that little is chosen. They have heard, no doubt, of the fame and the greatness of Henry Clay. He is a cigar. But it would be unwise to cross-examine any Englishman, who may be consuming that luxury at the moment, about the Missouri Compromise or the controversies with Andrew Jackson. And just as the statesman of Kentucky is a cigar, so the state of Virginia is a cigarette. But there is perhaps one exception, or half-exception, to this simple plan. It would perhaps be an exaggeration to say that Plymouth Rock is a chicken. Any English person keeping chickens, and chiefly interested in Plymouth Rocks considered as chickens, would nevertheless have a hazy sensation of having seen the word somewhere before. He would feel subconsciously that the Plymouth Rock had not always been a chicken. Indeed, the name connotes something not only solid but antiquated; and is not therefore a very tactful name for a chicken. There would rise up before him something memorable in the haze that he calls his history; and he would see the history books of his boyhood and old engravings of men in steeple-crowned hats struggling with sea-waves or Red Indians. The whole thing would suddenly become clear to him if (by a simple reform) the chickens were called Pilgrim Fathers.
It will come as no surprise to readers of this blog that I hold President Obama in very low regard.  I believe he is a man completely out of his depth, has shown little leadership,  has sponsored fiscal and economic policies that are disastrous for the country, and is an enthusiastic supporter of  abortion.   It may come as a surprise to some of our readers that I believe one of Obama's critics should be fired from his job.
General Stanley McChrystal is the head of US and Nato forces in Afghanistan.  He unwisely agreed to be interviewed for a story about him in Rolling Stones.  The article may be read here.  In the article the General is fairly uncomplimentary about Obama and most of the Obama officials he has encountered:
When Barack Obama entered the Oval Office, he immediately set out to deliver on his most important campaign promise on foreign policy: to refocus the war in Afghanistan on what led us to invade in the first place. "I want the American people to understand," he announced in March 2009. "We have a clear and focused goal: to disrupt, dismantle and defeat Al Qaeda in Pakistan and Afghanistan." He ordered another 21,000 troops to Kabul, the largest increase since the war began in 2001. Taking the advice of both the Pentagon and the Joint Chiefs of Staff, he also fired Gen. David McKiernan – then the U.S. and NATO commander in Afghanistan – and replaced him with a man he didn't know and had met only briefly: Gen. Stanley McChrystal. It was the first time a top general had been relieved from duty during wartime in more than 50 years, since Harry Truman fired Gen. Douglas MacArthur at the height of the Korean War.
Even though he had voted for Obama, McChrystal and his new commander in chief failed from the outset to connect. The general first encountered Obama a week after he took office, when the president met with a dozen senior military officials in a room at the Pentagon known as the Tank. According to sources familiar with the meeting, McChrystal thought Obama looked "uncomfortable and intimidated" by the roomful of military brass. Their first one-on-one meeting took place in the Oval Office four months later, after McChrystal got the Afghanistan job, and it didn't go much better. "It was a 10-minute photo op," says an adviser to McChrystal. "Obama clearly didn't know anything about him, who he was. Here's the guy who's going to run his f—–g war, but he didn't seem very engaged. The Boss was pretty disappointed." Continue reading →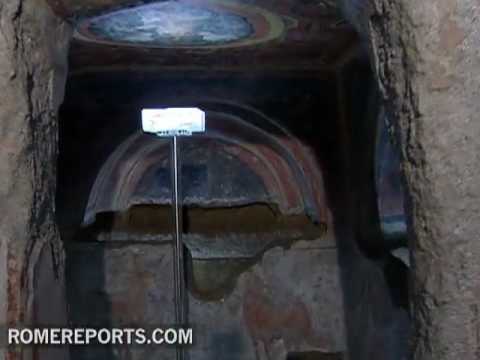 Nicole Winfield of the Associated Press wrote this neat article on these rediscovered icons inside Rome's catacombs:
Twenty-first century laser technology has opened a window into the early days of the Catholic Church, guiding researchers through the dank, musty catacombs beneath Rome to a startling find: the first known icons of the apostles Peter and Paul.
[Continued from Part 1]
Restraint, Relationships and Planning Parenthood
When I say that we "naturally want to avoid having children" at certain times, I would imagine that the image that comes immediately to mind is of birth control, abortion or infanticide, and most traditional societies have seen these in some form or other. However, I'd like to turn our attention to something so basic and so prevalent that we don't think about it much.
From an anthropological point of view, the entire structure of our romantic and family relationships serves as a way to control childbearing, limiting it to situations in which offspring can be supported. Consider: Requiring that young women remain virgins until marriage ensured that children will not be born without a provider. Nor was the decision to marry, when it came, a strictly individual affair. Marriage was negotiated and approved by the wider families, because the families were in effect committing to help support the new family unit being created. Many cultures also required the husband's family to pay a "bride price", not simply as compensation for the lost contribution of the daughter to her own family, but as proof that the husband was of sufficient means to start a family.
Once in place, this set of cultural mores and laws provided an easy way to adjust to want or plenty: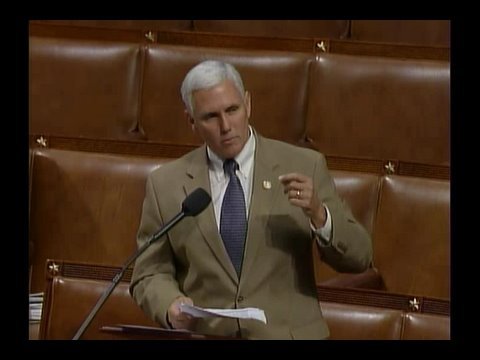 A US Government Accountability Office (GAO) report has brought out an interesting mystery in regard to the federal funds given to Worse Than Murder, Inc, aka Planned Parenthood:
A new report from the U.S. Government Accountability Office (GAO) on federal tax money funneled into Planned Parenthood and similar organizations raises more questions than it answers about the nation's largest abortion chain.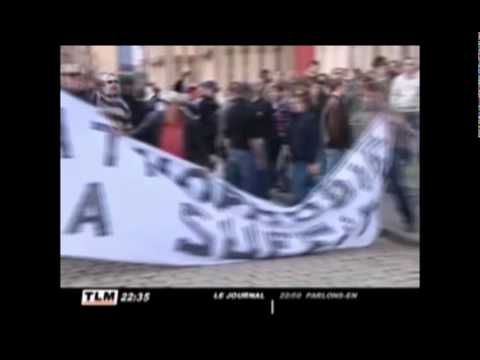 From Father Zuhlsdorf:
Prepare to be disgusted and then edified.
This from LifeSite with my emphases and comments:
Catholics Defend French Cathedral de Lyon During Homosexual "Kiss-In"

By Matthew Cullinan Hoffman

LYONS, June 17, 2010 (LifeSiteNews.com) – Approximately 200 young Catholics came to the defense of the Cathedral of Lyons, France, during a "kiss-in" protest held by homosexuals in front of the building last month.

The homosexuals reportedly came on the eve of the "World Day Against Homophobia" in May to kiss each other in front of the cathedral, [vile] presumably in protest against the Catholic Church's 2,000-year-old condemnation of homosexual sex acts.  [I believe the condemnation is in the Old Testament as well.  It is also written into our being as images of God.]
I've become a very big fan of Pixar's works, especially their recent works of Wall-E and Up. I don't know what Pixar's philosophical leanings are, but I think there's a lot in their movies for Catholics of all ages to chew on. Indeed, Pixar provides some of the few films that are excellent visually and in plot, a rarity in Hollywood these days.
If you haven't seen Toy Story 3, I recommend you (and your family) go do so. While I don't think viewing the previous ones is an absolute necessity, much of the emotional punch of the film is added by the backstory and so I would do so.
If you have, come on below for all the spoilers and discussion of the movie.
As my wife and I are expecting in November, we've started to consider where we're going to baptize the baby. Most churches that we've seen want you to be a parishioner before they baptize you. This has brought up the question of what parish we really belong to. We've found that that's not an easy question.
Over the weekend, Tito had a post that inquired about the existence of good parishes in Las Vegas for his family. Some of the things he looks for are an orthodox priest faithful to the Magisterium, a beautiful Church, and a liturgy that aspires to beauty and lacks some of the folksy elements of post-Vatican II as well as the more scandalous aspects of the "spirit of Vatican II" like liturgical dancers.
None of those desires are unreasonable. In fact, those things are the rights of the faithful.