Monthly Archives:
April 2010
I am a pretty big fan of the Catholic Worker movement and Dorothy Day. I see strengths in both liberal and conservative tendencies, and find both indications in my reading of the official documents and speeches/letters of our Catholic Hierarchy on political matters.
The following article is one that was published in the Houston Catholic Worker Newspaper back in 2008.  The author, Dawn McCarty is a frequent writer and volunteer at the Worker House in Houston. She seems to combine the head and heart in her approach to the issue of illegal Mexican immigration into the U.S. I offer her analysis for your commentary:
State funded health care necessarily incentivizes the state to increase the number of abortions, the practice of euthanasia, and the availability of contraceptives.  The state is also perhaps paradoxically incentivized to regulate with great precision the habits of its citizens with specific regard to food, alcohol, tobacco, and exercise. This brief commentary will explain why this is the case and some of the first order ramifications for our culture.
From the only reliable source of news on the net, The Onion.  Now I wouldn't actually wish that Gwyneth Paltrow be punched in the face, but I wouldn't mind her being strapped to a chair in the film and forced to listen to such gems she has inflicted on the public as:    Continue reading →
My latest article for Inside Catholic is a condensed version of a number of posts I wrote here at TAC  regarding Catholicism and American history.
I mention my membership in TAC as part of the reason why I came to change my views on America's past; Don, Paul Z. and others have made a number of enlightening historical posts/comments over the months that prompted me to investigate further.
Here's hoping that my plug gets us a few more readers, and that IC and TAC continue to keep one another in mind.
For those who spend quantities of time philosophizing about lifestyles, suburbia is almost universally reviled. Large tracts of similarly designed homes, each set on its patch of lawn, seem for many people to epitomize the problems of isolation, conformity, mass production, consumerism, or whatever the bugbear of choice may be. And yet, suburban life remains persistently popular.
Having spent the last month building a large raised vegetable bed and putting in this year's expanded garden, such that I can now look out on the garden with my morning coffee in hand and not with satisfaction the growth of the tomato plants and the strangely obscene orange flowers of the zucchini and butter-stick squash, or go out in the warm evening when I return from work to gauge the progress of the pair of grape vines and the climbing rose bush, the explanation for this does not seem strange to me. There is, it seems to me, a desire that a great many of us have, despite our city-based jobs and cultural tastes, for a home and small plot of land we can call our own.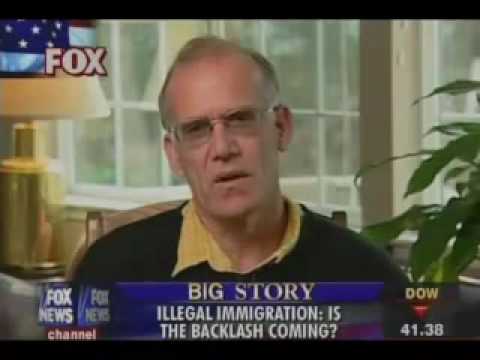 Immigration seems to be a hot topic these days at American Catholic.  The author who best represents my views is Victor Davis Hanson, one of my favorite living historians,  in his book Mexifornia:  A State of Becoming.  In that book Hanson turned his gaze to a subject he is personally familiar with: the transformation of his native California by massive illegal immigration from Mexico. Hanson is not anti-Mexican. He has several Mexican relatives, his daughters are dating Mexican-Americans and most of the people he grew up with are Mexican-American or Mexican. What Hanson is opposed to is our feckless non-policy on immigration which allows steady waves of illegals to flood our border states and does not give us time to allow us to assimilate the Mexican immigrants here. Hanson believes strongly that the vast majority of immigrants, given time and opportunity, will assimilate and become good citizens.   That is my view also.   However it is impossible for this to be accomplished unless we gain control of our southern border and curb most illegal immigration.   A good book on a major issue that both the Republican and Democrat parties have steadfastly ignored, until the passage of the Arizona law. 
 Mexifornia came out in 2003.  Hanson wrote an article in 2007 for City Journal reviewing what had happened in the intervening years, which may be read here.  I find his class analysis of the immigration question interesting:
Since Mexifornia appeared, the debate also no longer splits along liberal/conservative, Republican/Democrat, or even white/brown fault lines. Instead, class considerations more often divide Americans on the issue. The majority of middle-class and poor whites, Asians, African-Americans, and Hispanics wish to close the borders. They see few advantages to cheap service labor, since they are not so likely to need it to mow their lawns, watch their kids, or clean their houses. Because the less well-off eat out less often, use hotels infrequently, and don't periodically remodel their homes, the advantages to the economy of inexpensive, off-the-books illegal-alien labor again are not so apparent.
But the downside surely is apparent. Truck drivers, carpenters, janitors, and gardeners— unlike lawyers, doctors, actors, writers, and professors—correctly feel that their jobs are threatened, or at least their wages lowered, by cheaper rival workers from Oaxaca or Jalisco. And Americans who live in communities where thousands of illegal aliens have arrived en masse more likely lack the money to move when Spanish-speaking students flood the schools and gangs proliferate. Poorer Americans of all ethnic backgrounds take for granted that poverty provides no exemption from mastering English, so they wonder why the same is not true for incoming Mexican nationals. Less than a mile from my home is a former farmhouse whose new owner moved in several stationary Winnebagos, propane tanks, and outdoor cooking facilities—and apparently four or five entire families rent such facilities right outside his back door. Dozens live where a single family used to—a common sight in rural California that reifies illegal immigration in a way that books and essays do not.
The problem with all this is that our now-spurned laws were originally intended to ensure an (admittedly thin) veneer of civilization over innate chaos—roads full of drivers who have passed a minimum test to ensure that they are not a threat to others; single-family residence zoning to ensure that there are adequate sewer, garbage, and water services for all; periodic county inspections to ensure that untethered dogs are licensed and free of disease and that housing is wired and plumbed properly to prevent mayhem; and a consensus on school taxes to ensure that there are enough teachers and classrooms for such sudden spikes in student populations.
All these now-neglected or forgotten rules proved costly to the taxpayer. In my own experience, the slow progress made in rural California since the 1950s of my youth—in which the county inspected our farm's rural dwellings, eliminated the once-ubiquitous rural outhouse, shut down substandard housing, and fined violators in hopes of providing a uniform humane standard of residence for all rural residents—has been abandoned in just a few years of laissez-faire policy toward illegal aliens. My own neighborhood is reverting to conditions common about 1950, but with the insult of far higher tax rates added to the injury of nonexistent enforcement of once-comprehensive statutes. The government's attitude at all levels is to punish the dutiful citizen's misdemeanors while ignoring the alien's felony, on the logic that the former will at least comply while the latter either cannot or will not.
Fairness about who is allowed into the United States is another issue that reflects class divides—especially when almost 70 percent of all immigrants, legal and illegal, arrive from Mexico alone. Asians, for example, are puzzled as to why their relatives wait years for official approval to enter the United States, while Mexican nationals come across the border illegally, counting on serial amnesties to obtain citizenship.
These class divisions cut both ways, and they help explain the anomaly of the Wall Street Journal op-ed page mandarins echoing the arguments of the elite Chicano studies professors. Both tend to ridicule the far less affluent Minutemen and English-only activists, in part because they do not experience firsthand the problems associated with illegal immigration but instead find millions of aliens grist for their own contrasting agendas. Indeed, every time an alien crosses the border legally, fluent in English and with a high school diploma, the La Raza industry and the corporate farm or construction company alike most likely lose a constituent. Continue reading →
I usually don't go in for thought experiments, but for once I'll make an exception. Let's pretend for a moment that I need $50,000 to maintain a struggling business, and you, being the wealthy and charitable individual you are, provide me with $50,000 in the following manner:
1) $30,000 in ownership (a share in future profits, if any)
2) $13,000 for emergency cash (to be repaid at no interest)
3) $7,000 in debt (at an interest rate 7% lower than I could get elsewhere for accepting a similar risk)
Not too many angel investors, venture capital funds, or private equity funds would sign up for such an arrangement, and that, dear reader, is why I am relying on your generosity. After one year, the business still has not made a profit. However, I have managed to "pay back" the initial $7,000 in debt in the following manner:
1) I borrowed an additional $10,000 from you for environmentally friendly investments.
2) I used some of the $13,000 in emergency spending cash to pay back the $7,000.
In other words, at the beginning of the year, you provided me with $50,000. I now owe you $53,000 (plus the emergency spending cash I used and the interest you've lost), with no real prospects for paying the money back. However, I am confidently assuring my customers and you(!), of all people, that I have "repaid my loan in full," by which I mean the $7,000 in debt, not, of course, the $53,000 you provided that has not yet been returned. Change the thousands in the thought experiment to billions and the debtor to Continue reading →
Nationalism, a hydra of a term which in this case I am using in the sense whereby it refers to the idea that "a people" of unified ethnic, cultural and/or religious heritage have a "right" to their own nation state which expresses their identity as a people, is a force which has been at the root of a great deal of suffering since it burst upon the world scene — arguably via the French Revolution followed by Napoleon's empire. As such, it has a fairly well deserved negative reputation these days. And yet, like many intellectual vices, it is often denounced even by those who hold it dear.
Case in point: Can one seriously claim to be against nationalism if one believes that the Palestinians have a natural and human right to their own nation state in which they are the dominant ethnic and cultural force?
For a couple decades, the "Palestinian" territories were parts of Jordan and Egypt respectively. For the last 50 years, they have been controlled by Israel. If one is truly against nationalism, is either of these situations a problem? Or the the problem only when whatever governing authority controls the West Bank and Gaza Strip fails to provide equal political rights and privileges to the residents of those areas who are Muslim or Christian Arab in background?
When I first heard of the controversy swirling around Arizona's "draconian" new immigration law, I'll admit I was skeptical. It's not that I thought I would approve of the Arizona law (I tend to be of the view that immigration is a net benefit to America). But hyperbole is an all too common feature of political discourse, and I had to wonder whether the bill was really as harsh and wrongheaded as its critics were making out.
After reading the text of the bill, however, I have to say that, yes, it really is that bad. The bill would criminalize charitable activities directed at illegal immigrants, would making it a crime for an illegal immigrant to try to get a legitimate job, and, in an Orwellian twist, would make illegal immigrants guilty of trespassing for being on private property even with the owner's permission.
The law also requires state officials to enforce federal immigration laws, effectively turning every Arizona cop into a part time border patrol agent. Arizona's politicians may like the idea of having cops enforce the immigration code because it makes them look tough, but actual police tend to hate the idea, as it makes their job more difficult and forces them to take resources away from actual police work. (During the debate on the Bush immigration bill back in 2006, for example, the Major Cities Chiefs Associations came out against a requirement for state police to enforce immigration laws, arguing that doing so "undermines trust and cooperation with immigrant communities, which are essential elements of community oriented policing," and would require scarce resources to be devoted to immigration enforcement rather than other, higher priorities). Continue reading →