Monthly Archives:
April 2010
This study suggests an interesting reason why that may be the case:
The investigators used functional neuroimaging (fMRI) to study a sample of committed Democrats and Republicans during the three months prior to the U.S. Presidential election of 2004. The Democrats and Republicans were given a reasoning task in which they had to evaluate threatening information about their own candidate. During the task, the subjects underwent fMRI to see what parts of their brain were active. What the researchers found was striking.

"We did not see any increased activation of the parts of the brain normally engaged during reasoning," says Drew Westen, director of clinical psychology at Emory who led the study. "What we saw instead was a network of emotion circuits lighting up, including circuits hypothesized to be involved in regulating emotion, and circuits known to be involved in resolving conflicts." Westen and his colleagues will present their findings at the Annual Conference of the Society for Personality and Social Psychology Jan. 28.

Once partisans had come to completely biased conclusions — essentially finding ways to ignore information that could not be rationally discounted — not only did circuits that mediate negative emotions like sadness and disgust turn off, but subjects got a blast of activation in circuits involved in reward — similar to what addicts receive when they get their fix, Westen explains.
Earlier this week I referred in this thread to General Sheridan's quip about Hell and Texas.  Here is the background story on Sheridan's comparison of the Hot Place and the Hot State.
Phil Sheridan could be a nasty piece of work on duty.  A bantam Irish Catholic born in Albany, New York on March 6, 1831, to Irish immigrants, Sheridan carved a career in the Army by sheer hard work and a ferocious will to win.  He had a hard streak of ruthlessness that Confederates, Indians and the many officers he sacked for incompetence could attest to.    His quote, "If a crow wants to fly down the Shenandoah, he must carry his provisions with him." after he ordered the burning of crops in the Shenandoah Valley in 1864 to deny them to Confederate troops indicated just how hard a man he could be when waging war.
Off duty he was completely different.  He had the traditional Irish gift of gab and in social settings was charming and friendly.
After the Civil War he commanded an army of 50,000 troops in Texas to send a none-too-subtle hint to the French who had used the opportunity of the Civil War to conquer Mexico that it was time for them to leave.  The French did, with the Austrian Archduke Maximillian they had installed as Emperor of Mexico dying bravely before a Mexican firing squad.  During his stay in Texas Sheridan made his famous quip about Texas.  It was swiftly reported in the newspapers:
"14 April 1866, Wisconsin State Register, pg. 2, col. 3:
GEN. SHERIDAN, after his recent Mexican tour, states his opinion succinctly and forcibly, as follows: "If I owned h-ll and Texas, I would rent Texas and live at the other place!"
"19 April 1866, The Independent, pg. 4:
But these states are not yet reduced to civil behavior. As an illustration, Gen. Sheridan sends word up from New Orleans, saying, "If I owned Texas and Hell, I would rent Texas and live in Hell." This is the opinion of a department commander."
"15 May 1866, Idaho Tri-Weekly Statesman (Boise, ID), pg. 7?, col. 3:
GEN. SHERIDAN does not have a very exalted opinion of Texas as a place of resident. Said he lately, "If I owned hell and Texas, I would rent Texas and live at the other place." In former times, before Texas was "re-annexed," Texas and the other place were made to stand as opposites. Thus, when Col. Crockett was beaten in his Congressional district, he said to those who defeated him, "You may go to hell, and I'll go to Tex!" which he did, and found a grave."
I give an incredulous salute to the liberal Commonweal for publishing a magnificent column by Kenneth Woodward where he discusses the New York Times Magisterium:
No question, the Times's worldview is secularist and secularizing, and as such it rivals the Catholic worldview. But that is not unusual with newspapers. What makes the Times unique—and what any Catholic bishop ought to understand—is that it is not just the nation's self-appointed newspaper of record. It is, to paraphrase Chesterton, an institution with the soul of a church. And the church it most resembles in size, organization, internal culture, and international reach is the Roman Catholic Church.
Like the Church of Rome, the Times is a global organization. Even in these reduced economic times, the newspaper's international network of news bureaus rivals the Vatican's diplomatic corps. The difference is that Times bureau chiefs are better paid and, in most capitals, more influential. A report from a papal nuncio ends up in a Vatican dossier, but a report from a Times correspondent is published around the world, often with immediate repercussions. With the advent of the Internet, stories from the Times can become other outlets' news in an ever-ramifying process of global cycling and recycling. That, of course, is exactly what happened with the Times piece on Fr. Murphy, the deceased Wisconsin child molester. The pope speaks twice a year urbi et orbi (to the city and to the world), but the Times does that every day.
Again like the Church of Rome, the Times exercises a powerful magisterium or teaching authority through its editorial board. There is no issue, local or global, on which these (usually anonymous) writers do not pronounce with a papal-like editorial "we." Like the Vatican's Congregation for the Doctrine of the Faith, the editorial board is there to defend received truth as well as advance the paper's political, social, and cultural agendas. One can no more imagine a Times editorial opposing any form of abortion—to take just one of that magisterium's articles of faith—than imagine a papal encyclical in favor.
The Times, of course, does not claim to speak infallibly in its judgments on current events. (Neither does the pope.) But to the truly orthodox believers in the Times, its editorials carry the burden of liberal holy writ. As the paper's first and most acute public editor, Daniel Okrent, once put it, the editorial page is "so thoroughly saturated in liberal theology that when it occasionally strays from that point of view the shocked yelps from the left overwhelm even the ceaseless rumble of disapproval from the right." Okrent's now famous column was published in 2004 under the headline "Is the New York Times a Liberal Newspaper?" and I will cite Okrent more than once because he, too, reached repeatedly for religious metaphors to describe the ambient culture of the paper.
[Updates at the bottom of this post as of 4-29-2010 at 8:24pm]
Apparently President Obama is doing his best to paint the Tea Party movement as a group of extremists and racists.
Witness the video below as an army of riot police in full riot gear and snipers on rooftops wield their weapons to intimidate the Tea Party protesters.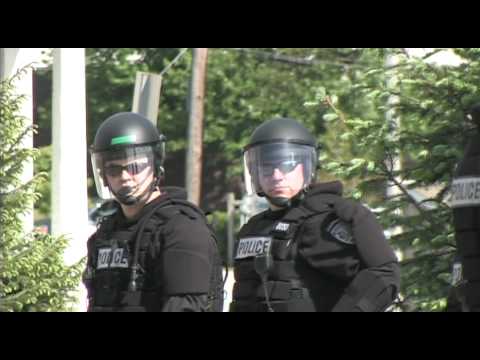 In our world today we are living in what I would refer to as the Liberal Dystopia of Political Correctness.  This thing that our current Holy Father warned us about.
As secular humanism continues its march towards a Dictatorship of Relativism we innocent bystanders suffer the consequences of its fruits when prejudice is rewarded and common sense rejected.
Five years ago this month, in the Mass prior to the Conclave of 2005 A.D., then Joseph Cardinal Ratzinger warned us in his homily that:
"We are building a dictatorship of relativism that does not recognize anything as definitive and whose ultimate goal consists solely of one's own ego and desires."
An excellent example of this dictatorship of relativism or as I would name it, liberal dystopia, is the United Kingdom's Foreign Office anti-Catholic memo on the preparation of Pope Benedict's visit to Britain.
In this event Anjoum Noorani, another Oxford educated civil servant* of the U.K. Foreign Office, who headed the Papal Visit Team that was planning the Pope's visit to Britain was only verbally reprimanded for his part in approving and distributing the anti-Catholic memo.
What makes this worse is that the Foreign Office advertised the requirements for the position to lead the Papal Visit Team as "Prior knowledge of the Catholic church is not necessary".
To add some irony the advertisement also stated, "High levels of tact and diplomacy will be required."
Some Democrats think that the Arizona law cracking down on illegal aliens will save them from electoral disaster in November.  They think this will rile up the Hispanics, and to fan the flames a few Democrats are making free with their favorite epithet against those who oppose them, Nazi.
I think that these Democrats are pursuing a losing hand on this issue.  Illegal immigration is extremely unpopular in this country and overheated epithets will simply further energize the conservative base.  More to the point, this election is going to be fought on the economy and government spending, and the Democrats are in dire shape on both those issues.  In regard to the immigration issue, I think there is evidence that some Democrats understand that rather than a gift this could be an electoral landmine.  This AP story here indicates that Obama concedes that Congress may not have the political appetite for immigration reform anytime soon, and notes the type of legislation that the Democrats propose eventually may ostensibly put enforcement before amnesty:  "An immigration proposal by three Democratic senators calls for more federal enforcement agents and other border security-tightening benchmarks before illegal immigrants could become legal U.S. residents, according to a draft of the legislation obtained Wednesday by The Associated Press. The bill is being developed by Reid of Nevada, Chuck Schumer of New York and Robert Menendez of New Jersey."
In an earlier post this week I quoted my favorite living historian Victor Davis Hanson on the issue of illegal immigration.  Here are his current thoughts on immigration as a political issue in the Fall:
A Losing Political Issue
The politics of illegal immigration are a losing proposition for liberals (one can see that in the resort to euphemism), even if they don't quite see it that way. Here are ten considerations why.
Law?—What Law?
First, there is the simplicity of the argument. One either wishes or does not wish existing law to be enforced. If the answer is no, and citizens can pick and chose which laws they would like to obey, in theory why should we have to pay taxes or respect the speed limit? Note that liberal Democrats do not suggest that we overturn immigration law and de jure open the border — only that we continue to do that de facto. Confusion between legal and illegal immigration is essential for the open borders argument, since  a proper distinction between the two makes the present policy  indefensible—especially since it discriminates against those waiting in line to come to America legally (e.g., somehow our attention is turned to the illegal alien's plight and not the burdensome paperwork and government obstacles that the dutiful legal immigrant must face).
Why Wave the Flag of the Country I Don't Wish to Return To?
Second, often the protests against enforcement of immigration law are strangely couched within a general climate of anger at the U.S. government (and/or the American people) for some such illiberal transgression (review the placards, flags, etc. at May Day immigration rallies). Fairly or not, the anger at the U.S. and the nostalgia for Mexico distill into the absurd, something like either "I am furious at the country I insist on staying in, and fond of the country I most certainly do not wish to return to" or "I am angry at you so you better let angry me stay with you!" Such mixed messages confuse the electorate. As in the case with the Palestinians, there is an effort to graft a foreign policy issue (protecting an international border) onto domestic identity politics, to inject an inflammatory race/class element into the debate by creating oppressors, victims, and grievances along racial divides.
Big Brother Mexico?
Third, Mexico is no help. Now it weighs in with all sorts of moral censure for Arizonians — this from a corrupt government whose very policies are predicated on exporting a million indigenous people a year, while it seeks to lure wealthy "gringos" to invest in second-homes in Baja. The absence of millions from Oaxaca or Chiapas ensures billions in remittances, less expenditures for social services, and fewer dissident citizens. But the construct of Mexico as the concerned parent of its own lost children is by now so implausible that even its sympathizers do not take it seriously. Mexico has lost all credibility on these issues, expressing concern for its own citizens only when they seem to have crossed the border — and left Mexico.
It's Not a Race Issue
Fourth, there really is a new popular groundswell to close the borders. Most against illegal immigration, especially in the case of minorities and Mexican-American citizens, keep rather mum about their feelings. But that silence should not be interpreted as antagonism to enforcing the law. Many minorities realize that the greatest hindrance to a natural rise in wages for entry level jobs has been the option for an employer to hire illegal aliens, who, at least in their 20s and 30s, will work harder for less pay with fewer complaints (when sick, or disabled, or elderly, the worker is directed by the employer to the social services agencies and replaced by someone younger as a new cycle of exploitation begins). In this context, the old race card is less effective. The general population is beginning to see not that Americans (of all races who oppose illegal immigration) are racist, but that the open borders movement has itself a racially chauvinistic theme to it, albeit articulated honestly only on university campuses and in Chicano-Latino departments, as a sort of "payback" for the Mexican War, where redress for "lost" land is finally to be had through demography.
To follow up on my first installment of "Set Me Free (From Ideologies), I am going to draw again from the rich well of Pope Benedict's powerful encyclical Caritas In Veritate.  In this case it would seem that in paragraph #25 the Pope is sounding kinda liberal if we would attempt to fit the views expressed into one or another of our American political ideologies. Continue reading →
In a tribute to common sense, the U.S. Supreme Court has ruled that a Cross raised in 1934 as a tribute to U.S. soldiers who died in World War I may stay at the Mojave National Preserve.  The depressing part of this news was that the vote was 5-4.  Stevens, who is retiring, voted with the four justices who viewed the Cross as a threat to our constitutional order.