Monthly Archives:
March 2010
I.R.S. looking for a few new agents to fulfill the new ObamaCare regulations.
The entire country, including and especially the blogosphere, is ablaze with commentary, debate, and verbal warfare over the merits and potential consequences of Obamacare's passage into law on Tuesday. Among us Catholics debate has been particularly intense, since the American Church played a key role in opposing Obamacare due to its anti-life provisions, though I can't say that I agree at all with the bishops when they suggest that the bill was otherwise acceptable.
I opposed, and continue to oppose Obamacare for many reasons, abortion funding being only one of them. Indeed, while the absence of the Hyde language from the bill is certainly troubling, the truth is that Catholic taxpayers have been funding "medically necessary" or "exceptional" abortions at the state level through Medicaid for decades – abortions which are still offenses against life according to the teaching of the Church. Some Catholics have also been doing so through their participation in private health care plans that cover abortion. In modern America, we may as well forget about any kind of meaningful "conscience protection."
It occurs to me that there are – among several others – two major problems that I have not seen adequate coverage of in the news that will result from Obamacare, though I admit, I can't read everything, so if someone can direct me to analysis of these issues, I would be grateful.
USCCB Statement on the recently-passed health care legislation (March 23, 2010):
For nearly a century, the Catholic bishops of the United States have called for reform of our health care system so that all may have access to the care that recognizes and affirms their human dignity. Christian discipleship means, "working to ensure that all people have access to what makes them fully human and fosters their human dignity" (United States Catechism for Adults, page 454). Included among those elements is the provision of necessary and appropriate health care.

For too long, this question has gone unaddressed in our country. Often, while many had access to excellent medical treatment, millions of others including expectant mothers, struggling families or those with serious medical or physical problems were left unable to afford the care they needed. As Catholic bishops, we have expressed our support for efforts to address this national and societal shortcoming. We have spoken for the poorest and most defenseless among us. Many elements of the health care reform measure signed into law by the President address these concerns and so help to fulfill the duty that we have to each other for the common good. We are bishops, and therefore pastors and teachers. In that role, we applaud the effort to expand health care to all.

Nevertheless, for whatever good this law achieves or intends, we as Catholic bishops have opposed its passage because there is compelling evidence that it would expand the role of the federal government in funding and facilitating abortion and plans that cover abortion. The statute appropriates billions of dollars in new funding without explicitly prohibiting the use of these funds for abortion, and it provides federal subsidies for health plans covering elective abortions. Its failure to preserve the legal status quo that has regulated the government's relation to abortion, as did the original bill adopted by the House of Representatives last November, could undermine what has been the law of our land for decades and threatens the consensus of the majority of Americans: that federal funds not be used for abortions or plans that cover abortions. Stranger still, the statute forces all those who choose federally subsidized plans that cover abortion to pay for other peoples' abortions with their own funds. If this new law is intended to prevent people from being complicit in the abortions of others, it is at war with itself.
While pro-lifers, conservatives, and conservative pro-lifers all have different reasons for not being very pleased with Stupak and his fellow pro-life Democrats at the moment, because of their caving in to the Senate Bill abortion language and Obama's vaporware executive order, I think it's worth keeping in mind that if all Democrats were of the Obama/Pelosi persuasion in regards to abortion, we would undoubtedly have a "health care reform" bill which provided complete subsidies for abortion on demand for poor women, if not all women. The Senate language is not nearly as good as Stupak's, and even with Stupak's language included I think that the bill would have been deeply irresponsible for financial reasons. But let's face it, the Democrats have a solid majority in the House and had until Brown's election a filibuster-proof majority in the Senate. Without some Democrats breaking ranks with their party's hard core pro-abortion platform, there would have been no way for the pro-life movement to keep the most extreme support for abortion possible out of the bill.
And while Stupak's last minute flake-out is disappointing from a pro-life perspective (if he'd stuck to his guns, I would have happily donated to his re-election fund, simple because I admire steadfastness to pro-life principle, even in someone I disagree with on other issues) let's also be honest about this: Those of us who retain a belief in fiscal responsibility and oppose statism would have been disappointed in the health care bill passing even with Stupak's language. So while I admired his apparent steadfastness to pro-life principle, I like many other conservatives also appreciated that fact that his principle (had he stuck to it) would have resulted in the bill not passing. We can hardly be surprised that he didn't share such a hope.
In the debate over the now-passed health care reform bill, a great number of statistics were brought out as to why the US desperately needed a bill like this: Numbers of bankruptcies supposedly caused by high medical costs and lack of insurance.  Numbers of people who supposedly died each year because of lacking health insurance.  Infant mortality rates, etc.  With the bill now passed, Megan McArdle is curious to see those who supported it make some firm commitments as to what the results will be over the next five years:

1) Ezra Klein is confidently predicting that it will save hundreds of thousands of lives.
2) Nick Kristoff expects miraculous improvement in our national life expectancy.
3) Michael Moore thinks this will stop people from getting thrown out of their homes in a Medical bankruptcy.
4) At least one of you must be willing to claim massive improvements in infant mortality, after you've cited those statistics to me over and over.
These sorts of things should all be pretty easy to measure, and McArdle goes on to make her won eight predictions in regards to the effectiveness of the bill: Continue reading →
The U.S. Conference of Catholic Bishops made a determined effort for universal health coverage, without abortion, in the run-up to the vote on ObamaCare.  In the end, due to the abortion language in this bill, they condemned it in its entirety.
Now I believe that our bishops had the best intentions of wanting universal health coverage, but this violates the principle of subsidiarity.
The Principle of Subsidiarity is the handling of affairs by small-scale, bottommost, or minutest government.
In 1891 Pope Leo XIII wrote an encyclical, Rerum Novarum, which said that government should undertake only those initiatives which exceed the capacity of individuals or private groups acting independently. Functions of government, business, and other secular activities should be as local as possible. If a complex function is carried out at a local level just as effectively as on the national level, the local level should be the one to carry out the specified function.
Private insurance agencies cover over 84% of all Americans, with an overwhelming 93% saying they are satisfied with their coverage.
And those that are uninsured, can get readily available treatment for a serious illness.  Including illegal aliens.
So why the bishops haste and aggressive posturing in pushing for something everybody already has and are satisfied with?
As it so happened, I was in Washington DC on that National Mall as congress was voting on the mess which is our "health care reform" bill. I hadn't been to our capitol city before, and it was a simply beautiful afternoon — one on which it was hard to believe that our elected representatives were bringing us one large step closer to a major budgetary crisis point, and Representative Stupak was busy selling out the principles everyone had imagined to be as solid as the Rock of Gibraltar for a rather paltry executive order which may (or may not) come after the fact. (Call me a cynic, but I could well imagine the EO never coming. Though in a sense, why not issue it: It would have no effect and could be repealed at any time. Still, there would be a great deal of justice and truth in Obama using the old Microsoft line, "Your mistake was in trusting us.")
Still, though sun, green grass, and stone monuments are fresh in my mind, and the largest looming problems in my mind revolve around children wailing that they need a bathroom right now while traveling on the metro (let's just say that didn't end well) I don't want to seem as if I'm discounting the importance of what we've just seen. And there seem to be some fairly clear conclusions we can draw:
1) Stupak had no desire to be to abortion what Joe Lieberman chose to be to foreign policy. Lieberman was hounded out of his party and continues to hold office only because of people who disagree with him on nearly every other issue admired his principled stands on Iraq, Israel, etc. If Stupak had brought down the Health Care Reform bill in defense of the unborn, he would have received similar treatment from his own party to what Lieberman has received, and he clearly didn't want to be that person. Instead, having talking himself into a corner he really didn't want to be in, he seized upon a fig leaf when it was offered and did what he'd clearly wanted to do all along:
Last November during a town hall meeting near the Upper Peninsula Representative Bart Stupak of Michigan, an alleged "pro-life" Democrat that recently voted for government funding of abortion, made it clear that he was never going to vote "No" on ObamaCare.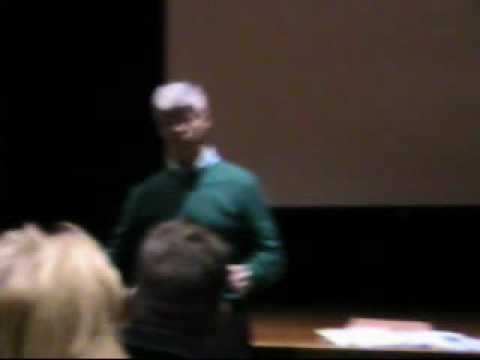 Biretta tip to Sydney Carton and Alicia Colon.