Monthly Archives:
February 2010
This is an fascinating story: a Russian soldier who was killed on his 19th birthday in 1996 is being venerated in his home country as a martyr and an icon of him is giving off aromas of myrrh:
Today according to Inferfax of Russia in  Penza, an Icon of Evgeny Rodinov  gave off aromas of myrrh in the St. Lukas Church at the Penza regional oncologic dispenser. Russian soldier Rodionov was executed in Chechnya in 1996 after refusing to renounce Orthodox faith and take off his cross.
"Myrrh came out in two spots, in a palm of his hand and where one wears the cross," the church Rector Alexy Burtsev told journalists.
According to the Church Rector, it happened during the All-Night Vigil on February 15.  Those in attendance, at the Church, stood behind praying, and took in the strange pleasant aroma.
The priest noted that on February 15, 1996, Penza-born Evgeny Rodionov was captured in Chechnya, imprisoned for hundred days and when he refused to renounce Christian faith, militants beheaded him.?
Yevgeny Aleksandrovich Rodionov (Russian: ???????? ??????? ?????????????) (May 23, 1977 – May 23, 1996) was a Russian soldier who was kidnapped and later executed in Chechen captivity. The purported manner of his death has garnered him much admiration throughout Russia, and even prompted calls for his elevation to sainthood.
Rodionov was born in the village of Satino-Russkoye, near Podolsk, Moscow Oblast. Though he aspired to be a cook, he was conscripted into the Armed Forces of the Russian Federation in 1995. Private Rodionov was deployed to Chechnya, he served in border troops and on February 13, 1996 he was captured by Chechen rebels. They held him captive for more than three months.
On his 19th birthday Rodionov was beheaded on the outskirts of the Chechen village Bamut. According to his killers, who later extorted money from his mother in exchange for knowledge of the location of his corpse, they beheaded him after he refused to renounce his Christian faith or remove the silver cross he wore around his neck.
Yevgeny Rodionov was posthumously awarded the Russian Order of Courage. There is a growing movement within the Russian Orthodox Church to canonize him as a Christian saint and martyr for faith. Some Russian soldiers, feeling themselves abandoned by their government, have taken to kneeling in prayer before his image. One such prayer reads:
Thy martyr, Yevgeny, O Lord, in his sufferings has received an incorruptible crown from thee, our God, for having thy strength he has brought down his torturers, has defeated the powerless insolence of demons. Through his prayers save our souls.
As of 2003, religious icons depicting Yevgeny were becoming increasingly popular. Yevgeny's mother has one herself; she has suggested that the icon of her son sometimes emits a perfume which she believes to be holy, to the extent that it actually drips with it.
Evgeny Rodinov, pray for us!
_._
Reprinted with permission by Eric Sammons of The Divine Life.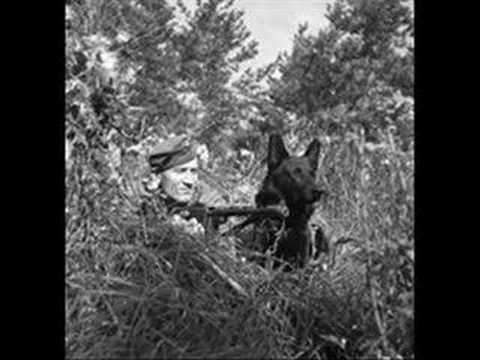 Something for the weekend.  Finlandia Hymn by Jean Sibelius.  The above video is a tribute to the brave Finnish troops who defended their nation against the Soviet Union in the Winter War of 1939-1940 and the Continuation War of 1941-1944.
An English translation of the Finnish lyrics:
O, Finland, behold, your day is dawning,
The threat of night has been banished away,
And the lark of morning in the brightness sings,
As though the very firmament would sing.
The powers of the night are vanquished by the morning light,
Your day is dawning, O land of birth.
 
O, rise, Finland, raise up high
Your head, wreathed with great memories.
O, rise, Finland, you showed to the world
That you drove away the slavery,
And that you did not bend under oppression,
Your day is dawning, O land of birth. Continue reading →
At my blog, I take on the argument that America is not a propositional nation. While I essentially agree with the argument that America's propositional nature is a "half-truth", the critique I engage ends up presenting it as something considerably less.
Find out what I think America's central proposition is, and let me know if you agree or disagree
Appropos of last week's torture post, some additional discussions on the web:
Lastly, one particular party, who had read over the recent exchanges on this blog, contacted me with the suggestion that, given my unfortunate reliance on "unreliable axe-grinding sources," it would do well to elicit the assistance of some conservative organizations "with credibility" to review the various charges (of prisoner abuse, deaths of detainees in U.S. custody, etc.) and publish a report.
It seems often the case that a heated political debate causes people to suddenly focus on issues which had previously been essentially ignored. One recent example of this in Catholic circles has been the way in which the debate over the Stupak Amendment to the House health care reform bill suddenly focused scrutiny on the question of abortion coverage in health care insurance.
To recap briefly: From the beginning, one of the concerns that many pro-lifers had expressed about "government health care" was that it would result in government funding for abortion. As the various reform bills coalesced, it became clear that no "government health care" per se would be offered, but rather an exchange on which private health insurance plans which fit specific government-set criteria would be offered. Given this situation, pro-lifers (and in particular, pro-life Democrats, who clearly had the prime say here since Republicans were unlikely to support the bill either way since they saw its overall structure as detrimental to the common good) insisted that one of the stipulations for the private health insurance policies offered via the exchange (and qualified for government subsidy for lower and middle-income Americans) be that the plan not cover abortions.
Pro-choice Democrats of course hated this provision. Some progressive Catholics also seemed eager to explain why the bill would be just fine even without Stupak, doubtless in order to avoid a situation in which pro-life advocates (backed by the bishops) successfully made the case to conservative Democrats that supporting a bill without language similar to the Stupak amendment was unacceptable for Catholics and other pro-lifers. The primary argument that surfaced was, "Most private insurance policies already cover abortion, so even without Stupak's language, the status quo does not change. More people just get health care, and that's good, right?"
Continue reading →
 Laura Chinchilla was elected President of Costa Rica on February 7, 2010.  She is the first woman to be elected to that office.  She is a member of the Partido Nacional Liberacion  (National Liberation Party) which belongs to the Socialist International.  Now normally I am as fond of socialists as I was fond of the castor oil that my sainted mother regularly made me swallow a spoon full of daily when I was a little boy.  However, Chinchilla is my type of socialist.
She ran on a get tough on crime platform.  She is a devotee of free market economic policies.  She was the only mainstream politician in Costa Rica to take part in a March for Life and Family on November 28, 2009 in Costa Rica which was organized by a coalition of church leaders.  She is an ardent foe of abortion and opposes legalizing the human pesticide known as the morning after pill.  She opposes altering the Constitution of Costa Rica which, while enshrining religious freedom, proclaims that Costa Rica is a Roman Catholic nation.  Many of her supporters carried rosaries at her rallies and she always has her rosary with her.  After her election she asked that all Costa Ricans ask strength of the patroness of Costa Rica, Our Lady of the Angels, and went to the shrine of Our Lady of the Angels to pray. Continue reading →
For those that do not yet know, a man named Joseph Andrew Stack flew and crashed a plane into an IRS building in Austin, TX. His lengthy suicide note makes clear that his act was politically motivated –  Though the Department of Homeland Security has said that this, at least so far, has nothing to do with terrorism, as surely as the sun will set this evening, those who disagree with or oppose the political views of Mr. Stack will call it an act of domestic terrorism and seek to assign responsibility to everyone who shares some of his opinions or at least has the nerve to speak them publicly. Pro-lifers ought to know this routine by now – hysterical screeds that essentially argue guilt by association or even agreement, new calls for expanded police powers, and though they don't apply in this case, restrictions on second amendment rights.
I condemn what Mr. Stack did. For right now, our political system is broken and wounded, but it is not dead. We still have a Bill of Rights, and especially a first amendment through which our freedoms of association, speech, and to petition government with our grievances is still in tact. Unfortunately both sides of the political spectrum – and which one is arguing this depends solely on whether or not "their guy", Obama or Bush, Republican or Democrat is in power – seem to think that the basic idea of the Declaration of Independence is either outdated or immoral. That basic idea that governments can go too far and that the people have a right, and a duty, to resist them when they break their end of the social compact. Though the level of resistance offered today by Mr. Stack (whose soul I shall pray for) was wrong, at least under these conditions, that which is offered by the American citizens who will undoubtedly and unjustly be tarred with the same brush is.
So I want to take this opportunity to not only repeat what most people already believe – that violence in this context and reckless individual behavior are wrong – but to stand firmly in defense of the first amendment right of the tea party movement, and all political dissent, to exist. To reject the double-standard that says "protest is patriotic when the other party is in power, but dangerous extremism when my party is in power." At least on this blog, I hope we can agree on these issues.
Update: Two things are worth adding to this piece. 1) The media, and especially the leftist blogs, did immediately try to associate Stack and his actions with the tea party movement. 2) Stack was not a member of the tea party movement, as the first link shows.
Very loosely based on the Justice Trials of Nazi judges and Reich Ministry of Justice officials, Judgment at Nuremberg (1961) is a masterful exploration of justice and the personal responsibility of good men trapped in a totalitarian state.  Burt Lancaster, an actor of the first calibre, gives the performance of his career as Ernst Janning.  The early portion of the movie makes clear that Ernst Janning is in many ways a good man.  Before the Nazis came to power Janning was a world respected German jurist.  After the Nazis came to power evidence is brought forward by his defense counsel that Janning attempted to help people persecuted by the Nazis, and that he even personally insulted Hitler on one occasion.  Janning obviously despises the Nazis and the other judges who are on trial with him.  At his trial he refuses to say a word in his defense.  He only testifies after being appalled by the tactics of his defense counsel.  His magnificent and unsparing testimony convicts him and all the other Germans who were good men and women, who knew better, and who failed to speak out or to act against the Nazis.  Janning's testimony tells us that sins of omission can be as damning as sins of commission.  When he reveals that he sentenced a man to death he knew to be innocent, we can only agree with his bleak assessment that he reduced his life to excrement.  Yet we have to respect Janning.  It is a rare man who can so publicly take responsibility for his own evil acts. Continue reading →
… The call to conversion, in fact, uncovers and denounces the easy superficiality that very often characterizes our way of living. To be converted means to change direction along the way of life — not for a slight adjustment, but a true and total change of direction. Conversion is to go against the current, where the "current" is a superficial lifestyle, inconsistent and illusory, which often draws us, controls us and makes us slaves of evil, or in any case prisoners of moral mediocrity. With conversion, instead, one aims to the lofty measure of Christian life; we are entrusted to the living and personal Gospel, which is Christ Jesus. His person is the final goal and the profound meaning of conversion; he is the way which we are called to follow in life, allowing ourselves to be illumined by his light and sustained by his strength that moves our steps. In this way conversion manifests its most splendid and fascinating face: It is not a simple moral decision to rectify our conduct of life, but it is a decision of faith, which involves us wholly in profound communion with the living and concrete person of Jesus.

To be converted and to believe in the Gospel are not two different things or in some way closely related, but rather, they express the same reality. Conversion is the total "yes" of the one who gives his own existence to the Gospel, responding freely to Christ, who first offered himself to man as Way, Truth and Life, as the one who frees and saves him. This is precisely the meaning of the first words with which, according to the Evangelist Mark, Jesus began the preaching of the "Gospel of God." "This is the time of fulfillment. The kingdom of God is at hand. Repent, and believe in the Gospel" (Mark 1:15).

"Repent and believe in the Gospel" is not only at the beginning of the Christian life, but accompanies all its steps, [this call] remains, renewing itself, and spreads, branching out in all its expressions. Every day is a favorable moment of grace, because each day invites us to give ourselves to Jesus, to have confidence in him, to remain in him, to share his style of life, to learn from him true love, to follow him in daily fulfilling of the will of the Father, the only great law of life — every day, even when difficulties and toil, exhaustion and falls are not lacking, even when we are tempted to abandon the following of Christ and to shut ourselves in ourselves, in our egoism, without realizing the need we have to open to the love of God in Christ, to live the same logic of justice and love.
~ Pope Benedict XVI Ash Wednesday Address 2/7/2010
Pope Benedict visits a local shelter in Rome and is moved to tears by woman who was once homeless and is now helping others with the same plight.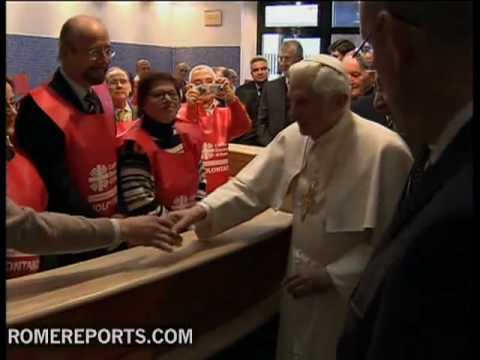 Here is the complete text of the above YouTube video:
Workers, volunteers and those who are served at  homeless shelter in Rome, were filled with joy by Pope Benedict XVI's visit.
But it was the pope who was moved to tears while listening to what this woman had to say about over coming homelessness.
"When I got to the hostel I was desperate, but now I'm a changed person."
She got help and after being rehabilitated she wanted to help others in her shoes and is now a volunteer at the shelter.
During the pope's visit to Don Luigi di Liegro shelter he affirmed the Church's commitment to helping the poor.
Papa Bene:
"The Church loves you deeply and will not abandon you."