Monthly Archives:
February 2010
Personally, I thinks it's fairly likely at this point, that one of the current "health care reform" bills will become law. However, though I come to this with characteristic lateness (increasing busy-ness seems to make topical blogging near impossible) I think it's worth spending a moment on one of the fascinating contradictions which has gone mainly unremarked in the whole debate.
One of the primary arguments put forward by advocates of health care reform over the last 2-3 years has been, essentially, that health insurance companies are evil. People froth at the industry term of "medical losses" for when insurance companies pay out for medical expenses. (Something which, in fact, happens with over 80% of the monies collected in the form of insurance premiums.) Others rail against how the profit motive has destroyed health care and driven costs to astronomical levels — apparently oblivious to the fact that there are several major not-for-profit insurers, and they don't provide care any more cheaply than for-profit ones. And yet, despite these and many other rhetorical assaults on the whole idea of health insurance as a commercial product, the centerpiece of the proposed health care reform bills was to legally require everyone in the US to purchase health care insurance, and then provide government subsidies for those who couldn't afford the premiums. (Thus "shoveling" government money into the insurance industry in the same way in which Medicare Part-D, which all good progressives are now against, did with the pharmaceutical industry.)
Why in the world did a movement which had so long railed against private insurance suddenly decide to require and subsidize it, rather than pushing for the government or non-profit approaches to health provision which had so long appealed to it?
Continue reading →
This is a clip of Ronald Reagan warning us of socialized medicine, the very same bill that President Obama and the Democratic Party are trying to ram through congress.
Reagan warns us of how people such as six-time presidential Socialist Party candidate Norman Thomas, and many others, explained how to move their agenda of achieving a socialist state by a Foot-in-the-Door policy of socialized medicine.  Which is eerily similar to what President Obama and the Democrats are doing, against the will of the people with their European socialized health care bill.
There are some whom denigrate soldiers and policemen and the plan God has for them in Salvation.  I disagree completely and there are many examples of saints and popes who have honored the soldier and policeman in defense of justice and peace.
I found this quote by Servant of God Archbishop Fulton J. Sheen's Wartime Prayer Book:
"The great French Lacordaire once said the vocation of a soldier is next in dignity to the priesthood, not only because it commissioned him to defend justice on the field of battle and order on the field of peace, but also because it called him to the spirit and intention of sacrifice."
Continuing on with my series on the seven notes, I would call them tests, which Venerable John Henry Cardinal Newman developed for determining whether some aspect of Church teaching is a development of doctrine or a corruption of doctrine.  We began with Note Six-Conservative Action Upon Its Past, and I would highly recommend that any one who has not read the first post in the series read it here before proceeding with this post.  We will now take the remaining notes in numerical order.  This post will deal with the First Note-Preservation of Type.
In regard to Preservation of Type, Cardinal Newman takes pains to point out that the idea underlying the doctrine remains of the same type while the external manifestations of the idea may change greatly.  His illustration from Roman history conveys his point well:
On the other hand, real perversions and corruptions are often not so unlike externally to the doctrine from which they come, as are changes which are consistent with it and true developments. When Rome changed from a Republic to an Empire, it was a real alteration of polity, or what may be called a corruption; yet in appearance the change was small. The old offices or functions of government remained: it was only that the Imperator, or Commander in Chief, concentrated them in his own person.  Augustus was Consul and Tribune, Supreme Pontiff and Censor, and the Imperial rule was, in the words of Gibbon, "an absolute monarchy disguised by the forms of a commonwealth." On the other hand, when the dissimulation of Augustus was exchanged for the ostentation of Dioclesian, the real alteration of constitution was trivial, but the appearance of change was great. Instead of plain Consul, Censor, and Tribune, Dioclesian became Dominus or King, assumed the diadem, and threw around him the forms of a court.
In other words in determining  whether there has been the preservation of type in a development of doctrine we must look at the substance and ignore the form.  For example, in the Middle Ages laymen would often receive communion once a year out of great reverence for the body of Christ.  Now we are encouraged to be frequent communicants.  However, the underlying reverence that the Church commands for the body and blood of Christ remains the same.
Cardinal Newman concludes:
An idea then does not always bear about it the same external image; this circumstance, however, has no force to weaken the argument for its substantial identity, as drawn from its external sameness, when such sameness remains. On the contrary, for that very reason, unity of type becomes so much the surer guarantee of the healthiness and soundness of developments, when it is persistently preserved in spite of their number or importance.
Newman on the First Note:
There is only One World, but there is a big dividing line between those who are comfortable, happy, healthy, and safe, and those who are in pain, miserable, sick, and in danger. We cross the lines involuntarily at times- but we can also choose to cross over for periods of time from the happy place to the places of sorrow. This is being poor in spirit, this is compassion, this is prayer, this is where we love our neighbor as ourselves, where we love our enemies, where we develop our Christ-likeness. We cross over not because we have to, but because we choose to love.
It has long been known that a huge number of German women suffered from a tidal wave of rape and sexual abuse at the hands of Russian soldiers in the closing days of World War II. Some estimates have put the number of women raped at over two million. As described in recent works such as Beevor's The Fall of Berlin 1945
and Merridale's Ivan's War: Life and Death in the Red Army, 1939-1945
, this abuse was in some ways instituted (whether intentionally or not) by Soviet propaganda which emphasized to Russian soldiers that they must avenge the rape of Mother Russia, and inflict a humiliation on the German homeland which would assure it would never again attack them.
Regardless of the causes, this epidemic of abuse held an especially dark place in the German post-war experience. Although the abuse itself was well known, it was almost never discussed in the first person. No German woman had written about her experiences of abuse at the hands of Russian soldiers under her own name until this year. (A few anonymous books have been written, most famously A Woman in Berlin
, and a very small number of studies based on interviews with survivors have been conducted, though due to unwillingness to talk about that time in Germany's history, by the time people became willing to discuss the topic many of the original victims were already dead.)
Der Spiegel features an extended article about Gabriele Köpp, the first German woman to write a memoir under her own name about these experiences. Köpp is now 80. In 1945, she was just 15.
Köpp has now written a book about those 14 days and about the rapes, titled "Warum war ich bloss ein Mädchen?" ("Why Did I Have to Be a Girl?"). The book is an unprecedented document, because it is the first work of its kind written voluntarily by a woman who was raped in the final months of World War II, and who, years later, described the experiences and made them into the central theme of a book….
Continue reading →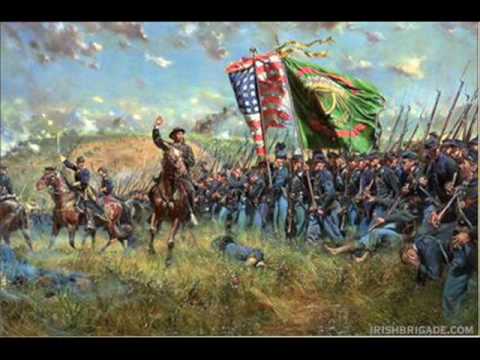 Something for the weekend.  We'll Fight For Uncle Sam sung to the tune Whiskey in the Jar.  A nice tribute to the Irish volunteers who were a mainstay of the Union Army of the Potomac.  The song is also celebratory of George Brinton McClellan who led the Army of the Potomac in 1861-62.  Little Mac was a good organizer and he made sure his men were well fed and clothed.  He took care of his men and they were fond of him as a result.  Unfortunately, although not a bad strategist, he was a lousy battlefield commander.  During the battles of the Seven Days, though McClellan outnumbered the Confederates under Lee, he allowed Lee to take the initiative and force him back from Richmond.  At Antietam, in spite of enjoying better than two to one odds,  McClellan's uncoordinated attacks blew a prime opportunity for the Army of the Potomac to destroy Lee's army.  As a battlefield commander McClellan was worse than having no commander at all. Continue reading →
Mosab Hassan Yousef, the son of Hamas co-founder Sheikh Hassan Yousef has a just written a book, Son of Hamas
which is surely going to cause some controversy. Mosab, who now resides in California, writes about how starting in 1996 he became an informant for Israel, passing information about suicide bombers and terrorist attack to Shin Bet, Israel's internal security service, from the innermost circles of Hamas.

He tracked down suicide bombers and their handlers from his father's organisation, the Haaretz newspaper said.

Information supplied by him led to the arrests of some of the most- wanted men by Israeli forces, including Marwan Barghouti, a Fatah leader tipped as a potential president, who was convicted of masterminding terrorist attacks, along with one of Hamas's top bombmakers, Abdullah Barghouti, who is no relation of the jailed Fatah chief. Continue reading →