Monthly Archives:
January 2010
From the only reliable source of news on the net, the Onion.  Well, even a cursory study of history would reveal that men have absolutely nothing to teach women when it comes to ruling ruthlessly and effectively.  My sainted mother, a truly formidable lady, rather liked this poem from Kipling:
                        The Female of the Species
    WHEN the Himalayan peasant meets the he-bear in his pride,
    He shouts to scare the monster, who will often turn aside.
    But the she-bear thus accosted rends the peasant tooth and nail.
    For the female of the species is more deadly than the male.
    When Nag the basking cobra hears the careless foot of man,
    He will sometimes wriggle sideways and avoid it if he can.
    But his mate makes no such motion where she camps beside the trail.
    For the female of the species is more deadly than the male.
    When the early Jesuit fathers preached to Hurons and Choctaws,
    They prayed to be delivered from the vengeance of the squaws.
    'Twas the women, not the warriors, turned those stark enthusiasts pale.
    For the female of the species is more deadly than the male.
    Man's timid heart is bursting with the things he must not say,
    For the Woman that God gave him isn't his to give away;
    But when hunter meets with husbands, each confirms the other's tale—
    The female of the species is more deadly than the male. Continue reading →
January 28th, is the feast day St. Thomas Aquinas, my chosen saint as a convert. (It was a toss-up between Thomas the philosopher-theologian and Thomas Merton, the not-quite-saintly Trappist — both exercising an influence on my journey to Rome).
Here is a favorite prayer of mine, by St. Thomas Aquinas — for a holy life. It was said that he prayed this every day before the image of Christ:
Grant me, O merciful God, that what is pleasing to Thee I may ardently desire, prudently examine, truthfully acknowledge, and perfectly accomplish for the praise and glory of Thy name.

Ordain, O my God, my whole life, and what Thou requirest that I should do, grant me to know it and to fulfill as is meet and profitable to my soul.

Give me Thy grace, O Lord my God, that I may not fail in prosperity or in adversity, avoiding pride in the former and discouragement in the latter.

May I rejoice in nothing but what leads to Thee, grieve for nothing but what turns away from Thee. May I wish to please or displease n one but Thee.

May I despise, O Lord, all transitory things, and prize only that which is eternal. May I shun ant joy that is without Thee, nor wish for anything outside of Thee.

May I delight in any work taken up for Thee, and tire of any rest which is without Thee. Grant me, O my God, to direct my heart toward Thee, and in my failings constantly grieve, with the purpose of a amendment.

Make me, O Lord, my God, obedient without contradiction, poor without depression, chaste without corruption patient without murmuring, humble without pretence, cheerful without dissipation, mature without dullness, prompt without levity, fearing Thee without despair, truthful without duplicity, doing good without presumption, correcting my neighbor without haughtiness, and edifying him by word and example without hypocrisy.

Give me, O Lord God, a watchful heart, which no curious thought will turn away from Thee; a noble heart, which no unworthy affection will drag down; a righteous heart, which no irregular intention will twist aside; a firm heart, which no tribulation will break; a free heart, which no violent affection will claim for itself.

Grant me finally, O Lord my God, science in knowing Thee, diligence in seeking Thee, wisdom in finding Thee, a conduct pleasing to Thee, a perseverance trustfully awaiting Thee, and a confidence finally embracing Thee. May I endure Thy punishments by penitence; profit by Thy benefits by grace in this world, and enjoy Thy blessedness by glory in the next; Who livest and reignest, true God, forever and ever. Amen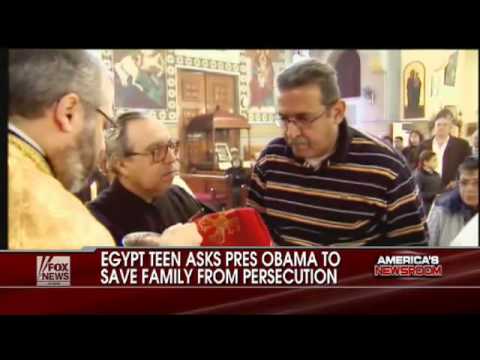 A sad story coming from Egypt where a father and daughter recently converted from Islam to Christianity.  They have been attending a different church each Sunday and have slept in a different home each night in fear of the government.
In Egypt it is illegal to convert to Christianity.
Hattip to my friend Jay Anderson at Pro Ecclesia who reminded me that today is the feastday of Saint Thomas Aquinas, aka the Angelic Doctor, aka the Dumb Ox, perhaps the greatest intellect to ever live.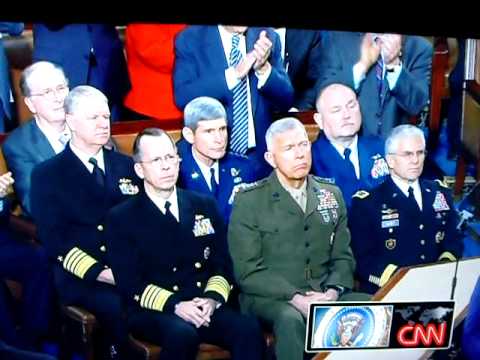 Although I tend to agree with my friend Paul Zummo, the Cranky Conservative, that the State of the Union address is our annual self inflicted ritual of boring torture, I did have the State of the Union on as background noise while I went about other tasks.  I was amazed at what a self-indulgent exercise in venting it mostly was.  Things haven't gone Obama's way, and last night he decided to engage in a little Presidential talk-therapy.  The tedious length, reminiscent of some of Bill Clinton's efforts, indicated that this was an undisciplined opportunity for Obama to lash out at his opponents.  Three more years of this should be as much fun for the country as my last root canal was for me.
Two points struck me as particularly odd.  Obama telling Democrats in Congress that this was not a time to "head for the hills" in panic over the looming elections.  This is the type of statement that he might make to them behind closed doors, but certainly not in a State of the Union address so as to remind the nation that Democrats are in panic mode.  Doing so will not calm jittery Democrats in the slightest.  The second point was his reopening the issue of gays in the military.  I could just hear Blue Dogs from Republican areas thinking, "Well thanks Mr. President for driving another nail in my coffin in November!"  Obama has obviously decided that if he is going down, he will do so as a champion of Liberal orthodoxy.  I doubt if this will please the Democrat members of Congress more rooted in electoral reality.
Those are my thoughts, what are yours?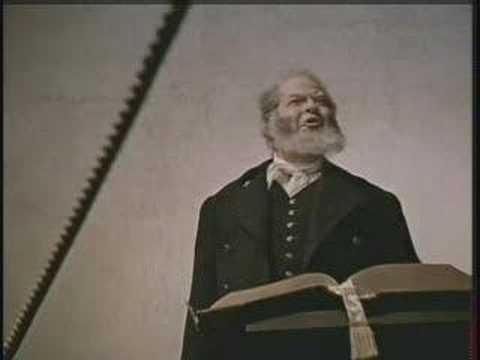 Orson Welles gives a spell-binding performance as he delivers a sermon at the beginning of the movie Moby Dick (1956). The role of Father Mapple (back in the days when Protestant ministers would often have that title) is based on Father Edward Thompson Taylor, the great Methodist missionary among seamen who was in charge of the Seamen's Bethel in Boston in the Nineteenth Century.
While browsing Jennifer Fulwilers fine blog, Conversion Diary, I came across this trailer for the book The Crucified Rabbi by Taylor Marshall:
(Biretta Tip: Jennifer Fulwiler of Conversion Diary)
Here is the State of the Union Speech that will never be delivered:
"Madam Speaker, Mr. Vice President, Members of Congress, Distinguished Guests, my fellow Americans.  Each year it is a duty of the President to report on the State of the Union to the Congress.  Often these speeches have been mere feel good exercises, frequently containing little of substance.  Tonight is going to be different.  Tonight it is time for blunt truth.
America is a great and strong nation, but in many ways the State of our Union is troubled.  We have the worst economy in the last three decades.  Signs of recovery are few.  I could attempt to assess some responsibility for this poor economy to my predecessor, but that would be pointless.  You, the American people, are not interested in blame.  What you are interested in is improving the economy, and so far, under my watch, that has not happened.  I, in good faith, attempted to stimulate the economy through a massive stimulus bill.  Thus far the results have been meager for the amount of money spent.  Time for a course correction.  Beginning tomorrow I am going to hold meetings with the Democratic and Republican leaders in Congress.  The economy is my number one priority, as it rightly is yours, and I am open to all ideas, from whatever source, to jumpstart the economy and return us to the path to prosperity.  If taxcuts and spending cuts are necessary to get the economy moving, so be it.  Whatever works is my watchword on this key issue.  To quote another President from Illinois, "The dogmas of the quiet past, are inadequate to the stormy present."  I am a Democrat, by the standards of many Americans a Liberal Democrat.  I'm proud of this, but I will not allow my adherence to certain beliefs to stand in the way of improving the economy.  Time for us all, past time, Republicans, Democrats and Independents, to work together to get out of this recession.    This is my chief concern and I will do whatever it takes to accomplish this task.
Last night I was exercising and flipping through the channels and saw Mel Gibson on the Jay Leno Show- very disturbing stuff.  He joked about having a lot of off-color jokes, he offered up some profanity to quote some girls he ran into while filming in Boston. To top it off he promised Leno that if and when he decides to get married again he would announce it first on Leno's show.