Monthly Archives:
December 2009
This started as an attempt to annoy a somewhat too Obama-struck Democrat on Facebook, but I think the question is an interesting one to play with at this point:
Imagine that Gore had been given Florida in the 2000 election and was thus elected president. How would subsequent history have been different? Who would be president now? (Would anyone outside of Illinois have heard of Obama?)
I'll provide my initial thoughts in the comments in order to keep the playing field level.
Here are my predictions for 2010.  I hope I have a better track record than I did for my predictions for 2009.
1.   The Republicans will take back the House in November, either outright on election day, or through party switches between election day and the swearing in of the new Congress in 2011.
2.   The Republicans will take back the Senate in November, either outright on election day, or through party switches between election day and the swearing in of the new Congress in 2011.  I am assuming that Joe Lieberman will caucus with the Republicans if the Republicans have 50 seats.
3.   The economy will continue in the doldrums next year with the unemployment rate not getting lower than 9%.
4.    Regime change will occur in Iran with the Mullahs being toppled by a popular insurrection.
5.    Pope Benedict's Anglican Initiative will prove amazingly successful  with ever increasing numbers of Anglicans and Episcopalians swimming the Tiber to participate.
Some people on the Left are beginning to understand just what a disaster Obama is turning out to be for them.  Go here to read this interesting column by a fellow who can clearly see the electoral iceberg to which Obama is steering.  Content advisory:  the author is an academic and a Leftist, so there is some jejune profanity
Last year some of the contributors for The American Catholic made predictions for 2009 here.  Here is how I did:
1.  Bailout mania will continue, with the federal government adding 1.5-2 trillion dollars to the national debt in 2009.
Close.  The deficit for this year was actually 1.4 trillion.
2.  Two cabinet members in the new administration will resign in 2009.  (Make that one cabinet member.  I was counting Bill Richardson in my total and he withdrew as Commerce Secretary today because of an ongoing corruption investigation against him.)
Tom Daschle withdrew his nomination for secretary of HHS due to failure to pay his taxes in full.
3.  After he is forced out through impeachment and conviction, Blagojevich will spill his guts to Fitzgerald in a desperate attempt to forestall a criminal indictment of his wife and to gain sentencing leniency for himself.
Well Blago was impeached and convicted and thrown out of office as governor of Illinois, but he hasn't sung yet.
4.  As a result of Blagojevich singing, Fitzgerald will open a series of new investigations on numerous Illinois politicians.
Fitzgerald throughout the year has continued to wage his one man war against the sickening political corruption in my state, but he has received no information from Blagojevich, other than what Blago blabbed when he was secretly taped. Continue reading →
(Updates at the bottom of this posting below)
Peaceful protests turned violent as Iranian authorities have authorized deadly force.  Thus far there are fifteen (15) reportedly killed in Tehran and four (4) in Tabriz. 
More details have filtered in that some Iranian policemen have refused to fire on the protesters.  The hated Basiji Militia headquarters is up in flames and more reports of unconfirmed deaths from all over the country of Iran are pouring in view various media outlets.
Among those killed is the nephew of Mir Hossein Moussavi, the leader of the burgeoning opposition as well as the leading vote getter in the last election which was hijacked by the clerical ruling class.  Ali Habibi Moussavi, the nephew, was shot in the chest and died at the hospital.  Details are still sketchy.
The Islamic Iranian regime has barred all journalists, but pictures and footage have confirmed large demonstrations nationwide that have not been intimidated by the use of violent force.
Some showed huge crowds chanting slogans attacking President Ahmadinejad and the supreme leader, Ayatollah Ali Khamenei.
President Obama has failed to respond to the growing violence in Iran outside of a standard White House response from Washington of a bland condemnation of "violence".  His hesitancy has betrayed many in the Iranian opposition to the point that if there is a regime change the opportunity to build again good relations with Iran diminishes each day as our president dawdles away in his luxurious resort home in Hawaii.
(Biretta Tip: Lucianne)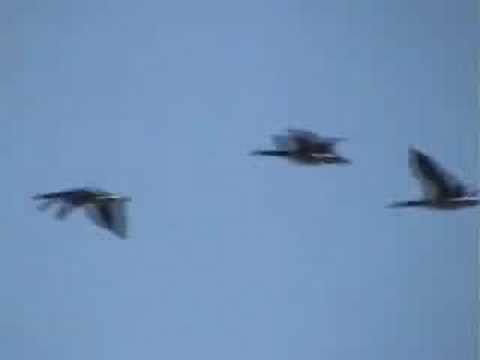 I had a pleasant surprise yesterday morning as my family and I were readying ourselves to go out of town to see a movie.  Flights of several hundred geese in their V formations flew over the town of Dwight, Illinois, heading south and honking their heads off.  This was at 8:00 AM and no doubt some of the citizenry who had made merry on Christmas did not find all the honking welcome, but I thought it was delightful and awe-inspiring.  Dwight is not on any major migratory flight paths for geese, so this was a rare event.  As I do whenever I see something in nature that inspires awe in me, I quickly thought of the Creator of nature, and I mused that after celebrating the Nativity yesterday, God deigning to become part of Nature, this sight reminded me of the delight that God takes in His creation, and why He marks the sparrow's fall, and the honking of a goose.
This rant was inspired by a recent tour of anti-religious com-boxes following various articles on religion. My sincere hope is that some of the people who frequent these com-boxes with their anti-religious hatred can find their way to my blog to see what I think of them.
Merry Christmas!
His Holiness Pope Benedict XVI was pulled down by a woman during the Christmas vigil Mass on Christmas Eve.  In the video you can see the woman jump the barrier and instantly you see Vatican security react but the distance between the Pope and the barrier was small enough for the woman to bring down the Pope.
Along the way Roger Cardinal Etchegaray also fell as the woman barreled her way towards Papa Bene and through Cardinal Etchegaray.  The good French Cardinal is currently still hospitalized with a broken hip.
Pope Benedict immediately got up and proceeded to celebrate Mass as the congregation clapped joyfully seeing that Papa Bene was unharmed (not shown in the video).
Vatican security is reviewing their procedures amid this recent break down in security.  But keeping in balance the Pope's access to his sheep to his safety is a delicate task.  Father John Zuhlsdorf has floated the idea of bringing back the sedia gestatoria, the portable papal throne where adequate lines of men would flank the chair bearers.
Preliminary reports have suggested this is the same woman, identified as Susanna Maiolo a Swiss-Italian, also jumped a barrier at an earlier papal procession but was tackled before she could reach Papa Bene.  It has been reported that Miss Maiolo
appears to be unbalanced, but this hasn't been confirmed.
Finally the Vatican will pardon her for her attack on the pope and offer leniency (in any future prosecution I assume).
_._
To read the Zenit news blurb on the attack on the Pope click here.
To read Father John Zuhlsdorf's suggestion for a return to the sedia gestatoria click here.
To read what a sedia gestatoria is by the The Catholic Encyclopedia (1912 version) click here.
To read a more contemporary definition of the sedia gestatoria by Wikipedia click here.
To read the pardon of Susanna Maiolo by Samuel Goldsmith of the New York Daily News click here.