Monthly Archives:
November 2009
Ron Houben was paralyzed and trapped in his own body for 23 years.  Doctors labeled him as being in a coma and in a persistent vegetative state.  As the Mail Online reports, they were gravely in error:
Rom Houben, trapped in his paralysed body after a car crash, described his real-life nightmare as he screamed to doctors that he could hear them – but could make no sound.
'I screamed, but there was nothing to hear,' said Mr Houben, now 46, who doctors thought was in a persistent vegetative state.
Three years ago new high-tech scans revealed that his brain was functioning normally.
His case has only just been revealed in a scientific paper released by the man who 'saved' him, top neurological expert Dr Steven Laureys.
'Medical advances caught up with him,' said Dr Laureys, who believes there may be many similar cases of false comas around the world.
Dr Laureys's new study claims that patients classed as in a vegetative state are often misdiagnosed.
'Anyone who bears the stamp of "unconscious" just one time hardly ever gets rid of it again,' he said.
The doctor, who leads the Coma Science Group and Department of Neurology at Liege University Hospital, found Mr Houben's brain was still working by using state-of-the-art imaging.
He plans to use the case to highlight what he considers may be similar examples around the world. Continue reading →
Trading Women's Rights for Political Power
By KATE MICHELMAN and FRANCES KISSLING
A grim reality sits behind the joyful press statements from Washington Democrats. [The health care bill passed. What is so grim?] To secure passage of health care legislation in the House, the party chose a course that risks the well-being of millions of women for generations to come. [Are women not being allowed to have health care coverage or something?]
Representative Todd Akin (R-MO) lead the Pledge of Allegiance at a rally protesting the Democratic health care reform bills. He gave a short statement beforehand on the importance of the phrase "under God." He then invited everyone to join in the recitation of the Pledge because it "drives the liberals crazy." This statement shouldn't be surprising coming from a member of a party committed to nationalist overtones and calling into question the patriotism of anyone who dares to dissent from their claims of what is "patriotic." Yet Rep. Akin made a fool out of himself when it was time to actually recite the Pledge.
Sure, he simply had an honest stumble. I am sure we all do it. But it is quite hilarious that it took place after he sanctimoniously claimed some sort of patriotic high ground for conservatives because liberals apparently hate our country. So much for his credibility. . .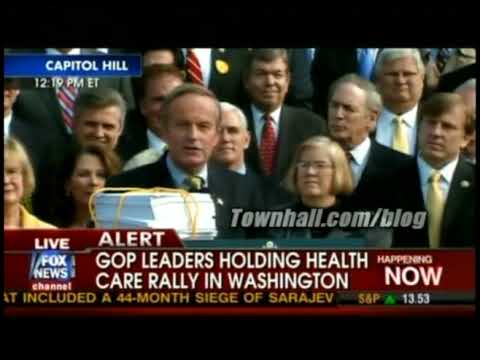 Similarly, House Minority Leader John Boehner was fired up against the Democrats at a Tea Party rally. He went to invoke the Founding Fathers who wrote in the preamble of our Constitution: "We hold these truths to be self-evident…"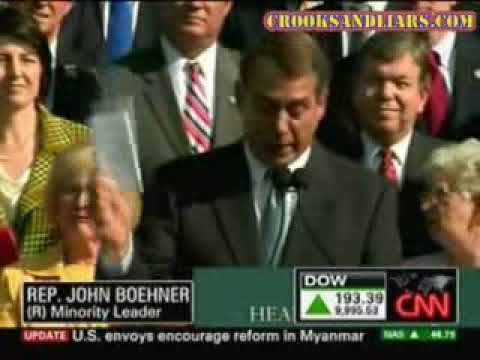 Oops.
Mr. Boehner does not appear to know the difference between the United States Constitution and the Declaration of Independence. Better luck next time.  
Recently we at The American Catholic have debated, over the course of 140 posts, the topic of evolution. It doesn't surprise me that a topic as controversial as evolution would generate so much discussion, but I do believe there is something missing from it, and which is partially addressed by fellow contributor Darwin Catholic.
What I notice, first of all, is that the comments fall into two categories: those in vigorous support of the theory of evolution, and those who just as vigorously reject it. In my view neither group is taking an approach to the question that I think is appropriate for Catholics. The problems with those who reject evolution are more obvious – the Church has declared that there is no necessary conflict between the theory and the faith, provided that philosophical materialism is removed as the only possible foundation for the theory. This is a good thing, for the scientific evidence for evolution is quite strong. While it is difficult for some opponents of the theory to think of it apart from materialism, I do believe it is possible.
The Democratic primary election rules direly need to be reformed. Admittedly, it would seem at first glance that raising this issue seems to be a bit premature. Yet the primary election rules that will affect 2012 and beyond will be set by the DNC at the 2010 convention. This is especially true since DNC Chair Tim Kaine has already created a Democratic Change Commission, which will recommend changes to the Democratic Party's rules for the 2012 presidential nominating and delegate selection process so that 2012 and beyond never becomes the quagmire that 2008 was. The Democratic Change Commission will address three issues: 1) changing the window of time during which primaries and caucuses may be held 2) reducing the number of super delegates and 3) improving the caucus system. The Commission must issue its report and recommendations to the DNC Rules and Bylaws Committee no later than January 1, 2010. Therefore criticism of the current system now is quite appropriate as it affects the future shape of a system that governs the way Americans may exercise their civic duties.
Looking back on the Election 2008, I fully agreed with Hillary Clinton supporters advocating for the abolition of the caucus system. At the time, of course, Obama supporters were suspicious that such criticism was due to anger that Clinton lost the Democratic presidential primary.  This may have been true for some; but the evidence, I think, overwhelmingly shows that the caucus system is flawed. Continue reading →
Some time ago, someone asked me:
Suppose–just for the sake of argument–you were convinced that an honest reading of the Tradition of the Church required you to believe that the initial chapters of Genesis were historical. Would you be able to do it, or do you think that Darwinism is so irrefutable that you would have to abandon or radically redetermine your faith?
I think this is the question that worries a lot of Catholics without a strong scientific background as they watch the evolution/creationist/ID debate on Catholic blogs. Here are these otherwise solid Christians taking common cause with the likes of the Richard Dawkins against their brother Christians. What gives? Are these folks really Christian? Do they care more about science than about faith? Do they only accept Catholicism so long as it agrees with science?
The Catholic Church has always had a bull's-eye attached to it, and in truth many of us wouldn't want it any other way, for when we are almost universally loved, as has happened a few times in the last 40 years we have become "of the world," instead of suffering for the world."  Lately, during the pontificates of Pope John Paul II and now Pope Benedict XVI dark forces have gathered at the gates of truth attacking the Church for a variety of long held beliefs.  These beliefs can range from the theological to the social. However, following the US Election of 2008 a tidal wave seems to have inundated the Church from the mainstream media, the political realm and even the entertainment world. The Church's 2,000 year old teachings and beliefs have been attacked in the United States and Western Europe from elected officials, the mainstream media and well known entertainment celebrities. Some of the faithful have become discouraged and questioned me as to how the thesis of my book, The Tide is Turning Toward Catholicism, could possibly be true in light of this news.
The truth of the matter is that against this troubling backdrop the Church continues to grow around the world, especially in African and Asia but even in North America, where much of the onslaught against the Church has emanated. Seminaries and Mother Houses often have no room for those pursuing a vocation and those young African and Asian men and women are often sent to the US or Europe to explore their vocation. Even in the US and pockets of Europe seminaries are experiencing a mini boom. One seminary rector told me that in the 40+ plus years of being affiliated with the Church, he has never seen a longer sustained period of top notch orthodox minded young men coming in and being ordained as he has seen in the last 10 years. Perhaps this is why the powers that be are so angry.
It seemed the US midterm Election of 2006 emboldened the cause of those militant liberals and secularists who have contempt for much of what orthodox minded Catholicism holds dear. Following the results of the Election of 2008, many pundits proclaimed the results as a sea change for America. Agnostics and atheists gleefully announced that a world where religion and especially conservative or orthodox minded Catholicism held sway was being replaced by a humanist brand of religion where age old teachings were replaced by the ideas of "enlightened" religious leaders, agnostic thinkers, and pop culture celebrities. It seemed this new brand of liberal thinker was less idealistic than their 1960s peers and displayed an anger and hostility that was a far cry from the utopian idealism displayed some 40 years ago. Yet, beneath the surface and below the radar screens of many news organizations, lies the hope of the Catholic faithful who hold on to the ideas  imparted by Christ, His Apostles, Popes, Bishops, Priests, Women Religious, Saints and holy laymen and laywomen throughout the centuries. Continue reading →
Patrick Kennedy, a son of Ted Kennedy and a Democrat Congressman from Rhode Island, has been engaging in a very public conflict with the Bishop of Providence Thomas J. Tobin.  Prior posts on this combative dialogue are here and here.  Kennedy has now revealed that he is barred from receiving communion. The Bishop has responded by releasing this letter:
I am disappointed and really surprised that Congressman Patrick Kennedy has chosen to reopen the public discussion about his practice of the faith and his reception of Holy Communion. This comes almost two weeks after the Congressman indicated to local media that he would no longer comment publicly on his faith or his relationship with the Catholic Church. The Congressman's public comments require me to reply.
On February 21, 2007, I wrote to Congressman Kennedy stating: "In light of the Church's clear teaching, and your consistent actions, therefore, I believe it is inappropriate for you to be receiving Holy Communion and I now ask respectfully that you refrain from doing so." My request came in light of the new statement of the United States Conference of Catholic Bishops that said, "If a Catholic in his or her personal or professional life were knowingly and obstinately to repudiate her definite teachings on moral issues, he or she would seriously diminish his or her communion with the Church. Reception of Holy Communion in such a situation would not accord with the nature of the Eucharistic celebration, so that he or she should refrain." (Happy Are Those Who Are Called to His Supper, December, 2006)
My short answer is no.
Christ's Kingdom is, as He says in today's Gospel, "not of this world." We are called to build Christ's Kingdom on earth not by ruling the secular realm and enforcing Christian morality and charity with the force of law, but by living out of vocation as Christians and winning hearts and minds by word and deed. Christians are called to transform society from within – we are "the salt of the earth," ideally bringing out the best in all of our various communities. In this way, Christians do not need the secular law to be successful. I do not mean to imply that the secular law is not necessary for social order; it is clearly a fundamental component of the common good. Catholics do and ought to work for the common good in our political life, but we should not seek this good in the name of Jesus (of course everything we do ought to be for Jesus). He Himself did not establish a political party or an Earthly kingdom. His Kingdom is "not of this world," and it is our task as Christians to build this Heavenly kingdom here on Earth. The Heavenly kingdom is not one of coercive political force, but freely given sacrificial Love.
QUAS PRIMAS
ENCYCLICAL OF POPE PIUS XI
ON THE FEAST OF CHRIST THE KING
TO OUR VENERABLE BRETHREN THE PATRIARCHS, PRIMATES,
ARCHBISHOPS, BISHOPS, AND OTHER ORDINARIES
IN PEACE AND COMMUNION WITH THE APOSTOLIC SEE.
Venerable Brethren, Greeting and the Apostolic Benediction.
In the first Encyclical Letter which We addressed at the beginning of Our Pontificate to the Bishops of the universal Church, We referred to the chief causes of the difficulties under which mankind was laboring. And We remember saying that these manifold evils in the world were due to the fact that the majority of men had thrust Jesus Christ and his holy law out of their lives; that these had no place either in private affairs or in politics: and we said further, that as long as individuals and states refused to submit to the rule of our Savior, there would be no really hopeful prospect of a lasting peace among nations. Men must look for the peace of Christ in the Kingdom of Christ; and that We promised to do as far as lay in Our power. In the Kingdom of Christ, that is, it seemed to Us that peace could not be more effectually restored nor fixed upon a firmer basis than through the restoration of the Empire of Our Lord. We were led in the meantime to indulge the hope of a brighter future at the sight of a more widespread and keener interest evinced in Christ and his Church, the one Source of Salvation, a sign that men who had formerly spurned the rule of our Redeemer and had exiled themselves from his kingdom were preparing, and even hastening, to return to the duty of obedience. Continue reading →
Today most of your parishes will be collecting for the Catholic Campaign for Human Development (CCHD).  Donald, Christopher, and I have written over and over again of where the money actually goes to, funding for abortions being the most grevious of the lot.
So think twice before donating anything.
(Biretta Tip: Paul Nichols)