Monthly Archives:
October 2009
As an aside in an otherwise unrelated talk, I heard a priest say the other day, "How can there be any logic in capital punishment? How can you teach people to respect life by threatening to kill them?"
Regardless of what one thinks about the legitimacy of capital punishment, this is a bad argument. Throughout history, legitimate authority has used the threat of legally sanctioned violence (punishment) to prevent people from committing crimes, and it does indeed work pretty well. Not only that, but there's an example from everyday life that most people have direct experience with: Telling young children that biting, kicking, scratching, hair pulling, kicking, hitting and any other physical attacks I haven't thought of at the moment will be met with a spanking actually works very well. Indeed, at the ages of 3-8 when children are capable of more-or-less controlling their actions but have very limited ability to empathize with others (especially others who are making them angry) it's often pretty much the only effective manner of preventing intra-sibling fights getting nasty.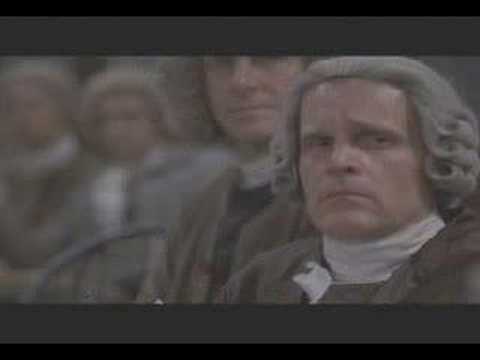 John Adams, second President of these United States, was a man of very firm convictions.   Once he decided to support a cause, most notably American independence, nothing on this Earth could convince him to change his mind.  In regard to religion he was raised a Congregationalist.  Although described as a Unitarian, I find the evidence ambiguous in his writings and I suspect he remained at heart a fairly conventional Protestant.  As such he was unsympathetic to the Catholic faith by heredity, creed and conviction.  However, he did attend Mass on occasion, and his writings about these visits show attraction mixed with repulsion.
On October 9, 1774 Adams and George Washington attended a Catholic chapel in Philadelphia during the First Continental Congress.  He reported his thoughts about the visit to his wife and constant correspondent Abigail:
"This afternoon, led by Curiosity and good Company I strolled away to Mother Church, or rather Grandmother Church, I mean the Romish Chapel. Heard a good, short, moral Essay upon the Duty of Parents to their Children, founded in justice and Charity, to take care of their Interests temporal and spiritual.
This afternoon's entertainment was to me most awful (Adams here means awe-inspiring and not the more colloquial use of the term common in our time.) and affecting. The poor wretches fingering their beads, chanting Latin, not a word of which they understood, their Pater Nosters and Ave Marias. Their holy water– their crossing themselves perpetually– their bowing to the name of Jesus wherever they hear it– their bowings, and kneelings, and genuflections before the altar. The dress of the priest was rich with lace– his pulpit was velvet and gold. The altar piece was very rich– little images and crucifixes about– wax candles lighted up. But how shall I describe the picture of our Saviour in a frame of marble over the altar, at full length, upon the cross in the agonies, and the blood dropping and streaming from his wounds.
The music consisting of an organ, and a Choir of singers, went all the afternoon, excepting sermon Time, and the Assembly chanted– most sweetly and exquisitely.
Here is everything which can lay hold of the eye, ear, and imagination. Everything which can charm and bewitch the simple and the ignorant. I wonder how Luther ever broke the spell."
There's a school of thought which greatly admires "bi-partisan" approaches to solving political problems. The idea of representatives and senators putting aside their differences to "reach across the aisle" and work together seems admirably, if only because our social training all points towards the importance of compromise in order to get along with others.
However, I'd like to question whether there are often pieces of legislation which are genuinely bi-partisan.
Some legislation is essentially non-partisan. Instituting a national alert system to help track down kidnapped children, for instance, is hardly something which has a major political faction aligned against it.
In other cases, there's legislation which applies to factions within each party — a result of the fact that our two major political parties include sub-factions which disagree with each other on major issues. For instance, "bi-partisan" immigration reform might draw support both from the business faction within the GOP and the pro-immigration faction within the Democratic Party, while being opposed by labor focused Democrats and immigration focused Republicans.
Continue reading →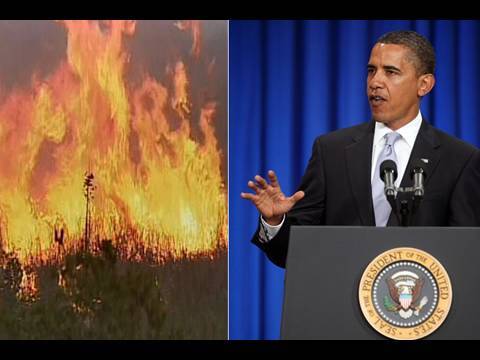 From the only reliable source of news on the net, the Onion.  I guess the President is attempting to earn the Nobel Peace Prize he has been awarded.
Yesterday The Nation's John Nichols wrote a rather scathing piece about President Obama: the piece is entitled "Whiner-in-Chief" and the first line reads, "The Obama administration really needs to get over itself."
Of course, I tend to agree with perspectives like that.
  But near the end of the piece Nichols tries to argue that the country isn't as divided as the White House thinks, and along the way, he makes a heckuva non sequitur:
Megan McArdle links to a post by Publius of Obsidian Wings on Governor Perry's recent move to slow the investigation into likely miscarriage of justice (due to a faulty arson investigation) which resulted in the execution of Cameron Todd Willingham. This much-discussed New Yorker article makes a fairly solid case that the evidence that Willingham set fire to his own house (resulting in the death of his three daughters) was far from conclusive. Publius says:
In 2005, after the execution, Texas established a commission to investigate forensic errors, and the commission started reviewing the Willingham case. In the course of its review, the commission hired a nationally recognized fire expert who ultimately wrote a "scathing report" concluding that the arson investigation was a joke.

The expert was originally set to testify about his report on Friday, October 2. On Sept. 30, however, Perry suddenly replaced three members of the panel, including the chair, against their wishes. The new chair promptly canceled the hearing. More recently, Perry replaced a fourth member (he can only appoint four — other state officials appoint the remaining five members).
Continue reading →
Hattip to the Curt Jester.  Father Emil Kapaun, the POW Servant of God who died a heroic death in a Chinese POW camp during the Korean War, and who I have written about here, here and here may soon have a new earthly honor.  Army Secretary Peter Geren has recommended that Father Kapaun be awarded the Medal of Honor.  Now it is up to Congress to pass the legislation to send the award on to President Obama.  I recall when I drafted my original post I was surprised that Father Kapaun had not been awarded the Medal of Honor since clearly he had earned it many times over.  If awarded the Medal, he would bring the number of chaplains to eight who have received the highest military decoration this nation can bestow.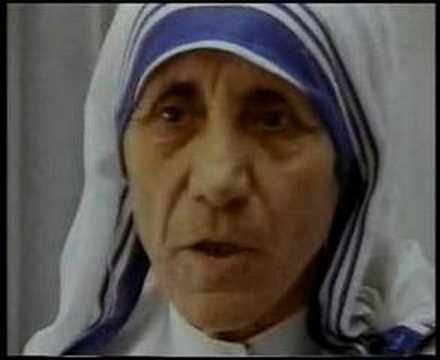 We are talking of peace. These are things that break peace, but I feel the greatest destroyer of peace today is abortion, because it is a direct war, a direct killing – direct murder by the mother herself.
Thirty years ago the Nobel Peace Prize was awarded to Mother Teresa.  Here is the Nobel Peace Prize Lecture she gave on December 11, 1979.
As we have gathered here together to thank God for the Nobel Peace Prize I think it will be beautiful that we pray the prayer of St. Francis of Assisi which always surprises me very much – we pray this prayer every day after Holy Communion, because it is very fitting for each one of us, and I always wonder that 4-500 years ago as St. Francis of Assisi composed this prayer that they had the same difficulties that we have today, as we compose this prayer that fits very nicely for us also. I think some of you already have got it – so we will pray together. Continue reading →
If you thought the modern world couldn't get any more messed-up in its understanding of reproduction and the family, you need turn no further than the WSJ weekend section, and a feature article on people hiring surrogate mothers from India to bring their children to term.
According to Hrishikesh Pai, a Mumbai-based in-vitro fertilization specialist and vice-president of the Indian Society for Assisted Reproduction, India now has about 350 facilities that offer surrogacy as a part of a broader array of infertility-treatment services, triple the number in 2005. Last year, Dr. Pai says, about 1,000 pregnancy attempts using surrogates were made at these clinics. This year, he estimates the figure will jump to 1,500, with about a third of those made on behalf of parents from outside India who hired surrogates.

Rudy Rupak, president of PlanetHospital, a California-based medical-tourism company, says that in the first eight months of this year he sent 600 couples or single parents overseas for surrogacy, nearly three times the number in 2008 and up from just 33 in 2007. All of the clients this year went to India except seven who chose Panama. Most were from the U.S.; the rest came from Europe, the Middle East and Asia, mostly Japan, Vietnam, Singapore and Taiwan.

Mr. Rupak says that because of growing demand from his clients for eggs from Caucasian women, he's started to fly donors to India from the former Soviet republic of Georgia, where he has connections with clinics. The first woman arrived last month. A PlanetHospital package that includes an Indian egg donor costs $32,500, excluding transportation and hotel expenses for the intended parent or parents to travel to India. A package with eggs from a Georgian donor costs an extra $5,000.
…
For the Indian surrogates themselves, it's an experience often fraught with emotional conflict. In most cases, the egg comes either from the woman who wants to become a mother but can't carry a child, or from an egg donor. The egg is then fertilized with sperm from the intended father, or a sperm donor, and implanted in the womb of a surrogate who bears the child. Sometimes, no money changes hands, particularly when a friend or relative acts as the surrogate. Alternatively, it's a commercial transaction, which is almost always the case in India for would-be parents from overseas.
…
Still, it's a way to raise money in sometimes desperate circumstances. Take Sudha, a 25-year-old mother of two who now works as a maid in Chennai earning $20 a month. She owes moneylenders about $2,700, borrowed to pay bribes to secure a government job as a streetsweeper, which never materialized. A neighbor told her she could earn about $2,000 at a local clinic by bearing a child for an infertile couple. She gave birth in July 2008 — and is haunted by the memory. "Whenever I have free time and I lie down, I think about the child. I pray that the child is safe and happy and is taken care of well."
Continue reading →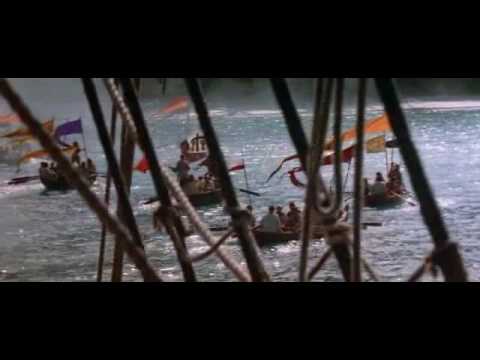 "This, indeed, is probably one of the Enemy's motives for creating a dangerous world—a world in which moral issues really come to the point. He sees as well as you do that courage is not simply one of the virtues, but the form of every virtue at the testing point, which means, at the point of highest reality. A chastity or honesty, or mercy, which yields to danger will be chaste or honest or merciful only on conditions. Pilate was merciful till it became risky. "
C.S. Lewis, The Screwtape Letters

This is one of those years in which the government decreed Columbus Day, the second Monday in October, actually falls on October 12, the date, under the Julian calendar, when Columbus discovered the New World.  Columbus Day is observed also in Spain as Dia de la Hispanidad and Fiesta Nacional and as the charmingly unpc Dia de la Raza in most Latin American nations. 
 In this country Columbus Day used to be an uncomplicated celebration, especially for Italian Americans.  Now it has become controversial with Columbus blamed in some quarters for genocide against Indians and being the founder of the American slave trade.  As Dinesh D'Souza pointed out in this article in 1995 in First Things, the condemnation of Columbus today tells us far more about current political battles than it does about the historical record of Columbus.  From a modern standpoint there is indeed much to criticize Columbus for since, in most ways, he was a typical man of his time, as we are, in most ways, typical children of ours.  Among other views inimical to our time,  he saw nothing wrong about establishing colonies and bringing native peoples under the rule of European powers.  He had little respect for the religions of native people and wanted them to be Catholic, as, indeed, he wanted all the world to be Catholic.  (I see nothing wrong in this myself, but rest assured most of our contemporaries in this country would.)
Prior to ascending the pulpit to launch a jeremiad against someone of a prior time however, it might be useful to consider the criticisms that Columbus might have of our time.  The embrace of nihilistic atheism by so many in the West in our time would have appalled him. The easy availability of the most degrading types of pornography would have sickened him.  Our weapons of mass destruction he would have seen as a sign of the reign of the Anti-Christ.  Ecumenicalism he would have viewed as a turning away from the True Faith.  The celebration of abortion as a right would have seemed to him as the ultimate covenant with death.  The Sixties of the last century popularized the term generation gap, describing the difficulty that parents and their teenage offspring had in understanding each other.  Between our time and that of Columbus there is a generations' chasm and the use of Columbus as a whipping boy in current political disputes only increases our problem of understanding him and his time. Continue reading →
I have not seen Michael Moore's latest film Capitalism: A Love Story. Therefore this is certainly not a movie review, for those who might have been expecting one. After what I have read recently, however, about the content of the movie – particularly it's Catholic content, it is something I think I am going to have to see for myself. An article in The Guardian (for which I tip my hat to Facebook friend Brennan Hartley for) explores the presence of Catholic social teaching in Moore's latest film, and in what may be a shock to at least some folks, Moore's professed Catholicism.
Many of the readers here at TAC, however, will probably not be so surprised; we are all familiar enough with the specter of the liberal Catholic. There is a good aspect, a bad aspect, and a downright ugly aspect to what I typically encounter on the Catholic left, and Moore is the epitome of this trend.
Fairly gentle satire of the Nobel Peace Prize award to President Obama, although they do get to the only reason for the award:  Obama is not George Bush.   With the satire of a done-nothing presidency last week, Saturday Night Live is helping to inaugurate a new phase in the Obama saga, one in which he can no longer assume that comics will treat him as off-limits simply because of their usually leftist political sympathies.