Monthly Archives:
October 2009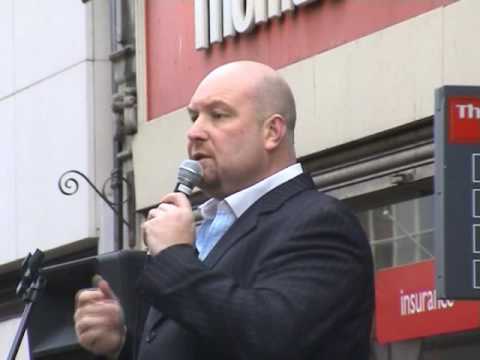 Today is the feast day of the Forty Martyrs of England and Wales, canonized by Pope Paul VI on October 25, 1970.  These very brave men and women were martyred for the True Faith in England and Wales between 1535 and 1679, and they are representative of hundreds of Catholics in these countries who went to their death rather than to renounce their Catholicism.
John Pridmore, a reformed gangster from England, talks elquently about Saint Margaret Clitherow in the above video, and her life is typical of these brave champions of Christ.
Father Edward "Ed" Hinds, the pastor of Saint Patrick Church in Chatham, New Jersey, was found slain early Friday
morning by parishioners in the rectory when he failed to celebrate the 8:00am Mass.
This morning there was a congregation of roughly 300 parishioners that attended the 8:00 am Mass the day after the slaying.  It was a somber and quiet mood as the parish remembered their dear priest who was the only pastor at the church and he also worked at the parish school.
Politicians make asinine statements all the time, but sometimes there is one that stands out from the crowd for its sheer cluelessness, duplicity and perversity.  Patrick Kennedy, yep, one of Teddy Kennedy's sons, a Democrat member of Congress from Rhode Island, lambasted the Church for not falling into line behind ObamaCare. Here is a statement that he made  to CNSNews.
"I can't understand for the life of me how the Catholic Church could be against the biggest social justice issue of our time, where the very dignity of the human person is being respected by the fact that we're caring and giving health care to the human person–that right now we have 50 million people who are uninsured," Kennedy told CNSNews.com when asked about a letter the U.S. Conference of Catholic Bishops (USCCB) had sent to members of Congress stating the bishops' position on abortion funding in the health-care bill.
Something for the weekend.   I have always found this tune to be catchy, even though more than a few of my ancestors fought against British Grenadiers!  In the Seventeenth and early Eighteenth centuries a grenadier was a soldier who carried little bombs, think stereotypical black anarchist bombs, and threw them at enemy positions, often in sieges.  The bombs eventually fell out of military use, until they were revived in the hand grenades of the Twentieth century.  However grenadiers,  the tallest and strongest men in a regiment, were still usually grouped together into an elite company and were often held in reserve until their use was needed to turn the tide of a battle.  Whole regiments of grenadiers, most notably in the Royal Army the Grenadier Guards, were sometimes formed.    The song The British Grenadiers is a fitting tribute to those men who were often involved in fighting of the most desperate sort.
Some talk of Alexander, and some of Hercules
Of Hector and Lysander, and such great names as these.
But of all the world's great heroes, there's none that can compare.
With a tow, row, row, row, row, row, to the British Grenadiers.
As you can clearly see, I have been bitten by the writing bug. This will be my last post for a little while, so I wanted to make it a good one. Starting Monday my contributions to the discussion will be sporadic at best for at least a week.
Consider it yet another fulfillment of my promise to certain commentators here to get back to economic issues so we can continue our disagreements after so much agreement on life issues and the liturgy
In honor of the Anglican initiative of Pope Benedict this week, a reminder of the history of Catholic England, when Catholics were willing to stand against the State if need be to protect the Honor of God.   Becket (1964), although inheriting the historical howlers that existed in the play, and were known by the playwright Jean Anouilh who wisely preferred a poetic story to prosaic fact,  (Becket was Norman not Saxon, Henry II was not a crowned juvenile delinquent, the armor, as is usual in medieval epics, is all wrong for the period, etc.), this classic film helped awaken in me a desire to learn about the history of the Church.  With masterful performances by Richard Burton as "the holy blessed martyr" and Peter O'Toole as Henry II, the film brought alive to me as a child the high Middle Ages.  The installation sequence brought home to me the important role of ceremony, tradition and symbolism in our Faith, a lesson I have never forgotten.
In the 23rd New York Congressional District special election, Sarah Palin has tonight endorsed the pro-life Doug Hoffman, running on the Conservative Party ticket, against Dede Scozzafava, the pro-abort leftist Republican, a race that I posted about here earlier in the week.  Sarah Palin's statement is as follows:
I tend to think I am doing something right if people from both ends of the political spectrum are rabidly attacking me. The notion that one ideological camp has a monopoly on truth and justice is repugnant to me, even if I lean one way or another at times. At the same time, I never enjoy seeing civil discussion degenerate into uncharitable attacks.
Attachment to labels is part of the problem I encounter when putting forth alternative economic ideas. People on the political right are as agitated by the mere word "socialism" as people on the left are by the word "capitalism". It doesn't help that both sides hold radically different definitions of each word.
I'll start with the right. On the right, "socialism" (or these days, "fascism" as well) is what happens whenever government gets involved in the economy in almost any way, shape or form. But how it is applied is usually very selective – I doubt the average "tea party" protester would call Benjamin Franklin a "socialist" for establishing the post office. Meanwhile, "capitalism" is merely the freedom to own private property, start a business and participate in the free market.
Next, on the left, "capitalism" is the root of all evil, and is what happens whenever a person makes money for themselves somehow. It is by definition exploitative and must be either violently overthrown or withered away through government intervention. How it is applied is again very selective; if a business is "green" or "socially conscious", enough leftists may look the other way for it to be acceptable among their numbers. Meanwhile "socialism" is what happens when ordinary people, instead of fat cats and tycoons, have control of the economic system.
I realize of course that I simplify positions here a great deal, and that not everyone identifying themselves as left or right would necessarily agree – my apologies, but not every possible permutation can be explored in a small blog post. There are people on both sides who understand that political realities, not to mention political history and political theory, are far more complex than the rhetoric that emerges from popular movements, magazines, news shows, etc.
The point here is that the two sides have more in common than they realize. How the right typically understands capitalism, and how the left typically understands socialism, consist of two ideas that are not that radically opposed to one another. So it may be time to take a cue from my favorite political theorist, Aristotle. In the Politics, Aristotle presents us with the "true" forms and the false forms of each system of government. For Aristotle the possibilities are rule by a single man, rule by the few, or rule by the many (self-government). Each of these types has a true form and a false form (which today, I suppose, we would substitute for a good form and a bad form): the true form of rule by a single man is monarchy, while the false is tyranny; the true form of rule by the few is aristocracy while the false is oligarchy; the true form of rule by the people is constitutional government, while the false is democracy. How Aristotle used these words and how we use them might vary to some degree.
Might I suggest, in keeping with Aristotle's approach, that there are true forms and false forms of both capitalism and socialism? I think most of us already understand what they would be, but here is how I would set them forth: the true form of capitalism is "free enterprise", defined by the freedom to own private property, start one's own business, and engage in trade, while the false form is "plutocracy", defined by rigid economic stratification, the subordination of all social interests to the profit motive, and the disproportionate power of wealthy corporations. On the other hand, the true form of socialism is "economic democracy", whereby the people have varying yet substantial degrees of ownership and control of economic processes, while the false form is "command economy", whereby the state has the lion's share of ownership and control.
If we can at least temporarily agree to this understanding of terms, we might then take our next cues from a group of political theorists that looked to classical theorists such as Aristotle, among others, as they set out to apply their ideas to the real world: the American founding fathers. As students of their political thought may already know, the founders were interested in combining each of the true forms of government into a single system in order to get the best of each – monarchy, aristocracy, and what we would today call democracy each had a representative in the structure of the new American government. A system of checks and balances were to hold each element in its proper place, and prevent them from degenerating into their false forms.
Can the same be done with economic ideas? I believe it can, and I believe we find the answers in Catholic social thought, and particularly Distributist thought. Here the true forms of both capitalism and socialism are combined in a way originally envisioned by Aristotle himself, while the false forms are rejected and held in check. What I defined as "free enterprise" and "economic democracy" above are entirely compatible, provided only that society – be it through a national or, better yet, local government – have as its practical aim the gradual elimination of the unskilled or semi-skilled labor market by providing as many positive incentives as possible for the establishment of Employee Owned and Controlled Companies (EOCCs).
Why the labor market? Because it is here that human beings are ultimately reduced to the amount of profit they can provide an employer. Within Catholic social thought, labor always has primacy over capital – the human rights and dignity of the worker always take a great moral precedence over profit. When a worker is reduced to a cog in a profit-making machine, to be granted the necessities of life while it is convenient and yet denied them when it is not, it is a violation of human rights. And yet the elimination of the market in unskilled labor would not deny anyone's right to private property, their own business, or trade in material goods. It simply means that a person who wishes to profit for himself by such means must now be a person in search of partners instead of a buyer in search of a "means of production" in human beings.
To those who might complain that this would result in less effective or efficient businesses, I would point to research that clearly shows that there is a positive relationship between ownership and productivity. When people are treated like people with dignity – even if not as equals in every respect – they do their jobs better, and everyone benefits. The reason for this should not be surprising to Christians; it is God who made it such that we should live in society with one another, and God who commands us to love our neighbor as ourself. God would not command that which was detrimental to ourselves. The moral law is not only good, but results in good.
To achieve these ends it is absolutely necessary that we change the way we think and speak. We must begin to agree upon the meaning of words and phrases so that petty disputes are finally put to rest. Leftists and rightists alike must embrace the true forms of the economic systems they criticize, and more loudly condemn the false forms. They must seek points of contact and agreement, and I think this can be done by finding ways to marry free enterprise to economic democracy while holding plutocracy and command economy at bay. In spite of our differences on other moral issues, particularly sexual ethics, modern technology offers us ways in which both freedom and equality, the rallying points of right and left respectively, can be effectively and efficiently combined. Overarching both of these important conceptions must be the Christian conception of the human person, for in the final instance, and in spite of the pretensions of secularism, Pope Benedict is right: the only foundation for human rights is Christian humanism.
This essay is also on my blog, and I hope it will spark some constructive and respectful discussion.
I tend to think I am doing something right if people from both ends of the political spectrum are rabidly attacking me. The notion that one ideological camp has a monopoly on truth and justice is repugnant to me, even if I lean one way or another at times. At the same time, I never enjoy seeing civil discussion degenerate into uncharitable attacks.
Attachment to labels is part of the problem I encounter when putting forth alternative economic ideas. People on the political right are as agitated by the mere word "socialism" as people on the left are by the word "capitalism". It doesn't help that both sides hold radically different definitions of each word.
Future historians may mark this vote as the day Obamacare died.   Harry Reid was unable to have the senate invoke cloture and end debate on a bill which would dump 250 billion in medicare reimbursements over 10 years from the health care bill and throw it into the general budget deficit with no hint as to how this quarter of a trillion dollars would be paid for.  In order to invoke cloture Reid needed 60 votes, he got 47.  13 Democrats joined all 40 Republicans in refusing to invoke cloture.
The whole purpose of this shell game was to improve the image of the health care bill by reducing the cost by 250 billion dollars.  I guess the senators who voted against ending debate realize that most voters would be able to see through this inept attempt to reduce the cost by shuffling a mountain of red ink into the general deficit abyss. Continue reading →
During these dismal economic days, we can always rely upon the  comic stylings of Joe Biden to raise our morale, just as the American public during Depression I looked to the Three Stooges for comic relief.  I assume Jolly Joe in the above video was thinking of  the old Reagan line from Reagan's 1980 campaign for President:  "A Recession is when your neighbor loses his job.  A Depression is when you lose your job.  A Recovery is when Jimmy Carter loses his!"  Needless to say, the brighter lights in the Administration were reaching for extra strength pain relief as they saw the human gaffe machine use the "D" word, especially since they have been attempting to convince a sceptical public that the recession  is ending.
What makes this especially hilarious is that Newsweek, the unofficial house organ of the Obama administration, ran a puff piece on Biden last week entitled "Why Joe is No Joke" .  Hint Joe, when you are a politician and one of the most sycophanic press journals on your side runs a story arguing that you are not a joke, that is most definitely not a good sign. Continue reading →
The dream of orthodox minded Catholics and Anglican liberals came true on Tuesday, October 20, 2009 as the Vatican announced that traditional minded Anglicans, clergy included, would be welcomed into the Catholic Church with their own Anglican style rite (though not exactly a rite of their own.) The promise Jesus made that the Gates of Hell would not prevail against His Church is now once again being made manifest for those who chose to recognize it (Matthew 16:16-20.) What King Henry VIII started Pope John Paul II and Pope Benedict XVI have salvaged. The English and their former empire (if they wish) can return home again.
Since many conservatives may now leave, religious liberals too have high hopes as the worldwide Anglican Communion can possibly fulfill their wish of unbridled liberalism. However, it is becoming plain to see that it is for all intents and purposes the liberal's wish is now turning into a death wish.  The irony of reading statements by traditional Anglicans thanking God for Pope Benedict's statement coupled by liberal Catholic posters in the dissident National Catholic Reporter asking to be saved from Rome spoke volumes. Even with fawning mainstream media coverage, every liberal Protestant denomination has seen their numbers plummet in recent years, some as much as 50%, while Catholicism, with all the negative banner headlines, continues to grow around the world.
The Archbishop of Canterbury seems a truly tragic figure cut from a Shakespearean play trying to hold together what a murderous king wrought. It couldn't be done and so we may now see the implosion of the Anglican Communion, especially in the only region that had any vibrancy, Africa. The African and Asian continents have long been the hope of the One True Church. Fortunately, the embers of truth can also be seen in North & South American seminaries and even in Europe, where the Faith had seemed all but dead.