Monthly Archives:
July 2009
Too often, Catholic education, particularly at the high school level, seems to be valued not so much for its moral and religious content as for its prestige in the community, or for its ability to produce graduates who get into the "right" colleges and get higher-paying jobs later on.
In my experience, Catholic high schools tend to be known in their communities as 1) schools rich kids attend, 2) a way to escape poor-quality public schools, 3) athletic powerhouses, or 4) institutions whose graduates enjoy disproportionate wealth and influence — the quality Chicagoans famously call "clout."
Just today, in fact, I heard someone refer to alumni of a local Catholic high school as a "Catholic mafia" that allegedly dominates local business and politics. Although this characterization is probably not entirely justified, many alums of this particular school do seem to end up in positions of influence in the community.
Continue reading →

In July I always take a three day mini vacation with my family.  Since it opened in 2005, one of our destinations is the Abraham Lincoln Museum in Springfield, Illinois, adjacent to the Abraham Lincoln Presidential Library.  Yesterday we traveled down to the Museum for our latest dose of Lincolnia. Continue reading →
Salvete AC readers!
Buckle Up! Because here are today's Top Picks in the Catholic world:
1. I want to welcome Blackadder to American Catholic.  Yes, it's belated, but needed nonetheless.  He has been an excellent addition to our fledgling website.  He's written many exceptional posts over at Vox Nova and we are glad to have him here with us.  He also writes at the fine political group blog, Southern Appeal.
2. Meaningless word of the day, Ecumenism.
A close second, Interreligious Dialogue.
…which dovetails very well into my third pick…
From Divini Redemptoris:
55. To give to this social activity [that which was recommended in Quadragesimo Anno -- J.H.] a greater efficacy, it is necessary to promote a wider study of social problems in the light of the doctrine of the Church and under the aegis of her constituted authority. If the manner of acting of some Catholics in the social-economic field has left much to be desired, this has often come about because they have not known and pondered sufficiently the teachings of the Sovereign Pontiffs on these questions. Therefore, it is of the utmost importance to foster in all classes of society an intensive program of social education adapted to the varying degrees of intellectual culture. It is necessary with all care and diligence to procure the widest possible diffusion of the teachings of the Church, even among the working-classes. The minds of men must be illuminated with the sure light of Catholic teaching, and their wills must be drawn to follow and apply it as the norm of right living in the conscientious fulfillment of their manifold social duties. Thus they will oppose that incoherence and discontinuity in Christian life which We have many times lamented. For there are some who, while exteriorly faithful to the practice of their religion, yet in the field of labor and industry, in the professions, trade and business, permit a deplorable cleavage in their conscience, and live a life too little in conformity with the clear principles of justice and Christian charity. Such lives are a scandal to the weak, and to the malicious a pretext to discredit the Church. (emphasis added)
Divini Redemptoris is an excellent supplement to Quadragesimo Anno and yet another example of the brilliance of Pope Pius XI.
An oldie but a goodie from the only reliable source of news on the net, the Onion.  Life without the Internet.  What would we do?  We might have to "gasp" talk to one another!  Bloggers would have to post their missives on their doors for passers-by to write comments!   What would we do with the several hours freed up each day from not browsing the internet?  The Horror, the Horror!
I imagine all of us blogging heroes believe that our outpourings of information and wise counsel, is having at least a minor impact in changing the world for the better. And I do believe that promoting the social doctrine of the Church is part of the evangelizing mission of the Church. But there is something that we must keep in our hearts as we continue fighting the good fight with our mighty pens (or flashing fingers upon key boards). And I cannot put it better than Pope Benedict XVI- so I will quote him here- and recommend the web site BenedictEveryday.com, where you can sign up for daily bits of Pope Speak delivered to your email address. Here is something to ponder as we prayerfully continue our political activism:
Many recent developments in Iran, all of them bad for the Iranian regime of Ahmadinejad and Supreme Leader, with apologies to Fearless Leader of the Rocky and Bullwinkle Show, Khamenei.  Huge demonstrations rocked Iran on Friday with crowd estimates ranging from 100,000 to over a million in Tehran.    Repression, brutal as it has been, is simply not stopping the Resistance from taking to the streets once a week.
A few days ago I was speaking with a good friend of mine about Margaret Sanger, the founder of the American Birth Control League, which was renamed Planned Parenthood. The conversation shifted to Sanger as my friend, who is pro-choice, and I debated the issue of abortion. Sanger was quite relevant because we're both African American and the founder of Planned Parenthood was, as is often pointed out by the right-to-life movement, an unequivocal white supremacist who saw eugenics as the means to weed out less "desirable" populations.
I forwarded my friend information about Sanger and the woman's own words about a variety of matters. That is not why I'm writing this, however. Certain statements by Sanger are absolutely striking because they were statements I did not expect. Continue reading →
In honor of America landing a man on the Moon forty years ago, the indispensable Iowahawk has a column here in which he suggests sending Congress to the Moon.  I'd like to be among the first to climb on board this rocketwagon.  I suspect we will never get our budgetary house in order until Congress is sent to the Moon, and I believe that most Americans have long thought that Congress and a full Moon go together.   However, as the above picture indicates, I can think of a few officials from the Executive Branch who should go along for the ride!
It is one of the interesting contradictions of politics that political factions sometimes rely on the problems they seek to eliminate for their existence. For instance, it has been widely noted that while it is generally part of the Democratic set of ideals to reduce economic disparity, while Republicans tend to be accepting of it, Democrats are most successfully elected in areas with high economic disparity and Republicans are most successfully elected in areas with economic homogeneity. One might imagine that this is because those who actually experience inequality see the folly of their actions and switch to become Democratic voters, and perhaps there's some level of truth to this, but still it seems odd that the Democratic hold on a region strengthens as its inequality increases. In other words, they do better if their goal of creating a more egalitarian economy fails.
I was reminded of this reading an article this morning about a group of newly elected Democrats in the House who are from some of the nation's wealthiest congressional districts. (Democrats now control 14 out of the 25 richest congressional districts in the country.) These congressmen are worried about a provision in the pending health care legislation which would fund much of the new spending with a tax increase of 1-5.4% on income groups making $350k/yr or more.
I don't have an objection in principle to taxes that hit the rich harder than the poor. As was observed about the reasonableness of robbing banks (if one is going to be a robber): That's where the money is. Continue reading →
I posted a while back about the publication of Alphonse, a graphic novel written by Matthew Lickona and drawn by Chris Gugliotti. I've since had a chance to read Alphonse, Issue One and enjoyed it. It's an off-beat and dark story, but a very evocative one. Alphonse's mother is a serious druggie — long in denial about the fact she is pregnant. When she shows up at a women's health clinic, 34 weeks pregnant, she insists that she can't go through with the pregnancy, and a doctor agrees to provide an abortion and hysterectomy. However, Alphonse is not your ordinary, helpless child of 34 weeks gestation. He is, through fate or the harsh mix of chemicals his mother's habits have exposed him to, aware of her thoughts and his danger, and also unusually coordinated for his size and age.
In the first issue we see his escape from the abortion clinic, and his rescue by a pro-life protester who takes him home and begins to nurse him through the withdrawal which removal from his mother's chemical habits causes. A man of action despite standing under twenty inches tall, Alphonse seems poised to bring about changes in the intersecting lives of a number of characters.
Alphonse is not a political cartoon or simple message book. It is a gritty fantasy told in a macabrely inventive visual style — using a fantastic situation to explore a topic which is often considered radioactive in our society. Abortion is a topic which many seek to pigeonhole quietly by declaring a "tragedy". Alphonse seeks to be the Macbeth to this tragedy — bloody, bold and resolute.
Author Matthew Lickona agreed to answer a set of questions for me in order to provide you with this interview.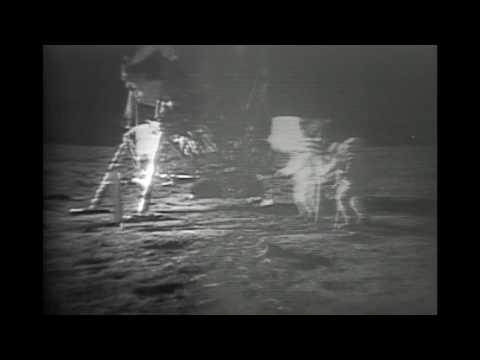 Back on July 20, 1969 I remember staying up to watch this with my father.  Here is a NASA Contractor Report on the flag raising.  My father was not the most talkative man in the world, but I could tell he was quite proud when the flag was raised.  So was I.
The flag raising has been seized upon by conspiracy theorists who claim that the moon landings were government hoaxes.  How could a flag wave without an atmosphere?  This has been answered numerous times. Continue reading →