Monthly Archives:
May 2009
Pope Benedict XVI's visit to Israel and the Holy Land will begin tomorrow, May 8-15, 2009.
I've set up a special blog devoted to the Papal Pilgrimage as a vehicle for rounding up news, coverage and commentary, and where I'll be posting from now until the duration of the Holy Father's journey (upon which time I'll resume blogging here at American Catholic).
Following are some interviews and links which will set the tone for the papal journey:
I just finished reading Thomas F. Madden's Empires of Trust: How Rome Built–and America Is Building–a New World
, and I'm planning to write a couple posts shortly reviewing the book and the ideas it presents. As a prelude of sorts, however, I'd like to revisit some thinking I did a while back:
A month or so ago I finally had the chance to read Steven Vincent's account of life outside the green zone in post-war Iraq: In The Red Zone. It's a very fair book, and worth a read whether you support the war in Iraq or not. The author, since then killed in Iraq by militants, was a New York art reporter who watched the attacks on 9-11 and supported the Iraq war. Having supported the war, he felt like he should go over and see what was really happening over there. The book has the advantage of being writing from a culture writer's point of view rather than a political writer's. And although Vincent starts out as an enthusiastic supporter of the project, he ends unsure whether it's possible for democracy to flourish in Iraq. (I'd be curious to read later work by him and see what he thought of the elections and the provisional constitution, both of which post date his book.)
This reminded me of my long held intention to read more about Islam, so I pull off the shelf the copy of Living Islam(now apparently out of print) by Ahbar S Ahmed which I'd bought on remainder some nine years ago and had been meaning to read ever since. Living Islam is half cultural history, half apologia (think a very, very light weight version of Letters To A Young Catholic with lots of pictures and basic intro information.)
The Italian Civil Defense administration was given a specially designed Fiat Docato Panorama for Pope Benedict XVI to ride in while he tended to the earthquake stricken areas of Abruzzo.  The Fiat van is part of the fleet of cars that the Civil Defense uses for disaster relief efforts.
With the upcoming visit of Pope Benedict XVI to Israel there are many stories that come to the surface that I find especially intriguing.  For example, I came a cross an interesting article on the small community of Hebrew Catholics living in Israel.  They consist of:
Christians married to Jews, monks and nuns who live in Israel out of solidarity, Christians who immigrated from the former Soviet Union and Jews who converted.
There are approximately 4000 in all of Israel today.  They are in full communion with the Catholic Church.  Probably the only difference between them and Latin Rite Catholics is that their liturgy uses Hebrew and they celebrate the Jewish holidays as well as those contained in the Catholic liturgical calendar. 
I'd like to point out some historical nuances with certain Hebrew words that are used in their unique liturgy.  For instance certain words are updated to remove the negative connotations that the Jews themselves had attributed to Catholic terms and names.  An example is the name of Jesus:
Linguists say the modern Hebrew word for Jesus, Yeshu, is derived from the word, Yeshua or Yehoshua, which was given by rabbis in the Middle Ages and which is in fact an acronym of the expression "may his name and memory be obliterated."
A refreshing news story from the mainstream media that portrays the Catholic Church in a positive light.  A 'min-comeback' is the thread of the story, though I disagree with the main reasons for this being the distance from the priest sex abuse scandals combined with the U.S. recession. 
This video exhibits more evidence that the tide is turning towards Catholicism.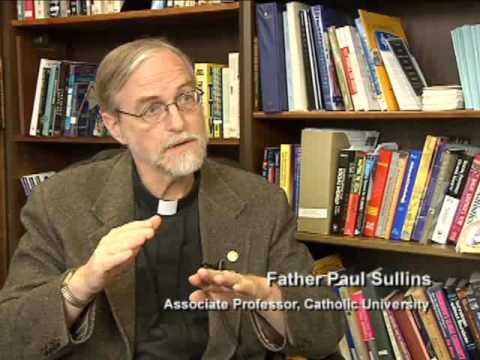 (Biretta Tip: Creative Minority Report)
In my mis-spent youth, I used to listen to NPR's Morning Edition every morning while doing my math (yes, that's the kind of thing we wacky homeschoolers get away with). One morning (this was probably around '93) they were covering a "guns for toys" program, where people were being encouraged to bring real or toy guns down to their local police station and pick up stuffed animals in exchange.
How warm and fuzzy can you get? (And seriously, how many hardened criminals did the people staging this imagine would repent and come get a teddy in return for their gat?) They interviewed a few kids who dutifully said that they knew it was better to play with animals than with their toy guys they'd turned in. Then they interviewed an eighty-year-old woman who'd just turned in the police revolver that her grandfather used to carry in the 1870s and 1880s. "I've never shot it," she said. "But I'd kept it all these years as a piece of family history. But you know, things aren't the same anymore. I heard about this exchange and I thought: It's not the wild west anymore. I'd better go turn this in to the police where it belongs. I think we'd all be a lot safer without so many guns around."
Maybe in some abstract sense we would — but I'm not sure we got any safer when that old lady turned in her piece of family history.
However as I was thinking the other day about the enthusiasm for gun control (or just outright banning guns) on the left, this clicked into place as half of the puzzle. Here's the other half:
I think we all have, if we are fortunate, a few good friends with religious and political viewpoints very different from our own with whom we regularly hold long discussions. For me, one of these is an uncle of mine. My mom is the oldest of seven, so this uncle is actually only fifteen years older than I am. He's a long lapsed Catholic (he describes himself as believing in God but having no religion), a comic book and movie buff, an independent rocker, and someone who thinks a lot about the meaning of life, though he does so from a very different perspective than I do.
A few months back, my uncle was telling me about how he'd recently become pro-life (or anti-abortion, for those who ride the hobby horse of not being willing to accept the common use of the term.) His reason, he said, was basically the same as the reason he'd come to oppose capital punishment a few years before.
With the announced retirement of Supreme Court Justice David Souter President Obama wasted no time in addressing the issue of what he's looking for to fill this vacancy.  In so many words he clearly stated his desire for an activist judge with an eye towards reengineering America [emphasis and comments mine].
"It is also about how our laws affect the daily realities of people's lives [meaning he wants a Justice who holds fast to the Living Constitution Theory,ie, an activist judge finding invisible law where none existed], whether they can make a living and care for their families, whether they feel safe in their homes and welcome in their own nation."
The following excerpt clearly reveals President Obama's contempt for legislative history in effect eliminating a potential nominee that adheres to the theory of original intent.
"I will seek someone who understands that justice is not about some abstract legal theory or footnote in a casebook."
One thing is for sure, it will be an extremist liberal and pro-abortion nominee.
For those that question the wisdom and effectiveness of chaperoned dating this video is for you.
Somehow, I picked up the idea from a long exchange over torture on one of the Catholic websites I frequent that the Vatican has not issued a clear statement on torture. I repeated that 'meme' as if it were true, and it was a mistake on my part, at least partially.
Why? Because there is a pretty definitive collection of statements on torture, even modern torture in the context of information gathering in the 'War on Terror', from Catholic clergy going up to Pope Benedict, Catholic authors and thinkers, etc.
The whole thing can be read here.
It is called "Torture Is a Moral Issue: A Catholic Study Guide", put out by the U.S. Conference of Catholic Bishops or the USCCB.
Here is the highlight of the entire document, as far as I am concerned. The document quotes Pope Benedict in a talk he gave in 2007:
"Means of punishment or correction that either undermine or debase the human dignity of prisoners" must be eschewed by public authorities, he said. Immediately he added the following statement, which incorporates a quote taken from the Compendium of the Social Doctrine of the Church: "The prohibition against torture 'cannot be contravened under any circumstances'" (No. 404).