Monthly Archives:
November 2008
The other day my beautiful wife emailed me a link to this City Journal article entitled "Love in the Time of Darwinism" by Kay S. Hymowitz about the selective pressures which the modern dating environment places on the mating pool. It seems the same author had written another article earlier this year entitled "Child-Man in the Promised Land" about the phenomenon of single men in their twenties and even thirties who, rather than shouldering the "grown up" interests of their forefathers a generation or two before, linger in an extended adolescence of playing video games, watching cartoons and gross-out comedies, and seeking only uncommitted sex rather than marriage on the dating scene. In response to this first article, the author had received numerous emails from young men informing her that the reason that they behaved that way was essentially that the actions of the women on the dating scene left them little other choice. Hymowitz sums up their reaction this way:
Their argument, in effect, was that the SYM [single young male] is putting off traditional markers of adulthood—one wife, two kids, three bathrooms—not because he's immature but because he's angry. He's angry because he thinks that young women are dishonest, self-involved, slutty, manipulative, shallow, controlling, and gold-digging. He's angry because he thinks that the culture disses all things male. He's angry because he thinks that marriage these days is a raw deal for men.
And so this article is basically an investigation into how accurate this complaint is.
The Republican Party is often described as a three-legged stool consisting of social conservatives, fiscal conservatives, and foreign policy hawks. I had recently been encouraged by the moderate nature of some of Obama's early appointments (e.g. retaining Joe Lieberman as Chair of Homeland Security, appointing Clinton for Secretary of State, talk of retaining Gates as Secretary of Defense). My thought was that these moves indicated a moderate streak in President-elect Obama that might translate into opposition to radical measures like the Freedom of Choice Act. Ross Douthat, in a characteristically smart
post, has caused me to reconsider, highlighting the dangers of Obama-the-foreign-policy-centrist for social conservatives:
Father Neuhaus predicts a Kulturkampf between the Obama administration and pro-lifers in general and the Catholic Church in particular.
Perhaps the most villified US President since Abraham Lincoln, George Bush has been a strong pro-life President.
CNN anchor Wolf Blitzer misquoted and took out of context a lecture delivered by James Francis Cardinal Stafford at CUA several times when reporting on the good Cardinal's critique of President-elect Obama's abortion stance.  Matthew Balan of NewsBusters reports the not-so-great journalism standards that Wolf Blitzer employs when "reporting" the news for CNN.
On Tuesday's Situation Room, CNN anchor Wolf Blitzer referred to a Catholic cardinal's criticism of Barack Obama's abortion position as a "scathing rant" and a "diatribe."  A CNN graphic also used the "scathing rant" term, and Blitzer later referred to the cardinal's words as a "blistering rant."
One of the most common complaints directed at pro-lifers is that they are trying to overturn a Supreme Court decision that is popular with the American public. In one respect, this is a fair point. Roughly sixty percent of the country, when asked, says that they would not support overturning Roe. At the same time, roughly 2/3 of people say they would prefer the type of 'stricter limits' on abortion that are barred by Roe and Casey.
Noting this disconnect, Peter Suderman recently suggested that pro-lifers should focus on framing Roe as a barrier to compromise on abortion.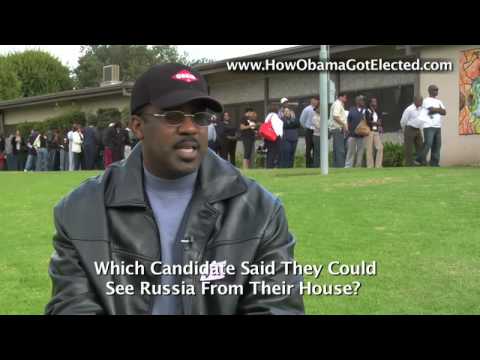 Thanks to the above video and this wonderful site we now have some answers.  The Zogby poll on the website is pretty scary as to the level of voter knowledge.  However most of the media was so far in the tank for Obama that I find it hard to blame voters for lacking knowledge as to many pieces of negative information about the President-Elect during the campaign.
A leap year baby, Francis L. Sampson  was born on February 29, 1912 in Cherokee Iowa.
To speak of American "materialism" is…both an understatement and a misstatement. The material goods that historically have been the symbols which elsewhere separated men from one another have become, under American conditions, symbols which hold men together. From the moment of our rising in the morning, the breakfast food we eat, the coffee we drink, the automobile we drive to work–all these and nearly all the things we consume become thin, but not negligible, bonds with thousands of other Americans. — Daniel J. Boorstin
What's wrong with American culture? This question has become prominent in Christian circles as the moral course of the United States becomes more and more frightening. The answer, in one respect, lies in the materialism of the American people. This is not materialism, in the philosophical sense, where all that exists is matter and one denies the existence of God — though that sort of materialism easily establishes this second sort. This materialism is the fruit of avarice and greed. It's a common mentality — we're all guilty of it — that we don't really care about things per se; we know who we are without our possessions. Our sense of self is not bound to the material world. Of all the so-called "-isms" of our time, none has ever been more misunderstood, more criticized, and more relevant than materialism. Who but fools and the occasional nutty libertarian rise to its defense? It's safe to say that while materialism may not be the most shallow of all the "-isms" plaguing the world, it certainly is among those that have triumphed.
Seems as if last weeks lecture by Cardinal Stafford at CUA where he referenced President-elect Obama's presidential campaign as "apocalyptic" has gotten Church dissenter and gay activitist Andrew Sullivan all hot and bothered:
"The Vatican hierarchy has become radicalized under Benedict and John Paul II– so much so that they see the West since the 1960s as entirely a creature of resistance to Humanae Vitae, the papal declaration that all non-procreative sex is a moral evil.  But the notion that the recent election of Obama is a sign of the Apocalypse has, until now, been restricted to Protestant loonies. Until now…"
The Ohio legislature is considering legislation to protect Ohioans from the type of government snooping unleashed on Joe Wurzelbacher.  To their credit, the American Civil Liberties Union has called upon Governor Strickland and other Ohio officials to enact regulations to protect the private information of citizens on state databases.
Last week, I questioned the wisdom of Congress making investments investors are unwilling to make in the automobile industry. Responding to similar arguments by smarter people, Jonathan Cohn suggested (citing a report showing productivity improvements in Big 3 factories) that the Big 3 are in the process of turning around, and that the bailout would help these companies complete the transition to profitability. Jim Manzi has posted a fairly devastating rebuttal to Cohn's arguments. Here is an excerpt from Manzi's response: